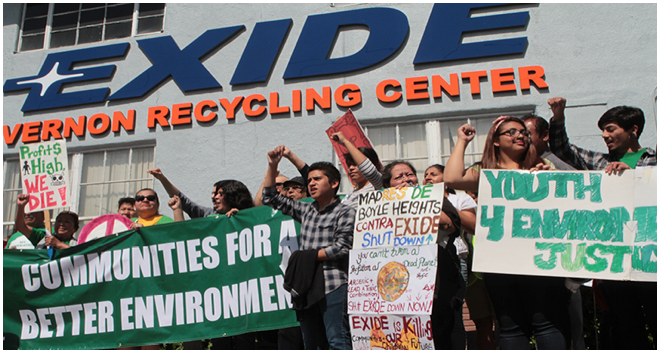 NEIGHBORHOOD POLITICS—Vernon--State environmental regulators issued guidelines Thursday that will allow expedited cleanups of high-risk homes near the shuttered Exide Technologies battery-recycling plant in Vernon even before a full mitigation plan and environmental review are completed. 
The Department of Toxic Substances Control released a draft cleanup plan and environmental impact report for public review in December, with cleanup operations to mitigate lead-contaminated soil and properties near the plant anticipated to begin this summer. 
That schedule, however, sparked criticism from some residents and area officials who said some properties near the plant are at particularly high risk. 
DTSC officials said Thursday they will move forward with cleanups on a "case-by-case basis" at a limited number of properties "with high levels of lead in the soil and the greatest exposures to sensitive populations." 
"We are utilizing all of the resources at our disposal to ensure that we are able to take action to protect the most sensitive populations impacted by the presence of lead in the soil from the Exide operations," DTSC Director Barbara Lee said.
The agency plans to consider for expedited cleanup properties that have soil with lead levels of 1,000 parts per million or more. 
The agency will also consider cleanups at properties where a resident "has a blood-lead level at or above five micrograms per deciliter, which is the level used by the U.S. Centers for Disease Control and Prevention to identify children with elevated blood-lead levels." 
The Exide plant permanently closed in March 2015. When Exide agreed to close the lead-acid battery recycling plant, it committed to pay $50 million for cleanup of the site and surrounding neighborhoods. Of that amount, $26 million is meant to be set aside for residential cleanup. 
Gov. Jerry Brown earlier this year signed legislation providing $176.6 million in funding for environmental testing and cleanup work in neighborhoods surrounding the now-shuttered plant. 
State officials said the funding would pay for testing of residential properties, schools, day care centers and parks within a 1.7-mile radius of the plant, and fund cleaning of as many as 2,500 properties with the highest lead levels.
(This report originated at City New Service.)