DEEGAN ON LA—The sounds of kids having fun in school yards will be out of earshot of the homeless if the City Council and the LAUSD get a proposed 500-foot exclusionary zone prohibiting the homeless from settling near schools and day care centers.
Libraries may also be added the protected sites. 
"Sleeping, lying, or storing property with 500 feet of a school or day care center" will be prohibited by an amendment to L A Municipal Code section 41.18, the controversial homeless strategy ordinance that the council passed ten months ago. 
Council President Nury Martinez (CD6) caught most of her council colleagues by surprise, at the May 31 council meeting, by using the council's "Rule 16" that allows a member to send an item directly to the Council without it having to go to a Council Committee first. This can be and was done by giving the City Clerk a motion, authored by Martinez, and seconded by an additional member during a Council session to be placed on the next regular available Council agenda. 
An unlikely power player turns out to have been a catalyst for this amending motion by collaborating with Martinez to push it forward before the full council was aware of what was happening.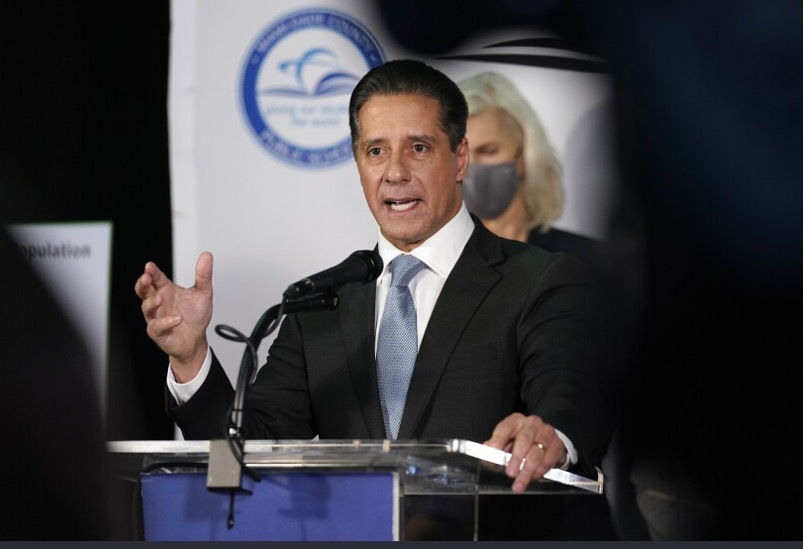 New LAUSD Superintendent Alberto M. Carvalho, on the job just over 100 days, wasted no time in asserting his influence as a representative of parents and kids by appearing in person in the council chamber and emphatically telling the assembled politicos that he did not want the homeless near his schools. 
Unelected, and a non-resident until his hire—he's here from Miami on a four-year contract—Carvalho represents a constituency of parents that must be taken seriously. The citywide breadth of his "per person" reach is exceeded only by the Mayor. 
The power move was like gilding the Lilly before the flower has been picked, but it worked. Now that's it's been discussed at a full council meeting, the motion will travel backwards to a Homelessness and Poverty committee hearing before returning to the full council for a second and final vote. 
The motion to amend was passed with "no" votes recorded by Councilmembers Mike Bonin (CD11), and Nithya Raman (CD4), the same opponents of LAMC 41.18 last summer that prohibits the homeless from "sitting, lying, sleeping or storing, using, maintaining, or placing personal property in the public right-of-way". Now, add within 500 feet of schools and daycare locations. 
Objecting and saying she is "frustrated", Raman noted to her council colleagues that she's against "creating new rules that are unable to be enforced". 
Heralding the motion as a way to provide "safe passage to schools" was Councilmember Gil Cedillo (CD1). 
Providing context was Councilmember Marqueece Harris-Dawson (CD8) who said that "encampments sprung up around schools during the pandemic closures when nobody was going to schools". 
What this amendment does for helping the homeless in practical terms is nothing. They will continue to make their homes mostly where they like but
would now be able to be rousted from being too close to a school or a day care center. 
Of all the challenges facing the interaction of the homeless and the larger society they exist in, moving them away from schools and day care centers may be the most logical and least arguable proposal, but it has elicited strong responses from a few of the progressive candidates running for City Council seats in the current election. 
Eunisses Heernandez (running against Gil Cedillo in CD1 ) says that "Banning encampments from specific locations only pushes people around and does nothing to get folks off the streets into housing…there is only one thing that effectively reduces the presence of encampments, and that is long-term housing and care…horrific". 
Hugo Soto-Martinez, (running against Mitch O'Farrell in CD13) agrees that its just shuffling the homeless around by "moving encampments from block to block."
Kate Pynoos (also running against O'Farrell), criticized the measure as a "cynically cloaked back-room motion in terms of 'supporting the youth" that is "simply pushing the unhoused out of sight, rather than actually solving this crisis by providing them with permanent housing."
Superintendent Carvalho may be new to LA, but he's quickly figured out how to dominate at City Hall.
(Tim Deegan is a civic activist whose Deegan on LA weekly column about city planning, new urbanism, the environment, and the homeless appear in CityWatch. Tim can be reached at [email protected].)