RESISTANCE WATCH--Inspired by the Pixar film "UP," artist Anne Hars placed balloon bouquets at noon, June 4, on two apartment complexes slated for demolition by luxury housing developer Michael Cohanzad of The Wiseman Group. 
This isn't the artist's first venture – in January 2016, she placed balloons at a Silver Lake bungalow to protest its demolition and has since placed balloon installations on rooftops and gates in MacArthur Park and Angelino Heights.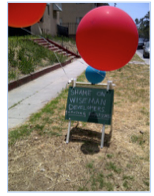 The two complexes located at 424 and 400 Norton Avenue contain 22 units. Activists attribute the 23 percent spike in homeless in part to the destruction of rent-stabilized buildings in the city.
LA City Council's Planning and Land Use Management Committee is set to vote on permitting the luxury developments on Tuesday, June 6 at City Hall.
Hars's work has been featured in the LA Times, The Guardian, ABC-News, and is now the subject of a documentary short. She says the balloons are meant to draw attention to the connection between the destruction of rent-stabilized homes and rising homelessness.
(Beth Cone Kramer is a Los Angeles writer and a columnist for CityWatch.)
-cw