Bob B. Blue
Bob Blue is the Vice President of the Hollywood Highlands Democratic Club and founding member and past chair of the Hollywood Studio District Neighborhood Council. He can be reached at This email address is being protected from spambots. You need JavaScript enabled to view it. .
Bob Gelfand
Bob Gelfand is the vice chair of the Los Angeles Neighborhood Council Coalition and writes on cultural issues for City Watch. He can be reached at This email address is being protected from spambots. You need JavaScript enabled to view it. .
Brian Ades
Brian is the host of the CityWatch video webisode series, Brian Ades' Prime Time.  It's a series of front page video features about aging in Los Angeles.  Brian features experts from finance, real estate, health, law, and government sharing information that is relevant for aging boomers and their families.
According to Brian, "To make good decisions, you need good information."
Brian's credits include:  Sotheby's International Real Estate, Affiliate Member Professional Fiduciary Association of California, Seniors Real Estate Specialist, Certified REO/Foreclosured Properties Listing Agent Specialist, Eco-Broker Certified, and Chairman 2009/2010 Beverly Hills Greater Los Angeles Realtors Association Green Committee.
Cary Brazeman
Cary Brazeman, a CityWatch contributor, is a Neighborhood Council member, founder of LA Neighbors United, and a former executive with CB Richard Ellis based in Los Angeles.  Contact him through www.LAneighbors.org.
Charles Tarlow
Our "Average Joe" is Charles Tarlow,  a mid-city resident and community activist. Tarlow writes Voice in the Cheap Seats for CityWatch. He can be reached at:  This email address is being protected from spambots. You need JavaScript enabled to view it. .
Damien Goodmon
Damien Goodmon is the Chair of the Crenshaw Subway Coalition, Coordinator of the Citizens' Campaign to Fix the Expo Rail Line, resident in the Crenshaw District's Leimert Park community and an occasional contributor to CityWatch.
Diana Chapman
Diana Chapman has been a writer/journalist for nearly thirty years. She has written for magazines, newspapers and the best-seller series, Chicken Soup for the Soul. You can reach her at: This email address is being protected from spambots. You need JavaScript enabled to view it. or her website theunderdogforkids.blogspot.com.
Doug Epperhart
Doug Epperhart is a publisher, a member of the Coastal San Pedro Neighborhood Council and is a contributor to CityWatch. He can be reached at: This email address is being protected from spambots. You need JavaScript enabled to view it. .
Enci Box
Enci Box is an actress and a community activist.
Gary Toebben
Gary Toebben is the President and CEO of the Los Angeles Area Chamber of Commerce ... lachamber.com.
Greg Nelson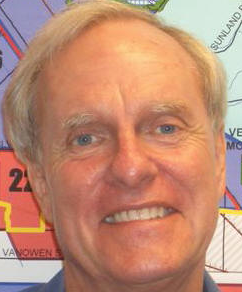 Greg Nelson participated in the birth and development of the LA Neighborhood Council system and served as the General Manager of the Department of Neighborhood Empowerment. He also served as Chief of Staff for former City Councilman Joel Wachs. Nelson now provides news and issues analysis to CityWatch. He can be reached at: This email address is being protected from spambots. You need JavaScript enabled to view it. .


Jack Humphreville
Jack Humphreville writes LA Watchdog for CityWatch He is the President of the DWP Advocacy Committee and the Ratepayer Advocate for the Greater Wilshire Neighborhood Council. Humphreville is the publisher of the Recycler -- www.recycler.com . He can be reached at: This email address is being protected from spambots. You need JavaScript enabled to view it. .
James Preston Allen
James Preston Allen is the Publisher of Random Lengths News. More of Allen … and other views and news at: randomlengthsnews.com where this column was first posted.
Janet Denise Kelly
Janet Denise Ganaway-Kelly offers more than a decade of accomplishments in the housing and nonprofit sector. Janet brings valuable insight in the areas of community and economic development. Additionally, she brings knowledge regarding the leadership and management challenges faced by large and small nonprofits that are struggling or growing organizations. She blogs at  jdkellyenterprises.org.
Jeff Jacobberger
Jeff Jacobberger received his Master of Planning degree from USC and works as a transportation planner.  He is Chair of the Mid City West Community Council and a former chair of its Planning and Land Use Committee.
Joel Epstein
Joel Epstein, an editor at The Urban Times, is a Los Angeles resident and strategic communications consultant focused on transportation, public health and other critical urban issues. For more about Joel, visit: JoelEpstein.com.
Joseph Mailander
Joseph Mailander is a writer and an observer. He blogs at street-hassle.blogspot.com where this column was first posted.
Julie Butcher
Julie Butcher is Regional Director at SEIU Local 721 and a CityWatch contributor.
Katharine Russ
Katharine Russ is an investigative reporter. She is a regular contributor to CityWatch and to the North Valley Reporter. Katharine Russ can be reached at: This email address is being protected from spambots. You need JavaScript enabled to view it. .
Ken Alpern
Ken Alpern is a former Boardmember of the Mar Vista Community Council (MVCC), previously co-chaired its Planning and Outreach Committees, and currently co-chairs its MVCC Transportation/Infrastructure Committee.  He is co-chair of the CD11 Transportation Advisory Committee and chairs the nonprofit Transit Coalition, and can be reached at This email address is being protected from spambots. You need JavaScript enabled to view it. .
Ken Draper
Ken Draper is the editor of CityWatch. He can be reached at This email address is being protected from spambots. You need JavaScript enabled to view it. .
Lisa Cerda
Lisa Cerda is a contributor to CityWatch, a community activist, Chair of Tarzana Residents Against Poorly Planned Development, VP of Community Rights Foundation of LA, Tarzana Property Owners Association board member, and former Tarzana Neighborhood Council board member.
Mark Siegel
Mark Siegel founded CityWatch and is a long-time labor consultant and activist.
Michael N. Cohen
Michael N. Cohen is an occasional contributor to CityWatch and is a Board Member of the Reseda Neighborhood Council in the San Fernando Valley.
Occasional Guests
Linda Abrams
Richard Alarcon
Bill Boyarsky
Bill Christopher
Robert Cruickshank
Amy Goodman
Janice Hahn
Tom Hayden
Paul Hogarth
Ron Kaye
Joel Kotkin
Robert Lamishaw
Brian Leubitz
Joe Mathews
Rick Orlov
Jim O'Sullivan
Dick Platkin
Mark Ridley-Thomas
Robert Schoonover
Randy Shaw
Jane Usher
Antonio Villaraigosa
DJ Waldie
Paul Hatfield
Paul Hatfield is a CPA and serves as Treasurer for the Neighborhood Council Valley Village.  He blogs at Village to Village and can be reached at: This email address is being protected from spambots. You need JavaScript enabled to view it. .
Richard Lee Abrams
Richard Lee Abrams is an attorney in Los Angeles. He can be reached at This email address is being protected from spambots. You need JavaScript enabled to view it.
Ryan Snyder
Ryan Snyder is a Transportation Planner and an occasional contributor to CityWatch.
Stephen Box
Stephen Box is a grassroots advocate and writes for CityWatch. He can be reached at: This email address is being protected from spambots. You need JavaScript enabled to view it. .
Ziggy Kruse
Ziggy Kruse is an activist and reporter for www.HNN-TV.com. She is also a former Board Member of the Hollywood Studio District Neighborhood Council. Ziggy can be reached at This email address is being protected from spambots. You need JavaScript enabled to view it. .