New From CityWatch
LA WATCHDOG--In August of 2015, the City of Los Angeles announced what turned out to be a budget busting contract with the Coalition of City Unions that represents the City's 20,000 civilian workers.  According to Mayor Eric Garcetti, this agreement "prioritizes service delivery and strengthens our long term fiscal health." 
To the contrary, this back room deal contributed to the City's never ending Structural Deficit (where personnel costs increase faster than revenues) and blew a gaping hole in the 2020 budget, turning a projected surplus of $68 million into $101 million deficit. 
But that's not all, folks. 
The City also committed to a "goal" of hiring 5,000 civilian employees by June 30, 2018.  But in a December report prepared by the City's Personnel Department that outlined the Targeted Local Hire Program, not one mention was made about the cost of this program or the impact on the City's budget. Yet the City is looking at an $85 million deficit next year, but that was before the City Administrative Officer informed us on January 6 that this year's breakeven budget is a pipedream as the shortfall may be as high as $245 million thanks to lower revenues and higher than budgeted litigation costs. 
While some of the new employees will replace higher cost retiring workers, the hit to the City's budget has been rumored to be in the range of $250 million when considering the fully loaded costs of salaries, Cadillac healthcare plans, and very generous pensions. 
The Targeted Local Hire Program appears to be more of a social welfare program as it is focused on hiring and retaining of local Angelenos from underserved communities.  Under the proposed system, over 80% of the positions would be allocated to the applicants from the designated underserved communities.    
But what about all the other Angelenos who have stayed out of trouble and done what was expected of them.  Don't they deserve a fair shot at these high paying, guaranteed for life City jobs that have very generous benefits that far exceed those in the private sector?  And don't the odds favor them doing a better job? 
This is not the time to be expanding the City's workforce.  The City is looking at a river of red ink of almost $300 million over the next four years, and that was before the realization that this year's unexpected deficit may be as high as $245 million.  The depleted Reserve Fund is under severe pressure to fund this shortfall.  And more than likely, the economy is going to be hitting some headwinds that will put additional pressure on the budget.  And as we know, it will be hard to lay off employees that are represented by the campaign funding leaders of the City's self-serving public unions who consider us their ATM.  
Rather than hiring and training 5,000 new workers and adding to the City's permanent overhead, why not hire independent third parties to complete specific tasks such as repairing our streets and sidewalks, trimming our trees, and maintaining our parks?  
Before proceeding with the Targeted Local Hire Program, Councilmember Paul Koretz, the Chair of the Personnel Committee and one of the main promoters of this less than transparent program, should conduct public hearings and outreach so that we have a better understanding of this very expensive initiative and its impact on the City's already precarious finances. 
At the same time, Koretz, City Council President Herb Wesson, and Mayor Eric Garcetti would be wise to follow the advice of the Los Angeles Times to "commission and independent analysis of the impacts" of the program and "allow plenty of time for the public [and the Neighborhood Councils] to ask questions." 
A year ago, Koretz wrote, "The City of Los Angeles has a mission to provide the highest quality public service to the residents of the City in the most efficient and cost effective manner." 
Koretz must honor this pledge.  
Strategic Workforce Development Taskforce / Personnel Department / Letter of Agreement / Hiring Civilian Employees Council File 16-0109
 (Jack Humphreville writes LA Watchdog for CityWatch. He is the President of the DWP Advocacy Committee and is the Budget and DWP representative for the Greater Wilshire Neighborhood Council.  He is a Neighborhood Council Budget Advocate.  Jack is affiliated with Recycler Classifieds -- www.recycler.com.  He can be reached at:  lajack@gmail.com.)
-cw
DEEGAN ON LA-Which hangover are you trying to shake: the overindulgence of New Year's Eve or the game changer National Election in November? Want a triple-header head-splitter? In just three weeks you can start voting by mail for or against the momentous issue of "uncontrolled" development, whether or not you like the Mayor, and the chance to sweep some political newcomers into City Council offices. Unfortunately, turnout cannot be expected to be as high as the stakes. Voter fatigue has lots to do with that. 
The centerpiece of the balloting will be Measure S, aka the Neighborhood Integrity Initiative, that would enact a moratorium on "spot zoning" variances as one of its main provisions, if enough voters say "yes." 
Voter turnout is one of the two pressures that will be driving the outcome of the election. The other is the opportunity to Vote by Mail that starts on February 6. Up to one-third of the city's voters take advantage of early voting, so it's urgent that candidates get their message out hard and fast, now, to win over the minds of these leading edge voters. These days, voters make up their minds and cast their ballots up to thirty days ahead of the actual election. How candidates and supporters react to both of influential factors could provide them with an advantage. 
Primary elections historically attract a very low turnout. On the heels of our intense recent election, who really has the interest or stamina for this primary? This is a situation that will benefit aggressive campaigners for the odd-numbered council district seats that are up for grabs. The number of "yes" votes needed to elect someone, or to pass or defeat Measure S, may be exceptionally low, thanks to the shrunken base of who actually votes compared to the number of all registered voters. 
The winning ground game could be twofold: 
Knowing how voters feel about Measure S, the Neighborhood Integrity Initiative, and aligning campaign pledges and promises to meet those pro or con expectations. There are massive campaigns running both for and against the measure. Development is the hottest issue on the March ballot. 
Capitalizing on early Vote-By-Mail (VBM) that starts on February 6. The traditional get out the vote (GOTV) models cannot be counted on in our new post-truth world, where emotion overrules fact and news can be fake; mailboxes stuffed with flyers can no longer be certain to work. Development partisans are so passionate and emotional on both sides of the issue that getting them to vote early by mail could jump start a campaign. 
Some say that there are a lot of good things about Measure S, like the expedited timelines for upgrading community and general plans, and the requirement that the city, not the developers, be the client for EIR's. In addition, the measure calls for the elimination of spot zoning and a "moratorium" for up to two years on construction that increases development density and it prohibits project-specific amendments to the city's General Plan, thereby restricting the size and number of development projects. 
Opponents of Measure S, led by the voice of labor leader Rusty Hicks, say, "In November, an overwhelming majority of Angeleno voters passed Prop. JJJ to create affordable housing and good jobs for LA's middle class. Just four months later, LA's working families are facing an unprecedented rollback on progress. Trump and his supporters are trying to dismantle the progress we've made, from healthcare to the EPA. Trump's vision of America doesn't stand a chance in LA. Don't let them roll back our progress. Measure S, which will be on the March ballot, is the height of selfishness. A cynical ploy to stop virtually all housing construction in LA, including housing for the homeless." Hicks adds that the measure is a "pile of S." 
The LA City Council races (for odd-numbered districts) have some young political newcomers with decades of potential public service ahead of them. They're worth listening to by anyone who cares how the next generation will grapple with the legacy their predecessors leave behind. Right now, it's not an enviable dowry, with budget and pension problems, rampant development, and increasing allegations of corruption and back-room dealing at City Hall. A credible showing at the polls by any of them will help put politicos on notice that times are changing. 
But first, everyone must vote, and that's the bigger challenge right now -- activating voters. The clock is ticking: vote by mail starts February 6, and could be the wild card. About one-quarter to one-third of voters now vote early, so making the sale immediately has more importance than ever.
(Tim Deegan is a long-time resident and community leader in the Miracle Mile, who has served as board chair at the Mid City West Community Council and on the board of the Miracle Mile Civic Coalition. Tim can be reached at timdeegan2015@gmail.com.) Edited for CityWatch by Linda Abrams.
AMENDMENTS WILL REDUCE HOME SIZE LIMITS--Despite citywide ordinances to stop mansionization, Angelenos from Venice to Boyle Heights have seen their neighborhoods blighted by spec-built McMansions that loom over their neighbors and violate the character of established neighborhoods. Remedies have been in the works for nearly three years, since Councilmember Paul Koretz initiated amendments to the ineffectual ordinances.
This coming Wednesday, January 18, the matter will finally enter the home stretch with a hearing by the City Council's PLUM (Planning & Land Use Management) Committee. The amendments will reduce size limits for homes in single-family zones throughout the City of Los Angeles and provide the framework for a slew of related zoning measures.
What had been a routine, slow-moving process gained drama and speed last month. After a surprise vote by the PLUM Committee to weaken the amendments on November 29, Council President Wesson took things in hand. Barely a week later, the Council voted unanimously to reverse the PLUM decision.
Now the amendments are coming back to PLUM for what should be the last hearing before a full Council vote. Councilmember Koretz, who played a key role in getting the amendments back on track, is pressing for one more fix: to count front-facing attached garages as floor space.  
The treatment of attached garages figured prominently Koretz's original Council Motion and has been a rallying cry among homeowners and residents since Day One. They contend that the exclusion of attached garages from floor space adds 400 square feet of bloat, eliminates the buffer a driveway provides, and rewards a design feature that disrupts the look and feel of many LA neighborhoods.
At the City Planning Commission hearing last July, Commission President David Ambroz underscored the logic of counting attached garages when he commented, "Square footage is square footage."
In advance of the hearing on Wednesday, supporters of reform are expected to again take aim at this 400 square foot "freebie" with messages drawn from the campaign website.  They are also expected to turn out in force at the hearing.
Wednesday's specially-scheduled PLUM session should be lively. The agenda also includes the hotly-contested development that Rick Caruso wants to build on La Cienega Boulevard, which would be much bigger than city code allows. As our elected officials grapple with the fallout from the "Sea Breeze" development scandal and brace for an initiative on the March ballot to stop spot zoning (Measure S), the votes taken on Wednesday will offer this year's first glimpse of things to come.  
ACTION INFO (How you can help by calling or speaking)
Phone script
"The amendments to the citywide mansionization ordinances are finally is good shape, but one key issue still needs work: We must count attached garages as floor space."
Here are phone numbers for the PLUM Committee members:
José Huizar (Committee chair) – 213-473-7014
Gil Cedillo – 213-473-7001
Mitchell Englander – 213-473-7012
Marqueece Harris-Dawson – 213-473-7008
Curren Price – 213-473-7009
Speaker's notes
Last month the City Council reinstated sensible floor-area ratios for single-family homes, and the amendments to the citywide mansionization ordinances are finally in good shape.   But one core issue still needs work: We must count front-facing garages as floor space.
They disrupt the look and feel of neighborhoods, eliminate the buffer provided by a driveway, and add a whopping 400 square feet of bloat to a house.
Allow front-facing attached garages, but count every square inch as part of the floor space of the house.
Half-baked compromises ruined the mansionization ordinances the first time. We cannot make the same mistake again.  
(Shelley Wagers is a homeowner, community activist, an expert on Los Angeles' mansionization crisis and an occasional contributor to CityWatch.
-cw
EXPOSED--Last week, we reported on Councilmember Cedillo's possible violation of LA Municipal Code section 49.5.5b in his quest to keep his CD 1 seat. Cedillo doesn't appear to be changing course, according to activist Marc Caswell, who first shared this info with CityWatch. 
One of the attendees at Cedillo's kickoff event on Saturday emailed Caswell with additional ethics violations. Photos from the event show taxpayer funded newsletters at the check-in table – next to campaign materials, a definite no-no. (See photo above) 
He also reported at least two CD1 staff members at the event were sporting City Seals, a second no-no. (See photo below left.) 
Both activities would be in violation of the Los Angeles Governmental Ethics Ordinance (LAMC 49.5.5) for misuse of city position and resources.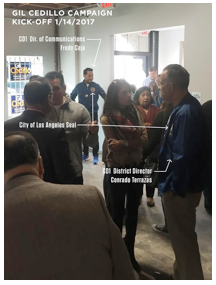 Three formal complaints have been filed detailing that at the January 14 'Gil Cedillo for City Council' campaign event held at 1139 W. 6th Street, Council Office staff members Fredy Ceja and Conrado Terrazas both wore Team Cedillo windbreaker jackets, prominently displaying the official City Seal of the City of Los Angeles. 
In addition, the complaint cites Misuse of City resources through the "use of two Council Office-funded newsletters, ("1Voice/1Voz Summer 2016 and Winter 2016) distributed by City Staff at the sign-in table for the campaign event and placed beside a prominently displayed "Gil Cedillo, Democrat for City Council District 1' banner, manned by Council Office staff members Alfonso Palacios, Suzano Muro, Moniquea Roberson, and Kimberly Salazar. 
The complainant continued: four stacks of Council Office-prepared newsletters bearing the City Council District 1 field office address of 5577 Figueroa Street were displayed and distributed adjacent to the sign-in sheets, along with "Gil Cedillo for Los Angeles 2017" buttons and stickers. The newsletters, according to the attendee, indicated that they were "published by The Office of Los Angeles City Council District 1. 
"It is unclear," he said, "how Gilbert Cedillo's campaign was provided with this large quantity of taxpayer-funded newsletter materials for use as a campaign advertisement at the event." 
These reports raise serious ethics questions about the candidate. Is Cedillo … a long time Los Angeles politico … unfamiliar with the law? Does he think no one is paying attention? Or, with today's soft corruption climate at City Hall, does Cedillo presume no one cares?
The search for answers goes on. Stay tuned.
(Beth Cone Kramer is a Los Angeles writer and a columnist for CityWatch.)
-cw
@THE GUSS REPORT-It would be easier to write something positive about Los Angeles Mayor Eric Garcetti if there wasn't the gnawing feeling that virtually everything he says is torturously measured, in need of dissection and adding an asterisk or three.
For example, last week the San Diego Chargers announced they are leaving the team's home of 56 years to come to LA … the County of Los Angeles, not the City of Los Angeles where Garcetti is Mayor.  
The Chargers wisely chose to play their next few seasons in the nearby City of Carson's diminutive, but new and fun 30,000-seat StubHub Center and have the place filled to the brim with fans rather than in Garcetti's half-empty, soon-to-be-vacant and soon-to-be 95-year old LA Memorial Coliseum while the Rams' billion dollar stadium in the City of Inglewood is being built. 
So let's back-up and dissect, shall we? 
The Chargers are moving between three cities not named Los Angeles. They are leaving San Diego, temporarily to Carson, and will eventually wind-up in Inglewood. They will only be in the City of Los Angeles if, and when, they play the soon-to-be-leaving Rams. 
But in Garcetti's mind, he needs to make the public (i.e. voters) feel as though he accomplished something, and so put out a statement welcoming the Chargers "back to" LA: 
"….Today, we welcome an important part of (LA's sports) history back with the Chargers returning to Los Angeles….The Chargers will make our NFL tradition even richer…." 
What NFL tradition? The City of Los Angeles does not have its own franchise anymore, and hasn't in decades. What is this "will make" you speak of, Mayor Garcetti? 
The Chargers played in the City of Los Angeles for just one season, in 1960, when the Coliseum was only 37 years old. There was so little interest in them despite their having a winning season that on December 10, 1960 only 9,928 people attended the game in the nearly 100,000 seat Coliseum. Their highest attendance that season was 21,805. 
By "returning to" Los Angeles, Garcetti once again tries to blur the lines between the City which he does govern and the County which he does not.
The only City of Los Angeles Mayor to bring the Chargers here was C. Norris Poulson, who also lured the Dodgers to LA from Brooklyn. Garcetti misleads the public on the NFL because there is nothing that an ambitious politician loves more than those awkward stadium groundbreaking photos where he (or she) wears a pricey suit with a silver hard hat and holds a shovel. Politicians crave them because, they feel, the massive cost of the project to the taxpayers takes a backseat to being able to claim that they brought a sports team and thousands of jobs to the area. 
In each chapter of Garcetti's career in City Hall he never got that photo so he issues statements and Tweets, all deceptively. 
(Note: there is an unintentionally humorous and ironic anecdote on Mayor Poulson's Wikipedia page which reads "Poulson's victory in the Los Angeles mayoral race came after a contentious battle in which his opponent, incumbent Mayor Fletcher Bowron, claimed that the Los Angeles Times wanted to control city government and, by endorsing Poulson, would have a puppet in the mayor's office.)
Some things never change, but I digress. 
Garcetti's NFL charade is nothing new. During his failed quest for the Rams to make the City of Los Angeles its permanent home, he discouraged other U.S. mayors from doing the same thing, telling ESPN, "Don't be so desperate for a sports franchise and don't put your city in debt for decades." 
But that is precisely what Garcetti did during his 12 years on the LA City Council, six of which he spent as its president, and during his first term as Mayor. 
Last May, I wrote that City Hall squandered too much time groveling for a Super Bowl that it wouldn't – and didn't – get. 
And in June, I pointed out that Garcetti was still awkwardly and deceptively Tweeting that he succeeded in getting the 2021 Super Bowl when he didn't. 
The only rich NFL tradition that Garcetti and the LA City Council have is their ill-advised begging for it, always coming up empty and never quite telling it like it is.
(Daniel Guss, MBA, is a contributor to CityWatch, KFI AM-640, Huffington Post and elsewhere. Follow him on Twitter @TheGussReport. His opinions are his own and do not necessarily reflect the views of CityWatch.) Edited for CityWatch by Linda Abrams.
NEIGHBORHOOD POLITICS--Neighbors had been complaining for years.  "My dog kept picking up the chicken bones their customers threw on our lawns."  "They would start at 1 pm and keep going till 1 am."   The 2918 S. Rimpau residence responsible for the community distress was owned by Vincent Bowens and called Dilly's Kitchen (photo below left). He served Jamaican food which won great online reviews and had a strong following that grew as hipsters discovered it.  Dilly's was even registered with the city.  Only one problem.  It was a commercial enterprise in a residential zone.   It was illegal.  Bowens who had a large kitchen facility in his backyard, claimed he only ran a catering business but the customers coming and going all day and the online reviews spoke differently.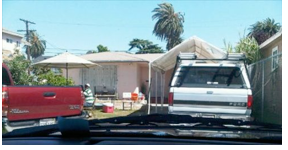 Then it happened. In the early hours of a recent Saturday morning there was a shoot out that left 4 people dead and 12 injured.   One of the men killed, Robert Davis, also known as Rodigan, was a reputed Jamaican gang leader from Kingston.  Two Jamaican men Mowayne McKay, 33 and Diego Reid 25 were booked shortly after and released when prosecutors realized they needed more evidence to file charges.  Their attention soon turned to a Jamaican national named Marlon Jones who was immediately put on the FBI's Most Wanted list, the 510th person since the list's creation in 1950.  On Dec. 3rd it was reported that they had taken a man into custody believed to be the suspect.  
Prior repeated complaints to the police and Building and Safety about the nuisance yielded no results for the neighbors.  It took these murders to finally shut down Dilly's.  Mr. Bowens is headed back to Jamaica.  
In another part of mid-city, several neighbors express distress over another weekly party house with its loud discussions that turn into loud arguments as the booze flows and the evening wears on.  Because it isn't illegal to have a party it is very difficult to prove that money is exchanging hands for either entry, liquor, food or all of the above. Vice needs to be called in, and undercover detectives have to get involved.   
But there may be relief for neighbors who have to endure these noisy, relentless, and disrespectful to the community, illegal party houses.  Apparently it has been a huge problem in Councilmember Ryu's District 4 which includes part of the Hollywood Hills where houses are sometimes bought for the express purpose of being rented out for parties.  So early in November Councilmember Ryu introduced legislation which was passed unanimously by City Council. It instructed the City Attorney, in consultation with the Los Angeles Police Department  to draft an ordinance regulating  party houses.   
From Ryu's Motion 
"Unfortunately, our current enforcement tools (LAMC 41.57, 41.58, 12.27.1, 112.01(b), and 116.01) are not strong enough. Enforcement by LAPD of the City's noise ordinance does not provide the police enough tools to discourage the next offense. Additional tools in our building codes are almost impossible to enforce as there is little to no building inspector availability on a Friday or Saturday night when most parties occur. Over the years, the City has attempted to grapple with this problem. Motions have been introduced (CFs 02-2476, 06-1231,07-0184, 12-1824) on multiple occasions over the past fifteen years to deal with this problem, to no avail." 
His ordinance instructs the City Attorney to draft a motion that will return to City Hall for approval. It includes the following:  
- Adds additional activities typically found at an unruly party as a 'nuisance per se' that LAPD can identify as being associated with a "Party House"; 
- Provides for escalating fines for successive violations to both the party host and, crucially, the property owner; 
- Requires posting a public notice of violation on the property, that will serve to notify the neighborhood that the property is under a violation period of a set number of days where addition unruly parties will lead to higher fines or even criminal charges for excessive numbers of violations; 
- Includes liens on properties for property owners who fail to pay fines; 
- Includes additional fines for commercial events or parties held at a residential unit; 
- Includes a prohibition on any home-sharing or short-term rental activity during a posted notice of violation period. 
Looks like the party's over. 
(Dianne V. Lawrence is editor/publisher of The Neighborhood News, a community magazine in Mid-City and is Editor-at-Large for CityWatch Neighborhood Politics.)
LEANING RIGHT--If you hate Republicans more than you love the healthcare of Americans, perhaps this piece isn't for you.  If you hate Democrats more than you love the healthcare of Americans, perhaps this piece isn't for you, either. 
The singular and permanent benefit of "Obamacare", a.k.a. "The Affordable Care Act" is that something HAD to be done, and there's no going back on that. The outgoing President merits any and all credit for that.  
Now it's up to the incoming President and the GOP-led Congress to determine that the successor to "Obamacare" will be a more health-focused, more fiscally-sound, and less politically-driven plan...and it's hoped that Democratic critiques and recommendations will be listened to and addressed appropriately.  
The replacement to "Obamacare" MUST be bipartisan to ensure that health care access and quality will be improved in the years to come. 
Which is why the so-called Affordable Care Act, a.k.a., "Obamacare" had such a problematic implementation, and an almost inevitable death that would inevitably have arrived sooner or later. The establishment of "winners" and "losers", the jumps in premiums and deductibles, and the health plans and physicians no longer accepting ACA patients...all pointed to something that just didn't add up. 
The goal was worthy, but when the majority of those most strongly advocating for the Affordable Care Act were NOT on any of the ACA-required plans there was something wrong.  It's the old liberal cariacature of treating the general population like lower lifeforms--as in "yes, I have my old pre-ACA plan and I love it, but this new and very different plan is good enough for the rest of you". 
Those foaming at the mouth and defending the ACA were too often not impacted by either the ACA or its repeal...and their patting the heads of those shrieking about the ACA's negative personal and national economic impacts were as condescending and deferential as...as... 
...as those who deferentially and condescendingly patted the heads of those unable to access health insurance and affordable care prior to the passage of the ACA. 
So now we have an incoming President and Congress who have already taken measures to defund and unravel an ACA that would have, sooner or later, died of its own accord despite its good intentions. 
A first-rate, must-read article ("The End of Obamacare") by Jonathan Oberlander, PhD in the January 5, 2017 New England Journal of Medicine does a first-rate job of analyzing how the ACA's unpopularity led to its upcoming demise. 
Dr. Oberlander has this excellent "money quote": 
"Obamacare's vulnerability reflects not only the 2016 election results, but also its shallow political roots. The ACA has achieved much, including a large reduction in the uninsured population. Still, it lacks strong public support and an organized beneficiary lobby, has encountered significant problems in its implementation, and has been enveloped by an environment of hyperpartisanship. If the ACA were more popular and covered a more politically sympathetic or influential population, if its insurance exchanges were operating more successfully and had higher enrollment, and if Democrats and Republicans were not so ideologically polarized and locked in a power struggle, then an incoming GOP administration would probably be talking about reforming rather than dismantling Obamacare. 
"The Trump administration can do much to undercut the ACA. The insurance exchanges, buffeted in many states by high premium increases, sicker-than-expected risk pools, and insurer withdrawals, require stabilization; simply by doing nothing the GOP could damage them." 
So while some Republicans and Independents (and even Democrats) are cheering the end of "Obamacare", the work is only just beginning to replace the ACA with something more sustainable. 
And it's the GOP and incoming President-Elect Trump who have the burden--and make no mistake about it, it's a huge (YUGE?) burden--to replace and "trump" the ACA with something better. 
Arthur Caplan, PhD writes another excellent, must-read article ("Healthcare and Healthcare Ethics in the Trump Era") for Medscape on the challenges of replacing "Obamacare". 
Dr. Caplan points out that "Even though Trump has said that he will repeal and replace it, I suspect that certain features of Obamacare are so well embedded that they are going to be very tough to get rid of without politically uncomfortable complaints." 
The good news, for those who may not remember, is that Trump himself stated he would not "let people die in the streets", and caught both heat and political support among Republicans (and Independents, and even some Democrats, who switched party affiliation during the GOP primary races) as Trump fought off over a dozen GOP presidential contenders. 
Trump stated that he DOES favor an end to pre-existing conditions, and DOES favor the allowance of adult children to stay on their parents' health plans until the age of 26.  
The era of a lack of access to affordable health care is over. 
The era of winners and losers under a top-down, government-imposed and taxing ACA is over...or at least will be soon. 
It will be up to President-Elect Trump and the new 2017-2018 Congress, in THIS session, to also end a few new eras: 
1) An end to unaffordable prescription drug costs. 
2) An end to high-deductible, limited-access policies that force individuals and families to pay for benefits that have little to no relevance to their personal needs. 
3) An end to states suffering from limited plans and health insurers, and a beginning to more interstate options to allow competition and encourage lower costs of health care. 
4) An end to federally-mandated health plans (effectively tax increases, as stated by Supreme Court Chief Justice Roberts in his support for the Constitutional vetting of the ACA) that had unsustainable premium hikes and penalties for not joining. 
5) An end to fiscally strapping businesses (and perhaps a beginning to enticing and rewarding businesses) to hire full-time workers with career-jobs and benefits. 
6) An end to forcing those with cancer or debilitating diseases into poverty, and the establishment of high-risk pools so that society in general can pay for those who are incapacitated, and to reward innovative new medical technologies to further the science of medicine. 
7) An end to the decades-long debate of how to create a fiscally-sound national health policy that benefits all Americans, and is not merely politically-driven, and finally has the backing of the majority of American health care professionals and advocacy groups.
(Kenneth S. Alpern, M.D. is a dermatologist who has served in clinics in Los Angeles, Orange, and Riverside Counties.  He is also a Westside Village Zone Director and Board member of the Mar Vista Community Council (MVCC), previously co-chaired its Planning and Outreach Committees, and currently is Co-Chair of its MVCC Transportation/Infrastructure Committee. He is co-chair of the CD11Transportation Advisory Committee and chairs the nonprofit Transit Coalition, and can be reached at  alpern@marvista.org. He also co-chairs the grassroots Friends of the Green Line at www.fogl.us. The views expressed in this article are solely those of Dr. Alpern.)
-cw
ELECTION 2017-I heard the director of the Downtown LA BID (Business Improvement District) say to Doug McIntrye on his KABC radio show that, "the sky's the limit, regarding downtown Los Angeles real estate development." McIntyre noted how New York City has a lot of endless skyscrapers, and downtown LA is where all the skyscrapers should be, adding that the city has a lot more room to grow. 
I am usually in lock-step with McIntyre on LA municipal issues, so listening to him agree that, "the sky's the limit" on the LA skyscraper issue, made me wonder if I am being too extreme in my belief that LA is "skyscrapered" out. I'm not sure we should be The Eagles of LA real estate developers, taking it to the limit, one more time. Just because we, as a society (or municipality) can do something, doesn't mean we should. Technology and the ability to achieve and accomplish more does not mean we should just do it. 
You can walk up to an all-you-can-eat buffet and eat as much dessert as you want. Keep piling it on your plate, then go back for more and more and more. The manager won't tell you to stop, because it's all-you-can-eat. And, you're an adult now, so your parents can't tell you to stop either. You can do whatever you want to do. So what if you don't want any veggies or meat? You may only want the pudding. But in case you haven't heard, here in LA, you shouldn't have any pudding until you finish your meat. Unfortunately, though, LA City Hall doesn't understand this: it's all pudding (giant, upscale luxury projects) and no meat (affordable housing for homeless and middle-class.) 
How does that apply to LA development? It's not, "the sky's the limit," it's "the infrastructure's the limit." All this pudding has LA's infrastructure clogged up like a bad artery. Because City Council keeps going back for more and more skyscrapers we're having problems with EMS/Fire response times. And we can't recruit enough cops for the streets. The local exit ramps don't get any wider. And the streets don't get any wider either. Water is scarce and getting more expensive. Can't jam any more parking spaces onto the same city street, just because someone paid off city officials to stick up another twenty-story, mixed use project in that area. (See Caruso's project for Koretz's district.) And, though not a City Hall issue, it's hard enough to manage the LAUSD administration and its students. 
The city can no longer enforce itself. These developers know they can get away with more than has been permitted and no one is gonna stop them. In Venice, someone built a McMansion house out into the sidewalk. In other words, the home cut off sidewalk access. Whoops! House already built...too late. 
So, the lesson of LA City development is a lot like the lesson of life itself. It's all about moderation, which takes discipline and that is not what's being used at LA City Hall. Though it wasn't my intent as I started this piece, looks like it just became a "Yes on Measure S" article. So, let's roll with it, like Steve Winwood (with some additional considerations) and vote "Yes on Measure S." 
Mayor Garcetti and LA City Council want to protect non-documented immigrants from deportation, but what about their eviction onto the streets that a skyscraper city will cause? Getting pretty competitive for sidewalk space to put up any more encampments. 
And, the evictions don't affect just immigrants. American citizens will be forced from their homes by foreign (Chinese) developers building a mega city for us lucky Angelinos! It's called "Chinafication" or "Garcettification" or "The Sky's the Limit." 
Shanghai has geological conditions that are sub-standard to LA and yet they have some of the tallest buildings in the world. Not too difficult for us to achieve that too when our current mayor has basically thrown out building height regulations saying they were a "stupid rule." Remember Los Angeles Mayor Eric Garcetti's press conference, held on the flat roof of the city's 32-story AT&T Center, where he announced the law's demise, describing it as "one more stupid rule in Los Angeles?" 
On March 7, the people get to pass a smart law that Garcetti is certain to find stupid. He may think he's smarter than the rest of us, but a city's success is measured, in large part, by the amount of homeless on the street. Garcetti himself has declared a homeless emergency for Los Angeles. He's had more say, sway and influence than anyone -- first as council president, then as mayor. So, don't be (Shangai) suprised if Garcetti is against Measure S, and takes the China developer money. LA is one big "all you can eat" luxury condo buffet. Take another huge bite. 
Sixty-story high rises on average? No problem since "6" is a lucky number to Chinese developers! (Eighty stories is probably too high, but sixty is cool to heavenly sky proponents.) 
We could build out DTLA to accommodate a 10-12 million person population. And maybe it is a very good idea to build out DTLA as a skyscraper mega-city. The land is cheap and City Hall is easy. 
Only downside is the fate of the less fortunate: those earning less than $200,000 per year will have to move on and move out of their own neighborhoods. And you'll have to leave for work two days before you have to be there, due to traffic gridlock. 
Once the mega luxury skyscrapers go up, everything becomes more expensive. Mom and Pop mini-marts and cheap eateries are replaced with upscale, expensive counterparts. Five dollar burritos are replaced by $17 sandwiches at fancy sandwich places. Just apply that concept to everything else. If you used to own a store, now you can work for a big national chain as a clerk or maybe even a manager. 
It's a simple choice for the voter: vote for the status quo and re-elect all City Hall incumbents. Then get half the value of your property through eminent domain, and be forced to move to Riverside. Or…vote them all out and vote Yes on Measure S.
(David (Zuma Dogg) Saltsburg is a candidate for Los Angeles mayor. He has been a community activist in Los Angles for more than 10 years successfully taking on City Hall on numerous occasions. Learn more here.) Edited for CityWatch by Linda Abrams.
LA DREAMIN'-LAX is certainly not associated with magical moments. But it was the usual LAX experience of driving through traffic mayhem to pick up a nephew, and inadvertently parking in the taxi zone (LAX needs better signage,) where the magic happened.  
I picked him up on the north side of the airport road loop, fought my way out of the traffic bottleneck in front of the Bradley International Terminal, and turned the corner onto the southern part of the loop.  
I was now traveling east, and in front of me were the LAX Lighted Pylons in a deep blue. Poking between two pylons, just under the crown, was a white, bright moon, a few days past full. It was magical. I felt like I was witnessing an ancient ritual, tied into times when the passing of the moon, the sun, the planets and the seasons had a greater resonance to life.  
The pylons are placed in a circle on both sides of Sepulveda and Century Boulevards, straddling the intersection. Evenly spaced and uniform in height, they give an aura of an ancient, mysterious ruin, placed there in the unknown past. Of course these pylons are not mysterious; they are one of the great public arts works by the City of Los Angeles, erected for the 2000 Democratic Convention held in LA, and updated in 2016.  
During the day, the glass pylons are mute, somewhat interesting in their silent, shiny glass. It is in the evening when the lights inside transform them into mysterious, magical forms. The colors change by algorithm, sometimes in tandem, other times individually.  
The rising moon, aglow in white against the dark sky and punctuated by the dark blue pylons, stopped Time. This was a modern event involving electric lights, special glass, electricity, highlighting the ancient spectacle of a rising moon. But the sights and feelings were of an ancient ritualized time-travel through modern life. 
Sadly, my gawking admiration was extremely short-lived because I was driving in the chaos of LAX traffic. My mythical experience was brutally cut short by the need to drive safely. 
The pylons also extend out in the median, moving down Century Boulevard from LAX to the San Diego Freeway, their height shortened in succession as you go eastward. 
These pylons are unique to Los Angeles, and could become a trademark for the Los Angeles region. As much as I enjoy seeing them when I go to LAX, and from neighboring Westchester, they should be spread throughout the city where they can be seen and experienced in a more human, leisurely way. 
Another transportation hub, Union Station, would benefit from the pylons, highlighting its rebirth as a transit center with increasing ridership of subway and light rail riders along with Metrolink and Amtrak passengers. 
The pylons could be placed in the Music Center Plaza which sorely needs updating. They could circle to the Lipschitz statue, and run along Grand Avenue as it transforms into a cultural corridor. 
The pylons would work perfectly in the parking lot desert of Dodger Stadium. They would do marvels in Exposition Park. They would add some artistic sensibility to LA Live.  
They could also be explosively vibrant, welcoming audiences to the Hollywood Bowl.  
The pylons represent Los Angeles, but need to spread from the chaos of LAX to places where one can just stop, stand, or sit to watch the moon pass between lighted columns as it rises in the darkened sky. 
(Matthew Hetz is a Los Angeles native. He is a transit rider and advocate, a composer, music instructor, and member and president and executive director of the Culver City Symphony Orchestra) Edited for CityWatch by Linda Abrams.
---

NEIGHBORHOOD P­­OLITICS--ECHO PARK – A cluster of classic, Spanish-Revival style bungalows on Echo Park Avenue could be demolished to make way for as many as a dozen new homes, according to city records. 
An application filed by the developer with the Planning Department seeks permission to carve up the property at 1456 Echo Park Avenue to build up to 12 single-family homes under the city's small-lot development ordinance, which allows for more dense development of single-family homes. The project, proposed by Bixel House LLC, would require the demolition of 7 apartments and the removal of nearly 4,000 cubic feet of earth. 
This project of 3-story homes would have a big impact on this section of the avenue, where most of the surrounding one- and two-story buildings date back to the 1920s or earlier and there has not been much in the way of new construction during the past 30 years. 
The request to subdivide the property would be subject to public hearings and additional reviews. Stay tuned. 
Update: In response to the developer's application, Councilman Mitch O'Farrell issued the following response through his spokesman, Tony Arranaga: "This proposal flies in the face of historic preservation and the Councilmember's efforts at revising the Small Lot Subdivision ordinance …. In addition, the proposal does not align with the Councilmember's goals to maintain the historic character of our Echo Park neighborhood."
(This report was first published at The Eastsider)
-cw
NEIGHBORHOOD POLITICS—Vernon--State environmental regulators issued guidelines Thursday that will allow expedited cleanups of high-risk homes near the shuttered Exide Technologies battery-recycling plant in Vernon even before a full mitigation plan and environmental review are completed. 
The Department of Toxic Substances Control released a draft cleanup plan and environmental impact report for public review in December, with cleanup operations to mitigate lead-contaminated soil and properties near the plant anticipated to begin this summer. 
That schedule, however, sparked criticism from some residents and area officials who said some properties near the plant are at particularly high risk. 
DTSC officials said Thursday they will move forward with cleanups on a "case-by-case basis" at a limited number of properties "with high levels of lead in the soil and the greatest exposures to sensitive populations." 
"We are utilizing all of the resources at our disposal to ensure that we are able to take action to protect the most sensitive populations impacted by the presence of lead in the soil from the Exide operations," DTSC Director Barbara Lee said.
The agency plans to consider for expedited cleanup properties that have soil with lead levels of 1,000 parts per million or more. 
The agency will also consider cleanups at properties where a resident "has a blood-lead level at or above five micrograms per deciliter, which is the level used by the U.S. Centers for Disease Control and Prevention to identify children with elevated blood-lead levels." 
The Exide plant permanently closed in March 2015. When Exide agreed to close the lead-acid battery recycling plant, it committed to pay $50 million for cleanup of the site and surrounding neighborhoods. Of that amount, $26 million is meant to be set aside for residential cleanup. 
Gov. Jerry Brown earlier this year signed legislation providing $176.6 million in funding for environmental testing and cleanup work in neighborhoods surrounding the now-shuttered plant. 
State officials said the funding would pay for testing of residential properties, schools, day care centers and parks within a 1.7-mile radius of the plant, and fund cleaning of as many as 2,500 properties with the highest lead levels.
(This report originated at City New Service.)
NEIGHBORHOOD POLITICS--LA City Council candidate Jesse Creed hosted a press conference to call for safety improvements on Westwood Boulevard. Creed is running for the Westside's Council District Five. 
Creed declared that, due to more than 300 injury collisions over the past five years, Westwood Boulevard is "virtually a deathtrap." According to Creed, despite Westwood being among the 15 mayoral Great Streets Initiative sites for the past two years, "virtually nothing" has changed. Due to high rates of collisions and death, Westwood Blvd. is part of the city's Vision Zero High Injury Network, streets that experience more than their share of deadly crashes. Creed stressed that his priority is to "make Westwood Boulevard safe for everyone" and pledged that "one of his first actions as councilmember" will be to commission a safety study for Westwood. 
Creed was joined by Westwood residents, academics, and business leaders, all of whom called for greater safety features, including bike lanes, on Westwood Boulevard. Residents and business leaders criticized a lack of representation. UCLA professor Michael Jerrett, a bicycle commuter himself, criticized bike lane opponents as "putting peoples' lives at risk." Many speakers emphasized connections between UCLA, which is implementing a bike-share system this year, and Metro rail stations, including the existing Expo Line station and the future Purple Line subway station.
Creed is drawing a clear distinction between his platform and the record of Fifth District incumbent Councilmember Paul Koretz. Koretz quashed an earlier study of designated bike lanes for Westwood Boulevard,  and further undermined the city's Mobility Plan by yanking Westwood from the city's Bicycle Enhanced Network. 
(Joe Linton is the editor of StreetsblogLA ... where this perspective was first posted. He founded the LA River Ride, co-founded the Los Angeles County Bicycle Coalition, worked in key early leadership roles at CicLAvia and C.I.C.L.E., served on the board of directors of Friends of the LA River, Southern California Streets Initiative, and LA Eco-Village.)
-cw
NEIGHBORHOOD POLITICS--According to Greg Monfette, of Tree Case Management, an arborist hired by the Larchmont Business Improvement District (BID), the ficus trees planted on Larchmont almost sixty years ago have outlived their welcome (photo above) on the street, and it's time for them to be replaced through a process of rotational management.
The BID, a consortium of property owners on Larchmont, is trying to address the broken plumbing and sidewalks caused by the tree roots for several years. According to BID Co-spokesperson Rebecca Hutchinson, the BID needs to replace the ficus trees because it will lose its insurance if it gets sued one more time by someone who has been injured falling on a broken sidewalk. (Read the rest.) 
-cw
NEIGHBORHOOD POLITICS--Lauri Burns (Photo above, center), the founder and president of The Teen Project in Venice, reports that antibiotic resistant bacteria are not the only health threat incubating in the homeless encampments along Venice Beach. 
Alerted by the recent report by Lava-Mae of six – and possibly nine – apparent MRSA cases at 3rd and Rose, Ms. Burns called the VSA to tell of her own experience with insects carried by the population. 
"I took a young homeless woman into my home for one night on an emergency basis and it resulted in an infection of sand mites that took over half a year to eradicate," She said. 
"Both I and my boyfriend received bites for months, which were very painful," she said. 
"We tented the house, we had exterminators back regularly, we washed the bedding every day," she said, "but it still took a long time to eradicate the mites." 
"I don't think the public understands that the unsanitary conditions in which these people are forced to live, and in very close proximity, are a very favorable breeding ground for disease and insects." 
"It's a ticking time bomb and should drive more sanitation measures than we are currently seeing and quicker re-housing where the homeless can get away from these unsanitary conditions and get treated," Burns said.  "The homeless people want a chance at life. They don't want to stay homeless." 
Burns, who was homeless herself as a young woman, notes that eradicating disease and infection is the first priority for her clients at FREEHAB, the free drug treatment facility for homeless young women that she opened in 2015 in Sun Valley. Burns says the facility has hosted 442 women with a 90% success rate at getting them off drugs and keeping them off the street with both drug treatment and vocational training.
(The Venice Stakeholders Association is dedicated to civic improvement. The VSA supports slow growth, protection of the limits of the Venice Local Coastal Specific Plan, neighborhood safety, better traffic circulation, increased parking for residents, neighborhood beautification projects, historic preservation and protection of coastal waters.)
-cw
GUEST COMMENTARY--It's hard to overestimate the enormous implications of the City's total failure on New Year's in Hollywoodland. The last remaining thread of trust in the City has finally been cut for most of us who live here. We have communicated to the City on numerous occasions about the lax (a very generous word) enforcement on top of Mt. Lee. Its response is always the same: we are wrong and they have it secured. Still, we thought that, at least on New Year's Eve, when the entire world increases enforcement and is on alert, extra care would be taken in our neighborhood. 
Instead, not only was there nothing extra -- there was nothing! How long does it take for someone to change the Hollywood Sign? Certainly longer than I imagine it would take to leave bombs there. And after an initial blast, a subsequent fire could have devastating consequences. The whole world would have seen what a farce the City enforcement is.

Since 9/11, it's no longer a prank to change the sign. It's a serious breach of security that threatens our lives and homes. 
Our previous councilmember, on his own, went against decades of precedent (when the top of Mt. Lee was off limits to the public for good reasons) and without studies, hearings or process, recently opened it up and created a new activity of "walking to the Sign," inviting tens of millions of people to come up here. The present Councilmember has continued and thereby supports these policies. 
Anyone can come up here carrying anything -- huge backpacks used for weeks of camping, metal suitcases and various equipment. We've seen it. Everything is allowed. Nothing is checked. The lack of security takes one's breath away.

And what is atop of Mt. Lee? There are multiple terrorist targets and any one of them should the sound alarm:
The famous Hollywood Sign known worldwide as a symbol of Western Culture, one of the biggest tourist magnets in Southern California.
The emergency communication tower for first responders in the entire City of Los Angeles. 
8000 gallons of stored fuel.
Hundreds of nearby homes built on narrow, winding substandard streets (so narrow that a resident died in a house fire because a fire truck could not get up the narrow street.) It's a fragile neighborhood placed in a bottle neck surrounded on three sides by Griffith Park. 
All of this in a very high fire hazard zone in the midst of a drought. 
These are incredibly easy, vulnerable targets -- all in one location. And the probability of hundreds or thousands of residents and visitors being stuck on gridlocked streets as they try to evacuate could be turned into a certainty by the placing of just a few vehicles at key locations.

At this point it has gone beyond ignorance, incompetency or neglect. Over and over again, the City has chosen to disregard our warnings. Over and over again, the City has shown that safety is not its top priority. It scrambles to react rather than to prevent. Such conditions would be unacceptable anywhere else. 
We need and are entitled to protection. The City failed us on New Year's Eve and we greatly fear what the next failure will bring.

(Sarajane Schwartz is a 40-year resident of Hollywoodland, a founder of Homeowners on Beachwood Drive United, and a former president of the Hollywoodland Homeowners Association.
Edited for CityWatch by Linda Abrams.)
LA … WHO ARE WE?--The brilliant new film musical La La Land is being celebrated as a love letter to Los Angeles. But the darker heart of the movie lies in a brief and devastating critique of Southern California, delivered by the jazz pianist played by Ryan Gosling.
"That's LA," he tells his lover, an aspiring actress played by Emma Stone. "They worship everything and they value nothing."
There has been no better recent summary of the California struggle—with the very notable exception of the 2015 novel, The Sellout, whose author Paul Beatty recently became the first American to win the prestigious Man Booker Prize for Fiction.
La La Land and The Sellout seem very different. On the surface, the film, an Oscar favorite, might appear to be a glossy escapist romance about white artists who hang out in Griffith Park. The novel is a taboo-trashing racial satire about an African-American urban farmer of watermelons and artisanal weed who reintroduces segregation to his neglected South LA neighborhood, ostensibly in hopes of putting it on the map. (His real agenda is even more deliciously subversive).
But the film and the novel are two of the most thought-provoking and entertaining documents of today's California. And both are about the same big problem: that for all our celebration of successful game changers in this state, we offer precious little space or support to those who dare to upset our blissful status quo.
The film and the book also make the same provocative argument about how to break through the Golden State's stacked deck: Don't be afraid to do things that are totally nuts.
To make an impact here, you must embrace, and express, your inner madman. Both works specifically champion a self-sacrificing craziness, a willingness to surrender yourself and the people you love to focus on making your mark. Here, hitsville and heartbreak are two sides of the same heavy coin.
La La Land makes a straightforward case for crazy. Gosling's musician is the film's romantic hero, because of his uncompromising commitment to restoring traditional jazz even though he can't pay his bills because the rest of the world is abandoning the form. Stone's frustrated actress only inches closer to the red carpet when she devotes herself, against conventional wisdom, to producing her one-woman play in a theater she can't afford to rent.
And in the audition scene in which she finally breaks through, she embraces the virtues of craziness in song: "A bit of madness is key to give us new colors to see. Who knows where it will lead us?"
Both the film and the book wrestle with the conflict between loyalty to one's dreams and selling out—and in the process point out just how hard it is here to tell the difference between the two.
Beatty's novel similarly suggests that, to smash through the California looking-glass world, the sanest course may be to go right over the edge. The farmer refuses to accept the city of LA's erasure of his minority neighborhood (it's called Dickens, in one of Beatty's winking allusions to artists who embraced thorny social themes). And so the farmer fights this fire of systemic discrimination by violating dozens of laws and cultural norms. Most outlandishly, he takes a slave, who helps him segregate the local school, hospital, bus line, and businesses to the advantage of racial minorities. (He puts up signs reading "Colored Only" and "No Whites Allowed" all over Dickens).
Beatty's satire is so rich and layered—no one is left unskewered, from white supremacists to our first black president—that it's futile to attempt to convey it in a short column. But I will mention two of the most provocative parts of the politically incorrect plot—how long it takes for anyone outside the community to notice the farmer's segregation edicts, and how, through the farmer's loopy and unconstitutional acts, seeds of tolerance and kindness (lower crime, higher test scores, more polite behavior) take root.
"The racism takes them back," the farmer explains. "Makes them humble. Makes them realize how far we've come and, more important, how far we have to go." And it is only through embracing racism that the farmer makes his impact—and a point. As a judge in the novel remarks, "In attempting to restore his community through reintroducing precepts, namely segregation and slavery, that, given his cultural history, have come to define his community despite the supposed unconstitutionality and nonexistence of these concepts, he's pointed out a fundamental flaw in how we as Americans claim we see equality."
The Sellout and La La Land keep the reader and viewer enjoyably engaged and off-guard because they leaven their tough messages with comedy (the movie takes on screenwriting and the Prius, while the novel imagines "the Untouchables" in its caste system as starting with Clipper fans and traffic cops). And both works, for all their high ambition, fall back on some wondrous magical realism as an escape hatch from the difficult tonal and political juggling acts they perform. The La La lovers literally float into the stars through the ceiling of the Griffith Park Observatory, while The Sellout Metro bus becomes a rolling party that ends with the vehicle being driven into the Malibu surf.
The Sellout feels especially current because it breaks political ground, even becoming the first artwork to satirize our state's fastest-rising representative, Attorney General-turned U.S. Senator-turned-presidential wannabe Kamala Harris. Once the farmer is finally arrested, an unnamed black-and-Asian-American California attorney general shows up in Prada shoes to prosecute him for violations of major civil rights laws, the 13th and 14th amendments, and six of the Ten Commandments.
Both the film and the book wrestle with the conflict between loyalty to one's dreams and selling out—and in the process point out just how hard it has become to tell the difference between the two. And both get at a painful paradox. We know we must hold onto real people and real things, to be truly human. But in LA, we learn we must loosen our grip on reality to get noticed, and get ahead. It's not just lonely at the top; it's lonely on the whole journey up the California mountain.
In this way, both masterpieces ultimately raise the question of whether making your mark here is worth the cost. It may be that the real winners in this California are those who don't bother to play the game and navigate the hurdles to ambition—and instead plop themselves down in unfancy places where they can enjoy warm weather and their loved ones in blessed obscurity.
No character in the book or the movie is happier in Beatty's satirized world than the farmer's slave, an aging actor named Hominy from the 1950's TV show Little Rascals who refuses all efforts to free him. Trying to be a star in LA is so confounding that he prefers the simplicity of servitude.
"I'm a slave. That's who I am," he insists to the farmer. "It's the role I was born to play."
After all, if you're going to live in a place that values nothing, then why fight so hard to be something?
(Joe Mathews is Connecting California Columnist and Editor at Zócalo Public Square … where this column first appeared. Mathews is a Fellow at the Center for Social Cohesion at Arizona State University and co-author of California Crackup: How Reform Broke the Golden State and How We Can Fix It (UC Press, 2010).)
-cw
CORRUPTION WATCH-Hamlet anguished over "To be or Not to Be," but in November, 2016 Californians quickly answered the question of "To Kill or Not to Kill" with a rousing "Kill 'Em." Then Californians slapped on an addendum – "Kill 'Em Faster." 
Prop 66 also gives a lot of power to the trial court judge who has presided over a legal case to thwart an effective review of the conviction. Due to legal challenges, the California Supreme Court put Proposition 66 on hold and Chief Justice Tani Cantil-Sakauye and Justice Ming Chin had to recuse themselves from hearing the case since they are two of the defendants. The Los Angeles Times has discussed the procedural aspects of this case.
We Cannot Entrust Our Lives to the California Courts 
California's judiciary is an ethical swamp. As briefly discussed in a prior CityWatch article, California's court system is a disgrace to the notion of justice. 
People who are used to living within a polluted environment come to accept the status quo without question. In the 1950s many people inhaled the exhaust of buses, feeling good about the sign of progress, oblivious to the dangers of lead poisoning and other toxins. Many people fought against cleaning the air and still argue in favor of smog and against a clean environment. When assessing the State of California's judicial ecology, take a look at the air quality in Beijing during one of China's smog alerts. 
This China analogy provides a rough idea of the polluted nature of California's judicial climate. In November 2016, Californians voted against cleaning their judicial system of one of its worse carcinogens by retaining the death penalty. Then they went a step further to ensure that innocent people are put to death. This language may sound strong to many, but they do not know the rot which has eaten away the moral fiber of our judicial system. 
Given the number of people nationwide on death row who have already been found innocent, California could have about 30 innocent people awaiting execution. Prop 66 would reduce the chance of ascertaining who is innocent before they are executed. Prop 66 gives new meaning to the phrase, "Speed Kills." 
The Courts Have Brought Us Some of California's Most Memorable Murders 
Fifty-four people died in the aftermath of the exoneration of the police officers in the Rodney King trial held in Simi Valley. Angelenos do not know, however, how the California State court maneuvered the acquittal of those police officers (two of whom were subsequently convicted of federal civil rights violations in the federal court room of Judge John G. Davies.) 
Back in 1992, the Law and Order judiciary feared that if the police officers involved in the 1991 beating of Rodney King were tried in the downtown criminal courts building, that a Los Angeles jury would convict them. The feeling was the same if the trial were to have been held at the Van Nuys Criminal Courthouse, which served the area where Rodney King was beaten. 
Thus, a bogus claim was made that the LAPD Officers could not get a fair trial and the case had to be moved. The California appellate court came up with two alternatives: Oakland which they knew would be labeled too expensive by the District Attorney's Office, and Simi Valley, a nearby bedroom community for police officers. Gerrymandering the location of the trial made an acquittal a foregone conclusion and thus the court laid the ground work for the deaths of fifty-four innocent people. Had the California courts allowed the prosecutions to proceed in a fair manner, the State court outcome would most likely have mirrored the officers' later convictions in federal court where two of the officers were found guilty and served prison time. 
The Rodney King case was not the first time the California judiciary has been implicated in outrageous injustices. Anyone who has spent time in courtrooms gains a sense of when something hinky is going on. The situation was worse with the LA criminal courts since many of the judges were former prosecutors who worked closely with the District Attorney's Office to obtain convictions. 
In 1988, a furor arose over the Los Angeles DA's use of jail house informants due to their persistent committing of perjury, later upheld in an appeal.  
For our purposes, the most significant fact is that many judges are former prosecutors. The judges knew that lying jailhouse informants were being used. Before they were judges, they had worked in the DA's office where the use of lying jailhouse informants was routine. 
In the Mid-1990s We Were Explicitly Told that Innocent People Were Being Set up 
After pleading no contest to a perjury charge in 1996, Detective Mark Fuhrman of OJ Trial fame, asserted that "all true cops lie, cheat and set people up." But no one wanted to hear the truth, especially from a disgraced cop whom they incorrectly blamed for the loss in the OJ trial. (Fuhrman's perjury conviction was later expunged.) 
Before the end of the 1990s, we learned about the scandals at the Ramparts Division with the LAPD being placed on parole under the supervision of the United State Department of Justice, effective June 15, 2001. Once again, criminal court judges are very often former prosecutors who work very closely with the police. As we saw with the use of lying jail house informants, as former assistant district attorneys the judges had to be well aware of the illicit procedures by the district attorney and the police. The Rampart Scandal could not have existed without the support of the judges who allowed the unconstitutional abuses to grow to such proportions that the LAPD ended up having its own "Parole Officer" from 2001 until 2013. 
While the LAPD emerged from the Consent Decree in 2013 as a transformed institution, the public never learned about the role the judges played in the use of jail house informants and condoning the abuses which resulted in the Consent Decree. Since there is no accountability for miscreant judges, the misconduct continues. 
Prosecutors who use perjury did not die in the 1980s or in the 1990s or even in the 2000s. In January 2015, the 9th Circuit of local federal court complained about a prosecutor who took the witness stand and committed perjury. Even after his lying ways had been uncovered, the judiciary did nothing. Let's be clear – not only did the prosecutor get an informant to testify, the prosecutor himself then took the stand to support the informant's veracity. To aggravate matters, other courts had decided that the prosecutors had obtained the conviction in Baca's trial by the use of false evidence, but these other judges upheld the conviction. 
"The 9th Circuit (the federal court) keeps seeing this misconduct over and over again," commented Gerald Uelmen of the Santa Clara University School of Law. Nor, has the judicial misconduct ceased. Currently, the FBI is investigating the Orange County Sheriff Department's long-term misuse of jail house informants. On Thursday, December 15, 2016, the U.S. Department of Justice announced the FBI's investigation of the Orange County Sheriff's Department use of jail house informants. 
The investigation will focus on allegations that the OCDA and OCSD "systematically used jailhouse informants to elicit incriminating statements from specific inmates," inmates who had been charged and were already represented by attorneys. The investigation will also examine if county prosecutors violated defendants' rights to a fair trial by "failing to disclose promises of leniency that would have substantially undermined the credibility of the informants' trial testimony." 
Since a high percentage of judges come from the district attorney's office, they are well aware of these unconstitutional practices. Without the cooperation and supervision of the judges, these decades of serious constitutional abuses would not exist. We have to remember that we are not talking about short cuts to "catch the bad guys," but rather, are plagued with intentional schemes to convict the innocent. 
California's Judges Preside over a System with an Epidemic of Misconduct 
The three federal judges in the Baca Case did not limit their criticism to objecting to this one prosecutor's behavior in that case, but they went on to charge that the California judicial system has "an epidemic of misconduct" and they laid the blame at the feet of the California State court judges who turn a blind eye. 
These three federal judges' observation on the lack of ethics in the California judiciary brings us full circle to Proposition 66. One thing which Proposition 66 does is return Habeas Corpus hearings to the original trial judge. Habeas Corpus is Latin for You May Have the Body. A person requests a court to free a person from jail, and if the court grants the request, it gives a Habeas Corpus order, which says, "You may have the body." 
Proposition 66 wants this vital decision to be made by the judge who has the highest likelihood of helping to railroad an innocent person to the death chamber. Before Proposition 66, the Habeas Corpus hearings were held before other judges who had no vested interest in denying this particular request. The last person on earth who should preside over a Habeas Corpus hearing is the judge who just orchestrated the conviction. 
This aspect of Proposition 66 doubles down on the corrupt nature of the California judiciary, and it is not surprising that it contains this provision gutting Habeas Corpus hearings. 
Assuming California has the same percentage of innocent people sitting on death row as other states, then about 30 innocent people are likely to die if Proposition 66 is found constitutional. For judges, who have helped railroad innocent people by looking the other way at prosecutorial misconduct, anything that reduces the chances that their complicity in wrongful convictions can be revealed is a good thing. As the saying goes, "dead men tell no tales." They see Proposition 66 as a way to prevent their epidemic of misconduct from being exposed. 
What Will Become of Proposition 66's Requirement that We Kill People Faster? 
Rejecting Proposition 66 will not rectify the decades of judicial misconduct in the California judiciary. Rejecting Proposition 66 will, however, temporarily slow down California's slide into an ethical morass.
(Richard Lee Abrams is a Los Angeles attorney. He can be reached at: Rickleeabrams@Gmail.com. Abrams views are his own and do not necessarily reflect the views of CityWatch.) Edited for CityWatch by Linda Abrams.
PLATKIN ON PLANNING-We could surely address growing social and economic inequality in Los Angeles if each call to update the Community Plans was matched with a nice raise for all those who live and work in the City of Angels. 
But, please don't hold your breath, because there are tremendous barriers to effectively updating the Community Plans. When the job is finally completed, the curses of time, a rudimentary planning process, and City Hall's pay-to-play political culture will have rendered the final product useless. This hopeful City Hall magical elixir is just a will-o-the-wisp. 
Furthermore, there is every indication that if and when the Community Plans are eventually updated, the Updates will be used to placate developers, not a concerned public rooting for a well-planned city. And, if Measure S, the Neighborhood Integrity Initiative, wins on March 7, the timetable to update the Community Plans will dramatically speed-up. Like the botched and annulled Hollywood Plan, each future Update will be quickly appended with extensive up-zoning and up-planning ordinances to circumvent Measure S's ban on spot-zoning and spot-planning. 
Private Greed, not Public Need 
As described in a recent Los Angeles Times editorial, City Hall's slimy pay-to-play land use decision-making process has become "soft corruption." But, this corruption is much more than a problem of public perception. It also means that land use decisions – especially for mega-projects – are disconnected from the legally mandated planning process. This is because LA's money-infused pay-to-play culture annually spawns hundreds of parcel level zone-changes, height district changes, and General Plan amendments. Called spot-zoning, the result is that many Los Angeles neighborhoods are already dotted with parcels that exceed legally adopted zoning, height districts, and General Plan designations. 
Furthermore, if and when the City Council eventually adopts updated Community Plans, continued spot-zoning will render every Community Plan irrelevant. Each Plan's land use maps and implementing zoning ordinances will become a shelf document because deep-pocketed developers will continue to overturn adopted plans and zoning at whim. When their bean counters tell them, for example, they can make considerably more money through a high-rise luxury apartment tower than a low-rise retail store, contributions will flow, followed by zoning applications and eventually by building permits. 
In this world unrestrained market forces, not official plans and zones, remain LA's de facto planning process. The City's legally adopted General Plan, including its Community Plans and their implementing zones, will stay on the books, but as minor speed-bumps on the yellow brick road to private enrichment. 
Like today, pay-to-play will continue to squeeze certainty and predictability out of the planning process. 
Technical barriers to effective Community Plan Updates 
In addition to these formidable political barriers to effective Community Plan updates, there are three technical barriers begging for solutions. 
Community Plans should be updated every five years, not on a 20 or 25 year cycle. The current Update process, called the New Community Plans, began over a decade ago, when Gail Goldberg was the Director of City Planning. Beginning with her administration, the City Planning Department has only updated several Community Plans, and its latest estimate is 7 to 10 years to complete the job. Long before then, however, the entire updating process should start all over again. 
The Community Plans -- the General Plan's Land Use Element -- apply the Updated General Plan's many citywide elements (chapters) to local communities. But, City Planning is updating the Community Plans on a separate timeline. They will complete most of these local plans without the benefit of updated citywide General Plan data and policies. Cities with such a fragmented, cart-before-the-horse approach, therefore, rely on dumb luck that their local Community Plans properly knit together and cohesively guide the entire city. 
There is no accurate and timely data of the buildout potential of Los Angeles's existing zoning. City Planning computed such buildout calculations 25 years ago, but since then City Hall has implemented SB 1818, the Density Bonus ordinance. It allows up to two more stories of residential development on all commercial lots. This means that LA's long, one and two story commercial corridors could now be rebuilt with four or even five story mixed-use or totally residential apartment structures. 
What is already visible on the Miracle Mile could repeat itself on all other commercial thoroughfares, such as Pico or Washington. While this zoning potential certainly varies among Community Plan areas, an effective planning process needs to carefully consider this data, especially in light of forecast demographic trends. Even if City Hall relies on SCAG's habitually inflated population numbers, there is every indication that LA has far more land zoned for apartments than would be required by all conceivable General Plan growth scenarios. 
My conclusion 
For the Community Plans to be a magic elixir, the City of Los Angeles must overcome two barriers. First, City Hall's soft-corruption has to go. If it remains, it totally undermines any planning process. Second, the technical planning process needs to be accelerated, properly sequence, and based on reliable data for the city's zoning build-out potential. 
This is certainly a tall order, but it is necessary.
(Dick Platkin is a former LA City Planner who reports on local planning issues for City Watch. He welcomes comments and corrections at rhplatkin@gmail.com.) Prepped for CityWatch by Linda Abrams.
THIS IS WHAT I KNOW--City Council incumbent Gilbert Cedillo has set sail on his campaign to retain his District 1 City Council seat. LA's primary election is March 7. His ship may be off to a rocky start, however. Activist Marc Caswell asks if Cedillo is using his office resources to send campaign emails, which may be in violation of LA Municipal Code section 49.5.5b? 
No City official or employee of an agency shall engage in campaign-related activities such as fundraising, the development of electronic or written materials, or research, for a campaign for any elective office of ballot measure during the hours for which he or she is receiving pay to engage in City business or using City facilities, equipment, supplies or other City resources. 
While we don't know if Cedillo has been campaigning during office hours, LA's Marc Caswell believes Cedillo has used city resources to send campaign emails. Caswell, who lives on the border between CD13 and CD1 says he subscribes to the email newsletters for both districts' council members in order to stay up to date on community news and information. 
"I find it odd that I started receiving campaign emails from only Mr. Cedillo when I know I never signed up for them, " he explains. "I think it's wholly inappropriate that an elected official would take his taxpayer-funded newsletters (database) and use that for campaign emails. And this offense is ever more egregious since Mr. Cedillo didn't even bother to change his City Hall office address for his campaign emails." 
Caswell says he filed an ethics complaint because "elected officials should not abuse the taxpayer by spending our money on their re-election campaign. Not only is this a clear violation of City Ethics laws but it shows Mr. Cedillo's clear lack of respect for the voters and residents of Los Angeles." 
This isn't the first time Caswell has filed an ethics complaint against Councilmember Cedillo. Back in November, Caswell says he sent a complaint about a violation of another law related to emails that was reviewed by the Ethics Commission. He is still awaiting a response. 
"Normally, I'm not this nit-picky -- but he keeps violating email ethic laws over and over!" says Caswell.
Stay tuned. If Caswell is right, Cedillo's campaign journey may run into some campaign turbulence before he reaches that doc by the primary election bay.
(Beth Cone Kramer is a Los Angeles writer and a columnist for CityWatch.)
-cw
EASTSIDER-After the recent defeat of Proposition 53, a Howard Jarvis backed initiative aimed squarely at Jerry Brown's Delta Tunnel project (aka WaterFix), matters are moving forward with the project. 
The CEQA challenges are now finished, and the resulting a 100,000 page document (I kid you not) is on the Governor's desk. As General Manager of the Metropolitan Water District, Jeffrey Knightlinger quipped at our DWP meeting that the stack of paper is about 40 feet high, roughly the same as the diameter of the Delta tunnels (irony intended). 
For reasons that I do not purport to understand, the (Chicago) LA Times is still opposing the tunnels, clear proof that the owners of the Times do not reside in Southern California. 
The reality, however, is that we in Southern California really need to protect access to the water flowing from the Northern California mountains through the Sacramento River and the Delta, into the California Aqueduct to the Metropolitan Water District. In the likely event of continued drought this water is critical for us and for our children as global warming increases mountain temperatures. 
As a third generation Californian, I am painfully aware of the North/South political split in our State that has existed forever. Folks like my late grandfather up in Orville wanted to literally divide the state into two, and I have some friends in Sonoma County who still believe it would be a cool idea. But just like we have to live with Northern California and its politicians because of their water, they have to live with our need for that water in order to fuel the State's economy. Not to mention that the entire state needs to do something with the water supply. Northern Californians don't like floods and busted levees. 
Truth is, Southern California is a desert, and there are only a couple of sources for water to feed the roughly 50% of the State of California's population that resides within the six counties of Ventura, Los Angeles, Orange, San Diego, Riverside and San Bernardino. Those six counties (actually only portions of Ventura, Riverside and San Diego) constitute the membership of the Metropolitan Water District, or Metro, as it is often called.
For all the political talk about the Delta Tunnel, most Angelenos have no idea where our water actually comes from, or how the DWP fits in with the Metropolitan Water District. What's even stranger is my friends in Northern California seem willing to ignore the fact that Brown's WaterFix will help them too. The levee system and the Delta are a mess up there, and Brown's proposal will help them fix their problems as well as help Southern California. 
About That Water 
If you look at the big picture, the Metropolitan Water District generates over 50% of Southern California's water. Metro's sources for this water consist of the California Aqueduct and the Colorado River Aqueduct. The balance comes from local sources and the DWP's Owens Valley Aqueduct. 
Because of multi-state agreements, Metro's share of the Colorado River is a percentage of what flows through the river. Based on these agreements, this has usually translated into about 50% of a baseline amount. On the other hand, as drought becomes more persistent in the Western states, those amounts will probably go down over time. 
The good news about the Colorado River water is that Metro has a huge storage capacity, and in fact maintains a permanent six months' supply in storage just in case of an emergency. So from an availability factor, it is great that we will always have access to the allotment from the Colorado River. 
The situation from the California Aqueduct is another matter. Water entering the system from the mountains and rivers in Northern California is capable of producing a huge amount of water per year, but the amount and flow of that water supply is intermittent. In other words, what's in the system depends on how much rain and how much snow we get, as well as when those events take place. The system itself doesn't have a lot of permanent storage built into it. 
The astonishing good news to me, and hats off to the water folks, is that while our population has increased from about 13 million people in 1985 to some 19 million people in 2015, our water demand has been essentially flat. Proof that all of those efficiency measures have worked. 
The Environmental Factor 
One of the biggest factors in how much water we can get from the Delta, and for that matter, the Owens valley, are generically referred to as environmental issues. These types of concerns led to the passage of CEQA (California Environmental Quality Act) back in 1970, designed to make state and local governments identify and mitigate the environmental impacts of their decisions. 
Most people I know have no clue what CEQA means beyond the name, and it's difficult to get an objective explanation, so if you want to know more, there's a good starting point here. 
In addition to providing a legitimate curb on government destroying the environment, CEQA has also made a bunch of lawyers rich and created entire new political and governmental bureaucracies -- thus the some ten years and 100,000 pages of CEQA documents on Governor Brown's Delta tunnel project. 
Like any huge capital project, WaterFix is going to be paid for by ratepayers in their monthly bills. Small price for ensuring a reliable water supply, and in retrospect it's a darn good thing that we built the Colorado River Aqueduct and the California Aqueduct. So, if it isn't really about the money, then what is it? 
I think that using the magic word "environment," we have created an entire environmental business model that has little to do with rational anything. 
At this point, there are a number of non-profit organizations whose livelihoods consist in fundraising and litigation over the environment. There are also a number of class-action attorneys specializing in this area. Further, there are agencies like California's Department of Fish and Wildlife, the U.S. Fish and Wildlife Service, and a host of others, whose staffing and existence are dependent on staying in the limelight come budget time. 
Two examples. First, I don't know why the folks up north keep whining about the delta smelt. This isn't about smelt. Heck, right now I am told there's a hatchery that produces smelt each year that can't be released into the water supply because the regulatory agencies won't let anyone do it. C'mon. 
Second, the DWP and the Owens Valley. The issue of LA stealing their water a century ago is over. These days the issue is a small group of politicians controlling a water district up there that they use to blackmail money out of LA ratepayers. They have evolved from screaming about the water grab to 'dust mitigation' and have made a bundle. 
My point is that how much water we get in Southern California is more than just a political issue. There is a huge amount of water from Northern California that simply goes out into the ocean or floods because it can't be captured or managed. Just ask the folks in Truckee or Sonoma County after this week's massive rainfall. Wouldn't it be nice to have a system that can helps manage these huge fluctuations in water? Enter Brown's plan. 
In terms of planning ahead, you may have seen on TV how they measure the snowpack in the Sierras using the depth of the pack, which gives an indication as to the existence and/or severity of a drought. 
The reason that the snowpack is critical is that the snow is a great way to store water, which can run off later into the system. Now, factor in climate change, or if you don't like the idea of climate change, just call it drought. When temperatures in the Sierras get much above 30 degrees, we don't get snow. We get rain, and rain doesn't get stored. 
The Takeaway 
Let's put the pieces together. The three big water sources for Angelenos are the Owens Valley (DWP), the Colorado River Aqueduct, and the California Aqueduct (MWD), plus a variable amount of local water through our water basins and recycling. 
Over time, it is clear that the amount of available water from the Colorado River and the Owens Valley will decrease, not increase. Guess what that leaves? That's right, the California Aqueduct, which produces a large but extremely intermittent flow of water. Thus, the Delta tunnel project. 
The project will help the environment (the 100,000 pages of CEQA documents), and the project will provide more water storage as well. Maybe that could have helped avoid this week's flooding up north. 
Absent something like the Delta tunnel project, it is not likely that the amount of water available to pump from the California Aqueduct will increase anytime soon. And while MWD contracts for up to two million acre/ft. per year, with regulatory/environmental requirements, the actual amount received is more like 50% of that figure -- which could go down. 
While a $15 to $17 billion plus bill to build the tunnels sounds like a lot of money, consider the B Plan: not having enough water to support us. Remember, without the Owens Valley Aqueduct (politically correct name, the Los Angeles Aqueduct), there wouldn't be much of a Los Angeles. 
And I would remind folks that big capital projects take a lot of time to complete. Just look at our freeways and CalTrans attempts to fix/build them when bad stuff happens. I think a few bucks a month for ratepayers represents a sound investment. Heck, maybe someday we can even water what used to be our lawns.
(Tony Butka is an Eastside community activist, who has served on a neighborhood council, has a background in government and is a contributor to CityWatch.) Edited for CityWatch by Linda Abrams.
LA WATCHDOG--On Friday, the Ad Hoc on the Summer Olympics Committee will meet to review the City's and Los Angeles 2024 Exploratory Committee's ("LA24") bid to host the 2024 Summer Olympics.  And without doubt, this seven member committee chaired by City Council President Herb Wesson will approve moving forward with submitting the well-conceived bid to the International Olympic Committee ("IOC") on Friday, February 3. 
After all, almost 90% of Angelenos support hosting the 2024 Summer Olympics. 
But there is the issue of the City's exposure to losses as our cash starved City will be required to indemnify the IOC and the United States Olympic Committee against any losses.  
Based on the updated projections prepared by LA24 that have been reviewed in detail by KPMG and Miguel Santana, our trusted City Administrative Officer, the $5.3 billion Olympic budget has a Contingency Reserve of almost $500 million, representing over 10% of the $4.8 billion in expenditures.  And this is after other contingency reserves built into the development of individual venues. 
The updated budget is a vast improvement from the 2015 Budget as the Contingency Reserve increased to $491 million from $161 million.  
The new budget ditched the building of a de novo Olympic Village on the site of Union Pacific's Piggyback Yard.  Instead, LA24 has made arrangements to use UCLA and USC dormitories, resulting in savings of an estimated $1 billion.  
There are also considerable savings that LA24 is able to achieve by using existing venues, ranging from the Coliseum, the Rose Bowl, Staples, StubHub, Pauley Pavilion, Galen Center, and numerous other locations throughout Southern California.  
The management has also fine-tuned its projections by developing a detailed, bottoms up financial model and benchmarked its "conservative" assumptions and results against the London 2012 Olympics and other mega events. 
The City and LA have developed a Memorandum of Understanding ("MOU") that protects the City's coffers.  Importantly, it calls for a $250 million Contingency Reserve to be funded prior to the beginning of the Games.  
The MOU also requires LA24 to obtain insurance policies to cover natural disasters, terrorism, and event cancellation as well as coverage for "reduced ticket sales and other revenue sources should the events become less appealing." 
As a side note, the State will reinsure the City's exposure by agreeing to absorb $250 million of losses, but only after the City has taken a hit of $250 million. 
The City will also be reimbursed for its incremental out-of-pocket costs for providing "enhanced municipal services" such as police, fire, sanitation, traffic, and parking control. 
The MOU also allows the City to oversee the operations and finances of the Olympics by allocating one-sixth of positions on the Board of Directors and its committees to the City and by requiring LA24 to provide the City with timely financial information and other information. 
However, the City's requirement that LA24 comply with all applicable City laws and ordinances may result in significant cost increases because of its prevailing wage and work rule requirements, especially if it involves city-specific venues.    
Hosting the Olympic Games will also increase economic output by around $11 billion, provide numerous full time jobs, and produce additional tax revenue according to a report prepared by Beacon Economics.  On the other hand, the State's Legislative Analyst stated that "some short-term economic gains in 2024 and in the years before the Games are likely.  Lasting economic gains, however, appear unlikely." 
LA has an advantage over Paris and Budapest because we are "Games Ready." This allows us to use our existing world class infrastructure to meet the goals of the Olympic 2020 Agenda which emphasize environmental sustainability and minimizing financial risk.   
The IOC will announce its decision on September 13 in Lima.  
And assuming we win the bid, as well should, then the hard work will begin as preparing for this mega event with so many moving parts over the next seven years will be a monumental task requiring excellent management. 
But the City's biggest risk is our own Elected Elite who do not have the common sense to leave well enough alone and let management do its job. Oversight is OK, but no day to day meddling, no interfering with operations, and no asking for favors or preferential treatment.  
We also need to wary of mission creep where City Hall decides to accelerate numerous infrastructure projects that have the potential for cost overruns and delays that interfere with the success and finances of the Olympics.   
LA24 has done a very good job of developing a plan that protects the City from financial loss.  But LA24 and Angelenos must also protect the City's coffers from our Elected Elite. 
(Jack Humphreville writes LA Watchdog for CityWatch. He is the President of the DWP Advocacy Committee and is the Budget and DWP representative for the Greater Wilshire Neighborhood Council.  He is a Neighborhood Council Budget Advocate.  Jack is affiliated with Recycler Classifieds -- www.recycler.com.  He can be reached at:  lajack@gmail.com.)-cw
PUNISHMENT POLITICS-Benny King is a gregarious, good-hearted, God-fearing 53-year-old black man from Alabama who shouldn't be in prison. 
But he is. 
Mr. King is serving 14-months at the federal correctional institution in Jesup, Georgia, for violating conditions of his supervised release; conditions ordered as part of King's sentence over eleven years ago, in 2005, for bank fraud. Mr. King's underlying conduct in that nonviolent, low-level federal criminal case (involving stolen checks) bears no relation to his current incarceration other than the fact that, it too, like the entirety of King's nonviolent criminal history, was a byproduct of decades-long untreated drug addiction.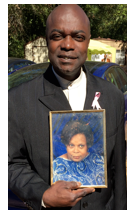 You see, just like hundreds of thousands of poor, disproportionately black and brown Americans sidelined from American life – stuffed out of sight in state and federal penal institutions across the U.S. – King is serving time for one, and only one, unconscionable reason: he suffers from a substance abuse problem. He drinks. 
Mr. King (photo left with picture of sister who died) started drinking when he was just twelve years old and the problem got worse at age fourteen when his mother died; it became still worse, a bare three years later, when his father passed too. Poverty, tragedy, and alcohol abuse are a multi-generational scourge in the King family. 
And for Benny King, as with many alcoholics, when the alcohol flows, other substances quickly join stream -- marijuana, cocaine, whatever's around. As anyone who has battled drug addiction knows (or equally, has had a friend or loved one fight that hellacious war), once the substance-spigot starts its drip, the situation often spirals, becoming impossible – without effective, often repeated, long-term inpatient drug treatment – to stop.    
That's why what happened this past November 16 in a courtroom in Montgomery, Alabama – when Senior U.S. District Judge W. Harold Albritton III threw the proverbial book at Mr. King because he relapsed, using alcohol and drugs in the wake of his sister's death -- should outrage every American who cares about reducing our abominably bloated prison population. 
Using an official transcript for reference, here is an abbreviated version of the proceedings: 
Judge Albritton: Mr. King, you are charged with two violations. It's alleged that you violated the special condition that required you to participate in a program for substance abuse. You violated that term of your supervision by showing up at Herring House, where you were to be given treatment, and they would not admit you because you had been drinking alcohol. The second violation is a charge that you violated the standard condition that you refrain from excessive use of alcohol or any controlled substance. 
Assistant Federal Defender Donnie W. Bethel: I have a few things I would like to say, Your Honor. Mr. King was arrested on a Thursday. The following Saturday, his sister passed away from cancer. It was an older sister, 12 years his senior. It was a sister who, after his mother died when Mr. King was a boy, had essentially been his surrogate mother. We were back in court on a preliminary hearing that following week, and at that point I asked for him to be released on bond so he could attend his sister's funeral. That was vehemently opposed by the prosecution, by probation, by the United States Marshal Service, which I am still befuddled by. I know what it's like to lose a sibling. I was really taken aback that there's such a lack of basic Christian compassion in the criminal justice system, that we would do everything we could to deny a man simply the opportunity to attend his sister's funeral. 
I convinced Judge Moore to release him to my custody. Everybody was thrilled that Mr. King was able to attend the funeral. At the funeral, he played the piano and he sang. He's actually a talented musician. And before I left that day, every member of his family made a point in coming to me and thanking me for taking the time out of my weekend to bring Mr. King up there to attend his sister's funeral. And I say that only to make this point. This isn't a violation that involves Mr. King out on the street with a gun; Mr. King selling dope; Mr. King committing some other crime, burglary, theft of property. Mr. King has a drug problem. Mr. King knows he has a drug problem. That's what this case is about. 
He would like another opportunity to go to the Herring House to get some drug treatment, because that's what he needs. And I think we've become so callous, so used to in the federal criminal justice system to shipping people off to prison, that nobody would bat an eye if, for having a drink and getting high, we're going to send Benny King off to prison for 14 months. I think we need to step back and say, let's stop doing the easy thing, and let's do the right thing. 
Mr. King, tell the judge what your plan is after you're released. 
Mr. King: My plan is to go to Florida, be with my fiancée, get married. I've already started the process of enrolling for a GED to get my diploma. And I'm going to take some college courses at night. I'm going to work doing paving and construction, and also I'm working for a church called New Jerusalem Baptist Church in Ft. Myers, Florida. 
I violated, Your Honor. And I know you can't overlook that, and I don't expect you to. But I was – when I left and went home and saw my sister. And she was fading away, and I just – which was no excuse, but I used that as an excuse to drink. And when I drink, I get high. I violated, and I apologize, and I ask the mercy of the Court. But I'm just going to be honest with everybody. I'm tired. Benny King is tired today. I'm tired. I'm not trying to pacify nobody ears. 
Mr. Bethel: He's 52 years old. Give him another chance. Let him go to the Herring House. He's clean now. He's not going to be positive when he shows up down there this time. Let's get him straightened out. Let's just do what we were planning to do a month ago. 
Assistant United States Attorney Curtis Ivy, Jr.: So coming forward now with all these great plans and ideas is an easy thing, but it's not going to work. What's proper in this case is 14 months' imprisonment with no supervised release to follow. 
Mr. Bethel: Anybody who thinks that it's easy for a drug addict not to use drugs has never had someone close to them who's been a drug addict. I have. It's not easy. No matter what you do to help them, no matter how much they go through, it is the most difficult thing I've ever seen in my life for someone to overcome a drug addiction. And that's what we're talking about. Talking about criminalizing this case, drug addiction. 
Judge Albritton: Under the law, being a drug addict is not a defense. In this case, Mr. King has been given more than one opportunity to try to get himself straightened out. I'm sympathetic with you – and I'm sorry about your sister's death. This time I'm going to sentence you to the maximum under the sentencing guidelines of 14 months, with no supervised release to follow. You'll be on your own after that. The court system and the probation office and everybody has done all they can to help you break your habit. 
Just a day after Benny King was "maxed out" by Judge Albritton in Alabama, The Washington Post's Lenny Bernstein wrote about a new "landmark" report authored by the U.S. Surgeon General calling the drug crisis 'a moral test' for America." Distressingly, the report noted that, "[i]n 2015, substance abuse disorders affected 20.8 million people in the U.S., as many as those with diabetes, and 1 ½ times as many as those with cancer. Yet, only one in ten receives treatment." 
Echoing Benny King's defense counsel, the Surgeon General said: "We would never tolerate a situation where only one in 10 people with cancer or diabetes gets treatment, and yet we do that with substance abuse disorders. Regardless of persistent beliefs, addiction is a brain disease, not a moral failing." 
And then, just a month after Benny King began his newly imposed $31,000+ taxpayer-funded prison term – over four hours away by car from his fiancée and family – a rigorous, scholarly study by the Brennan Center for Justice convincingly demonstrated that 39% of prisoners in the U.S. should not be in prison. Specifically, the study found (1) that "39% of the nationwide prison population (576,000 people) is behind bars with little public safety rationale," and (2) "25% of prisoners (364,000 people), almost all non-violent, lower-level offenders, would be better served by alternatives to incarceration such as treatment, community service, or probation." 
Benny King is one of these sad, sad, stories in the sea of the overly incarcerated. 
Writing about another equally sad case with many parallels to Benny King, Tamra Ryan, CEO of the Women's Bean Project, wrote: "Jessie is now back in prison and we are unlikely to hear from her again. While she may not have access to drugs in prison, she will also likely not receive drug treatment. Instead, she will do her time and, at some point, start over again without addressing the underlying issues that led to her relapse. Jessie's addiction and inability to cope with stressors have been criminalized." Ryan concluded "the time has come to address the underlying issue of addiction with treatment, not punishment, so that the potential of the individual is not wasted."   
Exactly. 
We don't need more drug addicted people like Benny King or "Jessie" filling up this nation's jails and prisons. They're already overly full. We've got to start moving in the other direction. Now.
(Stephen Cooper is a former D.C. public defender who worked as an assistant federal public defender in Alabama between 2012 and 2015. He has contributed to numerous magazines and newspapers in the United States and overseas. He writes full-time and lives in Woodland Hills, California. Follow him on Twitter @SteveCooperEsq This column was first published by JURIST and is being republished with the author's permission.) Prepped for CityWatch by Linda Abrams.
GELFAND'S WORLD--The newly elected Republican majority in Congress wants to be sure that America is protected against terrorist attacks. They're willing to do what it takes and spend what is required to ensure our security. Otherwise, hundreds or even thousands of us could die. 
I suspect that most Americans are on board with this philosophy. 
What we're talking about is the idea of collective security. It would be unreasonable to expect every coastal community from Maine to Georgia to raise its own navy. We do it as a nation, not as individuals or families. And when Pearl Harbor was attacked, we treated it as a national loss, not the responsibility of a few Hawaiians. Likewise, when major Hurricanes hit the Gulf coast and the Atlantic seaboard, the national government pitched in with the recovery. Taxes coming from California and Nevada went to those recovery efforts. Few Californians complained. 
One reason for creating collective security is that there is an element of randomness in regard to who happens to be in the line of fire. We can't know that it is going to be ourselves or somebody else who gets blown up. And even if it was somebody else who was at the finish line of the Boston Marathon or in the Federal Building in Oklahoma City, we treat such events as attacks upon all of us. 
We used collective efforts to deal with the problem, in this case the matter of catching the killers. When an airport terminal was attacked a few days ago, police agencies all over the country raised the alert level and federal agencies were involved. 
Terrorism is definable not just by its underlying motives, but by the serious level of its effects. Petty theft isn't terrorism. Graffiti isn't terrorism. Terrorism involves direct threats to human life and, sadly enough, the loss of life or permanent injury. 
So we have a pretty good reason to take precautions against terrorism. As a liberal, I share with conservative Americans the desire that we all be protected against terrorism. We have this, at least, to agree on. 
I would like to suggest to both liberals and conservatives alike that there is a parallel when it comes to sickness. For a number of conditions, there is an unhappily random element to the whole thing. Childhood diabetes and childhood cancers are examples, as are broken bones and congenital heart defects. What these have in common is that they come as surprises to otherwise normal families and that they can cost a lot. 
Considering that these conditions are fairly random and fairly rare, it doesn't make sense for people to consider them in advance as a normal element of their own lives. Young couples planning a family can be forgiven if they don't decide up front what they would do if their new baby has a heart defect requiring surgery. Should every young couple be advised to set aside a couple hundred thousand dollars in advance of having children? 
At this level, it makes sense to consider randomly occurring birth defects and childhood cancers as physically and financially analogous to terrorist attacks. They are of course very different things, but each happens without warning and results in costly, painful effects. 
In other words, we should consider at least some physical ailments as falling into the category of collective responsibility, in the same way we think about collective security against foreign invasion, because individuals and individual families shouldn't be expected to either anticipate them or (if they happen) to be able to afford them. 
Beyond such near-catastrophic events are the severe but usually non-fatal chronic conditions such as asthma, scoliosis, and severe allergies, all of which are amenable to medical care following proper diagnosis. 
Let's get to the crux of the argument. If we are to have the equivalent of collective security against serious congenital defects -- in other words, a national healthcare system, or Obama Care, or socialized medicine -- and if we want to extend it to appendicitis, pneumonia, and dangerous allergy attacks, then where exactly do we draw the line? Where do you define a set of symptoms that are guaranteed to be so non-dangerous that we deny access to the national healthcare system for them? 
If this seems like a slippery slope argument, I assure you that this is exactly what it is. Nations that create a universal healthcare system for heart disease and cancer don't draw the line against treating the common cold or the flu. The public can't be expected to know in advance that a nagging cough is nothing to be concerned about. 
Western industrial nations that create some kind of national healthcare system do draw lines. But they do it after the diagnosis, not before. 
When we talk about childhood leukemia, it is easy to make a case, at least at the level of common decency, for some system of universal healthcare. Why then does the conservative political wing insist that healthcare should be provided through the free market? 
I suspect that the clash lies in the imagined picture of real world healthcare. It is possible to think of routine medical checkups, teeth cleaning, and the like, as normal expenses of being alive. We shouldn't expect the government to cover the cost of getting your nails done, buying tires for your car, or painting your house. Why then, they might ask, should we put the tab for your yearly physical on the taxpayer? 
The answer, I think, lies in the realization that the annual physical, the well-baby exam, and the emergency room are all parts of the same continuum in which mostly normal people are screened for dangerous conditions. What happens from there depends on the diagnosis. 
I wonder why conservatives treat our collective fear of cancer as less important than our collective fear of terrorist attacks. Each is susceptible to treatment, but only one is accepted by conservatives as requiring collective spending.
(Bob Gelfand writes on science, culture, and politics for CityWatch. He can be reached at amrep535@sbcglobal.net) 
-cw
EDITOR'S PICK--The fall of the Berlin Wall in October 1989 abruptly ended one historical era and inaugurated another. So, too, did the outcome of last year's U.S. presidential election. What are we to make of the interval between those two watershed moments? Answering that question is essential to understanding how Donald Trump became president and where his ascendency leaves us.
Hardly had this period commenced before observers fell into the habit of referring to it as the "post-Cold War" era. Now that it's over, a more descriptive name might be in order.  My suggestion: America's Age of Great Expectations. 
Forgive and Forget
The end of the Cold War caught the United States completely by surprise.  During the 1980s, even with Mikhail Gorbachev running the Kremlin, few in Washington questioned the prevailing conviction that the Soviet-American rivalry was and would remain a defining feature of international politics more or less in perpetuity. Indeed, endorsing such an assumption was among the prerequisites for gaining entrée to official circles. Virtually no one in the American establishment gave serious thought to the here-today, gone-tomorrow possibility that the Soviet threat, the Soviet empire, and the Soviet Union itself might someday vanish. Washington had plans aplenty for what to do should a Third World War erupt, but none for what to do if the prospect of such a climactic conflict simply disappeared.
Still, without missing a beat, when the Berlin Wall fell and two years later the Soviet Union imploded, leading members of that establishment wasted no time in explaining the implications of developments they had totally failed to anticipate.  With something close to unanimity, politicians and policy-oriented intellectuals interpreted the unification of Berlin and the ensuing collapse of communism as an all-American victory of cosmic proportions.  "We" had won, "they" had lost -- with that outcome vindicating everything the United States represented as the archetype of freedom.
From within the confines of that establishment, one rising young intellectual audaciously suggested that the "end of history" itself might be at hand, with the "sole superpower" left standing now perfectly positioned to determine the future of all humankind.  In Washington, various powers-that-be considered this hypothesis and concluded that it sounded just about right.  The future took on the appearance of a blank slate upon which Destiny itself was inviting Americans to inscribe their intentions.
American elites might, of course, have assigned a far different, less celebratory meaning to the passing of the Cold War. They might have seen the outcome as a moment that called for regret, repentance, and making amends.
After all, the competition between the United States and the Soviet Union, or more broadly between what was then called the Free World and the Communist bloc, had yielded a host of baleful effects.  An arms race between two superpowers had created monstrous nuclear arsenals and, on multiple occasions, brought the planet precariously close to Armageddon.  Two singularly inglorious wars had claimed the lives of many tens of thousands of American soldiers and literally millions of Asians.  One, on the Korean peninsula, had ended in an unsatisfactory draw; the other, in Southeast Asia, in catastrophic defeat.  Proxy fights in Asia, Africa, Latin America, and the Middle East killed so many more and laid waste to whole countries.  Cold War obsessions led Washington to overthrow democratic governments, connive in assassination, make common cause with corrupt dictators, and turn a blind eye to genocidal violence.  On the home front, hysteria compromised civil liberties and fostered a sprawling, intrusive, and unaccountable national security apparatus.  Meanwhile, the military-industrial complex and its beneficiaries conspired to spend vast sums on weapons purchases that somehow never seemed adequate to the putative dangers at hand.  
Rather than reflecting on such somber and sordid matters, however, the American political establishment together with ambitious members of the country's intelligentsia found it so much more expedient simply to move on. As they saw it, the annus mirabilis of 1989 wiped away the sins of former years. Eager to make a fresh start, Washington granted itself a plenary indulgence. After all, why contemplate past unpleasantness when a future so stunningly rich in promise now beckoned?
Three Big Ideas and a Dubious Corollary
Soon enough, that promise found concrete expression. In remarkably short order, three themes emerged to define the new American age.  Informing each of them was a sense of exuberant anticipation toward an era of almost unimaginable expectations. The twentieth century was ending on a high note.  For the planet as a whole but especially for the United States, great things lay ahead.
Focused on the world economy, the first of those themes emphasized the transformative potential of turbocharged globalization le d by U.S.-based financial institutions and transnational corporations.  An "open world" would facilitate the movement of goods, capital, ideas, and people and thereby create wealth on an unprecedented scale.  In the process, the rules governing American-style corporate capitalism would come to prevail everywhere on the planet.  Everyone would benefit, but especially Americans who would continue to enjoy more than their fair share of material abundance.
Focused on statecraft, the second theme spelled out the implications of an international order dominated as never before -- not even in the heydays of the Roman and British Empires -- by a single nation. With the passing of the Cold War, the United States now stood apart as both supreme power and irreplaceable global leader, its status guaranteed by its unstoppable military might.
In the editorial offices of the Wall Street Journal,the Washington Post, the New Republic, and theWeekly Standard, such "truths" achieved a self-evident status.  Although more muted in their public pronouncements than Washington's reigning pundits, officials enjoying access to the Oval Office, the State Department's 7th floor, and the E-ring of the Pentagon generally agreed.  The assertive exercise of (benign!) global hegemony seemingly held the key to ensuring that Americans would enjoy safety and security, both at home and abroad, now and in perpetuity.
The third theme was all about rethinking the concept of personal freedom as commonly understood and pursued by most Americans.  During the protracted emergency of the Cold War, reaching an accommodation between freedom and the putative imperatives of national security had not come easily.  Cold War-style patriotism seemingly prioritized the interests of the state at the expense of the individual.  Yet even as thrillingly expressed by John F. Kennedy -- "Ask not what your country can do for you, ask what you can do for your country" -- this was never an easy sell, especially if it meant wading through rice paddies and getting shot at.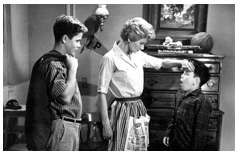 Once the Cold War ended, however, the tension between individual freedom and national security momentarily dissipated.  Reigning conceptions of what freedom could or should entail underwent a radical transformation.  Emphasizing the removal of restraints and inhibitions, the shift made itself felt everywhere, from patterns of consumption and modes of cultural expression to sexuality and the definition of the family.  Norms that had prevailed for decades if not generations -- marriage as a union between a man and a woman, gender identity as fixed at birth -- became passé. The concept of a transcendent common good, which during the Cold War had taken a backseat to national security, now took a backseat to maximizing individual choice and autonomy.
Finally, as a complement to these themes, in the realm of governance, the end of the Cold War cemented the status of the president as quasi-deity.  In the Age of Great Expectations, the myth of the president as a deliverer from (or, in the eyes of critics, the ultimate perpetrator of) evil flourished.  In the solar system of American politics, the man in the White House increasingly became the sun around which everything seemed to orbit.  By comparison, nothing else much mattered.
From one administration to the next, of course, presidential efforts to deliver Americans to the Promised Land regularly came up short.  Even so, the political establishment and the establishment media collaborated in sustaining the pretense that out of the next endlessly hyped "race for the White House," another Roosevelt or Kennedy or Reagan would magically emerge to save the nation.  From one election cycle to the next, these campaigns became longer and more expensive, drearier and yet ever more circus-like.  No matter.  During the Age of Great Expectations, the reflexive tendency to see the president as the ultimate guarantor of American abundance, security, and freedom remained sacrosanct.
Blindsided
Meanwhile, between promise and reality, a yawning gap began to appear. During the concluding decade of the twentieth century and the first decade-and-a-half of the twenty-first, Americans endured a seemingly endless series of crises.  Individually, none of these merit comparison with, say, the Civil War or World War II.  Yet never in U.S. history has a sequence of events occurring in such close proximity subjected American institutions and the American people to greater stress.
During the decade between 1998 and 2008, they came on with startling regularity: one president impeached and his successor chosen by the direct intervention of the Supreme Court; a massive terrorist attack on American soil that killed thousands, traumatized the nation, and left senior officials bereft of their senses; a mindless, needless, and unsuccessful war of choice launched on the basis of false claims and outright lies; a natural disaster (exacerbated by engineering folly) that all but destroyed a major American city, after which government agencies mounted a belated and half-hearted response; and finally, the worst economic downturn since the Great Depression, bringing ruin to millions of families.
For the sake of completeness, we should append to this roster of seismic occurrences one additional event: Barack Obama's election as the nation's first black president.  He arrived at the zenith of American political life as a seemingly messianic figure called upon not only to undo the damage wrought by his predecessor, George W. Bush, but somehow to absolve the nation of its original sins of slavery and racism.
Yet during the Obama presidency race relations, in fact, deteriorated.  Whether prompted by cynical political calculations or a crass desire to boost ratings, race baiters came out of the woodwork -- one of them, of course, infamously birtheredin Trump Tower in mid-Manhattan -- and poured their poisons into the body politic.  Even so, as the end of Obama's term approached, the cult of thepresidency itself remained remarkably intact.
Individually, the impact of these various crises ranged from disconcerting to debilitating to horrifying.  Yet to treat them separately is to overlook their collective implications, which the election of Donald Trump only now enables us to appreciate.  It was not one president's dalliance with an intern or "hanging chads"or 9/11 or "Mission Accomplished" or the inundation of the Lower Ninth Ward orthe collapse of Lehman Brothers or the absurd birther movement that undermined the Age of Great Expectations.  It was the way all these events together exposed those expectations as radically suspect.
In effect, the various crises that punctuated the post-Cold War era called into question key themes to which a fevered American triumphalism had given rise.  Globalization, militarized hegemony, and a more expansive definition of freedom, guided by enlightened presidents in tune with the times, should have provided Americans with all the blessings that were rightly theirs as a consequence of having prevailed in the Cold War.  Instead, between 1989 and 2016, things kept happening that weren't supposed to happen. A future marketed as all but foreordained proved elusive, if not illusory.  As actually experienced, the Age of Great Expectations became an Age of Unwelcome Surprises.
A Candidate for Decline
True, globalization created wealth on a vast scale, just not for ordinary Americans.  The already well-to-do did splendidly, in some cases unbelievably so.  But middle-class incomes stagnated and good jobs became increasingly hard to find or keep.  By the election of 2016, the United States looked increasingly like a society divided between haves and have-nots, the affluent and the left-behind, the 1% and everyone else. Prospective voters were noticing.
Meanwhile, policies inspired by Washington's soaring hegemonic ambitions produced remarkably few happy outcomes.  With U.S. forces continuously engaged in combat operations, peace all but vanished as a policy objective (or even a word in Washington's political lexicon). The acknowledged standing of the country's military as the world's best-trained, best-equipped, and best-led force coexisted uneasily with the fact that it proved unable to win. Instead, the national security establishment became conditioned to the idea of permanent war, high-ranking officials taking it for granted that ordinary citizens would simply accommodate themselves to this new reality. Yet it soon became apparent that, instead of giving ordinary Americans a sense of security, this new paradigm induced an acute sense of vulnerability, which left many susceptible to demagogic fear mongering.
As for the revised definition of freedom, with autonomy emerging as the nationalsummum bonum, it left some satisfied but others adrift.  During the Age of Great Expectations, distinctions between citizen and consumer blurred.  Shopping became tantamount to a civic obligation, essential to keeping the economy afloat.  Yet if all the hoopla surrounding Black Friday and Cyber Monday represented a celebration of American freedom, its satisfactions were transitory at best, rarely extending beyond the due date printed on a credit card statement.  Meanwhile, as digital connections displaced personal ones, relationships, like jobs, became more contingent and temporary.  Loneliness emerged as an abiding affliction.  Meanwhile, for all the talk of empowering the marginalized -- people of color, women, gays -- elites reaped the lion's share of the benefits while ordinary people were left to make do.  The atmosphere was rife with hypocrisy and even a whiff of nihilism.
To these various contradictions, the establishment itself remained stubbornly oblivious, with the 2016 presidential candidacy of Hillary Clinton offering a case in point.  As her long record in public life made abundantly clear, Clinton embodied the establishment in the Age of Great Expectations.  She believed in globalization, in the indispensability of American leadership backed by military power, and in the post-Cold War cultural project.  And she certainly believed in the presidency as the mechanism to translate aspirations into outcomes.
Such commonplace convictions of the era, along with her vanguard role in pressing for the empowerment of women, imparted to her run an air of inevitability.  That she deserved to win appeared self-evident. It was, after all, her turn.  Largely overlooked were signs that the abiding themes of the Age of Great Expectations no longer commanded automatic allegiance.
Gasping for Air
Senator Bernie Sanders offered one of those signs.  That a past-his-prime, self-professed socialist from Vermont with a negligible record of legislative achievement and tenuous links to the Democratic Party might mount a serious challenge to Clinton seemed, on the face of it, absurd.  Yet by zeroing in on unfairness and inequality as inevitable byproducts of globalization, Sanders struck a chord.
Knocked briefly off balance, Clinton responded by modifying certain of her longstanding positions. By backing away from free trade, the ne plus ultra of globalization, she managed, though not without difficulty, to defeat the Sanders insurgency.  Even so, he, in effect, served as the canary in the establishment coal mine, signaling that the Age of Great Expectations might be running out of oxygen.
A parallel and far stranger insurgency was simultaneously wreaking havoc in the Republican Party.  That a narcissistic political neophyte stood the slightest chance of capturing the GOP seemed even more improbable than Sanders taking a nomination that appeared Clinton's by right.
Coarse, vulgar, unprincipled, uninformed, erratic, and with little regard for truth, Trump was sui generis among presidential candidates.  Yet he possessed a singular gift: a knack for riling up those who nurse gripes and are keen to pin the blame on someone or something.  In post-Cold War America, among the millions that Hillary Clinton was famously dismissing as "deplorables," gripes had been ripening like cheese in a hothouse.
Through whatever combination of intuition and malice aforethought, Trump demonstrated a genius for motivating those deplorables.  He pushed their buttons.  They responded by turning out in droves to attend his rallies. There they listened to a message that they found compelling.
In Trump's pledge to "make America great again" his followers heard a promise to restore everything they believed had been taken from them in the Age of Great Expectations.  Globalization was neither beneficial nor inevitable, the candidate insisted, and vowed, once elected, to curb its effects along with the excesses of corporate capitalism, thereby bringing back millions of lost jobs from overseas.  He would, he swore, fund a massive infrastructure program, cut taxes, keep a lid on the national debt, and generally champion the cause of working stiffs.  The many complications and contradictions inherent in these various prescriptions would, he assured his fans, give way to his business savvy. 
In considering America's role in the post-Cold War world, Trump exhibited a similar impatience with the status quo.  Rather than allowing armed conflicts to drag on forever, he promised to win them (putting to work his mastery of military affairs) or, if not, to quit and get out, pausing just long enough to claim as a sort of consolation prize whatever spoils might be lying loose on the battlefield.  At the very least, he would prevent so-called allies from treating the United States like some patsy. Henceforth, nations benefitting from American protection were going to foot their share of the bill.  What all of this added up to may not have been clear, but it did suggest a sharp departure from the usual post-1989 formula for exercising global leadership.
No less important than Trump's semi-coherent critique of globalization and American globalism, however, was his success in channeling the discontent of all those who nursed an inchoate sense that post-Cold War freedoms might be working for some, but not for them.
Not that Trump had anything to say about whether freedom confers obligations, or whether conspicuous consumption might not actually hold the key to human happiness, or any of the various controversies related to gender, sexuality, and family.  He was indifferent to all such matters.  He was, however, distinctly able to offer his followers a grimly persuasive explanation for how America had gone off course and how the blessings of liberties to which they were entitled had been stolen.  He did that by fingering as scapegoats Muslims, Mexicans, and others "not-like-me."
Trump's political strategy reduced to this: as president, he would overturn the conventions that had governed right thinking since the end of the Cold War.  To the amazement of an establishment grown smug and lazy, his approach worked.  Even while disregarding all received wisdom when it came to organizing and conducting a presidential campaign in the Age of Great Expectations, Trump won.  He did so by enchanting the disenchanted, all those who had lost faith in the promises that had sprung from the bosom of the elites that the end of the Cold War had taken by surprise.
Adrift Without a Compass
Within hours of Trump's election, among progressives, expressing fear and trepidation at the prospect of what he might actually do on assuming office becamede rigueur.  Yet those who had actually voted for Trump were also left wondering what to expect.  Both camps assign him the status of a transformative historical figure.  However, premonitions of incipient fascism and hopes that he will engineer a new American Golden Age are likely to prove similarly misplaced.  To focus on the man himself rather than on the circumstances that produced him is to miss the significance of what has occurred.
Note, for example, that his mandate is almost entirely negative.  It centers on rejection: of globalization, of counterproductive military meddling, and of the post-Cold War cultural project.  Yet neither Trump nor any of his surrogates has offered a coherent alternative to the triad of themes providing the through line for the last quarter-century of American history.  Apart a lingering conviction that forceful -- in The Donald's case, blustering -- presidential leadership can somehow turn things around, "Trumpism" is a dog's breakfast.
In all likelihood, his presidency will prove less transformative than transitional. As a result, concerns about what he may do, however worrisome, matter less than the larger question of where we go from here.  The principles that enjoyed favor following the Cold War have been found wanting. What should replace them?
Efforts to identify those principles should begin with an honest accounting of the age we are now leaving behind, the history that happened after "the end of history."  That accounting should, in turn, allow room for regret, repentance, and making amends -- the very critical appraisal that ought to have occurred at the end of the Cold War but was preempted when American elites succumbed to their bout of victory disease.
Don't expect Donald Trump to undertake any such appraisal.  Nor will the establishment that candidate Trump so roundly denounced, but which President-elect Trump, at least in his senior national security appointments, now shows sign of accommodating.  Those expecting Trump's election to inject courage into members of the political class or imagination into inside-the-Beltway "thought leaders" are in for a disappointment. So the principles we need -- an approach to political economy providing sustainable and equitable prosperity; a foreign policy that discards militarism in favor of prudence and pragmatism; and an enriched, inclusive concept of freedom -- will have to come from somewhere else.
"Where there is no vision," the Book of Proverbs tells us, "the people perish."  In the present day, there is no vision to which Americans collectively adhere.  For proof, we need look no further than the election of Donald Trump.
The Age of Great Expectations has ended, leaving behind an ominous void.  Yet Trump's own inability to explain what should fill that great void provides neither excuse for inaction nor cause for despair.  Instead, Trump himself makes manifest the need to reflect on the nation's recent past and to think deeply about its future.
A decade before the Cold War ended, writing in democracy, a short-lived journal devoted to "political renewal and radical change," the historian and social critic Christopher Lasch sketched out a set of principles that might lead us out of our current crisis. Lasch called for a politics based on "the nurture of the soil against the exploitation of resources, the family against the factory, the romantic vision of the individual against the technological vision, [and] localism over democratic centralism." Nearly a half-century later, as a place to begin, his prescription remains apt.
(Andrew J. Bacevich is professor emeritus of history and international relations at Boston University. His most recent book is America's War for the Greater Middle East: A Military History. This perspective was posted first at Tom Dispatch.) 
-cw
NO CONFLICT HERE, RIGHT--As many suspected, President-elect Donald Trump's web of business conflicts is much more complicated than he has let on.
An analysis by the Wall Street Journal published Thursday found that the incoming president owes at least $1.85 billion in debt to as many as 150 Wall Street firms and other financial institutions.
According to the examination of legal and property documents, "Hundreds of millions of dollars of debt attached to Mr. Trump's properties, some of them backed by Mr. Trump's personal guarantee, were packaged into securities and sold to investors over the past five years," thus "broadening the tangle of interests that pose potential conflicts for the incoming president's administration."
In May, Trump filed documents with the Federal Election Commission (FEC) that disclosed $315 million owed to 10 companies—but that only included debts for companies that Trump completely controls, "excluding more than $1.5 billion lent to partnerships that are 30 percent owned by him," WSJ reported.
"As a result," wrote WSJ reporters Jean Eaglesham and Lisa Schwartz, "a broader array of financial institutions now are in a potentially powerful position over the incoming president."
Put more directly, as Think Progress's Judd Legum did: "As president, Trump will be responsible for regulating entities that he also owes money to."
In one troubling example, the investigation found that Wells Fargo, currently under investigation for a years-long banking fraud scandal, "runs at least five mutual funds that own portions of Trump businesses' securitized debt;" is "a trustee or administrator for pools of securitized loans that include $282 million of loans to Mr. Trump;" and "acts as a special servicer for $950 million of loans to a property that one of Mr. Trump's companies partly owns."
"Once he takes office," Eaglesham and Schwartz observed, "Mr. Trump will appoint the heads of many of the regulators that police the bank."
The spread of Trump's debt can in large part be attributed to the process known as "securitization," when debt is repackaged into bonds and sold off. More than $1 billion of debt connected to the president-elect has been handled in this way.
While concerns over Trump's conflicts of interest continue to mount, the president-elect has thus far failed to address the issue. Despite warnings from ethics attorneys, he has refused to divest his business holdings, though there were reports that he would hand the reins of the real estate empire over to his sons and advisors, Donald Jr. and Eric. At the same time, a December press conference was postponed and is now scheduled for Jan. 11—the same day as some of his more controversial appointees' confirmation hearings
(Lauren McCauley writes for Common Dreams where this piece was first posted.)
-cw
THE CONSIDERABLE COST OF COLLEGE-The American student-debt system is so big and complex that there's almost no aspect of it that the experts can agree on. Some commentators see a bubble overdue to burst: a trillion and a half (or so) dollars that could vanish at any moment; a housing crisis 2.0 ready to happen. Others see a well-oiled machine that is successfully expanding college access and increasing affordability --  a machine that has the most stable economic foundation possible. 
Even when there are numbers, there is disagreement over which ones to use and what they mean. There is evidence to support both of the above positions, and we might not understand the true character of student debt for decades. After all, these are long loans. 
Still, we can work with the best evidence we have. Forty-two percent of all American adults under 30 have student debt, according to a study from Harvard University's Institute of Politics, and 79 percent agree that debt is a problem, whether they have it or not. 
If everyone agrees student loans need to change, then what's the problem? Here's an overview. 
Reform 
One traditional progressive solution when a private industry is failing to serve the public good is nationalization, or at least a government-run competitor. In the health-care debate, for example, the left wing of the Democratic Party pushed for Medicare for all, or at least a public option. (They got neither.) In student lending, however, the government already took over. They just didn't tell anyone.
As a cost-saving element of the Affordable Care Act in 2010, the Obama administration ended the federal practice of securing private student loans, which effectively nationalized over 80 percent of the market. The Obama administration didn't publicize the change --  probably because being associated with the student-loan checks Americans have to send every month isn't a smart political move. 
Nationalization has not, however, made much of a difference when it comes to how the student-lending system works. Now, instead of private companies profiting off the loans, the federal government cashes the checks. As long as there is debt, borrowers will have to pay. The next target for reformers is loan fees themselves, and the Democratic Party has been promoting the idea of "debt-free college" -- though if passed into law the promise would likely include a lot of asterisks. 
Interest 
Before 2013, interest rates on federal loans were caught in limbo. While rates were officially set at 6.8 percent, Congress was using extraordinary action to hold them at 3.4 percent. Borrowers couldn't be certain what their interest rate was going to be the next year, never mind 15 years down the line. The Bipartisan Student Loan Certainty Act  sought to change that. 
On this issue, Democrats and Republicans cooperated in a way we're not used to seeing these days: Both sides took positions and they compromised in the middle. Republicans got higher interest rates and pegged them to Treasury rates, while the Obama administration got a modest pay-as-you-earn option. According to the Congressional Budget Office, the two more or less cancel each other out. For borrowers, the compromise was a wash. And if Treasury rates increase (as they inevitably will), then borrowers could be looking at interest rates of 8.25 to 10.5 percent, the maximum under the law. 
Bubble 
Many commentators — notably self-styled maverick billionaire Mark Cuban — have been warning about the imminent collapse of the student-debt system. On first look, this alarmism seems prescient: Like the housing market, college costs have been rising out of control. Post-nationalization, student loans comprise a rapidly escalating percentage of the federal government's asset profile — between one-quarter and nearly half, according to different estimates. 
Cuban and those like him worry that the government, with its easy loans, has allowed college costs to escalate beyond their value. As with the housing market, they think much of the trillion-plus dollars in outstanding debt simply will never be recouped. The class of 2014 averaged $28,950 in debt (according to the Institute for College Access & Success' Project on Student Debt); [[[   http://ticas.org/posd/home ]]] they might never make enough to pay it all back. 
It's a compelling story, but the government probably is too big to fail as a lender. It passes laws, self-regulates, and literally prints money. The Treasury doesn't have to worry about holding money in the form of debt owed by 20-somethings; it can stretch out repayment for decades. Those 20-somethings will be 40-somethings and 50-somethings, and eventually they'll get Social Security payments. The feds can wait. 
Defaults 
The biggest difference between college degrees and houses --  since the costs are now basically comparable --  is that you can walk away from a house. If you take out a mortgage and the value of your property tanks and you end up owing more than it's worth, you can leave, and the bank takes the hit. With education, there's no way to give your purchase back to the bank because you agreed to pay more than it's worth. 
When the federal government made a real push to subsidize higher education in the 1960s, it occurred to policymakers that some people might take out all the loans they could carry, go bankrupt after graduation, and run away with a free degree. To prevent the possibility (there's no evidence it ever happened at any scale), they made student debt extremely difficult to escape. You can't discharge it in bankruptcy, and the feds have extraordinary collection access. As a result, the Treasury recovers an average of nearly 100 percent of student-loan principal, even from borrowers who default. With the government collecting, defaults are not much of a threat. 
Protest 
Although there's not much difference between Democrats and Republicans on the subject of student loans, there is what we could call an "extra-parliamentary opposition." When Occupy Wall Street took over a square in downtown Manhattan, it had a whole litany of complaints and it was hard to find two occupiers who agreed. But when economist Mike Konczal reviewed posts to a Tumblr of OWS supporters' stories, he found that student debt was the overwhelming central issue among the protesters. 
The occupation is long finished, but it has inspired further anti-debt activism: As late as 2014, the group Strike Debt was using donations to buy up debt (though not mostly student-loan debt) at a discount, after which they forgave it. A few borrowers have even refused to repay their student loans, urging others to join them. The future of student debt could depend on how the government responds to these outside protests. We've seen the demand for debt-free college go from Occupy to Bernie Sanders to Hillary Clinton's campaign. Meanwhile, the numbers keep piling up.
(Malcom Harris writes for Pacific Standard where a version of this story first appeared in the January/February 2017 issue.) Prepped for CityWatch by Linda Abrams.
CALIFORNIA ALERT--Donald Trump will soon sweep into the office of the U.S. presidency, buttressed by both houses of Congress firmly in Republican control. A wave of regressive executive orders and legislation are already being prepared to ensure that Trump's first 100 days effectively erase the Obama presidency.
Where Trump was once the most prominent "birther," attempting to deny President Barack Obama's legitimacy with a racist campaign accusing him of being born in Kenya, Trump now will wield a pen to legally undermine Obama's legacy. But Barack Obama is still the president of the United States until Jan. 20, and retains the enormous executive powers that the office bestows. That is why a swelling grass-roots movement is now urging Obama to use executive clemency and the presidential pardon to protect the nation's millions of undocumented immigrants from the mass deportations Trump repeatedly promised on the campaign trail.
In case some think Trump's deportation pledge is mere bluster, the Reuters news agency reported Tuesday on an internal Department of Homeland Security memo that summarized a December meeting between the Trump transition team and the agency. According to Reuters, the Trump transition team asked for details on border wall construction, the capacity for increased immigrant detention, and about the ability to restore aggressive aerial surveillance of the southern border (which was scaled back by the Obama administration). Chillingly, they also asked if any DHS staff had "altered biographic information kept by the department about immigrants out of concern for their civil liberties."
This last question betrays a likely Trump transition team concern that federal employees may be purging databases of identifying information from the more than 740,000 young people who registered with the government under DACA, or the Deferred Action for Childhood Arrivals program initiated in June 2012. On Dec. 5, a group of 106 members of Congress wrote to President Obama, urging him to protect such information: "Countless community advocates, organizers, and public servants have promoted the DACA program to Dreamers on the premise that the information they supply to DHS would not be used to deport them in the future.  We cannot stand by and allow the Trump Administration to exploit the trust these young Americans placed in us and the government," the letter read in part. In addition to name, date of birth, fingerprint and other biometric data, DHS also collects home address, which could endanger other family members who lack legal U.S. immigration documentation.
The Obama administration has already taken similar action after Trump's election, formally shutting down the NSEER program, the National Security Entry-Exit Registration System created in 2002 as part of the "Global War on Terror." The program targeted people from specific countries with majority Muslim populations, and was shut down by Obama to prevent its use as part of a Muslim registry.  Locally, cities like New York also are preparing to push back. Mayor Bill de Blasio vowed to protect the information of more than 850,000 immigrants who hold the city's municipal identification card. Numerous cities are becoming immigrant-protective sanctuary cities, or are reaffirming their status as such, in response to Trump's threatened mass deportations.
A number of members of Congress, along with groups like the Hispanic Coalition NY and the Dream Action Coalition, are asking President Obama to go further than protecting the DACA data, and to extend a presidential pardon to all who applied for DACA. And renowned linguist and political dissident Noam Chomsky has taken this idea further, saying Obama "should proceed to what is in fact an urgent necessity: to grant a general pardon to 11 million people who are living and working here, productive citizens in all but name, threatened with deportation by the incoming administration. This would be a horrible humanitarian tragedy. And moral outrage can be averted by a general pardon for immigration infractions, which the president could issue. And we should join to urge him to carry out this necessary step without delay."
"The power to pardon is one of the least limited powers granted to the President in the Constitution," James Pfiffner wrote for the conservative Heritage Foundation, back in 2007. Presidents Abraham Lincoln and Andrew Johnson granted amnesty to Confederate rebels. Presidents Gerald Ford and Jimmy Carter gave amnesty to the more than 200,000 Americans charged with resisting the draft during the Vietnam War (Donald Trump didn't need the amnesty; he got four draft deferments for college and one for an alleged bone spur). Forty years after Carter, President Obama can use his immense power of the presidential pardon to de-escalate the war on immigrants, which otherwise, under Trump, threatens to get immeasurably worse. 
(Amy Goodman is the host of "Democracy Now!," a daily international TV/radio news hour airing on more than 1,300 stations. She is the co-author, with Denis Moynihan, of "The Silenced Majority," a New York Times best-seller.)
-cw
LA WATCHDOG--Despite General Fund revenues being up by over $1 billion since Eric Garcetti became our Mayor, the City Administrative Officer indicated in a January 6 memo that the "combined potential deficit [for the fiscal year ending June 30, 2017] currently stands at $245 million." 
You have to be kidding.  A billion bucks and these jokers cannot balance the budget. 
The budget is being hammered by higher than anticipated expenditures and lower than expected revenues.  But there are not many real operational solutions since the Mayor, the Personnel Committee headed by Paul Koretz, and the City Council are not even willing to considering laying off or furloughing unionized employees who represent the bulk of City budget expenditures.   
Spending is anticipated to be $70 to $80 million over amounts approved by the City Council and Mayor Garcetti in June.  The primary culprit is legal settlements and verdicts against the City that are more than double the budgeted $67 million. But this budgeted amount was significantly less than the amount recommended by the City Administrative Officer (rumored to be $120 million) last April when Garcetti presented his budget to the City Council. 
The revenue shortfall (including those at risk) is projected to be $165 million, consisting of lower than expected reimbursements from the proprietary and special departments, lower taxes on DWP Ratepayers as Power System revenues are below projections, and lower collection of property and sales taxes. 
The CAO has proposed a number of nickel and dime solutions which, when taken as a whole, may help eliminate some of the budget deficit.  These include curtailing any new expenditures, limiting hiring, increasing revenues by collecting the hotel tax from short-term rental sites in addition to AirBnb, investigating the revenue potential of billboards on City property (subject to the approval of the City Council), and being reimbursed for services by major event venues. 
As expected, the CAO has proposed that the City proceed with a ten year Judgment Obligation Bond of up to $70 million. The proceeds from this offering would be used to replenish the Reserve Fund so that it would have the capacity to help close the budget deficit. 
But this financial strategy of using long term debt to finance operating losses highlights the financial follies that have been dumped on us by Garcetti, the Paul Krekorian Budget and Committee, the Personnel Committee chaired by Paul Koretz, and the Herb Wesson led City Council.  They have steadfastly refused to follow the many common sense recommendations of Miguel Santana, the City Administrative Officer who, unfortunately, is leaving to become the Chief Executive Officer of the troubled Los Angeles County Fair Association.    
The City will muddle through this financial mess by issuing Judgment Obligation Bonds, developing new sources of revenues, selected budget cuts, fewer hires, and/or raiding the Reserve Fund and maybe even the previous sacrosanct Budget Stabilization Fund.  But it will not be pretty, especially when we have to listen to all the excuses of the City Council and the Mayor.  
This financial fiasco demonstrates why the City Council and Garcetti need to place on the ballot a LIVE WTHIN ITS MEANS* charter amendment so that voters have the opportunity to either accept or reject budget reform. 
Finally, Garcetti and Personnel Chair Paul Koretz do not deserve to be re-elected in March because they have failed the citizens of Los Angeles by refusing to adopt realistic budget and personnel policies that will allow the City to balance its budget and provide basic services to all Angelenos. 
Time for a change.  Throw the bums out.  
*The "Live Within Its Means" charter amendment will require the City to develop and adhere to a Seven Year Financial Plan; to pass three year balanced budgets based on Generally Accepted Accounting Principles; to prohibit any labor contracts that result in future budget deficits; to benchmark the efficiency of its operations; to fully fund its pension plans within twenty years; to implement a twenty year plan to repair and maintain our streets, sidewalks, and the rest of our infrastructure; and to establish a fully funded independent Office of Transparency and Accountability to oversee the City's finances and operations.
(Jack Humphreville writes LA Watchdog for CityWatch. He is the President of the DWP Advocacy Committee and is the Budget and DWP representative for the Greater Wilshire Neighborhood Council.  He is a Neighborhood Council Budget Advocate.  Jack is affiliated with Recycler Classifieds -- www.recycler.com.  He can be reached at:  lajack@gmail.com.)
-cw
LA WATCHDOG--In 2013, Mayor Eric Garcetti told us that the revitalization of the 11 mile stretch of the Los Angeles River from Griffith Park to the Arts District was projected to cost $1.1 billion, of which the City's share was $432 million.  
In 2015, the cost increased to $1.4 billion, but our share for the 11 mile revitalization ballooned to $1.2 billion as federal regulations limited the Army Corps of Engineers contribution to $200-$300 million.  While the City had no clue how it was going to come up with its share, the City Council authorized the City Administrative Officer to issue a letter to Army Corps of Engineers stating the City will have the financial capability to meet its cost sharing obligations.   
In late 2016, the revitalization plan was expanded to include the first 32 miles of the 51 mile long Los Angeles River that flow through the City, beginning in Canoga Park and ending at the Vernon line.  But once again, the cost ballooned, this time to an estimated $7 billion. The cost per mile also increased to $219 million, up 72% from the $127 million per mile for the 11 mile revitalization plan. 
Importantly, EIFDs are not permitted to fund operating expenses such as ongoing maintenance and repairs, adding another level of expense to the river revitalization plan that has not been considered.   
Consistent with past practice, Garcetti has not developed a plan to finance this aspirational, multi-decade project.  However, one alternative that is being considered by the City Council and the Economic and Workforce Development Department ("EWDD") is Enhanced Infrastructure Financing Districts ("EIFD"), a new financing vehicle authorized by the State in 2015 that allows local governments to fund capital projects by diverting "incremental" property tax revenues from the City to an EIFD to finance the payment of interest and principal on long term bonds. 
In many ways, EIFDs are intended to replace the controversial and often corrupt Community Redevelopment Agencies by limiting their taxing authority to 'consenting" entities (in this case the City and County, but not LAUSD) and requiring a 55% vote of the EIFD voters to approve the issuance of bonds. 
The recent report prepared at the request of EWDD recommends establishing nine EIFDs along the 32 miles of the river that would be entitled to collect 75% of the incremental property taxes from properties within one mile of the River due to the City and County (52% of the total as any incremental tax revenues due LAUSD would not be included) that exceed the existing assessed value.   This amount would then be reduced by interest payments, interest reserves, and delinquency reserves.  And then another 20% would be set aside for affordable housing. 
Over the next 30 years, the report indicated (but only after massaging the massive amounts of data) that over $7.6 million in incremental tax revenues would be available to the nine river EIFDs.  But after financing costs (interest, interest coverage, and reserves) and the affordable housing set aside, only $1.5 billion (20%) is available for investment in river related projects.  This is an unacceptable proposition that is dependent on issuing massive amounts of debt.  
The report also indicates that the EIFDs will not increase taxes of the properties in the district. While true, it will divert the incremental property tax revenue from the City's General Fund, resulting in less money for services for those who live in the remaining 88% of the City based on the assessed value of all City property. Again, this is not an acceptable proposition since the City's voters do not have a say in the matter. 
There are also issues of transparency and accountability that need to be addressed as the EFIDs may have a life span of up to 45 years and may have the ability to increase fees and assessments without the approval of the voters in the districts or the City. 
What is not to like about a revitalized Los Angeles River?  But does the river revitalization plan take priority over repairing our lunar cratered streets, our parks, and our urban forest; public safety (LAPD and LAFD); affordable housing and the homeless; and the restoration of City services.  And should the City develop a pay as you go revitalization plan instead of issuing billions in new debt?   
Before proceeding with the $7 billion river revitalization plan and the establishment of EIFDs, the City needs to reach out to the entire City and its Neighborhood Councils to determine the City's priorities and educate the public on the revitalization plan and the intricacies of the Enhanced Infrastructure Financing Districts.
(Jack Humphreville writes LA Watchdog for CityWatch. He is the President of the DWP Advocacy Committee and is the Budget and DWP representative for the Greater Wilshire Neighborhood Council.  He is a Neighborhood Council Budget Advocate.  Jack is affiliated with Recycler Classifieds -- www.recycler.com.  He can be reached at:  lajack@gmail.com.)
-cw
LA WATCHDOG--At its December 6 meeting, the politically appointed Board of Commissioners of our Department of Water and Power approved the transfer of $264 million of Ratepayer money from DWP's Power System to the City coffers without any discussion, once again demonstrating their disregard for the Ratepayers and our hard earned cash.  But this is standard operating procedure as witnessed by the Board's recent blessing of the above market $41 million lease for the City owned Figueroa Plaza and the uneconomic $12 million Rooftop Solar Program. 
The Commissioners also knew that the $264 million 8% Transfer Fee is the subject of a class action lawsuit that alleges that this fee is really a tax as it exceeds the cost of providing electrical service to the Ratepayers.  This violates the California constitution because the tax has not been approved by the City's voters. 
But the Board does not bear the sole responsibility for its failure to stand up for the best interests of the Ratepayers.  Behind the scenes is Mayor Eric Garcetti, calling the shots, pulling the strings, and directing the Commissioners to approve actions that help satisfy City Hall's addiction to our cash. 
But this $264 million transfer tax is $27 million less than budgeted $291 million, which, when combined with the projected budget deficit of $82 million for this year, will result in red ink of $110 million. And this does not include the projected $35 million shortfall in property tax revenues. 
To fund this deficit, the City is considering issuing a $70 million Judgment Obligation Bond and/or levying a special assessment on the Department of Water and Power.  
The City is desperate to settle the class action lawsuit in a way that will preserve all or most of the Transfer Tax without giving us the opportunity to vote on this tax.  Rumors from well-placed sources indicate that the City is close to settling the class action litigation where the City will cap the transfer at $250 million a year without giving the voters the opportunity to approve or reject this tax. 
This, however, will not be without a fight as taxpayers will protest any settlement that does not require a vote. 
The purpose of this pushback is not to break the City, but to reform the City's budget process.  
As an incentive for voters to support the $250 million Transfer Tax (the equivalent of a half cent increase in our sales tax or a 5% bump in our property taxes), the City should also place a LIVE WITHIN ITS MEANS* charter amendment on the ballot.  Each measure would require voter approval of the other ballot measure. 
While we would all like to "save" $250 million a year, this is a fair price to pay for real budget reform, especially given that our fiscally irresponsible Mayor has been unwilling to confront the City's Structural Deficit that continues to produce rivers of red ink, lunar cratered streets, and massive unfunded pension liabilities that will eventually overwhelm the City's budget.  
Here's to Real Reform and a Happy, Healthy, and Wet 2017.    
+++++++
*The "Live Within Its Means" charter amendment will require the City to develop and adhere to a Seven Year Financial Plan; to pass three year balanced budgets based on Generally Accepted Accounting Principles; to prohibit any labor contracts that result in future budget deficits; to benchmark the efficiency of its operations; to fully fund its pension plans within 20 years; to implement a 20 year plan to repair and maintain our streets, sidewalks, and the rest of our infrastructure; and to establish a fully funded independent Office of Transparency and Accountability to oversee the City's finances and operations.
(Jack Humphreville writes LA Watchdog for CityWatch. He is the President of the DWP Advocacy Committee and is the Budget and DWP representative for the Greater Wilshire Neighborhood Council.  He is a Neighborhood Council Budget Advocate.  Jack is affiliated with Recycler Classifieds -- www.recycler.com.  He can be reached at:  lajack@gmail.com.)
-cw
LA WATCHDOG--The City is looking at an $82 million year end deficit according the Second Financial Status Report prepared by the City Administrative Officer.  This gap does not include the possibility of lower revenues from the utility users' tax, the sales tax, parking fines, and the 8% Transfer Tax from our Department of Water and Power.  
One of the major reasons for this shortfall is that payouts from the Liability Claims Account are expected to be "at least" $135.5 million, $67 million over $68.5 million in the City's Adopted Budget that was blessed by the City Council in May. 
Included in these payouts is a jury verdict for an eye popping $23 million in a wrongful death suit against the deep pocketed City for its failure to repair a dangerous intersection in San Pedro. The City intends to finance this cash payout by raiding its Reserve Fund that can ill afford this hit. 
And on Tuesday, the City Council approved the payment of $8 million to settle lawsuits involving three men who were shot and killed by LAPD officers.  And once again, the Reserve Fund will end up footing the bill. 
According to City Hall sources, there are a number of other lawsuits involving the Police Department that could cost the City big bucks.  But rather than take the risk of being slammed by huge verdicts from runaway juries, the City, viewed as a deep pocket by the plaintiff 's bar, will elect to settle many of these cases for what appears to be outrageous amounts, but tiny compared to the potential exposure. 
The City is considering financing the $67 million of excess settlements by issuing up to $70 million of Judgment Obligation Bonds.  These bonds, which must be approved by the State and are payable over a maximum of ten years, would shore up the Reserve Fund's liquidity, an important component in protecting the City's high quality bond ratings. 
At the same time, the bonds are paying for what is realistically considered an operating expense, allowing the City to continue to "kick the can down the road," dumping yesterday's obligation on tomorrow's taxpayers. 
A classic example is the $16 million judgment for the 2007 May Day demonstrations that was financed with a 2010 Judgment Obligation Bond that will not be paid off until 2020, 13 years after this incident involving the LAPD and 295 demonstrators in and around MacArthur Park. 
Unfortunately, this low ball budgeting scam is not an isolated event.  Last year, the City budgeted $54 million for Liability Claims, but ended up forking over $110 million in settlements.  
In the future, the City needs to develop a realistic budget for it Liability Claims Account instead of relying on the Reserve Fund and Judgment Obligation Bonds.  
At the same time, the City should make the Police Department and every other City department "own" its liabilities rather than relying on the General Fund and the Reserve Fund.  This would force the Police Chief, the Fire Chief, and all department heads to focus on preventing potential liabilities.  
Finally, the City should use its political clout in Sacramento to implement tort reform as California is considered one of the country's top "Judicial Hellholes."  
But maybe we asking too much of Mayor Eric Garcetti and the Herb Wesson led City Council.  After all, they have our wallets to raid.  And they would not want to alienate the campaign funding lawyers who make an excellent living by suing our cash strapped City. 
(Jack Humphreville writes LA Watchdog for CityWatch. He is the President of the DWP Advocacy Committee and is the Budget and DWP representative for the Greater Wilshire Neighborhood Council.  He is a Neighborhood Council Budget Advocate.  Jack is affiliated with Recycler Classifieds -- www.recycler.com.  He can be reached at:  lajack@gmail.com.)
-cw
LA WATCHDOG--The Department of Water and Power's pension plan and its plan to cover Other Post-Employment Benefits ("OPEB") have unfunded liabilities of almost $4.8 billion, an obligation that the Ratepayers will be required to fund.  
The Department of Water and Power pension plan is only 84% funded as assets of $10.3 billion are about $2 billion short of its future obligations of $12.3 billion. 
At the same time, the OPEB obligations are only 75% funded as assets of $1.75 billion are about $600 million less that its future obligations of $2.3 billion. 
Combined, DWP retirement obligations are only 83% funded, representing an unfunded liability of $2.5 billion. 
That's the good news. 
When DWP finishes cooking the books and marks the assets to their true market value and assumes a more realistic investment rate assumption of 6.25%, the unfunded liability soars to $4.8 billion, representing an unhealthy funded ratio of 71%. 
DWP's retirement plans are also very expensive to maintain. This year, the Department is expected to contribute $550 million to the two plans, an amount equal to over 12.5% of Department revenues and equal to almost 60% of its payroll.  The City, on the other hand, contributes less than 30% of civilian workers' salaries to the Los Angeles City Employees' Retirement System. 
During the last year, the unfunded liability increased by 50% ($1.6 billion) to $4.8 billion, in large part because the return on invested assets was less than 1% (0.82%), a considerable shortfall from the overly optimistic investment rate assumption of 7.5%.  At the same time, the annual contribution will increase to 60% of projected payroll, up from less than 50% the previous year. 
DWP, to its credit, has been making some progress. 
Several years ago, the Department contributed $600 million to fund a portion of its OPEB obligations, unlike the County and the State who have failed to fund any of this ever increasing liability.  As an aside, the City has been funding a portion of this obligation for almost 20 years.  
In the past year, it lowered its investment rate assumption to 7.25% even though it resulted in a higher unfunded liability and increased contributions. 
The Department and IBEW 18 also agreed to establish a new pension tier with lower benefits for employees who were hired after January 1, 2014.  This resulted in lower annual contributions as a percentage of the payroll. 
But even with these changes, DWP's retirement plans are not sustainable as the investment returns on the stock and bond portfolios are expected to be in the range of 6% to 6.5%, lower than the targeted rate of return of 7.25%.  Furthermore, the investment rate assumption does not provide for the funding of the $4.8 billion unfunded liability which will continue to compound.  At the same time, annual benefits of this mature pension plan will exceed contributions by the Department and its employees. 
This shortfall will eventually be funded by the hard pressed Ratepayers who are already being smacked with a five year, $1 billion rate increase.  
Rather than speculate about the status of DWP's retirement plans, the Board of Commissioners should require the Department, with the assistance of the Ratepayers Advocate and the Neighborhood Councils, to follow the recommendation of the LA 2020 Commission to establish an independent and transparent Commission on Retirement Security to review the DWP's retirement obligations in order to promote am accurate understanding of the facts, to report on employment costs in various categories, and to develop concrete recommendations on how to achieve equilibrium on retirement costs by 2020. 
Is this too much to ask of the Garcetti appointed Commissioners?
(Jack Humphreville writes LA Watchdog for CityWatch. He is the President of the DWP Advocacy Committee and is the Budget and DWP representative for the Greater Wilshire Neighborhood Council.  He is a Neighborhood Council Budget Advocate.  Jack is affiliated with Recycler Classifieds -- www.recycler.com.  He can be reached at:  lajack@gmail.com.)
-cw
LA WATCHDOG--At the November 15 meeting of Board of Water and Power Commissioners, President Mel Levine, Vice President Bill Funderburk, and Jill Banks Barad voted to approve the $13 million Solar Rooftop Program despite the lack of any financial analysis.  But the absence of any definitive information is why Christina Noonan and Michael Fleming stood their ground and opposed this feel good, politically motivated project because there were too many unanswered questions and that it was obvious that this deal was a real stinker and was and is not in the best interest of the Ratepayers. 
Under this pilot program, our Department of Water and Power will finance, install, and maintain 1 megawatt (1,000 kilowatts) of new photovoltaic solar power on the rooftops of 400 single story, owner occupied homes in low income and underserved areas of the City.  In return, the homeowner will receive $30 a month ($360 a year) for the next 20 years pursuant to a one sided contract with the Department. 
Importantly, all the electricity produced by these rooftop solar systems will not be used by the homeowners, but will be pumped into the DWP grid and will help the Department met its renewable energy mandates of 33% by 2020 and 50% by 2030. 
But the economics of this deal stink. 
Over the next 20 years, DWP is expected to spend almost $13 million on this pilot project.  This includes $4 million for IBEW labor crews to install the photovoltaic systems over the next four years, $6 million for ongoing IBEW labor, and almost $3 million for customer lease payments.  Including the cost of borrowed money, the cost per kilowatt hour is almost 50 cents, 5 times more expensive than DWP's purchased wholesale solar alternatives and over 3 times more expensive than the retail price of 16 cents we are charged on our ever increasing bimonthly bills. 
But it gets worse if you assume modest levels of overhead and insurance to repair damaged rooftops.  Then the price per kilowatt hour increases to 75 cents. 
But that's not all folks!  If there are cost overruns, a common occurrence for DWP / IBEW built solar projects, the price soars to a mindboggling $1.00 per kilowatt hour.  This is more than 10 times the wholesale rate for solar power and more than 6 times the retail rate.  
And this does not include the illegal 8% Transfer Fee! 
The Board tried to justify this wildly uneconomic deal by relying on the new Equity Metrics Date Initiative claiming that the program was addressing the "solar access disparity" in the City.  But the supporting data that was prepared by the Los Angeles Alliance for a New Economy, a labor dominated organization, is unavailable and does not appear to take into consideration the sizeable investment that environmentally conscious homeowners in higher end neighborhoods have made in rooftop solar systems that have a very low return on investment.  
The Solar Rooftop Program is also a pet project of IBEW Union Bo$$ d'Arcy as 60% to 70% of the cost will be for IBEW labor.  And if for some strange reason this program manages to survive, the anticipated 40 megawatt project will cost Ratepayers over $700 million and be a cash cow for the IBEW.  
Mayor Eric Garcetti was also complicit in this Solar Rooftop Program as he approved this boondoggle pursuant to his Executive Directive No. 4 that was issued on June 24, 2014.  
With friends like Eric Garcetti and his three politically appointed Commissioners, Mel Levine, Bill Funderburk, and Jill Barad Banks, picking our pockets, who needs enemies? 
(Jack Humphreville writes LA Watchdog for CityWatch. He is the President of the DWP Advocacy Committee and is the Budget and DWP representative for the Greater Wilshire Neighborhood Council.  He is a Neighborhood Council Budget Advocate.  Jack is affiliated with Recycler Classifieds -- www.recycler.com.  He can be reached at:  lajack@gmail.com.)
-cw