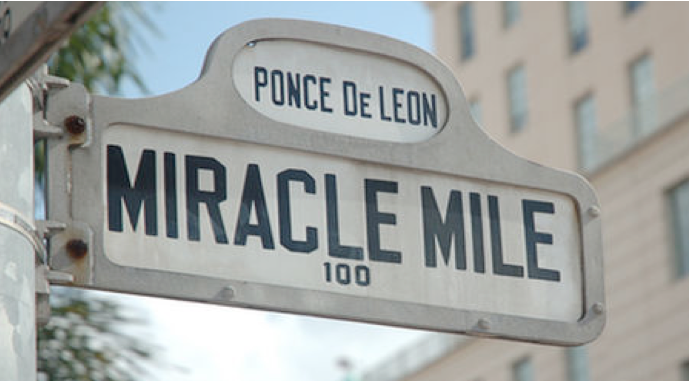 NEIGHBORHOOD POLITICS--In an extraordinary video posted here by the MMRA, Julia Duncan attempts to rally support for the HPOZ among renters. One of them says, "The single family owners can eat it," and gets something close to agreement from Julia Duncan. Is that really David Ryu's attitude to single family owners in the Miracle Mile? 
Meanwhile, James O'Sullivan, embattled President of the MMRA, writes in a bizarre article in CityWatchLA.com here that rejection of the Miracle Mile HPOZ will result in the loss of 500 rent controlled apartments, with homelessness thrown in for good measure, and seems to blame Mayor Garcetti for it all! The MMRA has clearly lost all credibility with homeowners in the Miracle Mile and is now morphing into a tenant advocacy organization. 
Finally, a flyer has popped up dated February 2nd here from Councilmember Ryu's Senior Planning Deputy, Julia Duncan, asking the neighborhood to weigh in on the Miracle Mile HPOZ by Tuesday, February 14, 2017. Problem is, nobody, not even the MMRA, seems to have received it.  For the record, write and/or call Julia at [email protected], (213) 473-2346, to tell her what you think of the HPOZ.
WHAT YOU NEED TO KNOW
I M P O R T A N T     D A T E
M I R A C L E     M I L E    T O W N     H A L L     M E E T I N G
When: Wednesday, February 22, 2017 at 7:00pm (show up at 6:30p).
Where: John Burrows Middle School located at 600 S McCadden Place in Los Angeles.
What:  David Ryu is hosting a town hall meeting specifically on the HPOZ. The purpose presumably is to try to rally support for the HPOZ.
PLEASE ARRIVE AT 6:30PM  WE WILL BE THERE
TO DEMONSTRATE THE OPPOSITE!
JOIN US SHOW COUNCILMEMBER DAVID RYU THAT PROPERTY OWNERS
IN MIRACLE MILE DON'T WANT THIS!
(SayNoHPOZ is a group of Miracle Mile residents who oppose an effort to create a restrictive HPOZ for the community. They can be reached at [email protected] or saynohpoz.com) 
-cw