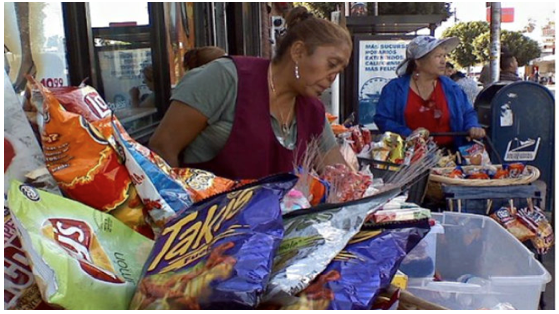 NEIGHBORHOOD POLITICS-----The effort to legalize street vendors is moving forward at City Hall.  The proposal has proven controversial in the past, with many residents as well as brick-and-mortar business owners opposed to the idea.  But most of the business owners and managers who were interviewed by The Eastsider were open to but cautious about the measure. 
"If it's a taco stand, of course it's competition," said Miguel Perez, the manager at Acapulco restaurant on Sunset Boulevard, near Virgil Avenue in East Hollywood. But, "as long as [vendors] keep it nice and clean, that would fine." 
Perez's answer was typical among [business owners] but so was his surprise to hear that the city was considering the matter; Perez, like most of the other businesses owners and employees who were interviewed, had not heard about the renewed efforts to legalize vendors. 
The latest push comes as advocates are concerned that undocumented immigrants who are cited for illegal vending may face deportation under a Trump presidency. Under a proposal that came out last week from a Council committee, each block could have up to four vendors – two on each side of the street. Adjacent businesses owners would also have the power to approve their presence. The plan goes to the full City Council for review next spring. 
"I know people who are against vendors," said Meghan Dhaliwal, a manager at Caffe Vita in Los Feliz. "But I think cheap street food is great." 
Dhaliwal said vendors nearby probably wouldn't create much competition with her store, since Caffe Vita doesn't serve hot food. 
Christian Chavez, owner of Echoes Under Sunset on Glendale Boulevard in Echo Park, had heard of the recent vendor proposal and unabashedly supported it. 
"I got no problem with street vendors. They're convenient," said Chavez, whose business is primarily a comedy venue – selling drinks, but not much food. "So it's kind of cool for us to have the street vendors." 
He added that the vendors are clean and don't take away from other businesses, since his neighborhood sees so many people. 
"Some people come out of a club or bar get something to eat and keep running," he said.
The City Council is scheduled to take up the most recent street vendor proposal early 2017.
(Barry Lank posts at The East Sider where this report originated.)  Photo of Boyle Heights Vendor by Ana Facio-Krajcer.