EASTSIDER-I just finished reading Donna Brazille's book Hacked, and she did not say that the election was "rigged" against Bernie. What she said was much worse! 
Essentially, under the reign of Debbie Wasserman Schultz, or Payday Loans Debbie, as some of us call her, the Clinton campaign engaged in the equivalent of a hostile corporate takeover of the Democratic National Committee, and nobody but a handful of insiders even knew about it! 
In a great article, Pam and Russ Martens of Wall Street on Parade gave the best description of how this all worked and it's definitely a must-read: 
"Secret side agreements are a common maneuver by corporate law firms. Here's how they work. An agreement that is legal and passes the smell test is drafted and submitted to a court or a regulatory body for public consumption. Then, a separate secret side agreement is written and signed by both sides and it contains all of the smelly, shady, ethically questionable hard details on how the original agreement will be carried out."
And that's exactly what happened to us democrats in late 2015.  
The Russians are Coming, the Russians are Coming 
Did the Russians interfere with the election? You betcha', and to some extent, so what? That's a matter for our intelligence and law enforcement communities, not to mention Special Counsel Mueller. Hopefully, they will all figure out how to remediate this mess before the 2018 election cycle. 
What is very clear is that the IT security of the DNC was a joke. Any self-respecting teenager would know better, and practice infinitely better security, than the DNC. They would also have better hardware and security software. It basically raises the point that the computer technology of a lot of political party structures is pitiful, and blaming Wikileaks for their incompetence is not much of a defense. 
While I'm on a roll, let's talk about Wikileaks. I actually support groups like Wikileaks, the International Consortium of Investigative Journalists, The Center for Public Integrity, and the Electronic Freedom Foundation. If the forces of government and our political parties will not protect openness in our democracy, then having these groups out there exposing the bad guys is cool by me -- as long as the documents and emails are the real deal. 
In the case of the DNC, I have heard virtually nothing claiming that the Podesta emails are inaccurate or spoofed. Therefore, they are presumably the real deal, and if Hillary and the DNC don't like their content, then maybe somebody should have been more discreet in their email nastiness. And if the Podesta Group, which includes John Podesta's brother, Tony, continued to lobby for foreign clients while John was running the Clinton campaign, it's just another day in the cesspool called Washington. Get over the hurt feelings of exposure, folks. It's what you do. 
How Is the Democratic National Committee Structured? 
To me, this all gets back to how the national and state party structures are structured and run. In the case of the DNC, you first have a bunch of "superdelegates" that the party controls, just so that the kiddies can't run amok and have some crazy grassroots democratic candidate sneak in and upset the party establishment. 
And going back to the secret DNC/Hillary Victory Fund agreement, how exactly did that come to pass, and if the good 'bad' part of the deal was secreted in the vaults of the Perkins Coie law firm, who voted to authorize this? Since the signatory for the DNC was Amy Dacy, (who was the former CEO of the DNC), exactly who else in the DNC governance structure knew about this? Are the Committee members drones? Did Debbie Wasserman Schultz know? 
The DNC seems to me to be more like a secret college fraternity than the open, transparent, and inclusive political body that the democratic party claims to be. All I can find on Wikipedia is that the membership consists of the Chair & Vice-Chair of each state party, plus 'more than 200 members elected by Democrats". They are the superdelegates. There is virtually nothing on governance, or how contracts are entered into. 
And if anyone had a doubt that the Hillary/Nancy Pelosi/Chuck Schumer establishment runs the machine from the top down, witness their recent decision to have Hillary-lite Tom Perez serve as Chair of the DNC, over a younger, more energetic, small "d" democratic challenger, Keith Ellison.  There are credible stories out there about how Perez' version of outreach was to purge everyone loyal to Ellison. Attaboy Tom, that will give people a reason to vote for democrats.  Sheesh.
And What About California Dems, as in the AD 51 Runoff? 
While not as huge as the DNC, the California Democratic Party has its own fault lines.  Witness their questionable election mechanics in returning Eric Bauman, a true authoritarian, to his Chair position over the much more small "d" democratic challenger, Kimberly Ellis. This top down "mother may I" mentality does not bode well for either the national party or, for that matter, getting the next generation of bottom-up candidates elected to modernize and change the California Democratic Party.
Bringing it all closer to home here in Northeast LA, let's look at the upcoming runoff election to replace Jimmy Gomez in Assembly District 51. Gomez, himself a carpetbagger, is the instant party favorite, and goes to Washington to replace Xavier Becerra, who left to become our Attorney General. That sets up yet another race to replace Gomez. 
Enter one Christina Garcia (D-Bell Gardens), Chair of the Democratic Women's Caucus in Sacramento. According to an LA Weekly article, she not only endorsed Wendy Carrillo early on as the anointed candidate to replace Jimmy Gomez (another carpetbagger) in AD 51, she also "worked to keep other women from entering the race." 
Of course, even as Garcia was becoming a party power broker, she neglected another set of political relationships she had. She was buds with Raul Bocenegra  (D- Pacoima), who is a front for Charter Schools, as I recently reported in CityWatch.  
It also turns out Bocanegra groped a female staffer some 10 years ago, and got quietly disciplined for by the legislature for his actions, as reported in the LA Times.  
Since Christina Garcia has been in the legislature since 2012, you would think she knew about these exploits, even as she was political allies with Bocanegra. Predictably, she is now distancing herself.  This from the Chair of the Democratic Women's Caucus. 
And then there's Senator Tony Mendoza (D-Artesia), who is a political ally and roommate of Kevin De Leon. He too got busted for sexual harassment lately, causing his roomie, DeLeon to move out of the house and ultimately announce a brand new complaint policy. Well golly gee, Kevin, how manly. 
The Takeaway: VOTE FOR LOPEZ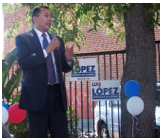 Christina Garcia, Jimmy Gomez, and Kevin De Leon represent the group that is all in for Wendy Carrillo in the December 5 runoff for Assembly District 51. Remember, this system is what has brought us Raul Bocanegra and now Tony Mendoza, with their entitlement attitude and recent sexual harassment difficulties. It also brings financial resources to the endorsed candidate that other candidates can't match. 
As I recently wrote for CityWatch, these politicians all represent a democratic insider top-down lifer pipeline which seeks to control the special interest big cash, the endorsements, and which democrats represent us. 
If you can, get out and vote for Luis Lopez, the home grown small "d" democrat in this race. He has been running against the top-down democratic establishment since he took on Jimmy Gomez in the 2012 election, and gave him a good race, even as he was outspent by a phenomenal margin. So, his politics are not a matter of sudden convenience. 
In the current runoff, he's endorsed by the East LA Progressive Democratic Club, and a host of real long-term activist democrats like politicians I respect: Jackie Goldberg, Betty Yee, Anthony Portantino, and local politicians like Councilmembers Paul Koretz and Mitch O'Farrell. 
This runoff is really about people power -- are enough democrats willing to actually participate in this very low turnout election and send a message to the democratic party that we would like to choose who represents us, not them. 
I hope so.
(Tony Butka is an Eastside community activist, who has served on a neighborhood council, has a background in government and is a contributor to CityWatch.) Edited for CityWatch by Linda Abrams.
-cw