THE PREVEN REPORT--By now it's common knowledge in Los Angeles that Harvard-Westlake, an elite private middle and high school, is trying to erect a 750-car parking structure in the hillside residential neighborhood abutting its campus in Coldwater Canyon. 
How big is a 750-car parking garage?
Check graphic above showing 750 yellow taxis.
Here's a graphic showing the length of the parking structure as compared to a pair of 747 jumbo jets arranged end to end: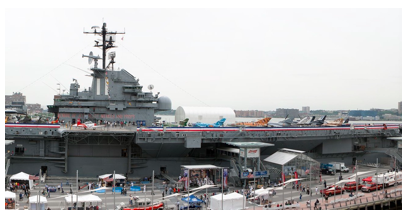 an Essex-class aircraft carrier.  Harvard-Westlake's proposed parking structure will be approximately two-thirds the size of that ship (as shown):
Tuesday the LA City Council will vote whether or not to grant Harvard-Westlake the first of many zoning variances the school needs to get the 750-car garage up and running; in particular, the Council will vote to grant or withhold the "air rights"  necessary for HW to build its proposed private pedestrian skybridge over Coldwater Canyon Boulevard connecting the parking garage with the school's campus. 
What does Mayor Garcetti think of all this?
He's an alumnus of the school but to date has not weighed in on the highly controversial project. 
Mr. Garcetti could kill the project with a lift of his little pinkie. Why hasn't he? His constitutents in Coldwater Canyon have a right to know. In fact, his constituents in every corner of the city have a right to know, because a central goal of the Mayor's overall transportation policy--including his Vision Zero Initiative and his Great Streets plan--is to "get people out of their cars" and have them use alternative modes of transportation, such as bicycles and busses. 
Shouldn't Harvard-Westlake parents and students also be looking for alternative ways to get to school? What kind of message does allowing the construction of the 750-car private parking garage in a residential neighborhood send to the public at large?
And one other detail the Mayor may appreciate, a 750-car parking garage is also roughly the size of three White Houses.
(Eric Preven and Joshua Preven are public advocates for better transparency in local government and are occasional contributors to CityWatch. A piece they wrote for CityWatch "It's Time to End LA's Secret Meetings: What Do City Council Members and LA's County Supervisors Have to Hide?" won  the LA Press Club award for Online Political Commentary.) Edited for CityWatch by Linda Abrams.
-cw