While the world was set on pause due to the waves of the COVID-19 pandemic, the restaurant industry has been trying to stay afloat. 
The National Restaurant Association announced in December 2020, that more than 110,000 establishments were closed permanently or for the long term.
Restaurants have had to establish a new normal, drastically change their budgets, look for other sources of revenue, push to the demand for delivery services and rely on technology.
[Photo above:  Diana's La Bonita Restaurant employee, Ramon Elizondo. Diana's adapted its hours and relied on its wholesale business to make ends meet. Photo by Iracema Navarro.]
Pandemic kills 24-hour restaurants but the work gathers
While most of us are hiding from the pandemic, essential workers are still driving late to work in the seemingly deserted streets. From healthcare workers to warehouse workers, essential employees are helping maintain some semblance of normality in a time when California has lost more than 58,000 to the pandemic. 
Throughout it all, night and graveyard workers often depend on the food service industry to help keep their strength up during these trying times. Yet, with the pandemic affecting the nation's restaurant industry, some late night eateries have all but vanished.
 There are signs outside of restaurants that catch a driver's sight but the biggest or flashiest sign can never surpass the OPEN 24 HOURS sign. 
There are the typical 7-Eleven stores and donut shops that are open 24 hours a day with one to perhaps two employees, but it's rare to find a fully managed 24-hour restaurant. 
With the tradition engraved in their loyal customers, family-owned Diana's La Bonita Restaurant in Carson has had to display new hours open during the pandemic. The business also sells wholesale products through Diana's Mexican Food Products, Inc. To stay afloat during the pandemic, the restaurant's new hours have been from 6 a.m. to 10 p.m. and five employees were told that their graveyard shifts were no longer needed.
Although the hours were cut, the demand for food hasn't changed.
"I'm still working the same amount of hours," said 33-year-old Ramon Elizondo, who has nine years working for the restaurant. "Pretty much everybody is trying to get their food at the same time and that's the problem that we have always had. Lines are out the door or three phone lines are ringing nonstop, and now we have Postmates orders coming in."
According to the Securities and Exchange Commission filings, food-delivery apps collectively had a $3 billion revenue increase during the shelter-in-place restrictions caused by the pandemic.
"I feel like I'm bringing service to my community," Elizondo said. "There's a lot of people that don't really have time to cook or just don't have the means to."
As more people get vaccinated against the virus, a light at the end of the tunnel seems to have been lit. What it means to the restaurant industry, which has had to endure a rollercoaster of guidelines, remains to be seen as society approaches a new "normal."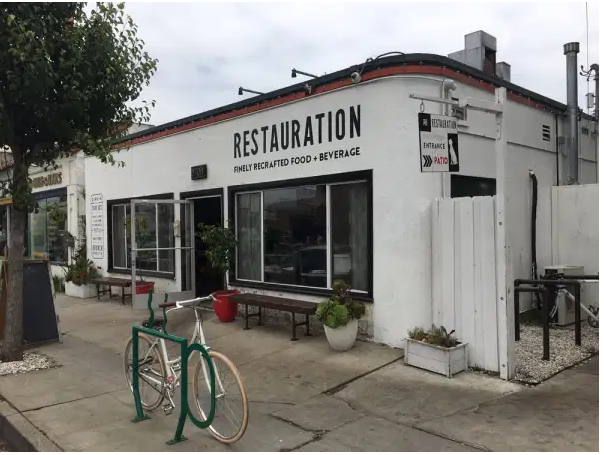 Restauration in Long Beach was cited numerous times by the city for defying lockdown restrictions and now is permanently closed. File photo.
Defying the odds, receiving the bill later 
When COVID-19 infection rates started surging in fall 2020 and into the holiday season, the Los Angeles County public health department tightened restrictions over public gatherings, restaurants and bars to stop the spread. Many small business owners and restaurateurs had grown fatigued of the lock- down measures and in many places had begun rebelling against the government controls. Many restaurants were forced to close because they refused to abide by the safer-at-home measures, and wore their resistance to the shutdown orders like a bandage of honor. Though subject to Long Beach Public Health Department, the Long Beach eatery,  Restauration, was one of those establishments whose proprietor decided to ignore the lockdown measures, arguing she  had a duty to keep her staff employed. 
"It's not easy, but I made the decision as a business owner," said the owner of Restauration, Dana Tanner. "I felt like if there wasn't something solid to show me that restaurants [were major contributors to the pandemic] … then we shouldn't be discriminated against."
The City of Long Beach cited Tanner for remaining open during time periods when COVID-19 cases were high and outdoor dining was not safe. Tanner was cited multiple times for not following the safer-at-home orders and refusing to comply with the city of Long Beach. 
"I wasn't going to close down, when people needed to work and be employed," Tanner said. 
Tanner spoke with each of her employees and asked them what they felt comfortable with and they all agreed to continue to work. Tanner has been open during lockdowns, the safer-at-home orders and did not have a single COVID-19 case from her employees. 
"I don't know a single small business owner who employs people, who feels like what happened in our state was right," Tanner said.
Restauration was permanently shut down by the Long Beach public health department in January 2021, after it cut the establishment's gas and applied other sanctions. 
While some restaurants continued defying state guidelines to maintain their business and keep their employees working, other restaurants have had to cut graveyard shift workers while adding the demand of delivery. Adapting to the guidelines gave the opportunity to Diana's restaurant to one day switch the lights on the open 24 hours once again after opening its doors to indoor dining fully.
(By Iracema Navarro and Cindy Portillo, Editorial Interns, Random Lengths News)