WELLNESS--Astaxanthin, pronounced "ASTA-ZAN-THIN" is possibly the most potent antioxidant on earth. Considered 6000 times more powerful than Vitamin C, this red colored phytonutrient which comes mainly from micro-algae along with certain orange and red colored fruits and vegetables is seriously good for your health! 
The reason that krill, flamingos, shrimp, lobster, and salmon are pink is because they eat large amounts of astaxanthin-packed algae and phytoplankton. Known as a carotenoid, this powerhouse superfood is shown to reduce inflammation within the body, increase the skin's protection from the sun when used both internally or topically, and may even lighten sun spots caused by aging.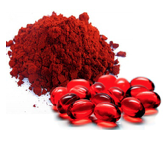 Like most antioxidants, astaxanthin fights harmful free radicals within the body to assist in healthy cell production. It also has been studied for its ability to minimize muscle damage and improve recovery after exercise along with increasing physical energy in athletes. It has been shown to support eye and heart health, and may increase cognitive function as well. 
One of the best sources of astanxanthin is from the tiny crustaceans known as krill. The shrimp-like sea life that are found deep in the Antarctic ocean are best because these waters contain less toxic waste making it relatively pure. Krill also tends to live deep below the water's surface in areas where toxicity and pollution is decreased even more. 
Taking 4-12 mg of astaxan  thin per day is highly recommended by numerous alternative doctors and health experts for its long-term support of overall health and longevity. 
We can get overwhelmed by the numerous options of vitamins, minerals, and superfoods on the market but I for one, make astaxanthin a part of my daily supplement regimen.
*Astaxanthin is not recommended for children or women who are pregnant.
(Jay Bradley is a Youthful Aging, Wellness & Lifestyle Expert Living in Los Angeles http://www.JayBradleyLifestyle.com. He is the Best-Selling Author or LIVE LOOK FEEL, The 12-Week Guide to Live Longer, Look Younger & Feel Better!)
-cw