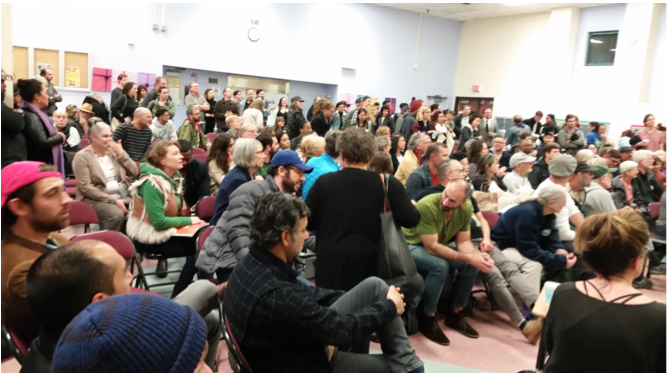 ELECTION WATCH--Monday evening, February 27 four Neighborhood Councils (NC): Atwater Village, Echo Park, Silver Lake, and Rampart Village hosted the last candidate forum for City Council District 13 at Mayberry Street Elementary School. Council District 13 includes all or parts of Echo Park, Silver Lake, Elysian Heights, Elysian Valley, Atwater Village, and Hollywood. 
300 attendees packed the auditorium, lining its walls. Silver Lake NC Co-Chair Anne-Marie Johnson and Vice Chair Jerome Courshon facilitated the event. Allison Cohen publisher of the Los Feliz Ledger and Kirk Hawkins from KTLA 5 News served as moderators. 
Candidates for the March 7th election Doug Haines, Sylvie Shain, Bill Zide, Jessica Salans, and David De La Torre attended. Councilmember Mitch O'Farrell (incumbent) missed the event. Council District 13 Senior Policy Advisor, Christine Peters declined a press interview.
The moderators asked questions of the candidates followed by questions from the audience. 
Why do you think Councilman O'Farrell is unresponsive to constituents? 
Doug Haines, President of several neighborhood associations in District 13 for over 12 years, said O'Farrell is not being responsive to his constituents in many ways. The City Review Committee meetings have been effectively opened to the public for 30 years where the public can gain knowledge of all city developments. Yet, O'Farrell has shut its doors to the public including NC representatives and neighborhood associations while doors have remained open to lobbyists and developers. 
Sylvie Chain related her eviction from her Villa Carlotta apartment in Hollywood where 17 renters were displaced and two became homeless. The owner benefited from relocation waiver, stating he would build condos but instead now plans to build a hotel. 
"I contacted the Council's Office; they told me they'd look into the issues. I appealed the matter through a nine-month period, while continuing to call Mitch's Office for a meeting," He never met with us saying there was nothing he could do. As a Councilperson, you need to be thinking always of what you can do for your constituents, not what you cannot do, Shain countered.   There's lack of response and responsible planning across the board with a multitude of issues across District 13, Shain continued. 
Bill Zide, former chair of the Hollywood NC, said that Councilman O'Farrell is making choices and he's not involving stakeholders. He doesn't follow the law. Instead he looks to Mayor Garcetti who said the Target Project could be built bigger, yet he did not add affordable housing to get the extra height. "If you break the [zoning] law, just change the [zoning] law. It's soft corruption which is endemic in City Hall."  
Jessica Salans, board member of the Atwater Village NC, said she doesn't know why O'Farrell does not respond to the District's needs. Salans provided statistics about the growth of homelessness in district 13 and mentioned the topic of "environmental justice." 
David De La Torre is the founder of the Elysian Valley NC. De La Torre said that it's beyond him why Mitch O'Farrell is not responsive to Elysian Valley and the rest of CD 13 as he is supposed to be. He should provide attention to community's needs. "It's clear to me that the job has gotten to him. … It's about getting what our communities need," he said.            
(Photo left: Candidates from left to right are Doug Haines, Sylvie Shain, moderator, Jessica Salans, and David De La Torre) 
How would you contribute to making LA a Sanctuary City? 
All candidates are in favor of working to make Los Angeles a sanctuary city. Haines said his immigrant neighbors look to him for protection and vice versa. Shain would coordinate with community organizations that protect the undocumented "especially youths who were raised here as infants and now are being shipped to a country that they do not know." Zide said, "I will protect immigrants since they make up a lot of the work force and make it clear that ICE is not the police."
Salans said her team will reach out to Latino immigrants and provide resources to the most vulnerable. Similarly, De La Torre will bring information that protect the immigrant community and will "work for and with them to help them stay in this city." 
Position on Measure S 
Most candidates support Measure S, except for Salans. Haines, Shain, Zide, and De La Torre emphasized that Measure S will not impact affordable housing. 
Shain explained that Measure S stops the rampant abuse by developers that goes along with building luxury developments. These then cause collateral damage in existing, surrounding buildings that had been renting far below market rate. She adds "spot zoning is incredibly irresponsible on so many levels." Salans added that whether Measure S passes or not, team will work for affordable housing. 
What would you do differently if elected? 
Haines explained that daily, he sweeps streets and paints over graffiti in his neighborhood; and, weekly goes to City Hall meetings to participate by expressing the peoples' voice. He said, "Nothing will change." Then he emphasizes he would change the way the city operates. Shain said she is running because "There is a lack of leadership in CD13. It's a responsibility to serve the constituents." She supports campaign finance reform at the local level. 
Zide will meet with people who complain about developments at the particular development sites. "I will have a housing deputy and small business deputy." Salans will dedicate 50% of her salary for a progressive community fund. "I will pull in workers from inside District 13 to represent the people of CD13." Lastly, De La Torre will use an open door policy. "I will be response to you and your needs. If an issue cannot be solved because it's out of my control, I will tell you so," he said. 
How would you improve and handle the disputes regarding the Silver Lake Reservoir? Not every candidate was asked this question. 
Both Zide and De La Torre acknowledged that the reservoir is a pubic city park and the land should be accessible and useable by everyone. Zide said that it's important to strike a balance with the people who live in the area and with the people who live closest and around the lake. Similarly, De La Torre said that one group would like to turn reservoir into the next central park "and the other appreciates the passive recreational component and the nature that comes with it. I'd like to work with both sides where both get some of what they want but not all of what they want." 
Salans described her vision of turning Silver Lake Reservoir to be like Echo Park Lake: "Walkable, bikeable, and usable for kids to play. I'd plant fruit trees and take down that fence," she said. 
How will you contribute to "Sustainability" in the City? 
Haines would have respect for the existing zoning laws that are devised by the community over time. "A community should be a better place not a worse place as you live there longer," he emphasized. Shain would negotiate for public benefits when there are investments to be considered like outside capital coming into the city. She will use funds from big developers for people in the community. 
Zide would simply represent his constituents and be responsive to their needs and address environmental issues. "It all starts with supporting the people, if you're not responding to them you're not sustaining anything," 
Salans would support protected bike lanes, electric public transportation, walking, geo-thermal development, solar panels in every home and business, and capturing rain water. While, De La Torre will represent the people of CD13 and will improve upon services so you feel safe and have a relationship with the LAPD as well as provide youth opportunities for higher learning." 
Small Lots Subdivisions 
All candidates find that Small Lot Subdivisions are luxury houses that surpass the affordability of the people in Los Angeles. Shain observed that Small Lots are imposing excessive stress in our infrastructure by developers building 3 toilets in each unit. "They should be held responsible to upgrade our present worn down infrastructure," she said. 
Zide argued that Environmental Impact Reports (EIR) need to be done independently, other than the developer. 
Haines made clear that 26% of all the City's Small Lot Subdivisions are in Echo Park and Silver Lake with a consequence of ruining the historic quality of these communities; "this needs to stop". 
Homelessness 
Shain acknowledged the many vacant units in luxury, high rise buildings and suggested finding rooms for the homeless there. Zide said that homelessness has to be part of a comprehensive plan and thinking ahead. "It requires a balance. We have to take into account all the constituencies involved. It's connected with the lack of affordable housing." 
Salans expressed that we need to move forward with compassion. De La Torre said, "Planning has to be done carefully to also protect homeowners and businesses. Let's prioritize our funding in the city with what matters to us. He asks "there are billions of dollars to develop the LA River when we have homelessness and infrastructure issues?" 
Affordable Housing 
Shain clarified that we're not in a housing crisis; we're in an affordability crisis. She would cancel the Costa-Hawkins Law. Zide would protect Rent Stabilization Ordinance (RSO) units, our main stock of affordable housing. "We are losing them and are not being replaced. Building new luxury-units will not lower the price of affordable housing; it will push rent up," Zide assured the audience. Salans expressed that her team will search to find a way to create socialized housing as a solution to the affordable crises. Lastly, De La Torre said that his office will facilitate information so renters will know what their rights are for protection in case of displacement.
(Connie Acosta participates in the neighborhood council system and frequently reports on Neighborhood Council matters. She is an occasional contributor to CityWatch.)
-cw