SOUTH OF THE 10 - Thousands of college bound students descended upon the Los Angeles Convention Center for the 2022 Black College Expo. 
The event returned to an in-person format, after being virtual the prior year due to the COVID-19 pandemic.
Colleges from around the country participated with some offering admission and scholarships on-site.
Students learned from entrepreneurs, and were introduced to 'Booming Careers' that could be of interest.
One booming career is in the tech industry, where data can be leveraged to create products that enhance our quality of life.
Michael Broughton, 23, began his career at the University of Southern California, and quickly pivoted to the tech industry. 
"I interviewed close to 3,000 college students and found 99% of them didn't know their credit score, but were paying for a subscription service through an app," said Broughton. 
From there he founded Perch Credit, which is an app student can use to track their payments and credit scores.
"I didn't get traditional funding but won a pitch competition, that led me to Marcy Ventures, and funding capital from Jay-Z," Broughton said.
The Perch App is available on the Apple App Store for download.
During his panel Broughton awarded three students with 2 Mac Book Pros, 2 iPad Airs, and 2 Beats Fit Pro Earbuds. 
Anise Hammonds, 16, received one of the laptops and spoke about her career aspirations.
"I attend Gardena High School and my goal is to graduate early and go to Howard University and major in Law and Psychology," Hammonds said.
Many of the students participating were focused on attending college.
Zaniyah Rose, 16, attends Dominguez High School and attended with her mentor group Making Choices.
"I am here to get information on the University of Chicago and UCLA," Rose said.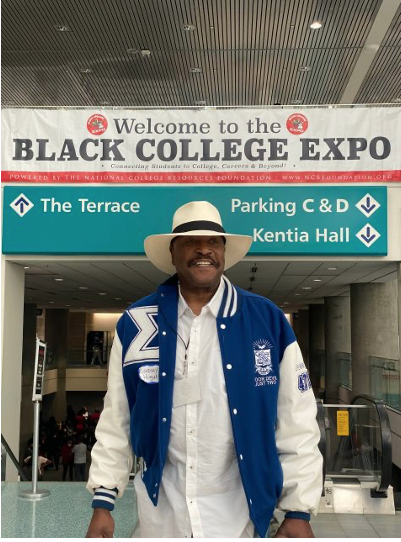 Lindsay Hughes, another panelist, spoke on the positives of being a small business owner, as he has been a McDonald's franchisee for four decades.
"America was built on small business, and I just signed my third twenty-year lease with McDonald's," said Hughes, who hails from Watts.
He spoke on the importance of the students having a plan, and following it.
"I am just glad I am here to get information about college," said Shania Banks, 13.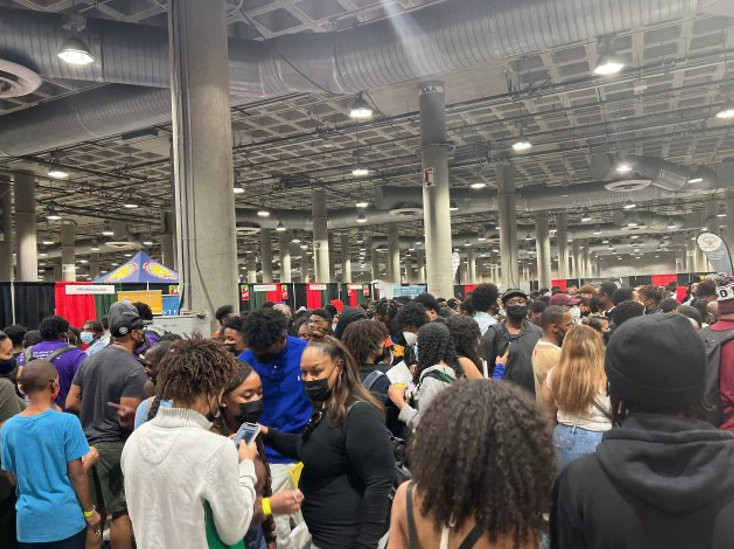 Historically Black Colleges and Universities were also represented with booths flooded with students eager to get information.
Louis Henderson, executive director of On a Mission, Inc, provides students with opportunities to travel and learn about HBCU's in person. 
"We always welcome children to attend our information sessions and learn how they too can visit these campuses and see first-hand what the school is like," Henderson said.
Law enforcement agencies also participated as a way to recruit from the community. 
"We are always happy to attend this event and promote the benefits of a career in law enforcement," said the representative at the Los Angeles Police Department booth.
Cpt. Aria Crystal-Williams spoke on the positives of leveraging a career in the military to fund your college education.
"I have become a nurse, and are now going to obtain by Ph.D. and haven't paid a dime towards my education," said Crystal-Williams.
(2UrbanGirls has been cited in CityWatchLA, Compton Herald, Daily Breeze, Daily News, Inglewood Today, Intersections South LA, KCRW, KPCC, Los Angeles Times, LA Weekly, LA Watts Times, Mercury News, Orange County Register and The Atlantic.)