SPECIAL REPORT - I am Janet Gunter and am with the San Pedro Peninsula Homeowners United, INC.
We are requesting the stormwater drains information & permits for the Rancho LPG Storage facility located at 2110 No. Gaffey St., San Pedro, CA. 90731 
Please provide any copies of documents pertaining to the below storm drainage issue.  The below question was posed by Tom Williams who is an engineer with extraordinary expertise:  Williams has degrees in geology & zoology, a PHD in Paleontology.  His long history of performance includes the drafting and reviewing of over 500 EIR's along with creating contingency plans for oil spills and refinery CEQA compliance. 
These are his notes relative to some analysis of this highly explosive site. 
#9 Drains and Drain Permit and Regional Water Quality Control Board. 
Also note the drainage lines from RR/Rd Pad to SW corner+ from tanks containment pad to stormwater channel.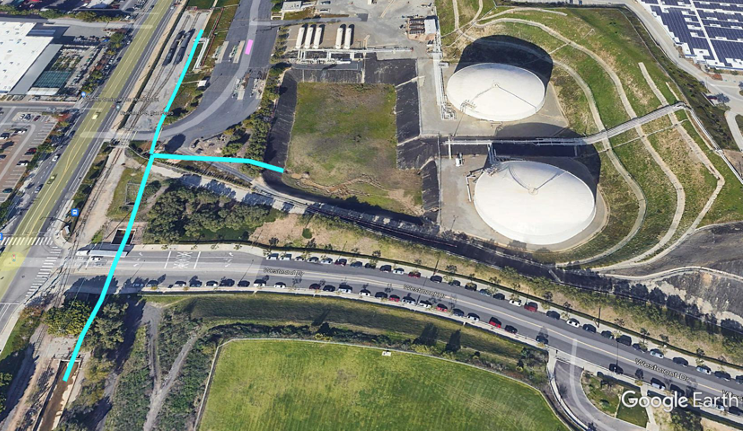 and then a little further downstream...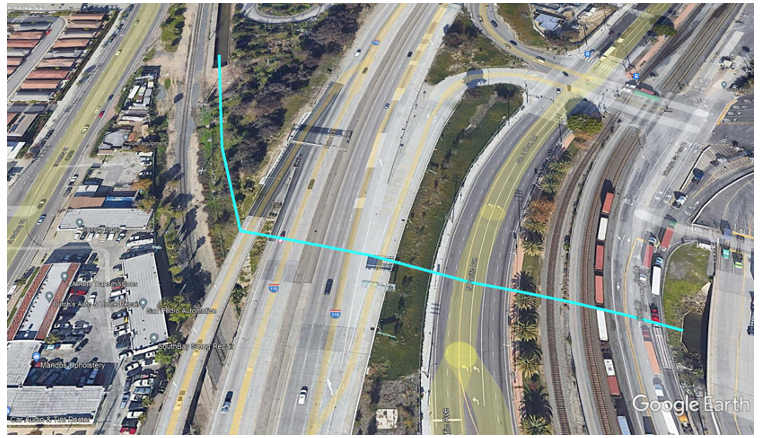 For discharge to Port/Harbor. 
Please bear in mind that this facility was installed in 1973 under the Nixon administration's energy policy that embraced "Liquefied Petroleum Gas" as an "ill-conceived" means of weaning America off of Mid East oil.  This facility was developed on the edge of the Port of Los Angeles as a means of receiving large highly volatile volumes of this gas from Algerian ships calling at the port for its offloading... via wharf and pipeline... to these two massive 12.5 million gallon tanks.  At the time, it was given an "emergency exemption" to all permitting.   
EACH 12.5 million gallon butane tank has a blast radius of over 3 miles. 
The tanks currently contain a total of 25 million gallons of butane gas while there are another 5 horizontal 60,000 gallon tanks of propane gas on the premises being moved daily by truck and rail. 
This butane gas is in "liquid" form only under its refrigeration.  Once this liquid gas escapes its refrigerated tank, it expands rapidly into a gaseous vapor ... expanding over 230 times its volume as a liquid.  It is "heavier" than air and will seek the lowest level.  The lowest level (as seen by these photos) is the storm drain resting neatly below these tanks.  This gas is extraordinarily explosive and flammable and can be ignited by something as negligible as an electric spark.  Within a few yards is the busy highway of Gaffey Street.  There are also multiple gas generators on the grounds below the tanks.  This storm drain flows directly into the town...and into the LA Harbor. 
Several years ago, Civil Engineer, Founding Member of the California Coastal Commission, and Earthcorps President, Don May, made a reference to these tanks at a comment session for a proposed LNG terminal at the Port of Long Beach: 
"The LPG/Butane facility in the Port of Los Angeles is directly over the button hook of the Palos Verdes Fault (predicted for rupture within the 10-50 yr. time frame.) A geology firm up in Montrose, Ca who are the acknowledged experts on that fault structure, and a group from Cal Tech who are the experts in predicting the vertical accelerations to be expected from the predicted events, and an engineering group who could evaluate the ability of the SES LNG tanks to withstand the shear forces generated explained:  2G's of vertical shear force would cut through those LPG tanks like a hot knife through butter, yet the expected rip force would be far greater.  It was - and is, my belief that this is by far the strongest case against the SES project.  Yet it applies equally to those LPG tanks.  

The event would empty both LPG tanks into the containment pond, which are surrounded by a multitude of ignition sources, resulting in an inextinguishable column of fire up to the inversion layer thousands of feet high, raising the temperature above the ignition point of most flammables within a mile or two, causing a Dresden like firestorm and river of fire flowing through San Pedro and into the port.  The pool of fire itself would burn for days." 
Question here is ......how and why has the City of LA, Port of LA, County of LA and entire state... done nothing in almost 50 years to eliminate this unbelievably high risk situation?   
Please see short video created on this site some years ago.  Nothing....has changed:
Here is what Mayor Garcetti said a few years ago.  Also take note...that this facility could not exist without the use of public trust land that is controlled by the City and Port of LA.  This use can be revoked at any time rendering the facility inoperable and forcing the remote refinery now storing their excess butane gas at the site.. to store the gas on their own more secure refinery grounds.   
Garcetti states that the facility was in "compliance" when built.  NOT TRUE!  It was "exempted" from regulations at that time!  "Legalized without Compliance"! 
In such vulnerable times as these.....it is an intolerable disgrace to continue to ignore the fact that this high-risk scenario poses such a grave threat to the entire Palos Verdes Peninsula and all Harbor communities.  The US Resiliency Council estimated a blast radius of significant damage to be just under 10 miles.  That includes the Ports of LA  AND Long Beach!   
The State, the County, the City and all the elected public officials in surrounding harbor communities should be all over this............yet we get "radio silence" with everyone "praying" that the inevitable catastrophe doesn't happen during their watch.  Such Cowardice! 
Will the Regional Water Board do anything? Probably not.  But, we choose to keep trying.
Sincerely,
Janet Gunter