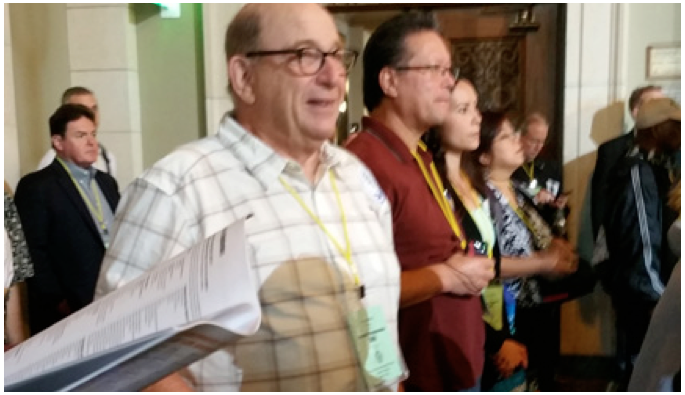 NEIGHBORHOOD POLITICS--"Do you hear me ... Do you hear me now?" How many times did one hear the Verizon ad man ask that question in response to obtaining adequate service? The Venice Neighborhood Council (VNC) is now asking this of Councilman Mike Bonin.
Projects affecting Venice are being approved by the City and they have never been thru the Venice Neighborhood Council. (Photo above: Ira Koslow, president of the Venice Neighborhood Council.)
In August the VNC sent a letter to Councilman Mike Bonin asking him to present all current projects to the VNC rather than skirting the system. They did not receive an answer to the letter. In the December meeting, Matt Shaw presented a motion that all projects affecting Venice, in whatever state, be presented to the neighborhood council and "stop taking any actions until such time as our council and stakeholders have had a chance to voice our opinion on any and all proposals."
Councils Created to Provide Grassroots Input
The neighborhood councils were created by Charter amendment in 1999 to provide grassroots vetting and input to the governing bodies. "To promote public participation in government and make government more responsive to local needs by creating, nurturing, and supporting a citywide system of grass-roots, independent, and participatory neighborhood councils."
There are 96 councils and Venice, one of the first 4 or 5 to be certified, has outshone all councils with its professional participation and voting record at the polls. The VNC has the largest turnout of any neighborhood council each year.   Last year the governing body had to print extra ballots three times.  Other neighborhood councils visit the Venice council to see how it is done. Former Land Use and Planning committee (LUPC) Chair Challis Macpherson wrote the book on LUPC and taught other councils how it should be done.
The Board is Heavy with Talent
The people on the board are businessmen, attorneys, architects, professionals and some are retired professionals. They have all been trained to address a problem and provide solutions. Because of their broad backgrounds, many times the suggestions, solutions are varied prior to consensus. 
Ira Koslow, president of the Venice Neighborhood Council, says "I have been on the board a long time before becoming president. These people who have never served before just do not understand the lack of cooperation from the CD11 council office," he said. "I don't understand it."
Koslow, now retired, is no lightweight in the field of accomplishments. He worked 25 years in the music business as a talent manager with Peter Asher management. Before that he was an associate professor at California State University, Long Beach for four years. His last job was with the LAUSD where he was a math teacher for 10 years and taught economics for 12 and for five years was Dean of Discipline.
Examples of No Vetting
Koslow started reciting in rapid fashion the latest instances he could remember regarding the preempting of the Venice Neighborhood Council.
"Bonin brought an "ice rink" to be put at the park on Windward to the neighborhood council," he said. "No one wanted it. Then he wanted to bring it back thru the Venice council again. Normally, we do not hear a case twice but he said he had altered the plans enough for it all to be considered new. The Venice council voted it down again. Bonin then went over the Venice council to the California Coastal Commission and got it approved in spite of the Venice council members testifying against the project at the Commission hearing. Whatever happened to the project after that, we do not know.
"The three homeless projects--Westminster Senior Center, Venice Median, and Thatcher Yard have never been thru the Venice Neighborhood Council. Bonin claims that he had a town hall and that was sufficient. Hardly. Telling Venetians what he plans to do is not vetting a case.
"The Business Investment District (BID) that was so controversial and had to be redone, It never went thru the Venice council. Had Bonin not thrown in 25 percent of the city land, it would never have passed. Now the City has to pay $480,000 in fees.
"Lava Mae, the mobile shower service, was new to us. It was mentioned as a project but never presented with details until our December meeting when everything was a fait accompli. There are Board members who live on Third who could have given valuable input at some point.
"This is why we are here."
(Reta Moser writes for Venice Update] … where this perspective was first posted.) Photo credit: Yolanda Gonzalez.
-cw