RESISTANCE WATCH--When Sue Freitag graduated from UCLA, she knew she had to return to her alma mater, El Camino High School in Woodland Hills. Freitag is an inspiration to her students, exposing students to social issues and advocacy through her program. 
"It starts with the kids. I'm a huge advocate, not just for youth but for the LGBT kids," she says. "I hope that it's gotten better but I don't want to see things go backwards with in this political climate. Betsy DeVos is taking out Title IX protection for LGBT youth. There's a legitimate fear -- not in LA and not at my school but in other schools across the country that don't have a Sue Freitag or administrative support."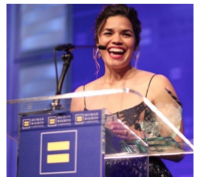 Freitag and her student, rising senior Sarah Slaughter captivated the crowd at #ResistMarch, where Freitag's former student actor/activist America Ferrera gave an inspiring speech introducing a Dreamer who survived leukemia to attend Cal State Los Angeles. 
"America Ferrera really represents those on the front lines and in the trenches. She uses her platform to better the world. I've told her I don't care as much about her Emmys or her acting as much as her Human Rights Campaign Award. I was more impressed that than with any acting awards." 
Freitag says #ResistMarch organizer Brian Pendleton reached out to her through various channels to participate in Sunday's event and to organize the youth contingency to come to the march. "I was able to coordinate 150 students from different schools in Los Angeles, working with the GSA (Gay Straight Alliance) to coordinate with sponsors. We pulled so many students in." The GSA students were holding the 49 purple balloons at the march as a tribute to the 49 who died in The Pulse nightclub shooting. 
The El Camino teacher says the theater department at the Woodland Hills high school is driven to stage documentary theater "to educate students and to get them involved in democracy and all the things that are happening -- and how they can play a vital role in problem solving the issues that are going on." Freitag adds that students like hers are the ones who will be in charge in a few years and "if we don't teach them how to step in now, they won't be ready."" 
Freitag says the theater program also helps students learn empathy -- especially when that value is not shared at home. "So many things are embedded by parents. Without a support system, it's easy to stick with what your parents told you. I encourage my students to away to college to get a different perspective. 
Advocacy through the arts is an important mission for Freitag (photo left). "A few years ago when marriage equality was in the Supreme Court, my high school was the only school in the nation with permission to do the documentary play called '8,' she says. "We were the only high school doing that play. Jeff Zarillo and Paul Katami, the plaintiffs, came to our school to talk to the kids. '8' was an awesome experience for all of us. The playwright joined our panel, as did a rabbi and some people from the ACLU. It started a conversation in the community. We have also done the 'Laramie Project' and last year, we did a play on Greensboro, an anti-KKK rally that was shot up by the KKK and the police, a true story." Plays like this open up great conversations and bring awareness that cuts down on bullying."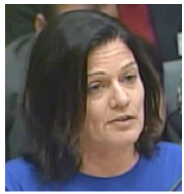 ("8" is an American play portraying the closing arguments of Perry v. Schwarzenegger, a federal trial that led the overturn of Proposition 8, an amendment eliminating the rights of same-sex couples to marry in California. 
In addition to her powerful mission through the theater program, Freitag has worked with the GSA. "At some high schools, this is the Gay Straight Alliance; other schools call it the Gender Sexuality Alliance. Lots of schools have clubs on campus that serve the LGBT youth population and allies," she explains. 
"I've been teaching at my school for 17 years. Since I was a student here, things have changed among the kids. Nobody mentioned gays or lesbians when I was a student and if they did, it was in a derogatory way. Now, kids look at it differently. There are more conversations; there's more knowledge and education about the LGBT community and perceptions have changed," she shares. 
Freitag says she tells her students how lucky they are to live in Los Angeles. "I volunteered at the Trevor Project on Lifeline where anybody under 23 can call in if they're suicidal because of gender or sexual identity. People would call in from Middle America where they had no resources and were thrown out of their homes. I tell my GSA and LGBT students we're so lucky to have resources on campus when in much of Middle America, there's nothing. The highest homeless population is LGBT youth because many shelters that are religious-based won't take the kids. It's a huge issue." 
Freitag says bullying still exists at her school but has mutated into social media-based bullying instead of in-your-face altercations at school -- which are still damaging. "The GSA at my school tries to empower students to speak out, not just LBGT but straight allies," she notes. "When they see bullying happening, we want them to step in and be active instead of just standing by." 
As a speaker and participant at #ResistMarch, Freitag says Brian Pendleton "spent time making sure every voice was going to be heard. Youth were a big part of that to get the youth perspective. He made sure intersectionality was represented -- we are all connected within the gay community, blacks, immigrants, Muslims, everybody." 
For Freitag, #ResistMarch hit close to home. "One of my GSA students showed up with her mom, dad, and her little brother," she shares. "She's a ninth grader, very quiet. Her father is very machissmo. When he introduced himself to me, he thanked me for being there for his daughter. He looked at me with tears in his eyes -- and said he "didn't know what any this meant but he just knows that he loves his daughter. It was the most impactful moment of the day. It was remarkable. I told Brian Pendelton about that story and that's what we were aiming for-- to make this comfortable to everyone from all different walks of life. We definitely accomplished that."
(Beth Cone Kramer is a Los Angeles writer and a columnist for CityWatch.)
-cw