REDISTRICTING POLITICS - At each recent meeting the Chair of the Redistricting Commission, Fred Ali reminds the Commissioners, staff, and the stakeholders on the ZOOM meeting by computer or by phone that the deadline to get the Final Map to the Los Angeles City Council for review is October 29th, 2021.
This is some of the damage that has been done to various Communities of Interest (COIs) at this week's meeting.
On Wednesday, October 19th, 2021, the Los Angeles City Council Redistricting Commission (LACCRC) did the unthinkable – they took the assets that they considered valuable but contiguous with the adjacent neighborhoods and gave them to the Neighborhood Councils (NCs) in a new yet undetermined numbered City Council District.
Because of the complaints of a very few on recent calls (only 25 minutes was allowed for public comment in a meeting that was 5 hours long, Council District 3 as currently drawn on the LACCRC's Map version K 2.5 Amended Version 3, is drawn as a southern District from Woodland Hills to Sherman Oaks.
Map K 2.5 Amended District 3 Woodland Hills to Sherman Oaks
One of the first things that the Redistricting Commission considered when Redistricting the West San Fernando Valley, was not any of the alternative maps – possibly in the thousands that have been generated, but only Map K 2.5 which was created as a contiguous Jewish District in the San Fernando Valley.
During the discussion, one of the first things that was discussed was taking the Warner Center out of what is currently the Woodland Hills Warner Center Neighborhood Council
One of the Commissioners spoke of reading the Warner Center 2035 Specific Plan:
https://planning.lacity.org/plans-policies/overlays/warner-center-2035-specific-plan
What she failed to realize was that the Warner Center 2035 Specific Plan is not only overlayed with parts of Canoga Park and Winnetka, but also the eastern area of West Hills.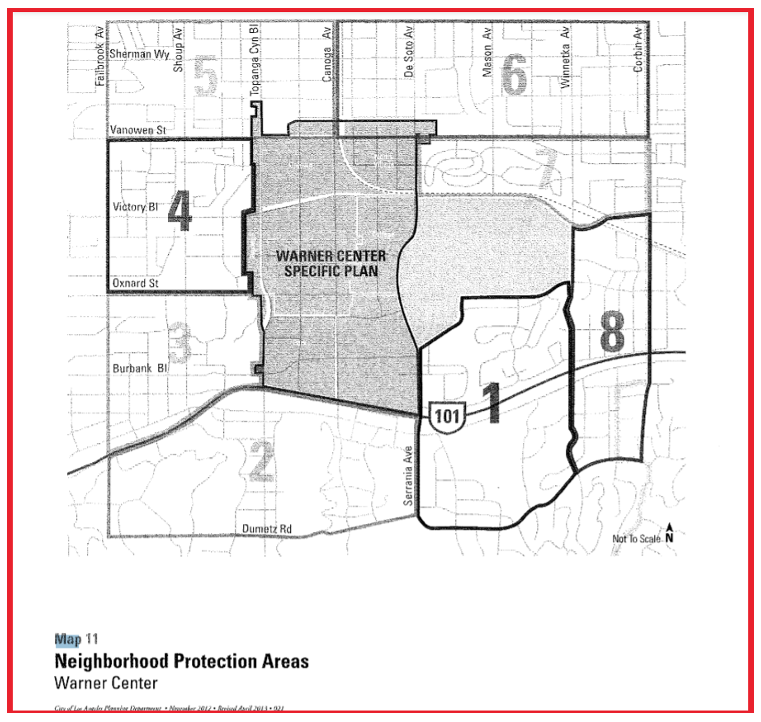 Warner Center 2035 Neighborhood Protection Plan (WC NPP) map includes West Hills in Areas 4 and 5; Canoga Park in Areas 5 and 6;
Winnetka in Area 6 and 7; and Woodland Hills in Areas 7, 8, 1, 2, 3, and 4.
Taking this asset away from the four adjacent communities – primarily within Woodland Hills could not have been a better move than if developers suggested it (in my opinion).
It was pointed out that Warner Center was a part of the Woodland Hills Warner Center Neighborhood (WHWCNC) Council area, and that one of the things that the WHWCNC had asked was to remain whole; it had been split in previous draft maps.
The Next Big Move:
The LACCRC took Los Angeles Pierce College (pictured above) out of Woodland Hills, California where it has been since 1947, and placed it into Council District 4 or 2 as drawn by Redistricting Partners in Map k 2.5 Amended Version 3.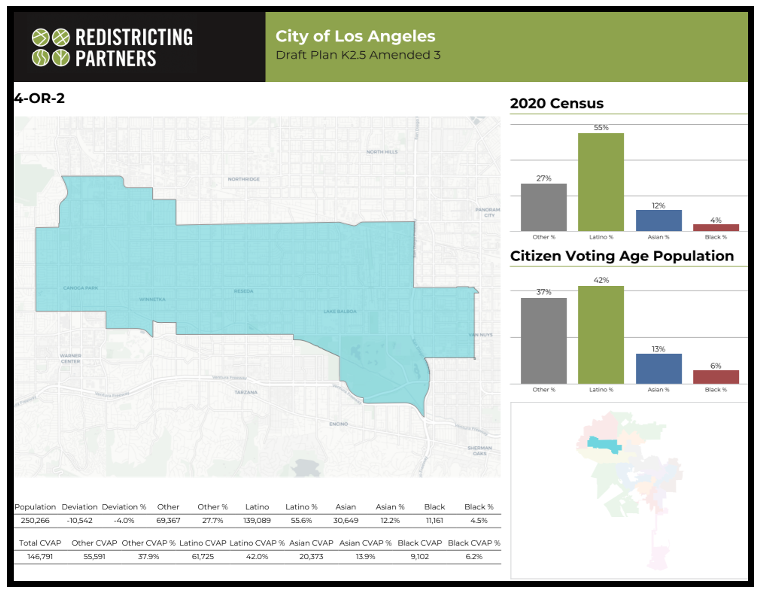 Map 4 or 2 includes Canoga Park, Winnetka, Reseda, Lake Balboa, and part of Van Nuys.
Exactly how do you take a California State Community College – along with its residences to the south, out of one community – Woodland Hills, and place it into two Neighborhood Council areas - Canoga Park and Winnetka?
According to one Woodland Hills resident, the Redistricting drew a line right down the middle of their street which is south of Pierce College. Did the Commissioners understand this would divide a neighborhood when they made this decision?
Deviation from the Desired Population:
Throughout much of this meeting, the emphasis was moving areas within Neighborhood Council boundaries to other areas based on census tracts to achieve an end goal of less than 10 percent deviation from one proposed Council District to another; the map for the whole City should have less than a 10 % deviation, and each district can have a deviation of plus or minus to achieve that Citywide goal.
Someone suggested connecting the southern boundary of Pierce College to the Sepulveda Basin. The result was a gerrymandered line starting in Woodland Hills with Pierce College going east through Tarzana and Encino to take assets to move to the proposed Council District 4 or 2.
In a reversal of its decision just two nights before, on October 17th, the Commissioners moved the Sepulveda Basin where it had been moved into Council District 3 at the request of the Encino Neighborhood Council on numerous occasions – they placed it into proposed District 4 or 2 to appease the requests of – from what I heard in testimony – only the Reseda Neighborhood Council.
A member of the Encino Neighborhood Council reiterated that the Sepulveda Basin is within the Encino Neighborhood Council's boundaries.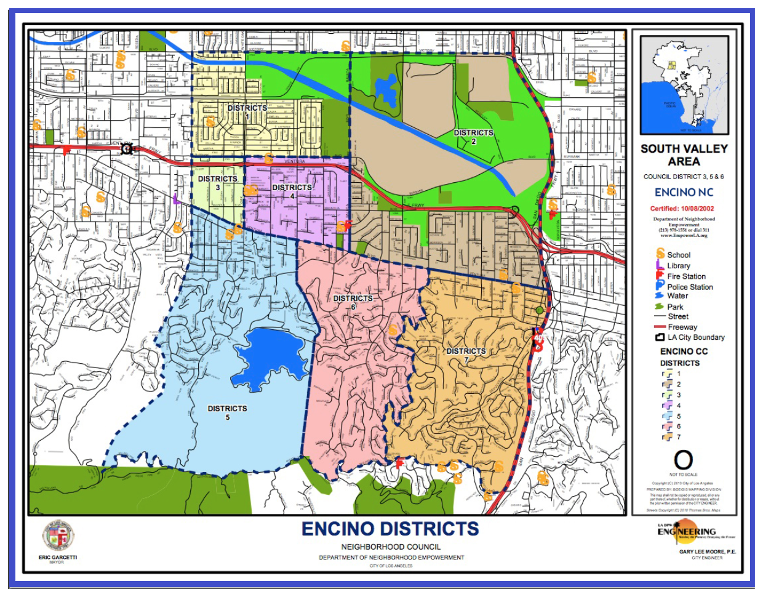 Encino Neighborhood Council map shows that the Sepulveda Basin is completely within their boundaries to Victory Boulevard to the north
Why do you take an open space area that is accessible to everyone and move it into another Council District away from the community in which it was created and is currently controlled?
How is Reseda impacted if there is a flood in the Sepulveda Basin or a fire in the Sepulveda Basin relative to how Encino is impacted?
Residents of Encino testified that fires in the Sepulveda Basin have impacted their residences.
Community Demographics:
While I have attended numerous LACCRC meetings since their first meeting for Council District 12 on July 1st, I have never heard or seen any documents related to average household income. In a search for this information by each community's name, the websites that I visited were not United States Census pages. Is that information available on for each Neighborhood Council District on the LACCRC website?
What I found from my search was that the average household income in Encino was greater than $167,000, their median income was about $91,000.
Sherman Oaks average income was greater than $135,000, and with the median household income of greater than $74,000.
Woodland Hills also had an average household income greater than $135,000 with a median household income of $101,000.
Tarzana's average household income was greater than $121,000 with a median income of greater than $70,000.'
These four communities represent the current District 3 as shown in the Draft Plan K 2.5 Amended 3.
The Proposed District 4 or 2 by Neighborhood Council Boundaries:
Neighborhood Councils / Average Income / Median Income
Canoga Park                       / > $86,000                / > $65,000
Winnetka                             / > $86,000               / > $69,000
Reseda                                  / > $83,000                / > $63,000
Lake Balboa                        / > $81,000                / > $66,000
Van Nuys                              / > $74,000                / >$56,000
Note: Van Nuys is divided; it is unclear by the maps how many Council Districts it will be in.
Point of clarification: Income is not the only issue related to population statistics.
These incomes do not reflect what the average cost of a residence (home, condominium, or apartment) is to purchase or to rent in any of the above communities. For example, in the West San Fernando, food pantry employees have expressed historically, that someone can be "house rich and cash poor." They may be, for example, a senior homeowner that is home rich and cash poor. They may have to choose – when on a Social Security only income or something similar, whether they can afford to purchase their needed medications or to purchase groceries. Thank you to all the non-profits that support our Seniors and our low-income residents with food necessities and other necessary supplies!
Robbing from the "poorest District" to support another "poor" District
One ongoing discussion has been the assets in the Downtown Council Districts of 8, 9, and 10. According to Commissioner Valerie Lynne Shaw, who was appointed by Council District 8, she has fought for the rights of people in the Downtown area for decades. She has requested, among other assets, that USC be returned to Council District 8 in the Redistricting process to reverse what was taken away from that District a decade ago. She has stated on many occasions that Council District 9 has numerous assets, and that she just wants some assets returned to Council District 8 because they have no assets to support their community. On October 19th, when the Commission took back the USC campus from Council District 8, which I believe it may have moved there during another meeting (not intentionally), she was shocked in my opinion. She spoke of the harm to the African American and the Hispanic residents of Council District 8 that would be harmed by this lack of resources.
Chairman Ali has expressed on more than one occasion that he felt that the distribution of the assets like USC and University Village, as well as the African American Museum, other museums, Staples Center, LA LIVE, and the Convention Center should be addressed by the City Council rather than this Commission.
Newly Drawn Map K 2.5 Amendment 4 -
Southwest San Fernando Valley: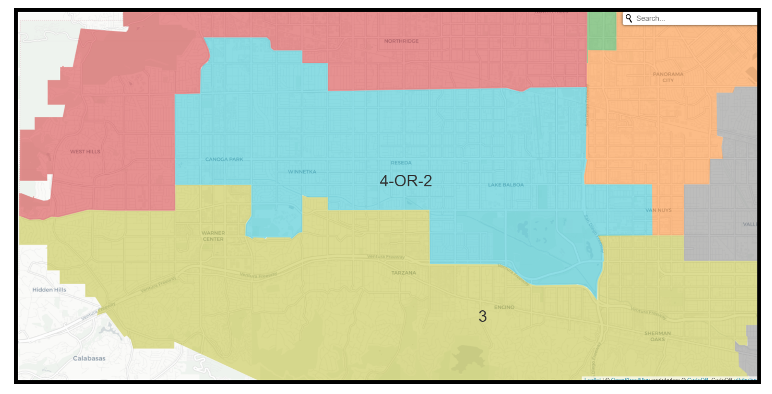 Screen shot of new Council District 3 and new Council District 4 or 2 – assets taken from proposed District 3 and moved to proposed District 4 or 2 – map released October 20, 2021.
In Conclusion:
There is a "Call to Action"!
Educate your families and your neighbors of what Redistricting is, and how it can impact your lives.
For the San Fernando Valley – for those communities who have not been redrawn recently – particularly in the South Valley – those Districts numbered "3; 4 or 2; 2 or 4; 12; and even parts of 6 and 7.
look at Map # 57666 and determine whether your "Community of Interest" is in the configurations drawn by color in that map, or if you like Map K 2.5 Revision 3 and if so, why?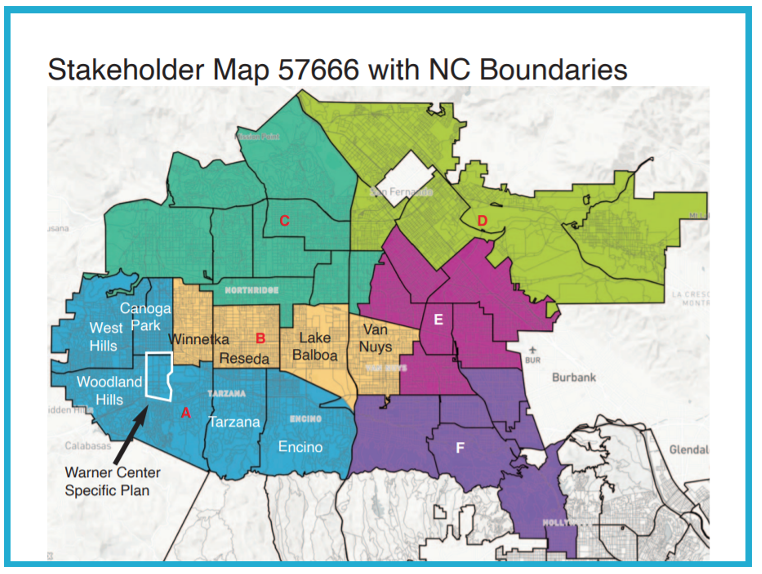 Map 57666 with Neighborhood Council boundaries. The arrow points to the part of Woodland Hills and Canoga Park that the original Warner Center Specific Plan was taken from.
This map began as a map drawn based on the "Canoga Park – Winnetka – Woodland Hills – West Hills Community Plan" and the Warner Center 2035 Specific Plan which includes the Neighborhood Protection Plan areas in the map earlier in the article.
Write to the LACCRC via email at this email address:

[email protected]

Contact your current Councilmember's office by phone or email. The Los Angeles City Councilmember's contact information can be found on their District websites. This is a link to the Mayor and the City Council's contact information: 
And finally, for those who are attorneys or are interested in the law, does this Redistricting process for the Los Angeles City Council pass the Gingles Test?   "Gingles (threshold) test:  
(1) Compactness. Geographically possible to draw compact majority-minority district. 
(2) Cohesion. Minority voters must be politically cohesive. 
(3) Opposition. White voting bloc against minority candidates. Strongest evidence when opposition is sufficient to defeat candidate."
Look at the map below – does it pass the Compactness test of the Gingles Test?
Are they really "Communities of Interest?
Los Angeles City Council Redistricting Map Draft Plan K - 2.5
Amendment 4: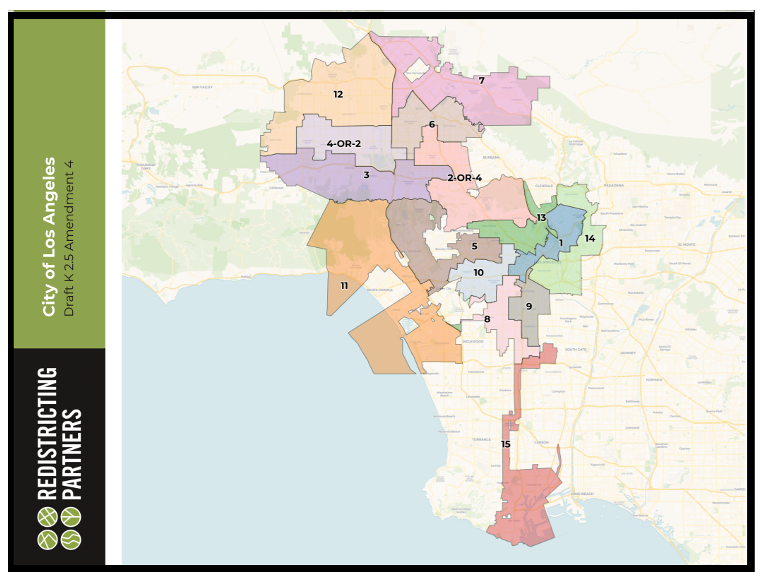 This is the new LA City Redistricting Commission map released October 20, 2021 – Draft 2.5 Amendment 4.
The interactive map for Draft 2.5 Amendment 4 is here.
 (Chris Rowe a 43-year resident of West Hills, CA, is a Public Health and Environmental Health Advocate. She was employed at Northridge Hospital, Tarzana Medical Center, and West Hills Hospital while in pursuit of her college degrees. She has a B.S. in Health Education from CSUN. Chris is a former member of the West Hills Neighborhood Council and served on committees of the Woodland Hills Warner Center Neighborhood Council. She writes a blog on the USC / Annenberg School of Health Journalism site. She has written for the Daily News, OURLA.ORG, RonKayeLA.org, and for CityWatch.)