DEEGAN ON LA-Here's a "New York" idea that has nothing to do with what is derisively called "the Manhattanization of Los Angeles."
It does not include increased density, in fact the opposite: it's about open spaces called vest pocket parks. No bricks and mortar or steel and glass, but green grass and trees. Botany, not buildings. But, it does involve developers and politicos that would need to collaborate to make this happen. 
It could work here, especially with the massive building boom and eager developers who want more and more from the politicos. Having them help fund vest pocket parks could be a way for the public to get something out of the current building craze.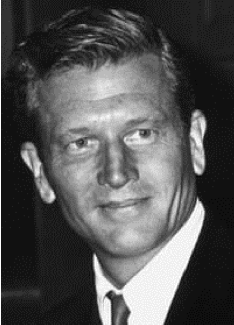 Before becoming Mayor of New York in 1965, John Lindsay (photo left) represented New York's 17th Congressional District on Manhattan's Upper East Side, often called "the silk stocking district," that for generations has been (and continues to be) one of the most affluent neighborhoods in New York City. We have nothing comparable in the City of Los Angeles, even considering the Bel Air-Holmby Hills-Brentwood nexus of wealth and power. Nor do we have a civic thinker like Lindsay, who saw great wealth side by side with the less fortunate and tried to bridge that gap with open spaces that all classes could enjoy. This is how the "vest pocket park" was born. The city now has many of them and has formally named them "Privately Owned Public Space." 
With his upper middle-class upbringing, including matriculating through the very private and exclusive Buckley School, attending prep school at New England's St. Paul's School and ultimately Yale University, Lindsay followed a well-worn track trod by generations of eventual leaders who understood noblesse oblige: that to whom much is given, much is expected. This embedded behavior blended with political expediency, may have helped Lindsay launch a program of developer funded "vest-pocket parks" in New York City. It's an urban policy example that Los Angeles could learn from. 
What Mayor Lindsay did was to take advantage of a 1961 Zoning Resolution that was the foundation of "incentive zoning" in the city, by "encouraging private developers to provide spaces for the public within or outside their buildings by allowing them greater density in certain high-density districts." This produced more than 3.5 million square feet of public space in exchange for additional building area or other considerations such as relief from certain height and setback restrictions. It's a model that Los Angeles developers could look at, if our political leadership could stretch into the vision that came naturally to Mayor Lindsay. 
What do we have? Some say we are "park poor" and need more open spaces. The Los Angeles County Department of Public Health's recent Parks Report found that, "Within the City of Los Angeles, Council Districts 11 and 4 had the most park space per capita (35.1 and 16.8 acres per 1,000, respectively), while Council Districts 5, 8, 9, 10, and 13 all had less than 1.0 acre per 1,000 population." This leaves lots of rooms for improvement, across all council districts, except CD4 that includes Griffith Park and the Hollywood Hills, and CD 11 that has miles of Pacific Ocean beach front. 
We have those great beaches and the massive Griffith Park, and the overused Runyon Canyon, but most of the city is desperately underserved, lacking open green spaces where anyone can enjoy nature, play outdoors with their kids, or just relax and meditate. Even a rooftop terrace provides a way to enjoy the outdoors, although now some NIMBYs object to them on new buildings because their neighbors might look down into their yards. One of the paradoxes is that our climate is nearly perfect practically all year round, but we do not have the spaces to enjoy the great outdoors.  
Unlike other big cities like New York and Chicago, once considered the number one and number two American cities, we've never had a parks visionary. New York had Frederick Law Olmsted and Calvert Vaux; then, there was Mayor Lindsay and Parks Commissioner Thomas Hoving who collaborated, and Robert Moses, New York's mid-century "master builder" who made his mark when he laid out massive green spaces across the city. Chicago had Daniel Burnham and Frederick Law Olmsted. The beauty and open spaces of Washington D.C. are the vision of Pierre Charles L'Enfant. 
Who does Los Angeles have to fill those shoes and field that vision? Unlike New York and Chicago, which grew as urban centers through immigration, Los Angeles was populated by land speculators who hustled people to move west for the land bargains and perfect climate. Today, as it was then, land use focuses almost exclusively on how to maximize economic value from it, but rarely how land can be used for public benefit, like creating a vest pocket park. 
It's a good time, with the resurgence of the Los Angeles River, and all the building going on across the city, for someone to step up with a comprehensive parks vision that can help turn all of Los Angeles, not just the gentrified riverbanks but neighborhoods that are "under-parked," from "park-poor" to "park-abundant."
(Tim Deegan is a civic activist whose DEEGAN ON LA weekly column about city planning, new urbanism, the environment, and the homeless appear in CityWatch. Tim can be reached at timdeegan2015@gmail.com.) Edited for CityWatch by Linda Abrams.