LA WATCHDOG--On Thursday, Harbor Gateway real estate developer Samuel Leung pleaded guilty to laundering over $600,000 in campaign contributions to Mayor Eric Garcetti, five members of the Los Angeles City Council, and County Supervisor Janice Hahn. 
These illegal contributions by over 100 strawmen were made in connection with Leung's successful efforts in 2015 to have Mayor Garcetti and the Los Angeles City Council approve his Sea Breeze residential development that had been nixed by the Garcetti controlled City Planning Commission.  
By converting the five-acre industrial property located on West Sepulveda Boulevard in the Harbor Gateway area of the City to residential use, the value of Leong's property increased by an estimated $25 million, not a bad return for an "investment" of $600,000 in the City's political establishment.  This allowed Leong to proceed with his $72 million development of 352 apartments in two six story buildings that were not compatible with the surrounding industrial area, a fact that was pointed out by the owners of neighboring properties.   
For his role for illegally reimbursing over 100 strawmen who made these donations to our elected officials, Leung was sentenced to five years of probation, 500 hours of community service, and a possible fine of $2.5 million.  This is barely a slap on the wrist, especially when considering that the 70-year-old Leung will pocket at least $20 million in excess profits resulting from his illegal shenanigans.  
Instead, Leung should have been sent to state prison for four years and eight months, the maximum sentence, and forced to forfeit his illegally begotten gains, whether through a cash payment or turning the development into affordable or homeless housing.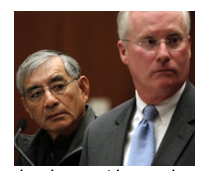 But Leong (with his attorney in photo left) is not the only culprit in this scheme.  Do you think, even for a New York minute, that Leung forked over $600,000 without letting our Elected Elite know that he was responsible for bundling these generous contributions?  
Or put another way, why would Mayor Eric Garcetti, then the recently elected mayor who represented Hollywood for twelve years, sponsor the effort to overturn the decision of his own Planning Commission involving a development by an obscure real estate developer in the Harbor Gateway area of the City, about 25 miles south of Sunset and Vine?  
Of course, Garcetti and the other beneficiaries of these contributions, including Councilmembers Buscaino, Martinez, and Cedillo and former Councilwomen and now County Supervisor Janice Hahn, deny any knowledge of this scheme.   
And why did Leung get off with such a light sentence?  Was it because, as many insiders have speculated, he had damaging information that he was able to leverage into a mere slap on the wrist?  
The pay-to-play corruption surrounding the Sea Breeze development is just another reason why we need comprehensive campaign finance reform, the elimination of Section 245 (e) of the City Charter that allows the City Council to make planning decisions, and the creation of an independent commission to oversee planning and land use decisions.  
But will our Elected Elite who benefit from this pay-to-play corruption embrace reform?  To date, this has not been the case.  Maybe the FBI will have the make the case for us.
********************************
[Note: The Sea Breeze pay-to-play scandal was the result of excellent investigative reporting by Los Angeles Times reporters, David Zahniser and Emily Alpert Reyes, in their October 30, 2016 article, A $72-million apartment project. Top politicians. Unlikely donors and a December 3, 2020 article, Real estate developer pleads guilty in sprawling L.A. campaign money laundering case.
(Jack Humphreville writes LA Watchdog for CityWatch. He is the President of the DWP Advocacy Committee and is the Budget and DWP representative for the Greater Wilshire Neighborhood Council.  He is a Neighborhood Council Budget Advocate.  He can be reached at:  [email protected].)
-cw