LA WATCHDOG--While the $1.4 billion budget crisis is top of mind at City Hall, there is lots going on beneath the surface, fueled by term limits, political ambitions, and allegations of corruption. 
About to be termed out City Council President Herb Wesson is consumed by his race for County Supervisor.  He orchestrated budget busting raises for the Police, Firefighters, and civilian employees that 'earned" him the endorsements of the City's public sector unions and contributions to his campaign war chest.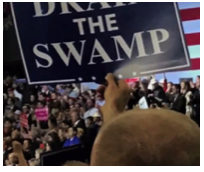 Wesson should resign as Council President since running for office is a full-time job.  He would then be following in the steps of Eric Garcetti who stepped down as Council President when he was running for mayor.  On the other hand, President Wesson may be able to extract a few more favors and campaign contributions from those who rely on the City's treasury.  
Who will replace Wesson as City Council President?  The odds favor Wesson protégé, Mayor Pro Tempore Nury Martinez, who would be the first woman to head the City Council.  
Other City Hall politicians who are running up against term limits are looking for their next gig. 
City Attorney Mike Feuer is rumored to be interested in running for Mayor in 2022.  But that is a big lift for uncharismatic Feuer, especially given his role in the recent DWP litigation scandal and the runaway increases in litigation liabilities.   
The race of Mayor will be competitive as both former State Senate leader, Kevin de Leon, and County Supervisor Mark Ridley-Thomas, each a candidate for the City Council, have a keen interest in succeeding Garcetti. 
Councilman Paul Koretz is eyeing the race for City Controller in 2022.  Now talk about chutzpah.  This is the equivalent of the fox guarding the hen house.  Koretz was one of the facilitators of the recent $1.4 billion budget fiasco.  He has also stymied the reform of the City's two pension plans that have an unfunded liability of $15 billion because it would alienate the leaders of the public sector unions.   
What will Ron Galperin do when he is termed out in 2022?  He has developed an excellent reputation for transparency and his insightful audits, including the recent report on the inefficient use of HHH bond money.  Maybe he will run for City Attorney or Mayor?  Or maybe he will orchestrate the establishment of an independent Office of Transparency and Accountability and, as its Executive Director, oversee the City's budget and finances in real time. 
It has been over a year since the FBI raided the home and offices of Jose Huizar.  But as of yet, no indictments or plea agreements.  The same applies to Councilman Curren Price, Deron Williams, Wesson's chief of staff, and Wesson who has retained a high-priced white-collar defense lawyer. 
There is the question of the economics surrounding 1601 North Vine in Hollywood.  This property was purchased by the CRA at an above market price from a long-time constituent of then Councilman Eric Garcetti.  After the CRA spent millions and Garcetti's undercapitalized developer, Hal Katersky, tanked, this fully entitled property was sold to developer JH Snyder, a supporter of Wesson, for a bargain basement price, resulting in a multimillion loss to taxpayers.  Garcetti and Wesson owe us a full accounting of these questionable transactions.     
Speaking of Garcetti, did he enter into a 1031 tax free exchange in 2016 when he sold his house in Echo Park for $1.7 million and purchased a rental property in Mid-Wilshire for $1.6 million? 
Much more later.  While the City is enjoying record revenues, at least for now, do not expect Garcetti, Wesson, or the rest of the City Council to endorse the reform of the City's broken budget process or its underfunded pension plans.  It may endanger the political careers of our spineless Elected Elite. 
(Jack Humphreville writes LA Watchdog for CityWatch. He is the President of the DWP Advocacy Committee and is the Budget and DWP representative for the Greater Wilshire Neighborhood Council.  He is a Neighborhood Council Budget Advocate.  He can be reached at:  [email protected].)
-cw