DEALS & DISCOUNTS--If you have not tried the döner, it is time to step out to try the Turkish delight winning taste buds across Los Angeles. 

The traditional döner kebab is street food, from the streets of Istanbul, made by slow roasting meat on a rotating vertical spit, shaving off the top layer, similar to a Greek gyros.  Spireworks döners are a tastier and lighter version, offering both beef, chicken, and, my favorite, the zesty vegetarian kofte, a patty made of carrots, onions, mushrooms, red pepper and chickpea flour, which is flavorful, not cooked on a spit, but deep fried leaving it crispy on the outside and moist on the inside. 
When you walk in the restaurant, you may feel like you are entering a train depot with the travel murals on the walls, a variety of colorful seating areas, and the destination-inspired meal combinations. It may feel overwhelming to choose, but do not worry. Even though there are a lot of options, ordering is as easy as 1-2-3.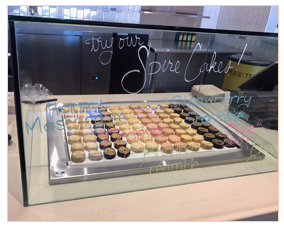 Here is the guide: 
CHOOSE YOUR BASE: First stop, can order the base. The döner comes in fresh baked bread - as a sandwich, over wild rice or mixed green salad bowl. 
CHOOSE YOUR SPIRE: Chicken, Beef or Veggie Kofte. Cannot go wrong with any option. All delish! 
TOPPINGS: There are so many to choose from, but if you are willing to try a signature combo, think about your food from your favorite destination. Mine is the Little Italy, made with fresh basil, tomatoes, squash spirals, tomato jam, pesto panko and Parmesan sprinkles. The others seem pretty darn yummy also: Baja California-a Cali-Mex mashup, Bangkok-inspired by exotic Thai flavors, New York-a doner Ruben, Carolina-Southern Comfort BBQ, Peking-tastes like Peking duck, and Istanbul with zataar labneh a most traditional destination. 
From there you can choose your favorite and unlimited sauce, pickled vegetables, additional fresh vegetables, cheeses, crunchy toppings and spices sprinkled on top. All this costs $9.50, with more than enough food for one meal. If you are super hungry, SpireWorks offers a few sides, twice-baked potatoes or collard greens coleslaw each for $3.50. 
To satisfy your sweet tooth, the SpireCake is a swirl of cake and cream in a variety of flavors: banana cream pie, chocolate ganache, dulce de leche, honey mascarpone, strawberry shortcake and tiramisu, costing $1 each. 
The soft drink dispensary, Stubborn Fair Trade, is ultra modern offering low-sugar sodas making it enticing to sample each flavor, in addition they sell a variety of iced teas, as well as bottled craft beer, wines and assorted beverages. 
Everything you taste and see at SpireWorks, has been created by owner and CEO, Bob Kaufman, who travelled the world in search of the best tasting döner, then took it back to the US adapting it to the American palate. Travel, he did, over 1 million miles, leading him to the "Destination" combinations of sauces and toppings and inspiring the best and numerous ingredients, flavors, and sleek and happy atmosphere welcoming travelers from near and far into the restaurant for a great meal. 
The motto of this restaurant says it all, "SpireWorks, Döner American Style". Fresh, savory, and a variety of ingredients making great food, along with affordable prices, a lovely environment to dine in, and a friendly staff, leaving you wanting only to come back again soon to SpireWorks. 
Many of the offerings are gluten and dairy free. 
AUGUST DEAL: For the month of August, SpireWorks is offering a two for one special on the Spire bowls.  For $9.50 you can have two meals. Cannot beat that! 
CITYWATCH READERS: If you mention CityWatch LA, they will give you a free SpireCake! Pick your favorite among six flavors to choose from.  
NEED TO KNOW
SpireWorks™ (near UCLA) Opened November 2016
1061 Broxton Avenue
Los Angeles, CA 90024
T: 424.220.6299
Hours: 11 am – 10 pm 
SpireWorks™ (near Occidental College) Opened April 2017
4945 B. Eagle Rock Blvd.
Los Angeles, CA  90041
T: 323.895.7888
Hours: 11 am – 10 pm
@SpireWorksDAS
#spireworks
#eatmoredoner
#permissiontoexplore
#travelingfoodie
(Sue Helmy has plenty of tricks up her sleeve. She is currently providing superb administrative services at a financial management firm in Century City. She is active in countless church and civic organizations and spends every minute she can spare dancing to the Zumba beat.)
-cw