HOUSING - Bobby Riley moved to Stockton Park Village to live out his days in peace.
In 2018, the 87-year-old retired construction worker tucked his used camper trailer into the farthest lot of the horseshoe-shaped mobile home court off a tree-lined street in the outskirts of Stockton. The community's handyman, Buzz, helped him build a porch and a patio to ground his trailer and enclosed it with a white wooden fence. He set up a swingset on the grassy common area across the way for when his granddaughter, Brooke, came to visit.
But the little piece of heaven he sought soon became a living hell.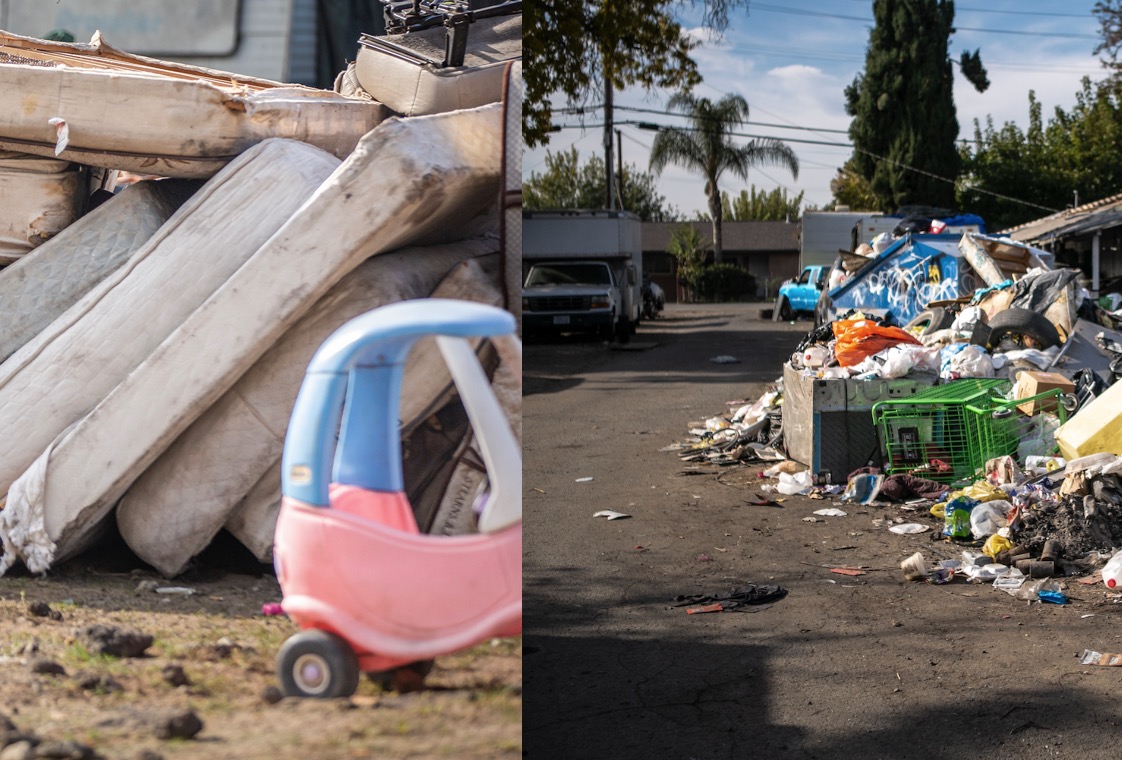 Park owners Howard and Anne Fairbanks appear to have abandoned the property in early 2020 and later that year manager Maria Mendoza died, opening it up to squatters and illegal dumping, according to interviews with the state housing department and court records from a nuisance lawsuit filed by the county of San Joaquin against the Fairbankses. The once-green common area soon filled with wood pallets, dirty mattresses, broken-down cars, discarded washing machines and heaps of gleaming black garbage bags teeming with rats, cockroaches and flies, photos and written reports from state and county inspectors show.
The worst for residents were the pools of putrid brown liquid they have had to wade through, on and off, for nearly four years. County officials first observed surfacing sewage across the park in early November, 2020, according to Zoey Merrill, deputy counsel for San Joaquin County. By February 2021, the problems had gotten worse. A month later, Roto-Rooter came out to fix the problem at the county's behest but was only partially successful and said the only permanent solution would be to replace the sewer lines at an estimated cost of $100,000. Throughout 2021 and 2022, Roto-Rooter periodically affected minor, temporary solutions, but nobody has replaced the sewer lines yet.
That tracks with what Riley told CalMatters: He had to live with the stench, which seeped into his trailer's thin walls, for "several months." His neighbors say it still stinks when it rains.
"It was even terrible in here," he said, sighing. "It was just shit everywhere."
The Fairbankses did not respond to the lawsuit or six emails and several phone and text requests for comment from CalMatters. A person who answered the phone at North Gold RV Park in North Dakota, who gave her name as Tiffany, confirmed that Howard Fairbanks owned that park, too, and said she had passed along CalMatters' request for comment. 
It's hard to believe that the park — now a barren dirt field dotted by a few remaining trailers that are home to about a dozen residents — and its issues are well known to the state of California. Inspectors at the California Department of Housing and Community Development, which oversees health and safety at California's mobile home parks, started documenting Stockton Park Village's deterioration in February 2019 when it went out to inspect one of dozens of health and safety complaints it received starting in 2018.
But when residents file a complaint against a mobile home park, each complaint is treated separately. It can become a game of Whac-A-Mole: Owners can fix one citation over a period of months while residents and the state have to start a separate process for each problem stemming from an overarching issue.
So while the state has wielded most of its enforcement powers at Stockton Park Village, its residents have endured varying degrees of filth and hazardous conditions for more than four years.
The state of California has given the housing agency limited powers to intervene when conditions at mobile home parks get this bad. It can strip owners of their ability to collect rent until they fix the problems — which records show it did three times at Stockton Park Village. But it can't step in and help those residents itself. Instead, it can eventually refer the problem to the local city or county district attorney's office, which can bring a civil action to abate the nuisance and ultimately appoint a receiver, or temporary caretaker — which it did in the summer of 2021.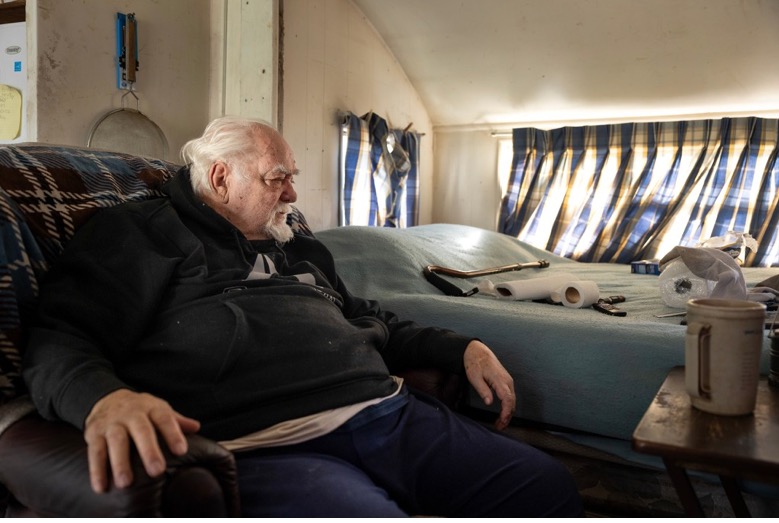 Bobby Riley, 87, at his home at Stockton Park Village in the outskirts of Stockton on Jan. 27, 2023. Riley said he has been relying on a generator for electricity and bottled water for bathing since earlier that month. Photo by Miguel Gutierrez Jr., CalMatters
The state agency's last lever — which it rarely pulls — is to shut down the park. That would make it illegal for residents like Riley to live there, and further diminish the last traces of affordable housing in California.
CalMatters reviewed hundreds of pages of records in a five-month investigation of California's mobile home parks. Stockton Park Village is not representative of all or even most mobile home parks in the state. State housing department records show it's one of about 40 parks with suspended licenses in a state with about 4,500 state-licensed mobile home parks. But county officials, the park's receiver, attorneys for the park's residents and advocates who work with residents elsewhere say they believe the number of mobile home parks in disrepair could actually be much higher because of their old age and shoddy construction.
Under state law, a park could go up to 20 years without a full inspection; inspectors rely mainly on residents to file complaints. While inspectors visited 91% of state mobile home parks in the last decade, according to a recent state audit, only half were full inspections, and 330 parks got no visit at all.
"Parks that are that bad probably represent 50 or 60 parks in the state," said Jerry Rioux, a longtime housing policy consultant employed by the state housing department. "But there's the next level (of parks) that are not quite as bad. But if they don't get inspected for 10 years, how bad will they be?"
The dilemma in Stockton illustrates how the state's crushing housing affordability crisis has forced the state into a Catch-22: shut down problematic parks and displace residents who are often one step away from living in their cars, or use enforcement powers sparingly as health and safety emergencies fester.
The housing department sees in Stockton Park Village "a shining example of a system working according to plan," said Kyle Krause, deputy director of codes and standards at the state housing department.
(Manuela Tobias's stories focus on the political dynamics and economic and racial inequities that contribute to the housing crisis in California and its potential solutions. Manuela previously covered income inequality and survival at The Fresno Bee for the California Divide. She is a former staff writer for PolitiFact and has interned at Politico Magazine, New York Magazine and The New Yorker. Originally from Buenos Aires, she has lived in Latin America, Europe and across the United States. She has a B.A. in comparative literature from Georgetown University. This story was first featured in CalMatters.org.)