SILICON VALLEY - The record meltdown of Meta stock earlier this month suggests turbulence in the tech world and a difficult period ahead for the company formerly known as Facebook.
But even as Meta's stock has fallen, the record profits being posted by fellow oligarchical tech firms Google, Microsoft, Apple, and Amazon indicates that Silicon Valley's hegemony is far from over. There's virtually nowhere for new competitors to emerge given the stranglehold that these mega-firms and the associated Wall Street/venture capital money machine have over everything from video games to online ads, search engines, cloud computing, mobile phones, and computer operating systems. 
Rather than seeing a new crop of rivals, we're seeing changes driven by the dispersion of tech work away from places like Silicon Valley and toward emerging locales in Ohio and Texas. In large part, this reflects the extraordinary costs for housing, which makes homeownership a pipe dream for most millennials. A just-published report by Knock.com estimates that, at current prices, the median income household could require between 115 and 167 years to save for a down payment on the median-priced new home in San Jose, San Francisco, or Los Angeles.
Housing is one of the reasons, as my colleague and I show in a new report from Chapman University, that California now underperforms its main competitors (notably Arizona, Texas, Washington, and Utah) in many sectors of the economy—manufacturing, professional business services, construction, and energy. These competitors have begun to easily outpace California in economic growth related to innovation. Silicon Valley's share of venture capital has also eroded considerably over the past decade. 
Playing on those pre-existing trends, the COVID-19 pandemic appears to have driven tech workers out of California to smaller cities, less expensive places, and even rural areas. San Francisco, although not particularly hard hit by the pandemic in terms of total deaths from COVID-19, has suffered among the most severe population andoffice-space losses in the country. It's no longer clear why anyone would want to pay the housing premium to stay in San Francisco as crime shoots up and quality of life deteriorates. After all, most startups now see their future as dispersed and largely virtual. A new white paper from economists at the University of Chicago estimates that roughly 50% of Silicon Valley jobs can be done remotely.
The scale of the change taking place as the tech industry moves from one hub to many is reflected in the size of the real estate deals being signed. Chipmaker Intel is putting at least $20 billion—the company's biggest investment ever—in a massive new facility outside Columbus, Ohio. The investment signals a shift that will create what company CEO Pat Gelsinger calls "the Silicon Heartland." The Columbus area, which boasts an unemployment rate half that of California's, has become a hub for melding manufacturing with technology and has developed an impressive local training initiative to service this growth.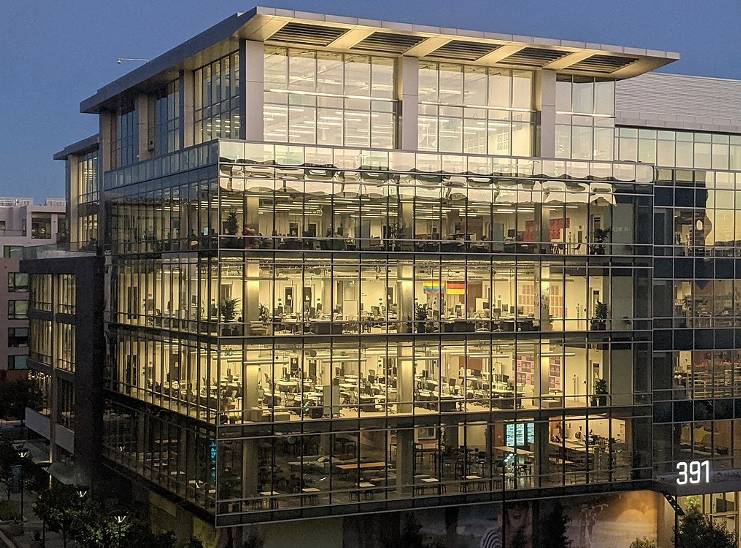 Meta—which, despite its current problems, should not be counted out—has reportedly purchased 33 floors in downtown Austin, where Apple has now located its engineering division and Tesla is building its new factory. Virtually all of the new plants of the electric car industry and battery production are being located either in the Midwest or the South.  
A similar dispersion of tech work is also taking place in Europe. In a new study by Swedish researcher Nima Sanandaji, the greatest growth in information-sector work is not taking place in the United Kingdom, France, or Germany but in less expensive places like Poland, Latvia, Slovakia, and Hungary. The hotspots now, Sanandaji suggests, are places like Bratislava, Prague, Tallinn, and Budapest.  
To revive its long-term prospects, the U.S. tech sector needs to change its act, notably by ending its critical dependence on China for markets, manufacturing and, increasingly, technology. Chinese firms like Tencent, Huawei, and Alibaba now stand as the old Silicon Valley oligarchs' only important rivals and enjoy certain advantages over their American tech counterparts in the form of protected markets and, perhaps, a bit of snooping by what Beijing calls "patriotic" corporate thieves.  
The question is whether America's oligarchs have the capability or even the willingness to challenge our primary global rival. Apple has already reached a historic$275 billion accord with Beijing, which cements the firm's long-term dependence on Chinese manufacturing and willingness to share the latest technological breakthroughs. Silicon Valley, like Wall Street, remains a bastion of pro-China sentiment. Venture capitalist Chamath Palihapitiya recently suggested "nobody cares" about the ethnic minority Uyghurs being forced into internment and reeducation camps by the Chinese government. The tech oligarchs stay quiet about the suppression of Hong Kong and would probably accept a takeover of Taiwan as long as they got their share of the island's chip production.  
Yet as awful as the oligarchs may be, we perhaps should be more concerned with the fading of their creative spark that once powered American tech innovation and is increasingly being replaced by brute financial power. Long-time Silicon Valley observer Mike Malone sees the new masters of tech shifting "from … blue-collar kids to the children of privilege" while also moving away from the production ethos that made the valley so inspiring and egalitarian. An intensely competitive industry, he suggests, has become enamored with the allure of "the sure thing" backed by massive capital. If there is a potential competitor, he says, they simply buy it.   
As concerned as we may be about the arrogance and lack of backbone of the tech oligarchy, we have to hope they find a way to return to their innovative roots or help nurture a generation of new players. It's still better to have egomaniacal Silicon Valley CEOs in charge than to turn the technological future to people who answer first and foremost to Xi Jinping.
Joel Kotkin is the Presidential Fellow in Urban Futures at Chapman University and executive director of the Urban Reform Institute. His new book, The Coming of Neo-Feudalism, is now out from Encounter. You can follow him on Twitter: @joelkotkin.
(Joel Kotkin is the presidential fellow in Urban Futures at Chapman University and executive director of the Urban Reform Institute. His most recent book is 'The Coming of Neo-Feudalism.'.  This story was featured in The Daily Scroll.)