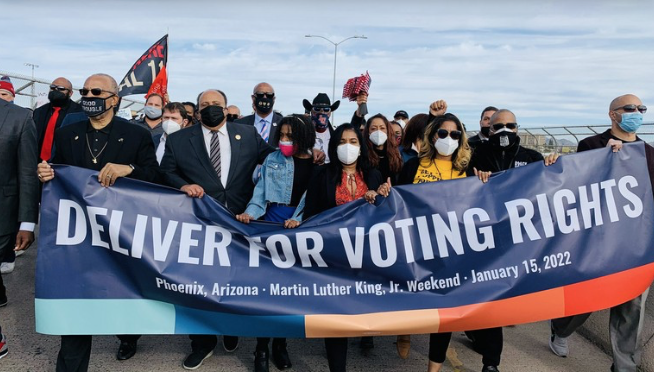 SAY WHAT? - On what would have been Martin Luther King Jr.'s 93rd birthday, voting rights advocates and progressive lawmakers rallied in Arizona on Saturday to target the first-term Democratic senator blocking legislation aimed at strengthening ballot access amid growing GOP-led suppression efforts.
In attendance at Saturday's demonstrations in Phoenix were members of the King family, which is planning to lead a march to Washington, D.C. on MLK Day with a simple message to lawmakers: "No celebration without legislation."
Referring to Sen. Kyrsten Sinema's (D-Ariz.) Thursday speech defending the 60-vote legislative filibuster, Martin Luther King III argued Saturday that "what she said is, 'I support voting rights, but not as much as I support the ability of someone to take those rights away.'"
"The filibuster is a meaningless Senate rule," he added. "It's a remnant of slavery used to block civil rights for generations."