MEDIA WATCH--Oh God, the Who Gives A Fuck About Christmas Stuff Witch has done it again. Amidst the election incitement of her despicable husband and his homicidal mismanagement of a pandemic now at almost 14 million cases and 270,000 deaths and their defiant intention to throw over a dozen indoor parties because they really don't care they stole Christmas and much of normal life from America, Melania is blundering through another Christmas charade, from the arrival of the Who Gives A Fuck About Christmas tree to her unmasked hosting of kids for an ornament display to the video of a vacant-eyed, stiletto-heeled FLOTUS teetering around a White House crammed with blinding, sparkling, twinkling, garlanded, gazillion-dollar displays like a woman who got lost looking for the bathroom in a strange museum she didn't want to visit in the first place. (Photo above: Touring the urns of the COVID dead.) 
This year's Marie Antoinette moment shows her coolly gazing at 62 trees, 106 wreathes, 3,200 lights and 17,000 bows dressed in a $1,060 blouse that could cover the rent of multiple families now stressing about bills and standing in food lines. 
Instead, she issued the dutiful, ice-cold statement that, "During this special time of the year, I am delighted to share 'America the Beautiful' and pay tribute to the majesty of our great Nation," and never mind that infamous audio of her raging to a former friend, "I'm working my ass off on the Christmas stuff, that you know, who gives a fuck about the Christmas stuff and decorations? But I need to do it, right? 
Then I say I'm working on Christmas and they say, 'Oh, what about the children that were separated?' Give me a fucking break!"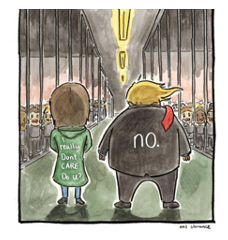 This year's Fuck Christmas house of horrors is a pallid change from the previous years' fiery debacles - the Frozen Christmas (dead twigs, icicles, angst), the Shining Murder Christmas (blood-red trees, smell of death) etc - featuring a conventional display deemed by one critic "a colossally uninspired, stunningly generic Christmas scene out of a commercial for Michaels" that manages to be both ho-hum and garish.
A grandiose White House statement details the displays, created by lowly workers and volunteers because Melania was too busy being best and getting her nails done.
They include the Gold Star Family Tree, "draped in blue, the color of perseverance and justice," for all the losers and suckers; the China Room, home of the virus and the "historic collection of presidential china patterns (to) show the joy that home can bring to us all," which is good given we're all stuck there anyway; the Red Room, saluting "America's everyday heroes," first responders and frontline workers who "serve their communities with a spirit of generosity" because their government utterly failed them; the Blue Room with its 18-foot-high tree showcasing "the unique perspective of America's children," except brown, black, hungry and caged ones; and the East Colonnade, its large urns representing "the diverse landscapes found across this great nation" and holding the ashes of the 270,000 COVID dead.
The tour ends in the Grand Foyer, where "guests find themselves overflowed with love, joy, peace, hope and faith." In the words of history's most venal, vapid First Lady, give us a fucking break.  
 
(CityWatch guest columnist Abby Zimet writes for CommonDreams.org … where this piece was first posted.)
-cw