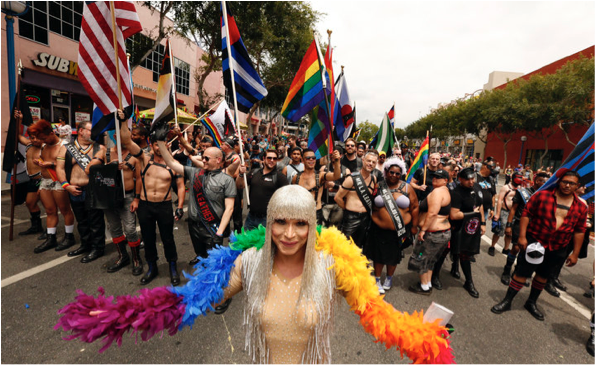 RESISTANCE WATCH--Organizers of Los Angeles Pride have announced a very different plan for the city's annual 2017 Pride Festival. This year, instead of the annual Pride parade taking place, a #ResistMarch has been scheduled in response to the threat against the rights of minority Americans by current forces in the U.S. government.
According to WeHoVille, the Pride Festival will continue to be a ticketed event as it has every other year, and will include "a free transgender event and Sizzle sober area." However, in conjunction with the festival's downsizing due to construction, the parade will be replaced by an LGBTQ Resist March on Sunday, June 11. 
According to a mission statement published on the #ResistMarch's website, the event is meant to harken back to "1970's first LGBTQ+ Pride" and will involve marching "...in unity with those who believe that America's strength is its diversity... Not just LGBTQ+ people but all Americans and dreamers will be wrapped in the Rainbow Flag and our unique, diverse, intersectional voices will come together in one harmonized proclamation."
Brian Pendleton, Founder of #ResistMarch, told The Huffington Post, "After seeing the success of the Women's March in January, I realized that LA Gay Pride should make a similar stand by protesting instead of parading." He added, "This is important now because when any American's rights are under threat, all our rights are threatened. Forces are gathering in government that intend to take away our hard-won basic human rights.  We hope #ResistMarch will send a clear message to them. We resist forces that would divide us.  We resist those who would take away our liberty. We resist homophobia, xenophobia, sexism, and racism. Together, we resist."
The LGBT Resist March will take place on June 11, 2017 from 8:00 AM-2:00 PM.
(James Michael Nichols Queer Voices Deputy Editor, The Huffington Post … where this resistance watch report was first posted.)
-cw