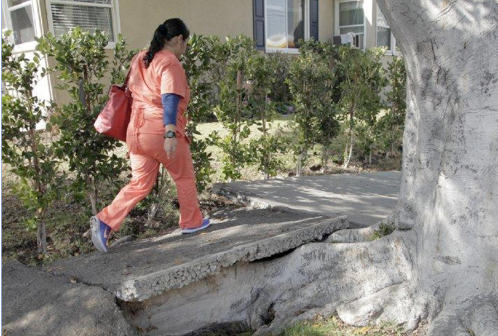 PERSPECTIVE-The issues of utility rate increases, homelessness, street paving and sidewalk repairs dominated 2015 on our local scene.
Has anyone seen reform at the DWP?  
Mayor Garcetti was swept into office over two years ago, in part because of the blatant support for his opponent by Bryan D'Arcy, boss of  the DWP's powerful IBEW Local 18 union.
His election raised hope for long-overdue reform at the largest municipal utility in the nation, one that has been so badly managed by City Hall appointees and corrupted by D'Arcy's grip on elected officials.
It was false hope. His pick for the DWP's GM, Marcie Edwards, did nothing to institute change; no one was fired for the IT atrocities that caused so much woe for many ratepayers – and has still not been resolved. She also sided with Bryan D'Arcy in the non-profit audit controversy, showing contempt and disrespect for City Controller Ron Galperin, the only one in the city who has shown resolve in dealing with the incompetence and corruption at the utility.
Galperin has received no support from other elected officials.
Dr. Fred Pickel, the Ratepayer Advocate has been no help at all.  The only advocating he has done has been on behalf of DWP's management.   Rates are going up, but cost control is absent.  Compensation at DWP should be frozen and the surplus transfer to the city should be ended, until infrastructure is upgraded.
It won't happen because the City Council will bend to D'Arcy in the next round of wage negotiations.
●●●
Homelessness is much talked about, but the city only knows about promising big dollars to address the spreading crisis.  The number of homeless has grown by 12% since Garcetti took office.   
A $100 million commitment for 2016's budget will not go far if Garcetti and company pursue their pro-developer strategy that reduces affordable housing.  For every new unit created, there will likely be one eliminated. That's not progress.
●●●
There is no commitment to attracting employers who offer middle-class jobs.  It's all well and good to attract high-tech jobs, but most do not have the skills to fill those positions.  They are likely to employ as many outside the city as they do residents.
A lack of middle-class jobs will shift more people into the working class poor category.  These people will require rent subsidies to survive in an increasingly hot rental market, further undermining efforts to deal with homelessness.
●●●
The city finally made a commitment to repair streets and sidewalks, but it took a lawsuit.  The settlement requires the city to invest $1.4 billion over the next 30 years to cover repairs.  That's not as robust as it seems since costs will escalate over that span of time, due in part to contract awards that will likely favor well-connected labor unions. That's business as usual in LA.
Only when all of these problems boil over and directly affect the everyday lives of a majority of residents will you see pushback and a voter revolt. Even then, I wonder if that will be enough to break the cycle of apathy that passes for participation.
(Paul Hatfield is a CPA and serves as President of the Valley Village Homeowners Association. He blogs atVillage to Villageand contributes toCityWatch.The views presented are those of Mr. Hatfield and his alone. They should not be construed to represent the opinions of the VVHA or the residents of Valley Village, individually or as a group. He can be reached at: [email protected].)
-cw
CityWatch
Vol 13 Issue 105
Pub: Dec 29, 2015