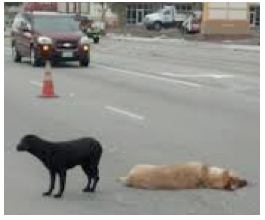 VOICES--On Sunday, Jan. 17th at 5:00 pm, residents from all areas of Los Angeles will be wearing black as they gather for a Candlelight Vigil in front of LA Mayor Garcetti's home (The Getty House 605 So Irving blvd, Windsor Square) in memory of all the dogs and cats dying on the streets of LA every day, and the adoptable dogs, cats and rabbits that never made it out of our city shelters. 
The failure to provide World Class leadership by Los Angeles Mayor Garcetti's appointed Animal Services General Manager Brenda Barnette has caused an already broken department to implode. 
The result of the Mayor's failure to address the hundreds of complaints about the General Manager from both her staff, shelter volunteers, the animal welfare community and LA residents, has caused packs of dogs, many of them pets, allowed to roam in North and South Central, Panorama City, and Sunland. 
These hapless animals, many off leash or abandoned by their owners, create a public health hazard. Dogs get hit by cars daily, often fighting just to survive, sleeping under cars in the cold rain, and allowed to breed, as described in the Queen Latifah narrated documentary "Dogs Of South Los Angeles." 
Despite being presented with the facts, the GM has shown a total disinterest in the problem. 
Get more details and then join us next Sunday. Speak out for LA's animals. 
Action Info: 
Candle Light Vigil 
When: Sunday, January 17th. 2016  5 PM – 7PM 
Where: 605 South Irving Boulevard in Windsor Square. 90005 The Getty House, official residence of the Mayor of Los Angeles, California. Plenty of free street parking. 
Contact Info: 
Paul Darrigo 323-244-8020 
Michael Bell 818-419-9004
(Paul Darrigo is an animal activist and lives in Los Angeles.)
CityWatch
Vol 14 Issue 5
Pub: Jan 15, 2016