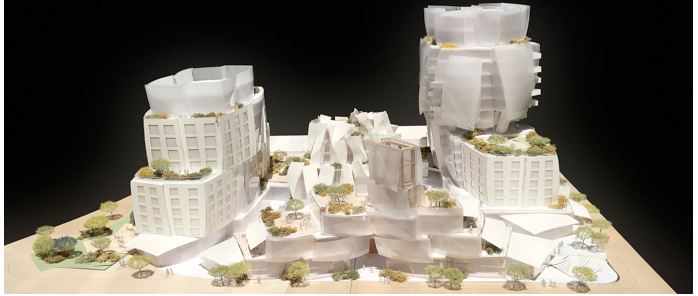 ACTION ALERT-The future of land use and development in our city gets down to a choice: do we want a horizontal city, mimicking what we know -- the low slung buildings and sometimes NIMBY attitude toward development. Or do we want a vertical landscape, where towers triumph? Strong cases can be made for both, each with its pros and cons.  
There's no end to the number of people who want to live in LA and enjoy our perfect climate and laid back lifestyle. Against that demand is a significant housing shortage -- a finite and dwindling supply of affordable housing. It seems that every time a rent-stabilized pre-1978 building is torn down, often unscrupulously by invoking the Ellis Act, it's replaced with a bigger building with smaller units and higher rents, forcing the relocation of previous tenants who cannot afford to stay. 
Neighborhood groups are flexing some muscle by joining the conversation. Developers and politicos are becoming accustomed to strident pushback, as evidenced by the recent epidemic of litigation against development. Much of that is centered in Hollywood -- ground zero for development and densification. Rules once created by legislation are being replaced by rules based on litigation. 
Imaginative messaging has become one successful weapon in the arsenals of both developers and communities. Developers are using Hollywood storytelling skillsto gain acceptance for their projects. More and more, communities are successfully mobilizing at the grassroots level. 
Redevelopment of a block at Sunset and Crescent Heights provoked a neighborhood crisis when it was announced. However, this has become a textbook example of how to win hearts and minds. The project's original, controversial design was changed once Frank Gehry was brought in. The message to the community was that what Gehry was planning would be different -- as evidenced by the installation of two models of the 8150 Sunset project in his massive survey show on view now at LACMA. (Model photo above.) 
The models show a group of three buildings isolated on a plinth. Nearby, a second, more dramatic and storytelling display incorporates the model within the context of the whole hillside, so that perspective can be presented. Lots of visitors are spending time studying these displays at this very popular exhibition. 
This is a smooth presentation, located in a subtle, hushed museum gallery context. It comes across as interesting and effective "advocacy" instead of a hardcore sales job. As a bonus, it didn't hurt that this pitch to skeptical hillside neighbors who objected to the architect's first version, were reminded that they would now have a Frank Gehry work of art to look at. Most works of art are memorialized in a museum setting after they have been created and gained an audience. This flips the sequence: the project's three buildings are displayed as a significant work of art even before being built. 
What other living architect has taken over most of a massive exhibition pavilion at one of the country's most visible museums? Talk about reinforcement and Hollywood image-making! 
Contemporary artist Takashi Murakami sold his "Multicolore Monogram for Louis Vuitton" handbags during his MOCA exhibition. So it's no wonder LACMA is now allowing Gehry's exhibition floor to be an exchange of sorts. For the developers, it's much more imaginative than fighting with neighbors who are protesting or even litigating against them. This is an example that other developers may want to think about: how to be a storyteller – presenting their projects in a venue where they can tell their story -- a location that goes beyond the traditional community meeting. Hollywood, as one of the image-making capitals of the world, presents lots of opportunity for development conversations to come. 
But then how do you fight against development when you don't have the powers of persuasion on a grand scale such as this? Answer: you have to be a guerrilla and use grassroots techniques that require hustle, imagination and drive. Until last week, when the LA City Council approved Historic Cultural Monument status for 118-124 N. Flores St. in Beverly Grove, (popularly known as theMendel Meyer house,) it was uncertain that a grassroots campaign to achieve that goal would succeed. 
During the summer, tenants at the Los Flores property were evicted by the landlord who used, (and many say unfairly,) the Ellis Act to evict them. The goal was to tear down this building that would eventually be ruled a historic-cultural structure; the landlord wanted to build a bigger building with increased rental potential. All but two tenants, a couple, took the money and moved. Steve Luftman, however, got to work, waging guerrilla warfare (almost like Abbie Hoffman,) against the development establishment. 
What Luftman did should inspire anyone facing eviction under suspicious circumstances: say no and fight back using every means possible that substitutes for money. Namely, engage the neighbors and the community, make a case at the land use committee of the neighborhood council and solicit the support of your councilmember. Use the media by repeatedly sending out stories and updates to the press; open an email address and use other digital resources like social media. 
In addition, you can hold a demonstration at the subject building, file for historic cultural monument status, go to every hearing that has anything to do with your project and make public comment, and most of all, don't give up!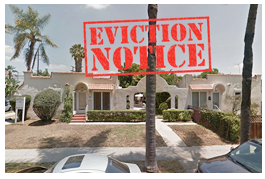 Steve Luftman didn't give up and now the Mendel Meyer house has been granted historic cultural landmark status. The building will not be demolished. 
The Edinburgh Bungalow Court, (photo) not far from Luftman's building, now awaits a hearing by PLUM (LA City Council's Planning and Land Use Management committee,) and a vote for preservation by the full City Council. "This has been an incredible fight, and it's not over yet," says tenant Heather Fox, co-organizer with Brian Harris of the efforts to protect Edinburgh Bungalow Court. A developer wants to replace it with a small lot sub-division. 
The Cultural Heritage Commission voted unanimously in support of Edinburgh Bungalow Court's Historic Cultural Monument status on November 19, with lots of community backing and strong supportive remarks to the committee by Councilmember Paul Koretz. 
Fox and Harris also enlisted the support of the LA Conservancy, once it was clear that Survey LA http://preservation.lacity.org/survey had flagged Edinburgh Bungalow Court as an excellent example of a Hollywood bungalow court. 
In the last two months, other guerrilla techniques used to gather community support for Edinburgh Bungalows included a demonstration outside the Bungalows, a canvassing of the neighborhood, handing out flyers, knocking on doors, and stopping to chat with people in the community at every chance. Advocates even set up a lemonade stand on the corner outside the Bungalows; they made yard signs and started a Facebook page. 
Their neighborhood council, Mid City West, supported the preservation with a board motion. By the November 19 Historic Cultural status hearing date, they had 200 petition signatures and 91 letters from people who live and work in the community. Over 30 people showed up at the hearing to speak, including the councilmember, LA Conservancy, Hollywood Heritage, and the West Hollywood Preservation Alliance. 
"We have met so many wonderful people who really care what happens to their neighborhood, and are so grateful for the enthusiasm of the community and especially for the concern and active part of our city councilman Paul Koretz," says Fox, describing the grassroots, community-led fight for preservation of this structure from demolition. 
Moving to a grander scale is the proposal by The Coalition to Preserve LA to launch a Neighborhood Integrity Initiative ballot measure in an attempt to better manage the spread of new developments in Los Angeles. 
Key elements of their plan include a proposal for a construction moratorium for 24 months for city-approved projects that aim to increase some types of density. During this period, review and updates of community plans would be conducted. 
City employees, rather than developers' staff, would be in charge of preparing an environmental review of major development projects. 
The city's community plans would be reviewed and become consistent with the city's General Plan. 
The General Plan will not be allowed to be amended by what is popularly known as "spot zoning" --where developers are able to get separate variances for a single project. 
The Coalition is ironing out the final language. Then the matter will either be considered by the full City Council – or sent to the voters as ballot measure. Which alternative will be used is yet to be determined. 
Leaders of the Coalition to Preserve LA include Michael Weinstein, Ballot Measure Proponent and President of AHF(Aids Healthcare Foundation); Jacqui Shabel, Hollywood Neighborhood Alliance; Jack Humphreville, the Greater Wilshire Neighborhood Council and UN4LA (United Neighborhoods 4 L.A.); Helen Berman, UN4LA (United Neighborhoods 4 L.A.); John Campbell, Save Residential Hollywood; and Miki Jackson, Ballot Measure Proponent. 
No matter which side of the "horizontal versus vertical" development debate you are on, you can expect lots more noise from each side. This kind of public dialogue is both healthy and an affordable, so add your voice!
(Tim Deegan is a long-time resident and community leader in the Miracle Mile, who has served as board chair at the Mid City West Community Council and on the board of the Miracle Mile Civic Coalition. Tim can be reached at [email protected].) Video courtesy of Miracle Mile Residential Association.  Edited for City Watch by Linda Abrams.
-cw                
CityWatch
Vol 13 Issue 99
Pub: Dec 8, 2015