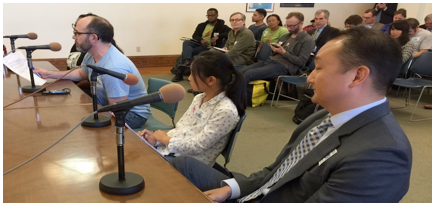 NEIGHBORHOOD POLITICS--LA's Mobility Plan 2035 suffered a potential setback at today's meeting of the Los Angeles City Council Transportation Committee. Today's action likely sends the plan back to the Planning Commission for further decisions. (Photo above: Ten-year-old Rachel Lee (center) speaking in favor of bike lanes on Westwood Boulevard and throughout Los Angeles.)
Mobility Plan 2035 was approved by the City Council in August 2015, then challenged in court. Due to the legal case, the plan was then re-approved and then re-re-approval got underway.
On the Transportation Committee agenda today was a modest set of minor plan amendments, most notable for what they did not include. Councilmembers Paul Koretz and Curren Price had requested that the City Planning Department (DCP) amend the approved plan to remove bike facilities designated for Westwood Boulevard and Central Avenue, respectively. Koretz and Price's anti-bike amendments were rejected by DCP staff and by the City Planning Commission in February.
Attending today's Transportation Committee meeting were Chair Mike Bonin and committee members David Ryu, Jose Huizar, and Koretz.
Public testimony at today's hearing was near-unanimous in urging the committee to "keep the network intact" by approving DCP's minor amendments as is. TRUST South LA representatives and others focused on keeping Central Avenue in the bike network. UCLA and other Westwood community interests emphasized keeping Westwood Boulevard in the bike network. The loudest applause came for 10-year-old Rachel Lee who gathered over 200 signatures in favor of implementing bike lanes on Westwood Boulevard. Additional speakers in support of an intact plan included representatives of AARP, Fixing Angelenos Stuck in Traffic, the Los Angeles County Bicycle Coalition, and Pacoima Beautiful.
After public comment, a lot of committee discussion was focused on procedures for any potential plan amendments. The lawsuit that attacked the plan criticized the process by which the plan had been amended. Under the city charter, any amendments made by the City Council must go back to the City Planning Commission for approval. City staff appeared somewhat nervous to respond committally to process questions, given the prior lawsuit. 
Koretz proposed a plan amendment to remove bike facilities planned for Westwood Boulevard and Central Avenue. In the past, Koretz and Price had requested that these facilities just be deleted from the plan. Today, Koretz proposed that the bikeways be shifted to alternative parallel streets: Westwood Blvd to Gailey Avenue and Midvale Avenue, Central Avenue to Avalon Boulevard and San Pedro Street. DCP responded that they had only studied (and recommended against) removal of facilities from the plan, not modifying them, though, theoretically, alternate parallel facilities could be evaluated and implemented as part of the project implementation process.
Surprisingly, Councilmember Huizar, a stalwart supporter of bicycling and multi-modal mobility, seconded Koretz' motion, saying that he supported alternatives getting a fair hearing. The Koretz motion passed 3-1, with only Bonin opposing. This means that the anti-bike motion passed out of committee and will be heard by the full City Council at its 10 a.m. meeting this Friday. Both the Koretz anti-bike motion and the DCP minor amendments go to council.
If the City Council approves the Koretz motion, then the new Koretz anti-bike amendments will need to go back to the City Planning Commission. If the CPC rejects the amendments, then it is possible for the City Council to override the CPC. Though much of the approved plan should be proceeding to the implementation phase, overall re-re-approval remains bogged down by the hostility of Koretz and Price.
(Joe Linton is the editor of StreetsblogLA. He founded the LA River Ride, co-founded the Los Angeles County Bicycle Coalition, worked in key early leadership roles at CicLAvia and C.I.C.L.E., served on the board of directors of Friends of the LA River, Southern California Streets Initiative, and LA Eco-Village. This report was posted originally at LA Streetsblog) Photo credit: Joe Linton/Streetsblog LA