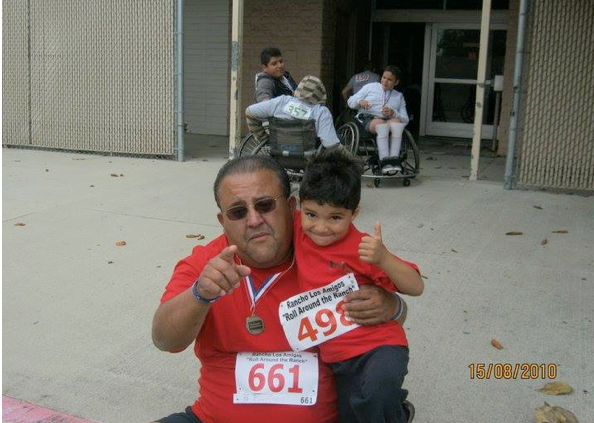 REMEMBERING LOUIE (1961-2016)-On January 17, after a long fight with diabetes and its devastation, Luis ("Louie") Manuel Moreno suffered a fatal heart attack, leaving family and friends throughout Boyle Heights and the communities of East Los Angeles and the family of LA city workers with a hole the size of Louie's heart. 
Councilmember José Huizar responded on Instagram: "I am lost for words in hearing of the passing of Louie Moreno. He was a dear friend to all and never backed away from the opportunity to help others, especially our youth. His passion for empowering our youth through sports and education helped motivate many people in Boyle Heights and on the Eastside, including myself. You will be forever missed. Rest in peace, brother… #BoyleHeights" 
Louie loved his daughter, Teresa Michelle Moreno, and she loved him. "Can't sleep. I just miss you so much daddy when I used to cry for you when you left for work or when I hid in the car and said I'm going to work with you. Daddy, you are and always will be my everything always and forever," said Teresa, sharing the news of Louie's passing on social media. 
Louie was proud to be a city worker and he took his city service very seriously. It defined him and drove him to do more. 
I knew Louie Moreno. Every day, for so many years, Louie'd greet me with his friendly smile. And if Louie had a union question, it meant 100 other city workers had a question. It was never about him. It was only about "we." 
Louie showed up after every earthquake. And on 9/11. Like thousands and thousands of public workers – government workers – Louie showed up and served and smiled. 
Eddie Santillan must be the head of all City Hall parking by now. He met Louie in 1985 when he started working for the City. "Dad knew him from a summer youth program back when Art Snyder was the Councilman," Eddie recalls. "Louie was a good man, a good friend, my best friend. He never stopped, even when his health fell apart, he was always out, working to do good, with the kids, his gig at Steven's, his sports show, whatever good he could do. He wanted to show the kids that there's so much out there, so many opportunities. Nothing could stop Louie." Eddie added sadly, "He never asked for help." 
Eddie and Louie worked together throughout the years, at security, special events, Council District 14 activities, whatever needed to be done – in City Hall and in the community -- always for the kids. 
A 1980 graduate of Roosevelt High School, Louie Moreno loved giving back to all of the communities of East Los Angeles and to his beloved Boyle Heights. Rough Rider Forever.    
Mayor Sam's Scott Johnson sums it up with the voice of a compadre: "For decades, Louie's endeavors in promoting the positive, mentoring values in sports, saw him give selflessly of his time in supporting the … Boyle Heights Wolfpack Pop Warner Program, the El Sereno Stallions, the annual East LA Classic between Roosevelt and Garfield…while himself teaching those same values on the field of play to community youth, including someone who would become Boyle Height's current City Councilperson." 
For years, Louie hosted a public access "Sports Rap Up" program and Channel 35 local sports program, aimed primarily at LA kids. He emceed and DJ'd countless community events, helped organize an annual toy giveaway supporting hundreds of Ramona Gardens children, Movie Day at the old Edwards Theater in Alhambra, Council Office activities, and union gatherings.
Louie is mourned and missed by the LA32 Neighborhood Council, the Community Police Advisory Board (CPAB) of Hollenbeck, city officials and city workers, visitors to LA City Hall…so many.
Like Eddie said, "Louie never stopped." 
From the Los Angeles City Council draft adjourning motion (CD14) honoring the life of Louie Moreno:
"More than anything, Louie loved his community. Louie's goal for this year was to become Honorary Mayor of Boyle Heights. I think many of us always saw him that way anyway. No title necessary. 
"He was truly a community ambassador and by far one of the most faithful servants Boyle Heights and the eastside has ever seen. 
"Louie Moreno was a loving son, father, nephew, and friend who taught us all, no matter how rough things get, life is beautiful. Even as Louie's health declined, his spirits remained positive. On the day before his passing, he reminded us all to smile." 
Funeral services are set for Saturday, February 6 at 11:00 a.m. at St. Mary's Catholic Church, 407 S. Chicago St., LA 90033 followed by a reception at Steven's Steak House, 5332 Stevens Pl., Commerce 90040. 
Louie's friends and family have set up a GoFundMe page to help honor Louie with a funeral and send-off befitting his life of service and love. Here's the link: https://www.gofundme.com/mckqjj2k. Please do what you can! 
(Julie Butcher is a retired union leader, enjoying Riverside and her first grandchild.)