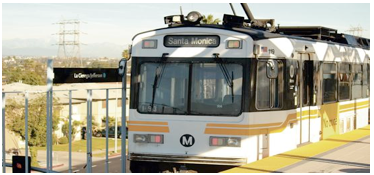 GETTING THERE FROM HERE--As discussed in my last CityWatch article), the Expo Line, after initial approval by the Metro Board in 2001, is finally opening for service on May 20th.   
You can go on a virtual ride right now via this link ...but the bigger question is "What's Next?" 
The Expo grassroots story is an amazing one, led by Darrell Clarke of Santa Monica and a host of volunteers, but the next big expansions of the L.A. County light rail system are the north-south Crenshaw/LAX line (somewhat of a north-south Expo counterpart) and a Downtown Light Rail Connector (an "Expo Phase 3" that also combines the entire countywide patchwork of lines into a true network)...but there are challenges as we move well beyond the grassroots. 
And sooner or later this transportation endeavor MUST go beyond the grassroots to become a multibillion-dollar operation...but to Metro's credit, their leadership and planning teams are as available as any governmental entity could ever be.  It is NOT hard to be plugged into the outreach meetings for Metro's expansion plans, and it's arguable that Metro is a model for governmental accountability and transparency. 
But while Metro's planners and leaders are accountable, available, and in touch with the grassroots, their political leadership need not be if they so choose.  By and large, the Garcetti-led L.A. City team works well with countywide political leaders (unlike Garcetti's predecessor), and acrimony over the paradigm of "the Wilshire Subway vs. suburban transportation efforts" is over.   
Ditto with the "getting the train to LAX".  So don't ever count me as someone who'll hurl bombs and epithets at Metro's efforts. 
Yet politicians are politicians, and planners have the ability to do great things (keep in touch with the grassroots, gather data impartially and use it to raise the bar for enhanced services).  But political, economic, and egotistic forces often lead to dogmatic and "groupthink" traps that are both self-imposed and counterproductive: 
1) The Expo Line is a welcome addition to the Metro Rail network, but its timetable is too darned long. 
Much of the problem is its streetrunning portions in Downtown LA and in Santa Monica--and it should be emphasized that it was the Santa Monica City Council which went against both common sense and the recommendations of the Expo Authority to insist on changing an elevated portion of the line to street level. 
So it's hard to know if the motorist who made an "ill-advised" left turn in front of a testing train in Santa Monica (LINK: ) is to blame, or if the City of Santa Monica is to blame, but...congratulations, Santa Monica! You've got your first car vs. train collision! 
Furthermore, while the old Air Line (the predecessor of the Expo Line that was abandoned in 1953) had an end to end travel time of approximately 70 minutes, the Expo Line has an approximately 55 minute travel time. 
So ... yes, the train is, for a host of reasons (and not too much of it is Metro's fault) too darned long. 
2) Meanwhile, parking is still being pilloried as evil and is in such short supply that it will limit usefulness of the Expo Line. 
I would love to see the day that the anti-parking zealots are either shut down, ignored, and are otherwise brought to bear--but they've got no right being a part of a city or county governmental planning team.  Parking for the Expo Line is especially critical because this line is billed as an alternative to the I-10 freeway. 
There's no Metrolink west and south of Downtown, so the Expo Line is the closest thing, and Metrolink requires parking to function well.  Does anyone really think that San Fernando Valley, Pacific Palisades, and South Bay car commuters will take a bus to the Expo Line?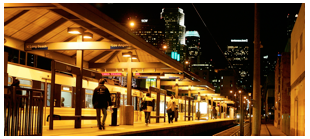 No, they clearly won't--and what they'll do is drive to the Venice/Robertson or La Cienega stations, where there is parking that's now occupied by 8-9 am, and where Downtown-bound traffic bunches up on the I-10. 
Yes, there are about five hundred parking spaces in the Westside portion of the Expo Line, but for a line that's supposed to carry tens of thousands of riders a day, that's both a slap in the face and a middle finger to the voters and taxpayers who paid for this line. 
And let's not forget that the City of Los Angeles is just as bad as the City of Santa Monica with respect to its quasi-theological and wild-eyed war on the automobile ... because unlike the City of Culver City, which is building a transit-oriented development next to the Venice/Robertson station that includes hundreds of new Expo Line parking spaces, the Casden Sepulveda project next to the Exposition/Sepulveda station in West L.A. has not ever been forced to create a new parking structure as a betterment for the Expo Line. 
3) The Expo Line is neither focusing on the present or the future with respect to bus or other "final mile" links, or to safety issues. 
Why the various bus lines that link to the Expo Line were "caught off guard" by the Expo Line, but costs and operations could have, and should have, been addressed years ago.  It's not like the Expo Line was a secret. 
Fortunately, human ingenuity isn't dead.  Ever heard of Uber or Lyft?  Perhaps a more cost-effective method is to establish more automobile connections/drop-offs when the trains are operating later than any connecting buses...because it's really scary to be stuck at an empty train station after dark waiting 20-30 minutes for a bus that might never come. 
Furthermore, howza 'bout establishing food truck and similar private sector services for those commuters wanting to eat or shop and otherwise have something to do--and with more eyes and ears in the vicinity--while waiting for the next train to arrive.  It's hoped that Metro and local cities will recognize these real-world issues and resolve them. 
Because the Expo Line was always supposed to be a good neighbor, and an overall boon to the neighborhoods through which it traverses. 
And it will be, provided that the same innovative and energetic grassroots that started this train rolling aren't thrown off that train merely because they've pointed out a few obvious and glaring problems that might be coming our way.
(Ken Alpern is a Westside Village Zone Director and Board member of the Mar Vista Community Council (MVCC), previously co-chaired its Planning and Outreach Committees, and currently is Co-Chair of its MVCC Transportation/Infrastructure Committee. He is co-chair of the CD11Transportation Advisory Committee and chairs the nonprofit Transit Coalition, and can be reached at  alpern@marvista.org. He also co-chairs the grassroots Friends of the Green Line at www.fogl.us. The views expressed in this article are solely those of Mr. Alpern.)
-cw