LEANING RIGHT--To begin with, an apology: if you've already heard of and/or use Charity Navigator, then this is very old news. However, if you've not, and want to be generous this time of year (or any time of the year!), then please use this wonderful website and service.
Because being kind and smart with your money are NOT mutually exclusive. Kind of like being smart and calculating with your tax dollars...but I digress!
Charity Navigator uses two axes and metrics to determine which charities are better than others. The x-axis is Accountability and Transparency, and the y-axis is Financial Score (percent of the charity's total expenses spent on the programs and services it delivers).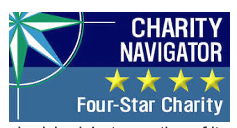 For example, here the Charity Navigator page and graph for CARE, one of my favorite charities. CARE has a Financial score of 84.02, and an Accountability & Transparency score of 97.00, based on Fiscal Year 2019. It rates three s tars and hovers very near the small but cherished 4-star portion of its graph.
Americares, one of my other favorites, has achieved the cherished 4-star rating with a Financial score of 95.31 and an Accountability & Transparency score of 97.00.
In contrast, the Salvation Army (also one of my favorites) does not, because it is a church, file a Form 990 and has no rating (which does NOT indicate either or a positive or negative assessment).
For you who just looooooooove celebrity endorsements, hearken up...and sober up: The Tony La Russa's Animal Rescue Foundation, Women's Sports Foundation, Michael J. Fox Parkinson's Research Foundation, and Elton John AIDS Foundation enjoy ratings of 4 stars.
The Christopher and Dana Reeve Foundation has 3 stars, and both the USA for UNHCR and PETA charities have only 2 stars! (Sorry folks, but some charities promote themselves well at the expense of delivering on their stated purposes!)
All these charities have their links via the Charity Search, where one can just enter the name of the charity. For example, The Equal Justice Initiative to end mass incarceration and excessive punishment in the U.S. has a perfect 100.00 rating (clearly, it's done from the heart). 
Ditto for perfect ratings for a few of Humane Societies, Operation Gratitude, a few Boys & Girls Clubs Disabled American Veterans (another one of my favorites), and Ronald McDonald House Charities. There are many unmentioned others so just because they're not listed here doesn't diminish their worthiness.
On the other hand...charities spending over 50% of its budget paying for-profit professionals are also listed, and they include the Cancer Survivors' Fund, Firefighters Charitable Foundation, Autism Spectrum Disorder Foundation, Purple Heart Foundation, and California Police Activities League, to name a few. 
Clearly the name of the non-profit does NOT necessarily have any bearing on how your hard-earned money is going to be spent!
Doctors Without Borders, USA has four stars, as does the Gary Sinise Foundation, Save the Children, and several regional branches of the United Way (but not all, so beware!!!).
Yet Charity Navigator is only one source of figuring out what's the "right" charity for you. Some of you reading this might have different concepts as to what is environmentally successful, and some of you reading this might believe that the bias of a given charity turns you off...which is entirely your RIGHT to conclude!
And 4 stars isn't everything--as aforementioned, I absolutely love CARE...with three stars. And ditto for the Crazy Horse Memorial Foundation that I love, which is carving our the world's largest sculptural undertaking of Lakota Chief Crazy Horse, and provides runs a cultural and medical center for American Indian tribes, as well as the Indian University of North America...with only 3 stars.
It's your money--and frankly, many of you reading this are doing everything you can to pay the rent and put food on your own table. But for those of us who can, giving generously AND smart, and for causes we believe in, has never been so vital in recent times as it is today, in 2020.
(CityWatch Columnist, Kenneth S. Alpern, M.D, is a dermatologist who has served in clinics in Los Angeles, Orange, and Riverside Counties, and is a proud husband and father to two cherished children and a wonderful wife. He was termed out of the Mar Vista Community Council (MVCC) twice after two stints as a Board member for 8-9 years and is also a Board member of the Westside Village Homeowners Association. He previously co-chaired the MVCC Outreach, Planning, and Transportation/Infrastructure Committees. He was previously co-chair of the CD11 Transportation Advisory Committee, the grassroots Friends of the Green Line (which focused on a Green Line/LAX connection), and the nonprofit Transit Coalition, and can be reached at Ken.Alpern@MarVista.org. The views expressed in this article are solely those of Dr. Alpern.)
-cw