@TheGussReport – In 1965, a 20-year old aspiring dentist and baseball player at USC wanted a $50,000 bonus to sign with the Los Angeles Dodgers, who offered him just $2,000.  The difference was worth roughly $394,000 in modern-day money.
The Dodgers made a colossal mistake not giving it to him.
On March 23rd of that year, a Dodger scout named Tom Lasorda made a prescient report on the young ballplayer: 
"This boy showed a real good fast ball with good life. Has real good command of point of release. Boy has slider type of curve but could improve as he has good arm action and should be able to come up with good curve. Boy has plenty of desire to pitch and wants to beat you."
Gender pronouns aside, future Dodger manager Lasorda was right, but balked at the player's counter-offer, reportedly telling the kid, "Good luck in your dental career."  In fairness to the gruff Lasorda, he probably didn't have the final word on signing him.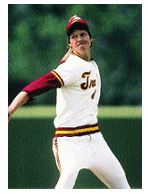 The student's name was Tom Seaver, soon to be known by the superlatives Tom Terrific and The Franchise.  Instead of signing with the Dodgers and having a subsequent deal with the Atlanta Braves invalidated that also cost Seaver his scholarship at USC, he eventually signed with the New York Mets, an expansion club that was the worst team in baseball since its 1962 inception. 
Seaver, who died a few days ago at the age of 75, was an immediate baseball success who went on to become one of the greatest pitchers of all time.  When he was voted into the Baseball Hall of Fame in 1992, it was with the greatest unanimity  at that time, 98.84%.
So why am I picking on the beloved Azul?   Give me some leeway and it'll be abundantly clear because, without fans and what-ifs, there is no baseball, as evidenced by the bizarre, forgettable and regrettable COVID-19 nothingness of the 2020 season.
In 1967, Seaver was the National League Rookie of the Year for the last-place Mets and its hideous 61-101 record.  He made the All-Star team, where he is said to have introduced himself to the great Hank Aaron, who reportedly responded, "Kid, I know who you are, and before your career is over, I guarantee you everyone in this stadium will, too."
In 1968 Seaver posted even better statistics and was an All-Star again for the next-to-last-place Mets. 
On July 9, 1969, Seaver came within 2 outs of pitching a perfect game against the dominant Chicago Cubs.  With the guidance of former Dodgers slugger Gil Hodges as his manager, the young ace racked up a stunning 25-7 record, leading the Mets to a breathtaking World Series upset over the powerhouse Baltimore Orioles in just five games.  Seaver won the first of his three Cy Young awards and came in second place in the MVP race to the late, great Willie McCovey.
Not bad for an aspiring dentist.
Could the Dodgers have used a guy like Tom Seaver?
In the first three years of Seaver's career, starting in 1967, the Dodgers finished in 8th place, 7th place and 4th, respectively, in the pre-wild card era when not finishing in 1st meant the end of your season.
Starting in 1970, the Dodgers finished in second place in each of the next four seasons.  In 1974, the Dodgers finished first but lost in the World Series to the Oakland A's.
In 1975 and 1976, the Dodgers finished in second place. 
In 1977 and 1978, Lasorda's first two full seasons managing the Dodgers, they finished in 1st place, reaching the World Series both times, losing both times, to the dastardly New York Yankees. 
Seaver left the Mets in 1977 but still had gas in the tank, including hurling a no-hitter for the Cincinnati Reds the next season.  He won 311 games in his career and, as of 2020, there are still only five pitchers in baseball history who racked up more strikeouts than Seaver, whose best seasons and talent were squandered playing on mostly awful teams.
Sports, like life itself, can be cruel and ironic.  While we will never know how that extra $48,000 Seaver wanted from the Dodgers would have worked out had they paid him…..oh, strike that.  
We know exactly how it would have turned out.  
Peaceful, happy trails Tom Terrific, an all-time great who did it all.
(Daniel Guss, MBA, was nominated for a 2020 Los Angeles Press Club journalism award for Best Political Commentary and has contributed to CityWatch, KFI AM-640, iHeartMedia, 790-KABC, Cumulus Media, Huffington Post, Los Angeles Daily News, Los Angeles Magazine, Movieline Magazine, Emmy Magazine, Los Angeles Business Journal, Pasadena Star News, Los Angeles Downtown News, and the Los Angeles Times in its Sports, Opinion and Entertainment sections and Sunday Magazine, among other publishers. Follow him on Twitter @TheGussReport. His opinions are his own and do not necessarily reflect the views of CityWatch.)
-cw