DIEDRA'S LA--WE HAD A RECORD NUMBER OF DEATHS 2 DAYS IN A ROW AND GOV. NEWSOM DIDN'T FLINCH
Human Well-being Vs. Elected Officials Comforts. Another day in the life of California Covid-19 Cases where our city officials live off the struggles of the state residences.
What are we doing to spike the line, because clearly, we are not flattening it? Our employees (Gov. Newsom, Los Angeles County Supervisors and Mayor Garcetti) are failing at taking the necessary actions to flatten the line. Instead they appear to be more concerned with how they are perceived as leaders. NEWS FLASH: YOU ARE FAILING MISERABLY!  California has reached nearly 500,000 Covid-19 cases and nearly 30,000 deaths to date.
Fact check: Lets start with Gov. Newsom
You began the phases to open our state too soon, causing record numbers in Covid cases and Covid deaths.  
You are dragging your feet to re-close the state, as the number of cases spike out of control, leaving hospitals overwhelmed with the number of cases, filling every hospital bed and over working ALL first responders and essential workers.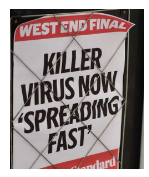 So, what is your end game Gavin? You keep saying to wear a mask. How TF has that helped? How about, NOT MUCH. More than half, if not nearly ALL OF THE STATES HOSPITAL BEDS ARE CURRENTLY OCCUPIED WITH COVID PATIENTS and you are pressing people to wear mask when you should be re-closing the state and starting from square one. Is it the pay that you receive from taxpayer dollars that you are more concerned about? Clearly its not the well-being of the taxpayer. YOU'LL NEVER BE PRESIDENT OF THE UNITED STATE AT THIS RATE. Maybe you need to seek advise from Gov. Cuomo of New York
Fact check: Eric Garcetti
Well, don't you have a plate full, with all the corruption going on in City Hall, to include the cronyism and misconduct in your office, but I'll address you and the deputy mayor in another article. You probably cannot focus on anything else right now, but you need to be able to multi-task. PEOPLE ARE DYING IN YOUR CITY AT WARP SPEED. Step off your pedestal and shut your city down sir. Initiate a curfew so that we can get Covid-19 under control. STOP WAITING ON OTHER AUTHORITIES TO INITIATE WHAT NEEDS TO BE DONE… DO YOUR JOB
Fact Check: Los Angeles County Supervisors
Los Angeles county is heading in the wrong direction as Covid is spreading in the homeless encampments like wildfire. Yet, no one is reporting on the homeless inflicted with Covid-19, being removed from these encampments on stretchers at night, where no one else can see it. YOU HAVE FALLEN SHORT OF YOUR PROMISE MADE TO HOUSE THE HOMELESS DURING THE PANDEMIC causing a record number of cases. I am not surprised. I know that the FBI has initiated a federal investigation on Los Angeles City Hall. Here is a novel Idea, HOW ABOUT A FEDERAL INVESTIGATION ON THE COUNTY OF LOS ANGELES. WHERE DID THE MEASURE MONEY TO HELP THE HOMELESS GO? MAYBE MARK-RIDLEY THOMAS KNOWS…
BOTTOM LINE
SHUT IT DOWN……. LET ESSENTIAL WORKERS AND ESSENTIAL BUSINESSES FUNCTION…. INITIATE A STATEWIDE CURFEW…….BE CAREFUL, WE VOTED YOU IN AND WE CAN VOTE YOU OUT…It's not a threat it's a warning.
(Diedra M. Greenaway, MS/MBA, is a long-time community activist who lives and works in Los Angeles.)      
-cw