SPORTS POLITICS--Another lawsuit has emerged in the aftermath of the NFL's decision to move the Rams franchise from St. Louis to Los Angeles.     

Inglewood's former budget manager accused city officials of juggling the books to paint an inaccurately rosy picture of city finances to help persuade the NFL to move the Rams there, and of firing her when she blew the whistle.   
The NFL in January approved the Rams' move to Inglewood, pop. 110,000, a relatively poor city immediately southwest of downtown Los Angeles. Its median household income of $41,254 in 2013 was 68.5 percent of the statewide median of $60,190, according to city-data.com. Inglewood's population is 96.5 percent nonwhite.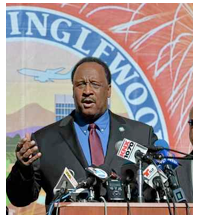 Former budget manager Barbara Ohno sued the city, its Mayor James Butts (photo right), its CFO and Assistant City Manager David Esparza, and Assistant Finance Director Sharon Koike on Wednesday in Federal Court.     
Ohno claims she was fired because the defendants feared her complaints about financial improprieties jeopardized the city's attempt to woo the NFL.     
"The entirety of plaintiff's approximately 9-month employment tenure at the city was filled with her discovering improprieties, reporting her concerns and trying to convince her superiors and colleagues, other city personnel and or the outside auditors to take action, all to no avail," the complaint says.     
Ohno's 48-page lawsuit describes Butts as an authoritarian who, as a former police chief of Santa Monica, was used to having his way; Esparza as an ambitious, sycophantic functionary willing to turn a blind eye to financial irregularities, and Koike as an able assistant.    
Inglewood hired Ohno as its budget manger in August 2014 and she lasted until June 2015 — a crucial time for the city as it wooed the NFL.     
Thirty of the 32 NFL owners approved the move to the site of the old Hollywood Park racetrack. With the NFL's eyes on the second-biggest media market in the country, the move to some L.A.-area site was long expected.     
During the several months of courting, Ohno said, Inglewood, at the direction of the mayor, played fast and loose with public money and flouted guidelines on where and how grant money can be spent to falsely demonstrate financial well-being.
"By thwarting her efforts to expose the irregularities and fraud practiced by the city, defendants were engaged in a massive cover-up campaign to prevent these issues from seeing the light of day because, in large measure, of the potential impact it would have on the city's bid for an NFL team and the revitalization it would bring to the city," the complaint states.     
Ohno says she was given the ax to ensure that nothing would stop Inglewood from securing the rights to build a stadium.     
The City Council on Feb. 24 approved construction of a $1.8 billion stadium, with 100,000 seats, 890,000 square-feet of retail space, 780,000 square-feet of office space, 2,500 new residential units, a hotel, public parks, open space and trails.    
 Mayor Butts said Ohno's claims are a fiction.     
"Ms. Ohno was a probationary employee with the city of Inglewood who was released prior to the successful completion of her probationary period," Butts said in an interview.    
"As far as any claims made by Ms. Ohno, its staff or myself, with respect to her release while on probation, all such claims are totally baseless and without any merit."     
Butts said Ohno was using the Rams stadium to "make her lawsuit sexy."     
He acknowledged that the city's finances were in disarray when he was elected in a closely contested battle in 2011, but said they have improved considerably since then. On Jan. 21, eight days after the NFL approved Inglewood as the Rams' new home, Moody's issued its annual comment on Inglewood.     
"The financial position of the city is robust and is a notable strength when compared to its A1 rating," the comment states. "The cash balance as a percent of revenues (41.9 percent) is stronger than the U.S. median."     
Butts said he is proud that the city has improved its reserves and its financial reporting procedures since he was elected.    
 "The city undergoes rigorous and thorough audits by an outside audit firm," Butts said.     
However, Ohno said in her complaint that the outside auditor during her tenure was Matthew Lemon, a former colleague of Koike, who knowingly received misleading financial statements and overlooked irregularities, and refused or declined to receive standard verification documents that would have shown certain financial statements to be false.    
"Essentially, Mr. Lenton was hired to audit himself, which violated proper audit protocol due to his inherent conflict of interest," the complaint states.     
Ohno's lawsuit alleges a laundry list of financial improprieties:     
that the city used one bank account in which all revenue and grant money was deposited without segregation;
     
that the city illegally used money gained from assets seized from criminals for general fund expenses;
     
that the city used grant money from the California Highway Patrol to pay overtime and promote veterans rather than the intended use of hiring new officers or retaining officers scheduled to be laid off;
     
that the city used federal grant money intended to help first-time homebuyers, to buy a mixed residential-retail property for investment purposes;
     
that the mayor and other highly placed officials handpicked residents to receive housing grants;
     
that the financial department authorized monetary payments and housing to silence one of Butts' most vocal critics, Ethel Austin, who was placed in a city-owned house;
     
and that illegal and irregular accounting practices were used to cover up these improprieties.     
Asked to comment on these allegations, Butts said: "I don't run the finance department."     
He added: "Obviously, every city has problems. Things were a disaster when I first got here. We've worked on it and every year our audit has gotten better and better."     
Ohno said she filed a complaint about these financial improprieties in April 2015, after which she was subjected to an interview with the city's outside counsel, who failed to follow up on her complaints. She was fired two months later.     
Ohno seeks lost wages and punitive damages for whistleblower retaliation, Monell violations and other civil rights violations.     
She is represented by Bruce Ishimatsu of Marina Del Ray, who did not immediately return a phone call seeking comment.
(Matthew Renda posts at Court House News … where this report was first posted.)