HERE'S WHAT I KNOW-(CityWatch reported this disturbing story … an example of how money blinds, how greedy green can overwhelm green parks and wildlife … earlier this month. This is a sad follow to that story.) The Make Good Group LLC, a marketing agency that bills itself as The Social Impact Company, is behind the three-day, multi-stage AngelFest that could bring 65,000 visitors per day to the Sepulveda Basin (photo above) this October, but not without continued pushback from neighbors and conservation groups including the Audubon Society. 
Interestingly, the Make Good Group has a track record of clients and events that lean toward the pro-environment side of the slate, the force behind the Philadelphia Eagles Go Green! comprehensive sustainability program and Laurie David's Virtual March to Stop Global Warming. The group also produced Live8, a simultaneous concert event across eight countries and four continents to push G8 leaders to "do something about world poverty," per the company's website. 
The LA parks department has granted permission to Make Good Group to stage the event and a 338-page environmental assessment is expected to be released by the Army Corps in April, followed by a period for public comment. Conservation groups are concerned that the event would impact the sensitive wildlife habitat of as many as 200 species of birds. The event would also restrict use of the northeast basin for up to 26 days, a period that includes concert setup and tear-down. Picnic areas, cricket fields, archery ranges, the Japanese Tea Garden, and the Wildlife Reserve could be closed to the public and parking areas at public golf courses and Pierce College would be used. 
AngelFest is promoted as a family-friendly music, food, and cultural festival to be held in and around Woodley Park, celebrating the city and music of Los Angeles. If successful, the festival would be an annual event through 2018. 
On the other side of the equation are the LA Department of Recreation and Parks, the department's fundraising foundation, and local neighborhood councils who see AngelFest as a cash cow from permit fees and a share of ticket sales. 
In fact, Valley parks Superintendent Charles Singer helped vet AngelFest's producer. "There's been no music festivals in Los Angeles, period," he says, a statement that turns out isn't exactly accurate. FYF Fest, Jay Z's Made in America Festival, and numerous electronic dance festivals have been held in LA, none perhaps on the scale of Coachella. The two-day HARD Fest attracted 70,000 each day to a downtown industrial area by the rail yards. Following noise complaints from two miles away, HARD has since been moved to the Pomona Fairgrounds, not bordering on an ecologically sensitive area. 
Singer has said he believes "a majority of Angelenos would enjoy a concert in a beautiful area with easy access to transportation and a revenue stream that supports basin projects." 
The Group would pay city parks $250,000, of which 95% would be used for upgrades in the basin. City parks would also receive a small percentage from ticket sales, which could bring in $300,000 to $400,000 during the Festival's inaugural year that could be spent on a Sepulveda Basin dog park, bike light paths, fence repairs, kiosks, and security for the Wildlife Reserve, per proponents. If the Festival has a three-year run, proceeds could pump over $1 million into basin upgrades, as well as provide 1,200 plus temporary jobs each year.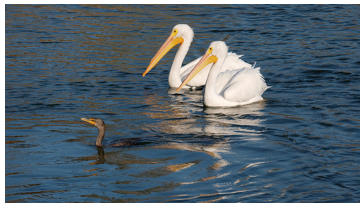 However, the pluses don't come without a cost. The Resource Conservation District of the Santa Monica Mountains, of which the Basin is a part, is against the festival. Bird watchers fear an event of this magnitude would impact Woodley Park and the nearby reserve, preventing approximately 50 white pelicans (photo left) that migrate from Utah each fall from breeding there. The Audubon Society also fears the event will remove 100 acres of habitat used by owls, hawks, and other birds for breeding, foraging, and roosting. 
The negotiations for the festival have gone on for years behind closed doors, with no input from environmental members of the Sepulveda Basin Wildlife Steering Committee. The conservation and environmental communities aren't too thrilled. "It's absolutely inappropriate, adjacent to the Wildlife Reserve, without a buffer to sensitive habitat," wrote the San Fernando Valley Audubon Society's Muriel Kotin. The Audubon Society had gathered close to 3,000 online signatures against the event as of last week. 
The three-year lack of transparency placed the burden on environmental advocates to gear up quickly to protect wildlife and the Sepulveda Basin area. While the event could potentially raise money and fund upgrades, the positives come at a significant cost. The concerns of conservation advocates should have been addressed early in the process but it seems those dollar signs might have been too hard to resist.
(Beth Cone Kramer is a successful Los Angeles writer and a columnist for CityWatch.) Prepped for CityWatch by Linda Abrams.