LA ELECTION 2022 - Doctor Melina Abdullah, a 20-year tenured professor of Pan African Studies at Cal State LA, sat amidst the empty seats in the back of the auditorium to watch the debate when suddenly the Police was called to remove her.
Three big officers and a woman lifted Melina out of her seat pulling on her four limbs, then carried her away for not having a "ticket." There were no ads in local newspapers stating that a ticket was required.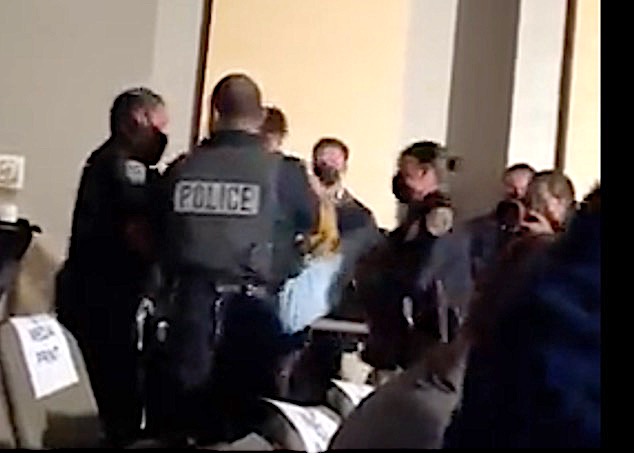 I contacted the League of Women Voters of Greater Los Angeles to find out if one of them had been onsite at the time of the incident when the police were removing the professor from the event they were sponsoring at Cal State LA on May 1.  I wanted to know if they had the experience and ability to manage and deal with guests other than using force. A day after my inquiry, I received an email on June 2 from Raphael Sonenshein Executive Director of the Pat Brown Institute for Public Affairs, saying "The League of Women Voters sent your request over to me.  Neither the Pat Brown Institute nor I will be giving interviews regarding this matter."
Victoria Ivie, Managing Editor of The University Times reported on May 3, 2022, in "BREAKING: Community demands better from administration at Academic Senate." In a nutshell, her lines captured the possible essence of the university: "At least three faculty calling for President Covino's resignation."  Then, "Melina Abdullah …was forcibly removed by her arms and legs from the campus theatre where mayoral candidates debated each other." Lastly Victoria quotes a University Senator. Senator Leda Ramos said, "the racist and sexist action we saw… completely negates the recently passed Academic Senate Resolution on university-wide guiding principles for equity, diversity, inclusion and belonging at Cal State LA."
Further, capturing more of the way things run at the university, the most popular mayoral candidates were positioned and given the floor to participate in two debates, one held at USC on April 16 and the other at Cal State LA on May 1st, while the rest of the Mayoral Candidates were ignored and not invited to participate in the debates at those particular local universities' forums for some reason or another. 
At Cal State LA, the other Mayoral candidates protested outside the building on May 1st because either they were not allowed to participate or were not invited to attend the debate. The theater had mostly empty seats reserved for the media. See Twitter video for an interior view of the room while the debate was taking place.  
 "Five candidates were excluded from the debate: Myself [Alex Gruenenfelder], Craig Greiwe, Gina Viola, and Mel Wilson. We held a protest outside [the building at Cal State LA where the Debate was taking place on May 1st]. We tried many times to participate in the debate and to receive information about participating but were always denied. The people did not get to see a truly free and fair debate," explained Alex Gruenenfelder, L.A. City Mayoral Candidate. 
"I watched Dr. Melina Abdullah's removal. She was carried out aggressively by a minimum of four officers, who then got angered at protesters when they got her outside. It kept seeming like Dr. Abdullah was going to slip, due to their loose grip on her individual limbs. It was a disgraceful act toward a distinguished member of the CSULA faculty. Attached are some photos and video of the incident," Alex further explained. 
According to the University Times of 05/16/22, Will Baker reported that on May 9th, a resolution of " 'No Confidence' " in President William Covino was approved after professor Melina Abdullah was removed from a mayoral debate on campus for not having tickets. 91% of those who attended the Academic Senate, 40 senators voted in favor, two abstained, and two were against." 
In addition, reporter Will Baker noted that Ruth Baker a faculty member in the anthropology department announced at the meeting that "the head of the Pat Brown Institute, Raphael Sonenshine, the faculty member who allegedly called the police to remove Abdullah from the debate, should also be held accountable." 
Get to Know each of the LA Mayoral Candidates appearing on the Primary Election June 7, Ballot. Click on this link for details on each of the candidates for Los Angeles mayor and where they stand on key campaign issues.
(Connie Acosta is a board member of the Echo Park Neighborhood Council, a member of the steering committee of the Alliance of River Communities as well as a member of the Sustainability Alliance of Neighborhood Councils, and a contributor to CityWatch.)