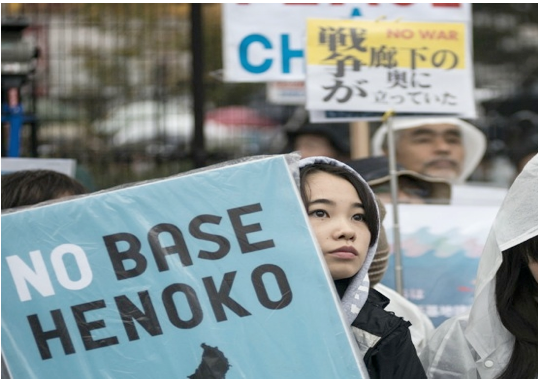 TIME TO COME HOME?-Okinawa officials on Friday filed a lawsuit against the central Japanese government in a new bid to block the slated construction of a U.S. military base in the prefecture's Henoko region.
"We will do whatever it takes to stop the new Henoko base," Okinawa Gov. Takeshi Onaga said during a press conference Friday. "Okinawa's argument is legitimate, and I believe that it will be certainly understood."
Residents and officials charge that the Japanese government's Ministry of Land, Infrastructure, Transport, and Tourism illegally intervened in Onaga's order earlier this year that halted preliminary work on the base. The prefecture said that the ministry acted unlawfully when it suspended Onaga's permit cancellation for work needed to move the U.S. Marine Corps Air Station in Futenma to its slated spot in Henoko.
The legal challenge is the latest effort to block the continued militarization of the southern Japanese island, which has long served as home base for more than half of the 50,000 American military service members in Japan, as well as over two-thirds of U.S. bases in the country. In late October, hundreds of Okinawa residents, largely elders, linked arms and physically blocked vehicles transporting building materials to the base.
"Don't the people of Okinawa have sovereignty?" one protester, 70-year-old Katsuhiro Yoshida, told Japanese paper  The Asahi Shimbun at the time. "This reminds me of the scenes of rioting against the U.S. military before Okinawa was returned to Japan (in 1972). Now we are facing off against our own government. It is so contemptible."
Residents have long expressed anger and frustration over the crime and pollution they say comes along with the presence of foreign troops.
"Democracy and local self-determination in Japan are in severe condition," Onaga, who was elected on an anti-base platform, said Friday. "We want the rest of the world to know how the Japan-U.S. security treaty is affecting us."
(Nadia Prupis writes for Common Dreams where this report was posted earlier.) Photo: AFP Prepped for CityWatch by Linda Abrams.
-cw
CityWatch
Vol 13 Issue 105
Pub: Dec 29, 2015
Tags: