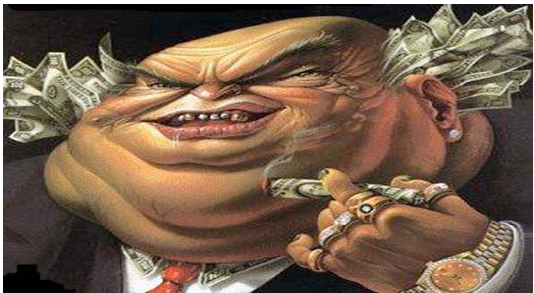 ECONOMIC GOBBLDY GOOK-File these under "for the greater good": worker rights, immigrant rights, and rights of "the little guy." And then file these under "selfish, regressive, and mean": taxpayer rights, citizens' rights, and homeowner rights. 
Because what's yours is really mine. And because what you thought you earned really isn't. Because the Government really is on your side, right...particularly in "progressive states" like California? 
It's safe to say that just about everyone is working harder, and most everyone seems to be getting increasingly less for what is worked for...with the exception of a connected few. For those who still give a damn about that thing called "American History", there was once an era between 1860-1890 called "The Gilded Age" where the labor force grew but income inequality exploded...and the common American's lot was miserable. 
We are now in a Second Gilded Age, but with a potential twist. Income inequality is again a huge problem, but while grassroots and governmental involvement is up (as it was during the First Gilded Age), it is almost impossible to know if those claiming to defend the average worker and American citizen is truly on the worker/citizen's side. 
1) It's no secret that the highest paid are rapidly outstripping the ability of the average worker to get ahead, too, but governmental interference to "help the little guy" may not help that "little guy" at all. 
It's safe to say that the average worker deserves a raise, but it's also safe to say that it's uncertain to what extent the $15/hour figure will give some folks raises and other folks pink slips. Even left-leaning economists claim that such a dramatic leap upwards, as seen in California and New York, has significant uncertainty and risks associated with it. 
Do we have some horribly Scrooge-like-employers who need to cough up more for their employees? Certainly! But is it accurate to label all small businesses "Scrooge-like"?  And what about those workers who have worked harder than others already, and will watch these others get a raise without that extra effort? 
Furthermore, are the businesses that we rely on for our economic survival getting their own taxes and governmental fees reduced so that they afford these hikes without jacking up their retail costs...and inflation, to boot? 
And are both the businesses and workers in California and other major "progressive" states getting their utility and local/state taxes reduced (or at least stabilized) so that those getting a raise can keep and/or spend their increased wages on what they want? 
So increased wages are overdue...but a formula of tying employer/higher-income-earner wages to the wages of the lowest workers -- as "socialist" as that might sound...is just as overdue with respect to ensuring that a rising tide truly will lift all sails. 
2) The issues surrounding workers' rights might not be a problem if states like California and others actually enforced its immigration laws, thereby empowering workers' wage hikes through supply/demand ratios. 
You remember that whole "supply/demand" thing, right?  It's basic economics -- the smaller the supply, the greater the demand...and vice versa. 
So by rewarding the low-wage workers born here by keeping their numbers stable, employers seeking workers would be forced to pay their workers more. In contrast, by flooding the market with low-income labor from outside countries or regions, California and the federal government trashes and thrashes the average low-income worker's ability to get better pay (or even respect) from their employers -- particularly African-American and Latino workers, based on the relative statistics. 
Whether you call them "illegal immigrants", "undocumented immigrants", or even "folks who magically showed up here", the ability of any employer or lobby to flood the market with cheap labor -- even and especially with governmental oversight (or lack thereof) -- shreds the ability of the average worker (who, unlike their bosses, are trying to play by the rules) to keep up and get ahead. 
But that minimum wage hike erases the ability of employers to undermine the workers anymore, right? 
Wanna bet? 
Wanna bet that there won't be a new rush of "undocumented immigrants" paid under-the-table, or even a new rush of native-born workers paid under-the-table, in order to "help out the workers" or to "protect immigrants' dignity"? 
And whether it's Disney or Silicon Valley, wanna bet that reptilian and compassionless employers and governmental enablers won't find ways to flood the market with skilled workers from other nations and other regions to undermine those workers' salaries and benefits, as well? 
And wanna bet that -- somehow, some way -- all this will be sold as wonderful, kind methods of balancing our budgets while only two groups of people (the very wealthy and those with guaranteed government pensions) will have an ensured future? 
3) The proof is in the pudding: Do states like California protect their residents, or do they force the law-abiding and hard-working ones to just...leave? 
Immigration, even illegal immigration, in absorbable numbers was and is and will not ever be the problem. Ditto with workers' rights. What is the problem is the willingness (or lack thereof) of businesses and resident families to absorb the costs of new additions to our pool of residents. It's no secret that -- throughout the state -- large and powerful developers want you and me to pay for the economic and environmental burdens of their projects. 
Well, ditto for unscrupulous employers and for families who turn a deaf ear to their hard-working, exhausted, and tapped out neighbors. They also want you and me to pay for their businesses and families. Are these businesses and families sponsoring and paying for the employment, tax, health, education, and social services of their workers and "immigrant" friends and relatives, native-born or not, legal or not? Forget that! Let someone else pay for your imposed burden. That used to be the law...but no longer. 
And what happens when the state conveniently forgets that California taxpayers pay for, and expect their children to benefit from, the University of California and California State University systems? We get more out-of-state students, ignoring the screams of California families whose hard-working honors students can't get in. 
And when the nerds, the eggheads, the boring folks raise up that California "pension liability" thing that's now risen to $140 billion and counting, with retired state workers costing more than current state workers…then they are diminished, marginalized and otherwise demonized as anti-police, anti-teacher, anti-firefighter, and downright evil people! 
So what are Californians to do? Particularly those who (along with their parents) built the California infrastructure and educational system of the 1950's, 60's and 70's? Leave and go to states like Texas, to be more specific. 
So to summarize: Our cities, our counties, and our state really want to help the little guy, right? Maybe some of them do...but probably most of them don't. However, their lies and misinformation get the job done, right? 
So if the little guy is being helped so much...then why is he screaming so loudly in pain?
(Ken Alpern is a Westside Village Zone Director and Board member of the Mar Vista Community Council (MVCC), previously co-chaired its Planning and Outreach Committees, and currently is Co-Chair of its MVCC Transportation/Infrastructure Committee. He is co-chair of the CD11Transportation Advisory Committee and chairs the nonprofit Transit Coalition, and can be reached at  [email protected]. He also co-chairs the grassroots Friends of the Green Line at www.fogl.us. The views expressed in this article are solely those of Mr. Alpern.) Edited for CityWatch by Linda Abrams.