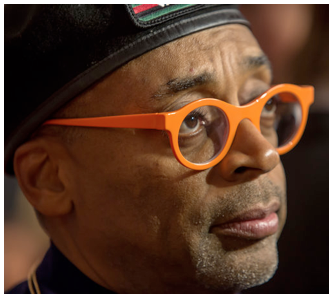 OSCAR POLITICS--As controversy continues to boil regarding the Oscars' all-white acting nominees, Spike Lee has said he will not attend next month's awards. The outspoken director posted a photo of Martin Luther King Jr. to Instagram on Monday morning, along with a lengthy caption condemning Hollywood executives with the "'green light' vote" who do not bring minority-centered stories to the big screen.
"The truth is we ain't in those rooms and until minorities are, the Oscar nominees will remain lilly [sic] white," Lee wrote, using capital letters to start each word.
#OscarsSoWhite...    Again. I Would Like To Thank President Cheryl Boone Isaacs And The Board Of Governors Of The Academy Of Motion Pictures Arts And Sciences For Awarding Me an Honorary Oscar This Past November. I Am Most Appreciative.
However My Wife, Mrs. Tonya Lewis Lee And I Will Not Be Attending The Oscar Ceremony This Coming February. We Cannot Support It And Mean No Disrespect To My Friends, Host Chris Rock and Producer Reggie Hudlin, President Isaacs And The Academy. But, How Is It Possible For The 2nd Consecutive Year All 20 Contenders Under The Actor Category Are White? And Let's Not Even Get Into The Other Branches. 40 White Actors In 2 Years And No Flava At All. We Can't Act?! WTF!!
It's No Coincidence I'm Writing This As We Celebrate The 30th Anniversary Of Dr. Martin Luther King Jr's Birthday. Dr. King Said "There Comes A Time When One Must Take A Position That Is Neither Safe, Nor Politic, Nor Popular But He Must Take It Because Conscience Tells Him It's Right".
For Too Many Years When The Oscars Nominations Are Revealed, My Office Phone Rings Off The Hook With The Media Asking Me My Opinion About The Lack Of African-Americans And This Year Was No Different. For Once, (Maybe) I Would Like The Media To Ask All The White Nominees And Studio Heads How They Feel About Another All White Ballot. If Someone Has Addressed This And I Missed It Then I Stand Mistaken.
As I See It, The Academy Awards Is Not Where The "Real" Battle Is. It's In The Executive Office Of The Hollywood Studios And TV And Cable Networks. This Is Where The Gate Keepers Decide What Gets Made And What Gets Jettisoned To "Turnaround" Or Scrap Heap. This Is What's Important. The Gate Keepers. Those With "The Green Light" Vote.
As The Great Actor Leslie Odom Jr. Sings And Dances In The Game Changing Broadway Musical HAMILTON, "I WANNA BE IN THE ROOM WHERE IT HAPPENS". People, The Truth Is We Ain't In Those Rooms And Until Minorities Are, The Oscar Nominees Will Remain Lilly White. (Cont'd)
This year's ballot is the second consecutive set of Oscar nominees that feature no people of color. Some have argued there were no minorities worthy of nominations, another sign that studios haven't green-lit enough diverse projects. Yet it's hard to argue that not a single person of color deserved a spot when the list looks like this: Idris Elba ("Beasts of No Nation"), Samuel L. Jackson ("The Hateful Eight"), Michael B. Jordan ("Creed"), Tessa Thompson ("Creed"), Mya Taylor ("Tangerine"), Benicio Del Toro ("Sicario"), Oscar Isaac ("Ex Machina") and Will Smith ("Concussion"). Each saw significant Oscar buzz throughout awards season, yet came up short when the nominations were announced last week. Lee's movie, "Chi-Raq," also yielded a worthy performance from Teyonah Parris.
Lee is a two-time Oscar nominee, having earned a Best Original Screenplay recognition for 1989's "Do the Right Thing" and a Best Documentary Feature nod for 1997's "4 Little Girls." He was also awarded an honorary Oscar in November, using the opportunity to again address the industry's diversity gap.  
"It's easier to be president of the United States as a black person than be head of a studio," Lee said at the annual Governor Awards. "Honest."
(Matthew Jacobs is film reporter for Huffington Post … where this piece first appeared.)
-cw
Tags: 
CityWatch
Vol 14 Issue 6
Pub: Jan 19, 2016