ERIC PREVEN'S NOTEBOOK - Something touched me deep inside the day President Yoon sang.  
Robert Reich:  "Trump is running for reelection, despite the explicit language of the 14th Amendment, which prohibits anyone who has held public office and who has engaged in insurrection against the United States from ever again serving in office. He should be disqualified. It's that simple."   
Many Angelenos are worried that it might not be that simple but were jolted awake to hear George Stephanopolous "…admit I have a hard time wrapping my head around that," the ABC news host said. "You've got one in five people who say they believe President Trump should face criminal charges, but they would still vote for him." 
Looks like we've got ourselves a Reader. 
Deepfake: 
When Bill Whitaker and I shared a moment at the 2022 LA Press Club Awards ceremony, he blurted that the "local news is the most important thing," and thanked me sincerely for my commitment to the local space.  
Local is indeed where the rubber meets the road, but the diverse rotation of anchors and weather people who come through our living rooms are being repopulated with cheerful "assignment editors."  
An assignment editor, like Mike Rogers of KCAL, sits in a newsroom set and intermittently updates "what we know" about breaking news, as the anchors' stew until retirement.  The assignment editor classification, paid through one union or another, presumably…. AFTRA or SAG or … Doh!  
The WGA?! 
Yes, and when Jeff and Suzy or Lesley Marin and Ross Palombo disclaim as they frequently do that "Many of our KCAL writers and producers are WGA members but they work under a different contract", the trio of Shakespearean canines bark at the TV. 
Similar to the way the horses in Young Frankenstein, react violently to any mention of Frau Blücher's name, because It means 'glue' in German. 
Cloris Leachman played Frau Blücher.  
Gene Wilder:  "What Knockers!"   
Teri Garr "Oh, thank you, Doctor." 
Smart Speaker:  Why are WGA workers not striking in support? 
SOLIDARITY:
Dear Publisher A.G. - SETTLE THIS PROCESS FAIRLY AND SOON
I need to make this brief because I am working on two stories today after spending 15 hours yesterday traveling back from assignment, a not-unusual schedule for so many Guild members who do more than their share to make the Times the best news gathering organization in the world.  
I just want to relate that virtually all of my friends, family members, and fellow journalists outside the company ask me why the New York Times is being so cheap and behaving hypocritically towards its union members, a stance antithetical to its editorial ideals. I do not have an answer for them, and when they mention the lucrative compensation packages for executives and shareholders, they assume greed is the motive. It makes them very cynical about the product. These are our customers, and they are not necessarily tenured in that role. Thank you for your time.  
Let's settle this process fairly and soon. 
Streaming: The "Haves" & The "Have Some Mores"
Disclosure, as a card-carrying member of the WGA, who speaks only for himself and the 36,000 or so voters who have pulled various levers for my quixotic, truth-to-power campaigns, delivered across multiple media platforms including email.  
But now that the cat's out of the bag - that charging $8/month while spending billions on content - isn't a viable business model - it feels like the streamers are reneging on the promise that everything will be available forever. 
I know viewers who are buying their favorite shows on DVD to ensure access to their favorites when the platforms do a real comprehensive dump and scrub. The question is why are shows and programs disappearing? The Studios are redefining the narrative. 
The Max in HBO Max stands for Profit Maximization, not maximum content.  
Over the last fifteen years, lawmakers here in California have allocated more than a billion dollars in tax credits to keep productions from being lured to other states with incentives. 
The argument for subsidizing Hollywood at the expense of social services, education and other government programs is that the state ultimately benefits from the tax revenue, quality jobs and economic growth that come with being the heart of the entertainment industry.  
Hopefully, the savings from staying home in California will be put to good use.* 
To settle fairly and soon as Angelenos and Americans expect, rather than try to hammer down a workforce, bust a union and make another fortune.  
Roaring Back: 
The Wall Street Journal dubbed 2023 "the year of the $1000 concert ticket."  
Demand for concerts is soaring, budgets are getting bigger and tour dates are piling up as America heads into an expensive summer of live events.   
Q: Do Studios do music and concerts?
A: Shut up, get him out of here.  
Post-pandemic demand has resulted in shows that are bigger and infused with more tech than ever.  
Ticketmaster certainly DOES not have a monopoly but their sell-through rates are through the roof at 95% compared to the usual, 88%.  Big big big. 
Bad bad bad.  Jay-Z, who made a massive fortune in the music business and other businesses is teaming up with investors to bring a casino to Times Square in New York City.  But gambling, though part of the culture, has a tragic history within the Black community.   
According to a New York Post report, Jay-Z's Roc Nation has partnered with real estate investment firm SL Green and Caesars Entertainment to launch a casino at SL Green's 1515 Broadway Office Tower.  Roc Nation is expected to oversee entertainment programming at the casino.  
"New York is the epicenter of culture. We have an opportunity to create a destination at the heart of the true crossroads of the world," Jay-Z said.   
Jay-Z is already loaded so does not have to behave, as Matt Taibbi once described Goldman Sachs, as a " vampire squid wrapped around the face of humanity, relentlessly jamming its blood funnel into anything that smells like money. " 
Neighborhood Council Deepfake
Jackie Dupont Walker, a member of the LA County Metro Board, showed up at council and sermonized to the members, "God has placed you to make a difference.  We are very excited about inside safe…"    
She even invoked, Matthew 25, "Judgment of the nations.." Saying they will be,  "judged by how they partner with you on Inside Safe." 
Hallelujah. 
Council President: Next speaker.
Smart Speaker:  Is this general public comment, but there are over 26 items on the agenda?  
City Attorney: Correct, Mr. Preven.  
Well, this is yet another example of how the City of Los Angeles has managed to lose its way.   
It's very very shameful. I certainly hope the progressive flank, who are in the room understand that by denying virtual access to committee meetings, you do a great disservice to the public and yourselves.  And it also pre-empts comments in the council chambers on those items that were heard in committee, without a virtual option.   
That's why Mr. Fauble always says, "It's not open for comment, but you can address it in general." 
Well, that's sixty seconds as you heard today — which is sixty seconds less than it used to be. These draconian measures are ill-advised and illegal. 
Shout out, by the way, to Assistant City Attorney, Scott Marcus from Hydee Feldstein-Soto's office and David Michaelson from Mayor Karen Bass's Office. We look forward to meeting and conferring. 
For the 99 separate neighborhood councils from Neighborhood Empowerment [DONE] who have been struggling to get people to participate, canceling hybrid meetings landed with a thud. 
 There is no good reason or argument, that supports making it harder to participate. Stop. 
Oversight and accountability can only be provided with the feedback channels wide open.  #BlumenfieldKnows. 
The city has to take the people seriously… that's your job. This is the public's meeting, not the city council's meeting. 
Is that clear?  Thank you.  
Pilot Programs: 
Dear Mayor K.B.  - CANCEL THE MICRO-TRANSIT PILOT
You chose to uplift MetroMicro - an astonishingly wasteful program that is cannibalizing bus operations funding. To add to the insult (taking away bus operations money), Metro charges just $1 per ride for on-demand MetroMicro, while charging regular bus riders $1.75 per ride.  
The sooner Metro pulls the plug on this highly unsustainable, deeply wasteful, deeply insulting, grossly inequitable #MetroMicro #MicroTransit fiasco pilot the better.  
This Thursday, May 11, the Metro board could vote to approve $8.3 million for a six-month extension of Metro's expensive, inefficient microtransit pilot. @MayorOfLA Bass. 
Scabby the Rat: when in doubt, don't.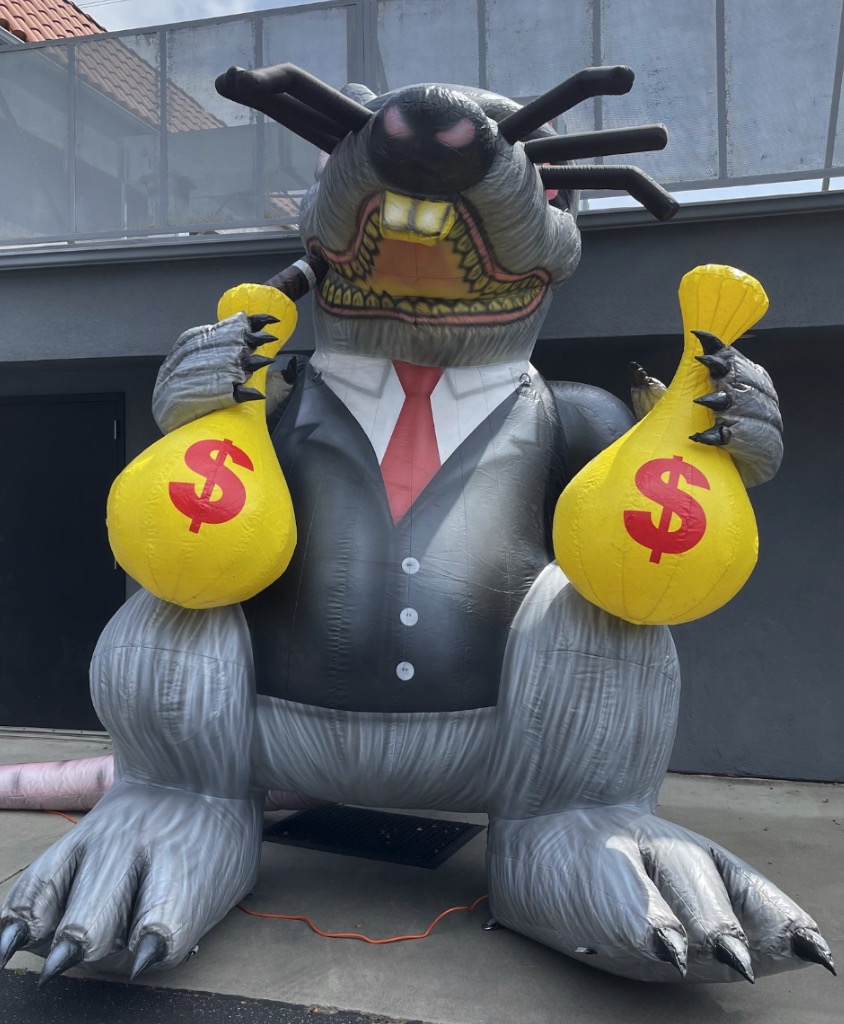 [Teamsters Rat, Scabby] 
If you've never been approached to scab, it's a little flattering for one split second.  
Just the idea that you might have something that somebody is willing to pay for is always intoxicating.  
Then, you remind yourself of how wonderful the Writer's Guild of America has been over the years...
(lengthy pause) It's a mixed bag. 
According to the WGA Strike rules, scab writing or strikebreaking activity is prohibited. 
"You must inform the guild of the name of any writer you have reason to believe is engaged in scab writing or other strikebreaking activity."
Q: Is settling with the Studios strikebreaking?
A: Technically, yes. You're disrupting the meeting. 
"You must honor all Guild picket lines and may not enter the premises of any struck company." 
If you are a hyphenate see rule 12." 
Q:  What about Whole Foods which is owned by Amazon? 
A: Gelson's is OK, as they are not signatories to the guild, but a small brisket can cost $48.00 
"12. Unfortunately, the law prohibits the Guild from disciplining a hyphenate for performing purely non-writing services for a struck company, but if a hyphenate negotiates a new assignment for writing… (which they won't) they would be subject to Guild discipline under the Strike Rules and the Guild's Constitution and By-Laws.  
To avoid disciplinary action, hyphenates are advised to consult with Guild staff, in advance for guidance on the extent of functions prohibited." 
Interesting, the "come forward and everything will be okay", clause.  This is how the LA City Ethics Commission works enforcement*.  
Smoothing things over, and then gently extorting a ludicrous penalty, that at the right time will be chopped in half, is the breakfast of champions.  
"Although it is impossible to contemplate every situation, it should be clear that the most inclusive interpretation of "writing" is intended. In short: when in doubt, don't." 
Exactly.  And for God's sake, name names or else…  
Grrrrrrr.   
Also, the roar of the WGA! [Do they need a license?]  
Jk, the Guild has no teeth. 
*Sergio Perez of the City Controller's office played Ahab in a crusade to harpoon his Moby Dick, embodied for Sergio in the form of Neighborhood Councilor, Kelly Lord, a man who had the audacity to challenge Mitch Englander in CD12 and hired a programmer to build a campaign website.  Perez erupted in anger and along with Nathan Hochman, who sat on the ethics commission at the time but ran for Governor more recently, worked hand in glove in one of the most spectacular aberrations of justice, ever recorded and eventually suppressed.  
Remote Participation: 
For WGA members, even remote participation in any kind of work is strictly forbidden.    
On Friday, May 5th, the public was introduced to a stately six-minute Soviet-style adjournment from 2:10:31 to 2:16:05. 
Paul Krekorian, the Council President, took the council back to the Kremlin… one more time, as he unfurled a moving eulogy for the man we know as the father of the current Metro Board chair, and Glendale Mayor, Ara Najarian.  He was a doctor and returned to Soviet Armenia in 1984 only to find a crumbling medical system. He fought for improvements and eventually brought many Armenian orthopedists to the States.  
Doctor Najarian also created an aspirin factory in Yerevan and a hospital.  He was very charitable.  At one point, Dr. Najarian arranged for 100 children to get limbs following a devastating earthquake.  
In 1991 he delivered medical care by candlelight.   
Armenia honored Dr. Najarian by issuing him the rank of Colonel.  He also earned the Humanitarian Medal from Artsakh, and the Soviet medal of Honor— [cancellation alert] override. OK, thx. 
Ara Najarian, who as Metro board chair has a thankless job, once appeared in this Notebook side by side with great comedian Mike Myers dressed as Dr. Evil.  RIP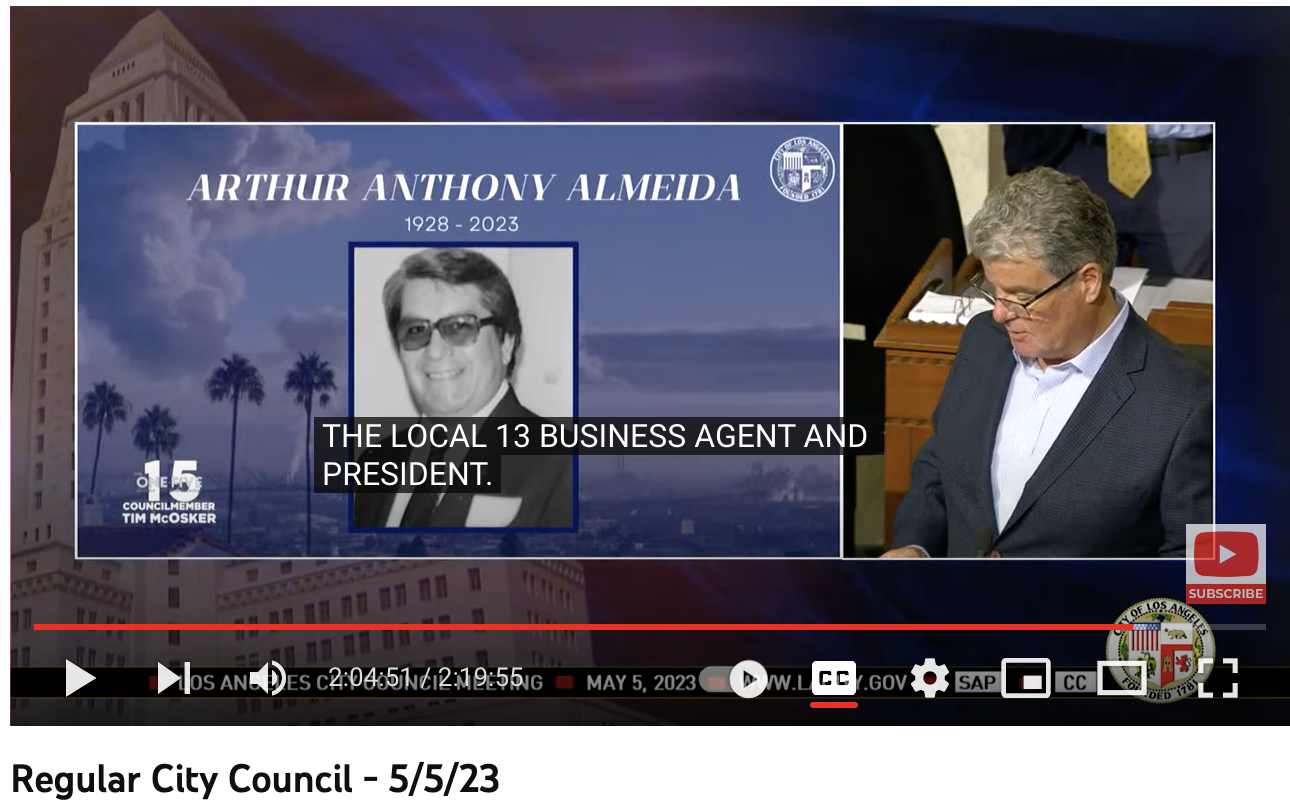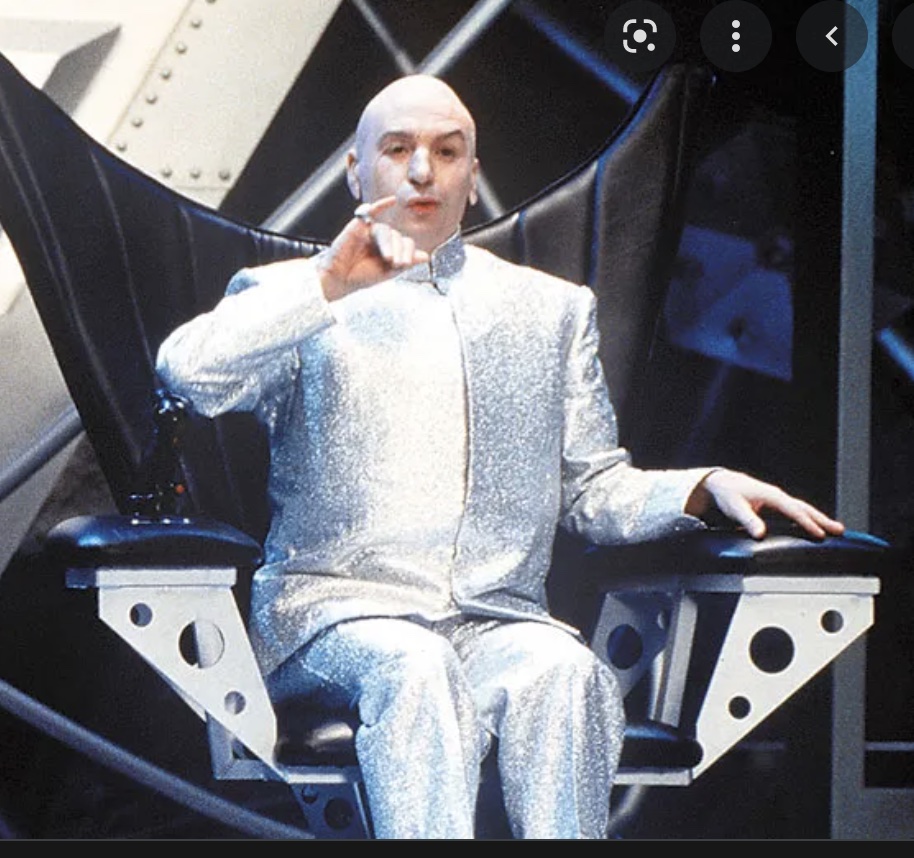 A-H for the record:
The WGA Bargaining Agreement defines (a) through (h) services as follows:  
a) Cutting for time
b) Bridging material necessitated by cutting for time
c) Changes in technical or stage directions
d) Assignment of lines to other existing characters occasioned by cast changes
e) Changes necessary to obtain continuity acceptance or legal clearance
f) Casual minor adjustments in dialogue or narration made prior to or during the period of principal photography
g) Such changes in the course of production as are made necessary by unforeseen contingencies (e.g., the elements, accidents to performers, etc.)
h) Instructions, directions, or suggestions, whether oral or written, made to a writer regarding story or screenplay.
(Eric Preven is a longtime community activist and is a contributor to CityWatch. The opinions expressed by Eric Preven are solely his and not the opinions of CityWatch)