ERIC PREVEN'S NOTEBOOK - Thank you.  
Smart Speaker:  "...and the speed humps near schools in Council District 2, from Paul Krekorian. Great, but what about--" 
Thank you.  
"Madame Clerk, what is before council?" 
"The desk is clear, Sir." 
"Mrs. Rodriguez?" 
No.
Thank you.   
Now, Mr. Price has a special presentation ...   
 "Mr. Chung, please leave the meeting," barked Council President Krekorian. 
"Officers remove Mr. Chung, immediately."   
Strefan Fauble (City Attorney): "Mr. Chung Mr. Chung is being removed after he was given a warning.
We've got two people disrupting the business of a city of four million people.  Mr. Reedy, Ms. Adair… Sincere apologies, public.'  
There were no apologies for the fact that "Mr. Chung" was actually a chap named Mr. Kim, which proved slightly offensive in an otherwise highly offensive show. 
Professor Mathilde Mukantabana who serves as Ambassador Extraordinary and Plenipotentiary of the Republic of Rwanda to the United States of America, was in the house for African American History month.  She knows Karen Bass from DC and was not too troubled by the protestors but did seem a little annoyed with Paul Krekorian, who kept interrupting her as he was baited repeatedly by protestors. 
One wonders if the city would consider passing an anti-baiting ordinance.  Mr. Michaelson?  
Thanks by the way, to Michaelson for finally providing the mayor's out-of-town (as well as his mind) records, per the State Law. You were only three months late.  
17 days in 2020
January 21, 22, 23, 24, 25, 26 
February 14, 15, 16, 21, 28, 29 
September 28, 29, 30
October 6, 7, 
51 days 2021
May 11, 12, 13
June 13, 14, 15, 16, 17 
July 1, 2, 10, 11, 12
August 1, 2, 3, 4, 5, 9, 11, 12, 13, 14, 15, 16, 17, 18, 19, 20, 21, 30
September 1, 2, 3, 20, 21, 22
October 30, 31
November 1, 2, 3, 4, 13, 14, 15, 16
December 12, 13, 14, 15
25 day 2022
January 17, 18, 19, 20, 21
March 14, 15, 16, 17
April 10, 11, 21, 22, 23, 24, 25, 26, 27, 28
October 18, 19, 20, 21, 22, 23. 
So, just one year ago, Nury Martinez was the head chef in the nation's greatest melting pot.  Yikes.  
April 24, 2023, is the week that the Los Angeles County Board of Supervisors have deemed it appropriate to schlepp to Washington DC to get more resources.  Calling All Lobbyists:  Check which hotel they land at and do not miss a golden opportunity!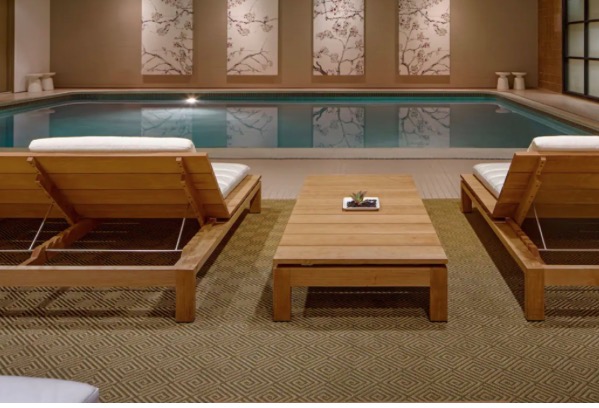 An episode of ... "Fix This Horrible  Jail": 
The Bed Bath & Beyond in Studio City has been renovated but inadvertently, one assumes, the place is worse and less appealing.  It's possible that I am just nostalgic for the organized chaos of the previous layout   
Nobody is nostalgic, it turns out,  for the old Barry J. Nidorf  Juvenile Hall…as the board launches a new season of  "Fix This Horrible Jail" with a loving motion from the Chairman of the LA County Board of Supervisor,, Janice Hahn and new co-star, Lindsay Horvath of the 3rd and most stylish district.  
Together, they're urging the County's Director of Internal Services, Selwyn Hollins, formerly of the City of Los Angeles, to deliver the scope of work for $24,771,000. Essentially take the horrible dungeon and make it a little homier, inclusive of the cost of furniture, fixtures, and equipment (FFE). 
In addition, their motion seeks to partner the home-like improvements with the utility and related infrastructure needed to support the youth grievance kiosk functionality consistent with the requirements of the State DOJ.  An efficient approach, as Home-like improvements to youth living units and support buildings, is required as part of the County's Memorandum of Agreement with the California Department of Justice (DOJ).  But DOJ's assigned monitor has already approved design concepts that are very likely, "fabulous!"  
A payout of $940,000, will be separately issued to the Probation Department for the procurement of furnishings and furniture for use by youth and staff, as required. (?Stockades?) 
The work is expected to take 10 months following Board approval, and the Executive Officer found a way to make the item a 3-vote, rather than a 4-vote item.   
The planned interior changes are intended to refresh youth living units into environments that are more highly conducive to client restoration and achievement. (…as opposed to violence and abuse). 
The proposed transformation creates a more home-like setting for youth in the Probation Department's care that supports their therapeutic needs. (?Vinyl flooring?) 
More vibrant and visually interesting color schemes; 
Softer seating that eliminates the appearance of hard edges; 
Wood or faux wood bed frames and bedside furniture (for living units that utilize free-standing bed frames);
Removal and replacement of stainless-steel dining tables with family-style tables; 
Use of vinyl or carpet flooring as appropriate to cover existing concrete; 
Lighting and restroom fixtures consistent with typical residential use; 
Greater use of toilet/shower privacy panels to enhance youths' sense of dignity and to accommodate modesty needs; 
Sound-absorbing features within youth living units to reduce the echo effect that is inherent in large flat ceilings, walls, and floors. (To stifle the screams, presumably.) 
The proposed enhancements would also allow youth to work and live in a small group milieu and create welcoming and age-appropriate living spaces, including safe spaces for contemplation, counseling, service engagement, and visitation to reinforce family linkages. 
The Park Hyatt, DC: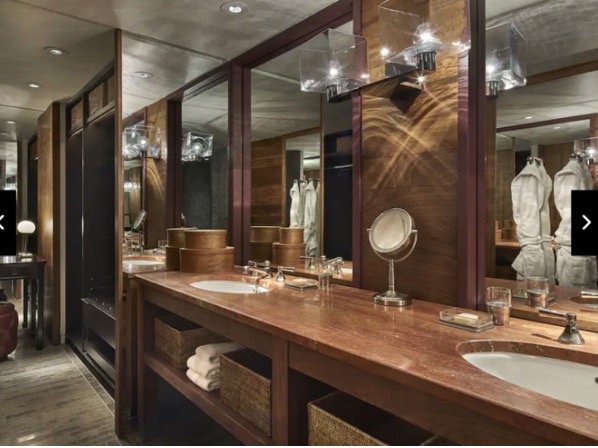 Eric Garcetti's most recent attempt to summit the Ambassadorship to India has hit more ice ... and he's slid back down to base camp.  One wonders if the timing might work out so that the Supervisor's big Washington DC Boondoggle might dovetail, providing an opportunity for five fabulous Supervisors and one stylish Mayor, to collectively loft Garcetti up and into... the G-7! 
Sigh. What is the Board of Supervisors doing in DC?  
First of all,  the County Board of Supervisors is the governing body of the County of Los Angeles, a charter county.  As such, it has the unique function of serving as the executive and legislative head of the largest and most complex county government in the entire United States.   
The civil service staff who perform the duties of the County departments and agencies serve the needs of the County's population of more than 10 million.  So...  while they're back east begging for federal resources, why not update the US congress -- "City Hall in Los Angeles is ... not that bad!" 
Sir, you are not on the Washington Agenda team, send him to General.  
The proposed Washington Trip that the public called for several weeks ago is now scheduled to be held in person the week of April 24th.  
The main purpose is to meet with members of the County's Congressional Delegation, Legislative Leadership, Committee Chairs, the Biden Administration, as well as with key agency leaders. 
Regrettably, at present, the Board Meeting for Tuesday, April 25, 2023, has been canceled, but once we link closely with the right hotel provider, we will ensure a virtual public meeting, or in the alternative, we can seek a judicial remedy.   
It's totally doable.  
The Park Hyatt Washington D.C. offers has 12,000 square feet of elegant space and can impress and inspire up to 580 speakers.  
Each area is thoughtfully designed with contemporary artisanal décor and state-of-the-art technology and includes access to our Business Center.  
Ding ding ding.  I wonder if Barry J. Nidorf could benefit from artisanal décor? 
LAPD Pricing: 
The Ambassador from Rwanda told Curren D. Price that public comment and democracy were,"… good for you, not for me, for you!"
Curren D. Price and everyone laughed, as Krekorian and Fauble dismembered the protest, one by one.  
Price seemed relieved, but didn't fare as well after the Times printed his insensitive remark accusing his constituents who had their homes blown up by LAPD, of 'gaming the system,'  Even Ericka D. Smith. of the LA Times blasted him.  Pun intended. 
The relationship between LAPD and the black community is sometimes a high-wire act. Marqueece Harris Dawson told KnockLA  "… even in my district, people don't like LAPD, but they like their officers. And so I get pushback, like, "Oh, you're too hard on them, you've got to take it easy and they're only trying to help and these guys are good guys," even though we know the department is — it's a tricky thing." 
Del Richardson & Associates (DRA) provides professional services in public affairs, right of way, housing programs, and workforce development for public infrastructure development projects, housing authorities, and private real estate developers. Sounds like they're experts at gaming the so-called system.   The owner's big boss is married to CM Price.  
Maybe Del Richardson could help the victims of the blast?  CM Price to recuse.  
Ms. Richardson said of her husband at his swearing-in, "He fights for and supports people like me…" while validating the use of "feminine intuition."  She noted he's "pretty cool and calm." 
And the couple has a true partnership.*  She said that Price was "a champion for small women-owned business, and always says,  "the new ninth is open for business... but not business as usual."  
The heart of the housing crisis. 
 Appellate court blocks badly needed housing at People's Park in Berkeley, in part because the EIR "failed to assess potential noise impacts from loud student parties in residential neighborhoods near the campus  "Housing near campus and transit is an environmental good, but CEQA, desperately overdue for reform, still sees the noise and activity connected with additional housing as a threat to the environment."   This tension is at the heart of the housing crisis. Filed 2/24/23   
Celebrating Police Women etc.
Good News though from Monica Rodriguez,  is holding a special meeting Tuesday, February 28 at 3;45pm for the maximum inconvenience.  The subject: Los Angeles Police Department (LAPD) and Board of Police Commissioners reports relative to the number of women being promoted and related implementation efforts in the LAPD workforce; and funding for training, support, and mentorship programs, conferences, and other career development efforts for women and minority officers in the LAPD.  
Supportable.  
One bigot on the internet showed a picture of children carrying a rainbow flag and wrote "This flag represents all of the different ways that adults like to have sex, and adults are forcing little girls to parade around with it."   
Response: "No, it doesn't you idiot."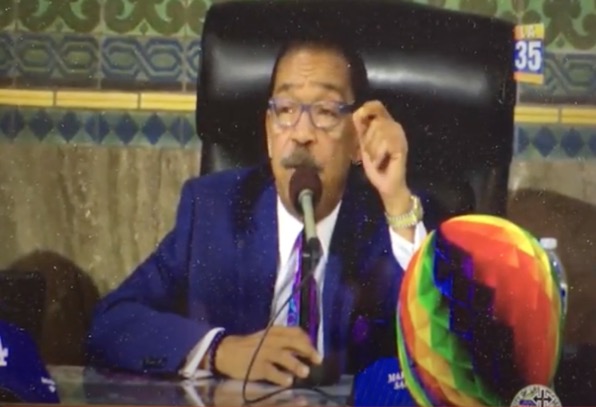 Ms. Beltran, please go to General: 
Therefore, the Coastal San Pedro Neighborhood Council thanks Raquel Beltrán, General Manager of the Department of Neighborhood Empowerment (DONE), for her service to the City but."can no longer repose confidence in the present General Manager of DONE;"  When they can no longer repose confidence in you… it may be time to say farewell, adieu, au revoir, ciao, adios, sayonara, auf Wiedersehen...  or in common parlance, go to general!  
Railroad Recognition:
February is Library Lover's Month and has LASD begun to assess all living spaces within its jails to identify opportunities to install bookshelves.  
Incarcerated individuals will continue to keep books if they wish (even if they leave custody) but, should they wish to "return" a book, the bookshelves will provide a centralized location within housing units to store books and make them available for use by others. 
Lovely.  
Also, a pilot program in which individuals are provided with reading tablets that make hundreds of books, and mobile games, easily accessible and Barger wants to know what happened to the Hunter's Library was established in 2016 at Men's Central Jail?  
Where are all those books that were donated?    
I'm guessing they are not at the Huntington.  By the way, I had to check and learned that the Huntington, LA's favorite rapacious railroad family, is charging  $29 to go in on the weekend, and $25 on a weekday. 
It's $13 for a 4 -11-year-old...  
And a student with a full-time ID or member of the Military… only $24 ffs 
Many residents of East Palestine, Ohio, have warily returned to their homes after a Norfolk Southern train derailed and spilled more than 100,000 gallons of dangerous chemicals into the air and water earlier this month. 
To show their confidence in the safety of the water in East Palestine, the Governor and EPA Administrator Michael Regan drank water from local taps during home visits Tuesday. 
The EPA's annual budget hit a high of $10.3 billion in 2010, and today sits at $9.5 billion. If the budget had kept up with inflation, it would be $14 billion.  
The Connection Between American Folk Music and Trains includes big names like Woody Guthrie, Utah Phillips, and Bob Dylan.   
And yet, some of the greatest American folk songs of all time can be traced back to the building of the railroads, the advent of train travel, and, of course, riding the rails during the Depression.  
It was at that time when working-class men and immigrants (and, as mentioned, folksingers) traveled on trains in search of work.   
I've Been Working on the Railroad" may just be one of the best-known folk songs about the U.S. railway system.  
The song is pervasive and the words are a favorite among recordings aimed at children. Yet, children rarely learn all the lyrics originally intended in the song, as some of those were incredibly racist and deeply offensive. 
In the case of "I've Been Working on the Railroad," the telling line is "...all the live-long day." These men really did back-breaking work that lasted well beyond the hours of labor now acceptable in our society.   
It is possible that the railroad portion of the song was actually sung by the crews building the nation's railways. 
It's thought by some that the "I've Been Working on the Railroad" we know today was actually created for a musical production at  Princeton University. Some of the verses included in those shows were incredibly racist.  
For instance, the lyrics go from the languid "Dinah, blow your horn" to the upbeat "Someone's in the kitchen with Dinah."  
It's a transition reminiscent of stage productions rather than traditional folk songs.   
Who Is 'Dinah'?  Some believe that "Dinah" references a cook in the kitchen on the train. Others believe it to be a generic reference to an African-American woman. Someone's in the kitchen with Dinah Someone's in the kitchen, I know Someone's in the kitchen with Dinah Strumming on the old banjo.  
Norfolk Southern has donated $300,000 to East Palestine School District and will reimburse the fire department $825,000 for equipment.  
"As soon as I heard that the East Palestine Bulldogs were not able to play in revenue-generating games, we took immediate action to help this community. We continue to be committed to helping East Palestine residents get back on their feet. We are in this community for the long haul, and our goal is to see the community thrive again," said the CEO of  Norfolk Southern.  
Revenue Generation: Go Trojans, Go Bruins, 
Funny, you'd think UCLA defeating Colorado to clinch its first Pac-12 championship in a decade would melt the ice regarding UCLA and USC leaving the Pac-12.  Also, kind of feel-good, to see the USC women's basketball team heading for its first appearance in the NCAA tournament since 2014.   
Nope.  Regrettably, they're all a bunch of greedy, sellouts... is that too strong?   
Go... "here's your hat, what's your hurry?" 
Scott Adams Implosion:   
Dilbert would be appalled.  
"You can never underestimate the stupidity of the general public." 
"Consultants have credibility because they are not dumb enough to work at your company."   
 "There's nothing more dangerous than a resourceful idiot." 
"If you spend all your time arguing with people who are nuts, you'll be exhausted and the nuts will still be nuts." 
"Engineers like to solve problems. If there are no problems handily available, they will create their own problems."  
(Eric Preven is a longtime community activist and is a contributor to CityWatch. The opinions expressed by Eric Preven are solely his and not the opinions of CityWatch)