ERIC PREVEN'S NOTEBOOK - It was chilly and underneath a desk in a cardboard box in a Bakersfield California office complex, there was a little puppy curled up like a cinnamon bun.  
"His name is Scrappy," said the woman who ran the rescue, "He's a boxer-shepherd." 
The two human siblings, each in their twenties seeking more unconditional love in a rough world, agreed to rescue the little fella.  The truth, they rescued the whole family in the process.  
I'd waited five years after Molly woke me up at three in the morning and put herself out on the curb.  I went down in my undies and got her, brought her back upstairs and she died in bed. She was fifteen.   
Suffice it to say the love between a dog and a person is a bond like no other.   
Scrappy, we later learned following a DNA test was actually a mixed breed 58.0% percent American Pit Bull Terrier, 25.3% Doberman Pinscher and 16.8% Australian Cattle Dog.  
100% good boy.  A loving playful protector who is not large or intimidating but strong.  When a snappy female dog went off 'snarling right in his face, he just stood his ground. Offered almost no response, just a steely-eyed gaze.  
What a hero!  And he loves to cuddle, which is a score.  Scrappy will ride on the lap of a 23-year-old woman in the car, which is off-the-charts sweet, and not easy to find.  
Scrappy's brother from another mother is a one-hundred pounder, also a mixed breed comprised of 64.9 percent Labrador Retriever, 16.9 percent American Bulldog, 9.5% American Pit. The last 8.7 percent is Supermutt!  Many dogs descend from other dogs that were themselves mixed breed. I couldn't follow the Supermutt splanation, but I do want a T-shirt!  
This guy is a big lug. So diplomatic and friendly.  His tail wagging can clear a coffee table right off.  
The third brother from another mother is allegedly 55.4% Miniature/MAS type Australian Shepherd and 44.6% Pembroke Welsh Corgi. 100% firecracker.  
This little charmer has a huge appetite for play and a strikingly high wolfiness quotient of 1.3%. That's double the wolfiness of his brothers. Again, no idea what Wolfiness means but I will take a T-shirt!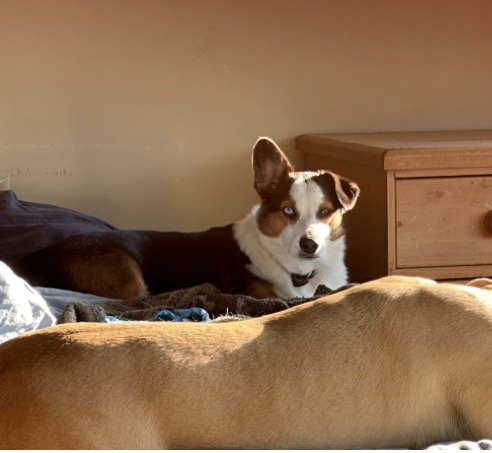 Above, a supermutt firecracker lounging around with P-22
Inside:
L.A. Mayor Karen Bass launched her "inside safe" initiative aimed at dramatically reducing street homelessness. 
I don't want the concept of going inside to be misinterpreted as public support for the board to meet 'inside' the backroom, behind closed doors, more frequently.  
Every other Tuesday the Board only meets in the backroom, often about pending litigation.  
One such legal action could easily be brought by the folksy mom-and-pop renters.  
Mom-and-pop is not a licensed trademark of landlords.  
So let's keep that in mind as we do something smart. Now, what would be a good way to subsidize housing costs across the board?    
Let's go to item 10. 
Sup Janice Hahn, Chair: Okay, we will now move on to item 10, reducing the rate of days they stay held by Supervisor, Solis. Or if you prefer, (Reducing the Rate of Euthanasia on Animals in the Care of the Department of Animal Care and Control,) 
Sup Hilda Solis:  A three-month-old puppy by the name of Bowie was euthanized by some error at the Baldwin Park animal control center.  His death sparked outrage among community members. 
Solis revealed that the last three pets she had in her household came from that shelter.  And while "we couldn't keep them, we pass them to other family members." 
She concluded by saying, "So, we know we can do better." 
Janice Hahn, said what happened was unacceptable, and tragic. Let's face it, all the animals are innocent that come into our care. 
They are our responsibility, their lives depend upon us doing what is our best effort at finding them a forever home." 
She said, "that these five dogs had behavior issues, that made them unsuitable for adoption by the general public. So I guess when that happens, we have these rescue non-profits out there." 
"You know, I was thinking, let's connect the dots, we just started this program in our juvenile detention centers of paws for life.  Guess what?  We are taking our young people who are incarcerated and having them work with dogs who are not adoptable.  
Let's try to help our young people, find something to do. Help dogs eventually get adopted. And keep them from being put down." 
She also heard the cry of Mr. Preven and called out Supervisor Barger, "I think you single-handedly were responsible for getting cats and dogs adopted every Tuesday at the board meeting. I don't know if we are ready to bring that back.  
-- you are doing it without us okay." 
But that wasn't enough, Hahn said, "We want you to do it in public, right? If we can -- let's work on that.  Because I do think that you did such a good job. And I think every one of those dogs and cats were adopted by the end of the day."  
Sup. Kathryn Barger: So I am taping it on Mondays. When we are in a closed session they are showing it.   
Sup. Janice Hahn, chair: Not the same.  
Sup. Kathryn Barger: I am happy to bring it back. 
Sup. Janice Hahn, chair:  Let's bring them back.  
Sup. Kathryn Barger:  Because it will bring down the temperature in the room, too.  
Sup. Janice Hahn, chair: Yeah, yeah. I think these two reports you have asked for back supervisor Solis, will help us and help the public see the full picture of what happened to those dogs and what we can do in the future to change the course of action for all the little animals that come into our care. Any other staff -- any other colleagues want to comment on this?  
Okay, let's call the members of the public who have signed up.  
Here's one speaker from 2007:  
Jim Beaver:  One of my best theatrical experiences was DOGMUSIC, in 1999, a brilliant little musical about pound dogs. My wife Cecily was the narrator, and Jeanne and I played dogs, along with Valri Jackson and Ellen Idelson.  
RIP
(Eric Preven is a longtime community activist and is a contributor to CityWatch. The opinions expressed by Eric Preven are solely his and not the opinions of CityWatch)