ERIC PREVEN'S NOTEBOOK - First up, I should explain exactly what a 37mm launcher is.
While it looks like a "grenade launcher," it is in fact a perfectly legal launcher that can be used by civilians with non-lethal specialty rounds such as flares and similar offerings.  LAPD requires some approval, but it's an LAPD / City Council lovefest, so when it comes to shutting down bullies… Open the roll, close the roll— 
"I'd like to speak on all items and a general public comment." 
"Fire away!" 
37 mm launchers are exempted from the National Firearms Act of 1934 so long as no anti-personnel rounds are in the user's possession but Fauble and Krekorian should be able to find a workaround. 
The only concern is we don't want the use of a 37-millimeter launcher, to target the wrong people inadvertently, like for instance,  
Mr. Reedy or Mr. Deleon. 
How much money could we raise for the homeless by having a cage fight with Jason Reedy and Kevin Deleon?  
Plenty. 
The Cleansing:
The journalist Dominique Lapierre died last week at 91. Lapierre was a Frenchman who collaborated with an American, Larry Collins when he was a cubby reporter working at NATO, in the bad old days.  
As a person who has been involved in various successful partnerships, I found their collaboration story interesting. They reconnected in the sixties in Paris and decided to try writing a book together, "Is Paris burning?"    
The book was an account of the Nazi's last-ditch plan to destroy the French capital in 1944 and the race by the allied forces to stop them. 
It was an immediate monster hit that went on to sell 20 million copies.  Both Lapierre and Collins eventually left their day jobs to become a blockbuster writing duo who made a fortune and reportedly bought adjacent homes on the French Riviera divided by a tennis court.  
They would reportedly do interviews together but wrote separately, alternating sections in their native languages and then translating and editing each other's work.  If that can work, I say anything can work… it's all about trust. 
All good things must come to an end naturally, and eventually, Lapierre pivoted and decided he only wanted to write positive stories, "Those on earth who do things for others. Who, confronted by something terrible, are really models of humanity." 
It's a shame Lapierre couldn't stay alive to catch the Bass Inauguration.  It was a parade of model humanitarians. 
And the new mayor said she would definitely be calling on all of them to reach out for help, as she declared an emergency. 
I'm paraphrasing.   
The mayor thanked Garcetti by saying his legacy was large. The pregnant pause that ensued before she clarified, how proud she was of LA28 and the LAX train project, was enormous.   
A moment where the entire Microsoft theater held its breath so long that many had time to remember, Garcetti's' signature breath-holding moment, where he claimed that he had held his breath while posing maskless for photos during the 2020 NFL playoff game. Go Rams.
Make no mistake, December 11, 2022, was a celebration of the emergency.  
The fact that the new mayor was inaugurated in front of a large scrim depicting the actual steps of City Hall was a weather-related move, but also helped with a romanticized vision of City Hall…  
Any mayor's initiative necessitates putting up a beautiful scrim or two,  to hide the reality.  
What's behind the scrim, you say?   
Take it down and you'd the backstage of the Microsoft Theatre at LA Live. 
A glorious skybox culture brought by the thought leaders and private equity partners who are dreaming of a world-class venue and string of championships. 
Angle on: The council members seated in a row, masked bandits pressing to make  Los Angeles, numero uno.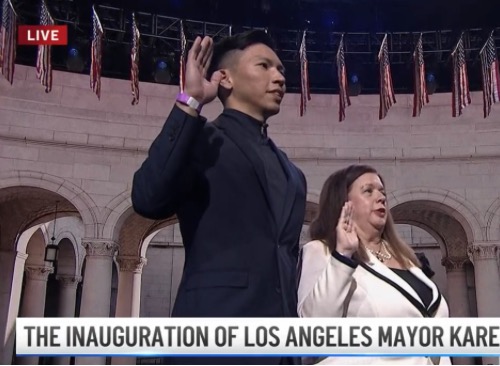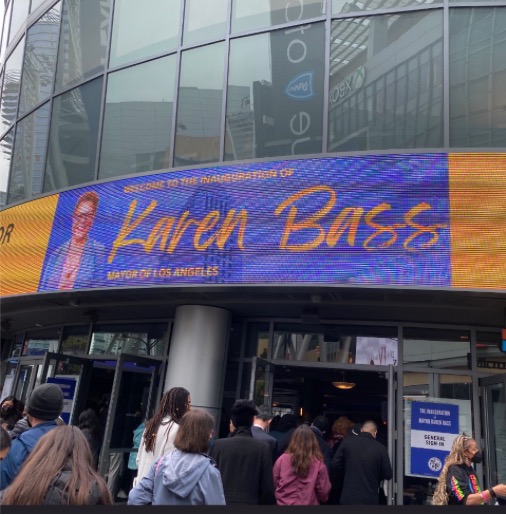 Above photo: New Los Angeles City Controller, Kenneth Mejia and  City Attorney Heidi Feldstein Soto.
"In what category?" you say, 
"Sir, you're disrupting the meeting." 
And what a lovely touch to have the legend, Stevie Wonder on hand to perform at the inauguration; he performed at Tom Bradley's inauguration.  Actually, we'll need to fact-check that, if Steve Wonder didn't perform at Bradley's inauguration, why the hell not?  
"Which item are you on, Sir?" 
I'm talking about item 44 on the Los Angeles County Board of Supervisors agenda. It appeared on the same day that Janice Hahn freed the public comment slaves and declared that she would take unlimited comments for the first time in many years. Sheila may have passed a stone.  
I tried to explain, item forty-four is a giveaway to American Golf Corporation acquired by the private equity snake, Wesley Edens. We don't want to give more monopoly-like power to a private equity group who are working on enhancing booze consumption while golfing, do we?  
As one person familiar with municipal golf contracts, noted, "we don't need to give these courses away for fifteen years."   
The speaker suggested that the money they're offering is real but also a mirage. The number seems large, but the $71 million that AGC is going to pay to the county in rent is actually a steal. Los Verdes Golf Course alone can make $10 million in one year.  C'mon, let's make this a shorter deal.  
We may want to convert some of that priceless county land to something else.  
"Like what?"  
Mayor Bass, you had some ideas…   
Historic Moment:
If you landed at Sunday's inauguration in a spaceship, parking would certainly be a bitch and you might think you were in Wakanda.
Equity has been kicking ass and taking names in Los Angeles.  We have CEO Stephanie Higgins over at LA county Metro, CEO Fesia Davenport of Los Angeles County, Dawyn Harrison running County Counsel, as well as outgoing chair of the fabulous five county supervisors Holly J. Mitchell, and now the Grand Cru, incoming mayor of Los Angeles, Karen Bass. 
Disclaimer:  Wakanda (/wəˈkɑːndə, -ˈkæn-/) is a fictional country appearing in American comic books published by Marvel Comics. Wakanda has been depicted as being in East Africa. It is located in sub-Saharan Africa and is home to the superhero Black Panther 
The second film "Wakanda Forever "is Number one at the box office for the fifth or sixth week.   
When the mayor announced that she would declare an emergency, you might think from your spaceship … Covid?  City Hall Corruption?  
Homelessness, stupid!   
Even as we celebrate the changing of the guard,  Eric Adams, the use-of-force enthusiast and Mayor of New York City has been pushing the envelope on housing people… involuntarily.   
It's not easy. 
Ellen Barry had an interesting piece in the New York Times about how the 85-year-old psychiatrist, E. Fuller Torrey,  who might be easy to dismiss as a fear monger, has been helping lead Mayor Adams' charge toward… institutionalization.  
The big problem, having read the very good coverage by the New York Times remains where to put these people as we administer state-of-the-art humane psychiatric treatment to them.  
My brother and I once schemed, pre-pandemic, about using a decommissioned ocean liner.  Post-pandemic, it seems like a cruel joke. 
Dr. Torrey has Parkinson's disease and bangs his desk like a drum. It's actually a symptom, but also an apt metaphor for his tireless and ceaseless pleas to … DO SOMETHING! 
Like what?  
How about promotoras hired in the community to promote the taking of county mental health medication by the community? 
IHSS promotoras, at $20.00 an hour, sounds good.    
How are we doing in the IHSS goodwill department?  
The county settled with IHSS for a measly $17.00 / hour.   
Slumdog Mayor:
I cringed a bit that Dominique Lapierre and his wife Dominique Conchon spent a fair amount of time traveling around India.  He claims he met Mother Theresa there and through her, he began to think about what to do with all of his vast wealth.    
Sigh. If only Eric Garcetti could have become the US Ambassador to India. 
Lapierre and his wife spent two years living in a slum in Kolkata (formerly Calcutta). 
Are you thinking what I'm thinking?   Hint Hint.   
Think of it as a cleanse.  If Amy Wakeland, the mayor's first wife, decides to renew her vows to the boy wonder she'll be happy to hear that the two Dominiques were able to take a good long bubble bath every few weeks, during their experiment in … asceticism.  
I hear they have bubble baths over there that even wash off hypocrisy.  
Anyway, it's touching to see a successful French author, the son of a journalist and a diplomat, deciding to spend his money blowing the whistle on poverty in India.   
He's not the first, but blowing the whistle is an endurance sport.   
Just Say Boo
Apparently at a Dave Chappelle show in San Francisco, the other night, he trotted out Elon Musk, who is currently undergoing a harmless and mild form of cancellation.  Apparently, he has gone mad and insulted Dr. Anthony Fauci.  
Some will remember that there was a failed bid to cancel Mr. Chappelle himself, following a perceived gender insensitivity violation, but he seems to be out touring with Chris Rock. 
I'm pretty sure even, Will Smith, who still has a right hook,is un-canceled.  
At the Chappelle show, the crowd allegedly showed their interest in Musk by booing.  
Booing is sort of an old-fashioned form of what has become a blood sport in Los Angeles known as 'disrupting the meeting.'   
If you break booing down, it's an act of publicly showing displeasure for someone or something. Expressing negative feedback in a congregation can certainly be disruptive.   
I wonder if we could somehow reframe the Los Angeles City Hall protesters as more negative than disruptive. 
I'll disclose that I am considering a lawsuit, in conjunction with a stylish 'how-to-guide' on how to disrupt by making strong points that effect change as opposed to the unauthorized use of the cowbell or mirror.   
It's a good instinct to force a hypocrite to look at themselves in a mirror, but some of these council members are vampires so it is strictly forbidden.  And blinding people is wrong.  
There are good lawsuits. I fought for the right to comment at Special meetings and to see the county's stinky legal bills. 
But before I file my new lawsuit, I need the public records containing the information that identifies on which dates Nury Martinez served in her role as Council President, and so as the fill-in mayor when Eric Garcetti was out of state. 
Why should that be a problem?
Great question, it's actually, kind of a boring request, but for the willful refusal by two or three administrations to produce timely? 
I'm not dropping it, because over at Hypocrisy Watch, we keep track of all the blunders, including "Friends of Krekorian" which is once again trending. 
Paul Krekorian, a humble council member from CD2, who also serves as the Budget and Finance Committee chair has been serving as the Claims board representative for the Council President for as long as I can remember.   So it is safe to assume that he appointed himself, following Martinez's hasty exit.    
The other two members of the claims board, who consider what to do about legal matters of the city are the new City Attorney Heidi Feldstein-Soto, who along with Mayor Bass should show up on day one.  
The Claims Board is a check and balance on the  Budget & Finance Committee, also chaired by Krekorian. 
"That's redundant, you already said that. " 
So, is his service! We need fresh eyes. 
It may not be a glamorous assignment, but it's critical to understand what's in the city's complaint box if we are going to fix things.  
At least it was out on the campaign trail.  
Bloomingdales:
60 minutes, the TV show and Karen Bass, the new mayor raised awareness for mental health.  The mayor trotted out at her coronation, a self-proclaimed Jewtina, who read a poem and is credited with surviving an eating disorder.  
Sixty minutes had a piece this Sunday on the parents of a young woman who got ensnared into a warren of toxic body shaming on the internet, and so the family is suing various social media companies overfeeding their daughter links to disgusting anorectic behavior.   No word if any of those social media companies contribute to the inauguration.  
I have first-hand experience in the eating disorder space as I spent my college years at the University of Michigan, working in a psychiatric hospital over the summers. The inpatient psychiatric hospital was located in Westchester County, New York, and was referred to as Bloomingdales, for its location on an estate owned by that family, and also because it's fun to call such a place that. 
Up on the hill in White Plains, I worked on the inpatient eating disorder unit, where the great Dr. Katherine Halmi did her research. 
It was similar to Mclean in Boston and Shepard Pratt in Baltimore.  At one point I actually visit all of the above-mentioned facilities while working on a screenplay, set in a fully integrated psychiatric hospital for… people*. 
*People with money or excellent insurance. The hospital where I worked was a stark contrast to the state hospital system which was not good. 
So what to do with the slow-simmering mental health crisis? The  LA Times had a column one story about a human with bad schizophrenia. Harrowing.    
Mayor Bass, which fake scrim should we put up for the mental health chit-chat?    
Long Gone: 
Jennifer York is never going to go out of style because the southland keeps finding new and inventive ways to clog up traffic. She'll be busy for the rest of her life if she wants to be. People listen to the traffic report and we feel it is our right.  Of course, we have to endure the ads, but it's a small price to pay.  
So, imagine if one day the local politicians decided it was no longer okay to post traffic reports on the airwaves. 
That would limit people from exchanging information about how eating bad it is, and vote the pols out of office.
It's not that the electorate doesn't figure it out, it's just by that time we do,  they're long gone.  
Goodbye to Eric Garcetti, Mike Feuer, Ron Galperin, Gil Cedillo, Paul Koretz, Nury Martinez, Mark Ridley-Thomas-Herb Wesson-Heather Hutt, Mike Bonin, Mitchell O'Farrell, Kevin DeLeon and Joe Buscaino.  
Put 'em together Karen Bass, Heidi Feldstein-Soto, Kenneth Mejia, Eunisses Hernandez, Katy Yaroslavsky, _____,  Traci Park, Hugo Soto-Martinez, _____, Tim McOsker.  
And Lindsay Horvath the 3rd District, a renter, and Sheila Kuehl replacement from West Hollywood. 
Apologies if I missed you. 
(Eric Preven is a longtime community activist and is a contributor to CityWatch. The opinions expressed by Eric Preven are solely his and not the opinions of CityWatch)