ERIC PREVEN'S NOTEBOOK - The lower-end motel on Ventura Boulevard is now billing itself as Boutique Cottages.  Catchy.  
But people know Studio City for our oversized greed-based projects and our sushi restaurants.  
A long line of extraordinary and stylish local chefs came up through Nobu Matsuhisa's restaurants, which broke from Japanese sushi tradition by integrating citrus juices, oils, herbs and vegetables, as well as techniques he fine-tuned while cooking in Peru. 
Chef Tetsuya Nakao came to America in 1982. He and his younger brother, Shunji, were the original chefs that helped start Matsuhisa in Beverly Hills.  
After launching one of the best ever they set out to start their own place in Studio City. "Asanebo" in September 26, 1991.  
Over the years, "Asanebo" was recognized as one of the top Japanese restaurants and achieved one Michelin Star in 2008 and the other in 2009. 
The best sushi chefs express seasonality through a mind-boggling, shifting diversity of seafood, never fetishizing just one kind or just one cut.  
They know what you want, and sometimes even what you don't yet know you want. 
With so many kinds of squid, clams, shrimp, crabs, scallops, and abalone, as well as mackerel, trout, golden-eye snapper, gizzard shad, flounder, abalone, eel, conch, octopus tentacles, sea urchin, livers, eggs, and milt, why not let the chef decide? 
In some ways, the real specialty of a sushi chef is their range and ability to develop what is market fresh. 
A trip to the spectacular Asanebo restaurant is comparable to an appointment with an excellent Psychiatrist like Dr. Daniel Auerbach. Both experiences can run over, $300.  The Asanebo Auerbach benchmark is currently $297 
The evening I was there recently, we had four or five extraordinary dishes that always come with their own special sauce and garnish, so that  "you need not dunk my masterpiece in the soy sauce, Mr. Preven, you philistine."   
And yet each time after trying the chef's magnificent creation, I have to give a tiny little dunk, just to let him know I am always testing, and not a shill. This elicits a gentle scowl from the master, who is a sub-master to the real master.   
At the very end of a spectacular meal after what had admittedly been an extraordinary sort of three-star Michelin experience, the server trolled back for one more push. He said, "Can I bring you one more?"   
My guests and I exchanged quick glances and concluded, "No thank you, we're good, we'll look at the desert."  
The server proffered, "You sure you don't want to try one more item?"  
One of us, folded, "Okay, what do you recommend?" 
He asked, again, "Well, that depends on what you like." 
We said the softer, exquisite "…yellowtail was out of this world. A real delicacy." 
"That salmon thingy was incredible." 
"We're flexible, but we'd like to stay away from the oily, stinky fish, but other than that."  
He concluded, "Why don't you try the seasonal, one-of-a-kind, we are featuring." 
"Well..." 
"Just try it, you'll love it." 
Out comes the stinkiest mackerel I've ever encountered and I have visited the fish market in Bali, known as the "pissing harbor." Not because of urination, but because of the pronunciation of  "fishing" by a local Indonesian who starred in one of my early films that will be released on Netflix in the fall, if they want.  cc - Auerbach 
Honestly, this was jokey-stinky. Not funny, jokey-stinky. Like, you might have to be hospitalized if you tried one, stinky.  
At which point first one and then the other guest popped them in.  The facial expressions were priceless.  
Carefully choking it down like an unwanted but important task… almost like taking one's medicine.  
One of them surreptitiously reversed course and spit the seasonal offering back into her napkin, later revealing that her husband frequently offloads food into his napkin in restaurants.  "Sometimes he has to carry out a pretty bulked-up napkin." 
Why would he do that? 
"To be polite, out of respect for the chef." 
One toxic serving remained on the plate. All eyes were on me, as it was my turn. The wait staff seemed to be quietly giggling in the back..  
Eventually, the server came out and politely inquired, "Aren't you going to try it?"  
Our eyes met, "No" I said,  "I'm stuffed, I'm sure someone in the kitchen would enjoy it. It's such a delicacy! My gift to the staff. Enjoy."   
Fake smiles. 
The next morning I met Dr. Auerbach and offloaded the story about my hostility. He thought the solution of turning the hostile act back on to the deliverer of the hostility was inspired. Declining to indulge in the stinky fish was a potent punishment and ultimately a strong rebuke.
This was one more expression of truth to power.  
Well, done. Sensei. 
Full Riot Gear:
Order has been restored.  
Karen Bass has been elected and will be able to breeze through the bridge... one day soon, and see trusted comrade Curren D. Price presiding with Paul Krekorian doing gods work handing out rule 12 and rule 7 citations in city council.  
He had 114 items on one agenda and 72 coming Tuesday and any sober commentary time, thanks to these damn protesters, has to be reduced so Krekorian and Fauble can recess. 
A request has been made for the public meeting on Tuesday to be conducted in full riot gear.  
Staff are exempt, but all council members and the mayor, and mayor-elect should dress in paramilitary gear to support the LAPD. 
We must not let the protesters define the conversation. These asshole members of the public.  
"What about the 114 items, what are they?" 
Your time is up.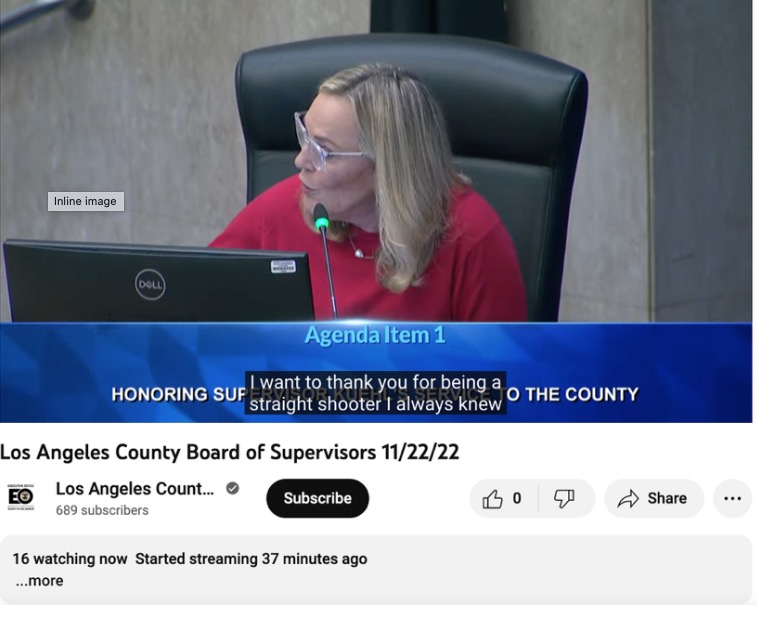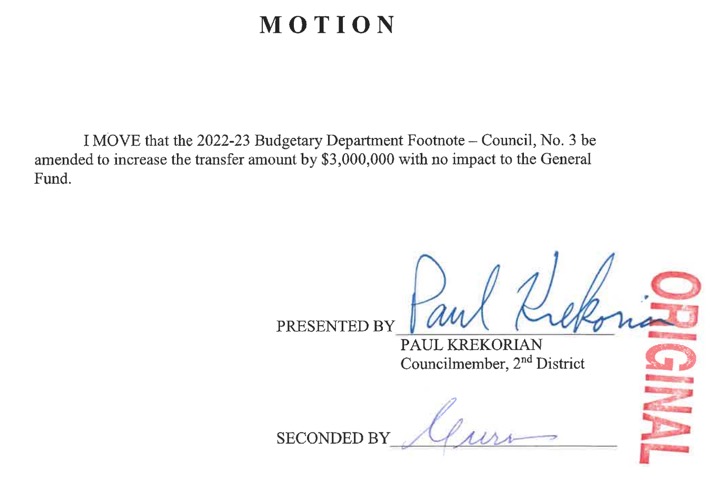 Lindsay Horvath:
I hope Supervisor Horvath restores weekly pet adoptions at the Board meeting, the way Old Father Time, Mike Antonovich used to.   
"Would you? Could you?  Please… for the little critters."  
Sheila the mean old hag banned them and the public, but nothing in the county charter says we can't be nicer… and warmer to one another.  
Sheila once refused to cite her own attendance at board meetings, which was low. This was years ago, when she was young and hungry not old and mean, and always cutting people off.   
Sheila participated in a fun disinclusion plan to cut me out of all of the Supervisor debates with Joel Bellman. 
When she got elected I liked that she was progressive.  As a woman without her own kids, she's the DCFS mom. What a labor-controlled mess alongside youth probation— 
The Sheriff's department was invented by repeated inaction, as  Zev Yaroslavky used to say, there is activity and achievement.  
In the end, Sheila was a double-talker, offering half the time… "I don't really understand, but I think I understand what I don't understand." 
One of the great thanksgiving traditions is everyone contributes.   
And this means all the nonprofits are grateful for the mommy supervisors who are sponsoring them. And all the critics will never forget the hypocrisy. 
With that in mind, it's a big potluck, where each group does their part: a door tag campaign, a social media blitz, or maybe just a nice little parade. Not about elections, silly. It's about giving back and fundraising.   
And so we say to Sheila "Ralph Kramden" Kuehl, au revoir, you've done a great job for Los Angeles. Guiding the giant agencies this way and that and taking the time necessary to methodically employ friends and family to help reduce public input.   
No Thanks (again)
Heraclitus said, "You can't step in the same river twice. For it's not the same river and he's not the same man."  
According to both Plato and Aristotle, Heraclitus held extreme views that led to logical incoherence.  
For he held that (1) everything is constantly changing and (2) opposite things are identical, so that (3) everything is and is not at the same time. 
Infuriating.  Here's my article No Thanks from last week.
(Eric Preven is a longtime community activist and is a contributor to CityWatch. The opinions expressed by Eric Preven are solely his and not the opinions of CityWatch)