ERIC PREVEN'S NOTEBOOK - In Billionaire news and I'm paraphrasing, Elon Musk, who took over Twitter recently said he's focused on not doing dumb stuff, but rather doing stuff that's not dumb.  Excellent. 
Zuckerberg is depressed. He feels very badly that he got the whole META thing so wrong, and had to unceremoniously axe 11,000 workers.  Deeply sorry.  Ditto. GFY. 
Oprah's stock is up, at least in my mind, for delivering Fetterman's humiliating victory in Pennsylvania over the quasi-doctor she put on the air, Mehmet Oz. Fetterman is nearly seven feet tall but Oprah should run for President.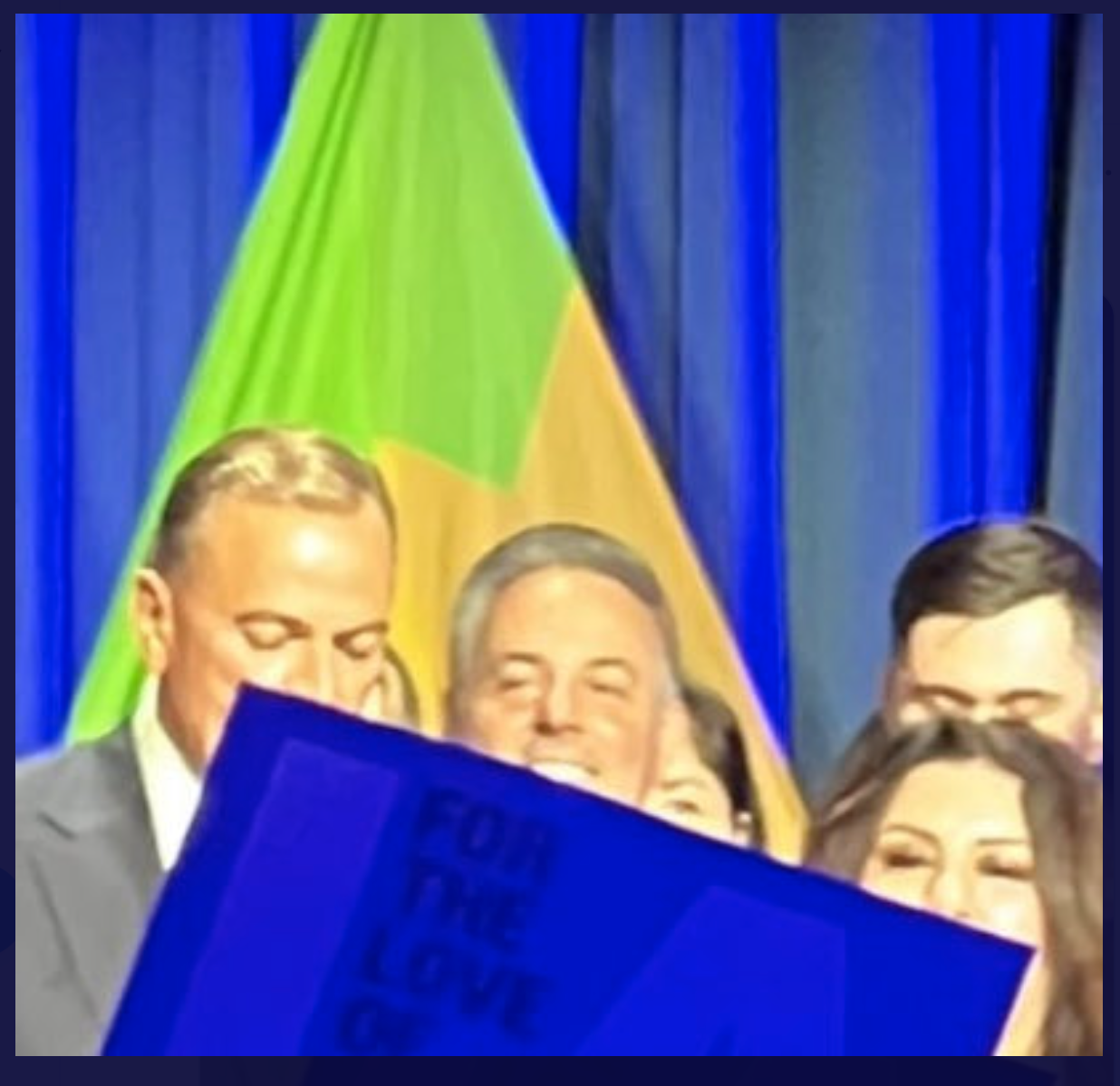 In very local billionaire news, Rick Caruso may actually win, proving that yes, you can buy an election and yes, that is Joe Buscaino sitting on Caruso's lap, peaking over the menu at the media!   
The offspring of Billionaire Patrick Soon-Shiong, Nika,  had a good run on Election night.
She got Mejia for Controller, though it looks like she didn't get Erin Darling, she got Hugo Soto Martinez for CD13. Traci Park is taking Bonin's 11th district seat. She didn't get Faisal Gill, they got Heidi Feldstein Soto for City Attorney. I guarantee this will arouse the prodigious fundraiser, Serena Oberstein. Daily Double: Soto 
--Soto is the 34th most common Hispanic surname 
--Harrison is the 34th most common English 
--Turner is the 34th most common African American
--Phan is the 34th most common Asian Pacific Islander 
--Lal is the 34th most common Indian 
--Jacobs is 34th most common American Indian and Alaskan native  
Hate Renovation:
On Tuesday, I followed a man who ran the AFIBA center for many years before Marqueece Harris-Dawson, with his eyes wide open, redeployed the resources.  
For the new candidates about to take city council seats, please don't forget to exceed the budget for the fancy new offices. This is your moment! 
When Marqueece Harris Dawson got in one of the things he did was engage in tenant improvements and furniture upgrades at the CD8 field office at 5401 Crenshaw Boulevard.  
The original one-time cost of $65,500 was approved for communication, installation of repurposed workstations, and other related moving expenses. But CD8 reevaluated the carpet condition and requested that it be replaced with concrete flooring at a cost of $90,275, new paint for the entire suite at $11,550, and $13,747 for miscellaneous items such as floor tile, new baseboards, and plexiglass for a total construction cost of $115,572. The estimated cost of new furniture for CD8 at Crenshaw is roughly $110,000 with a six-week lead time. 
With the communication ($25,000), moving ($13,500), construction with floor and new paint ($115,572), new furniture ($110,000) plus two months rental ($20,000) the total one-time cost for the revised scope of work and furniture was $284,072, or $218,572 over what had been previously approved for this project. Mazel tov. 
The speaker said it was the state EDD unemployment office and gave a case file number. 18-0957 
Then, he raise a question that caught Krekorian off guard. He asked,which was more racist?  Council President Nury Martinez calling MIke Bonin's son a monkey, or Mr. Harris Dawson, selling out his constituents, as one in a long line, the speaker said, of "coon, Tom, sellout negroes" who evicted the black communities 20-year activity center.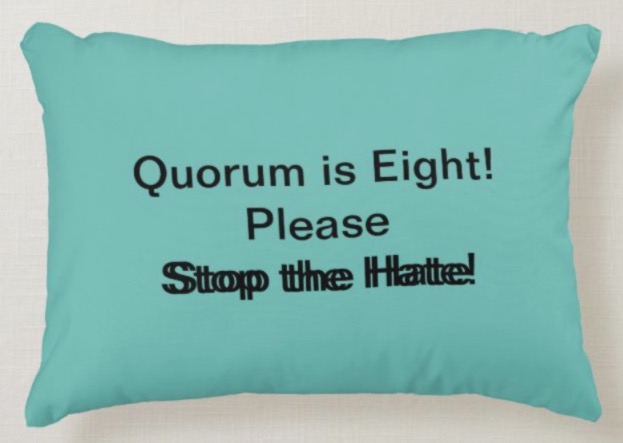 Holly J Mitchell, the chairwoman of the Los Angeles County Board of Supervisors is not playing when it comes to hate. She's enlisted the Chamber of Commerce CEO, Maria S. Salinas, and together they will be firing off an information cannon Monday morning at nine ayem in Grand Park. The cannon is full like a pinata of fully shareable community-centric graphics that are ready-made for social media.  
Among the United Against Hate Week activities in LA County November 13-19 will be the presence of a Wishing Tree.  
The Wishing Tree is an art intervention that will be displayed as a tree hung with paper tags expressing county residents' wishes for a hate-free Los Angeles County.  Visit www.LAvsHate.org.
I personally reviewed the GIFs and they're pretty cool.  Plenty of anti-hate messaging for the Taiwanese community, LGBTQ+ers, and the fighters against antisemitism. But there was one noticeable omission.  There was nothing to stop the recent wave of hate aimed at Los Angeles City Council members.   
Even, Jessica Levinson of Loyola Law School, who adores the city council and served on their badly broken Ethics Commission said, "I think there's a real feeling among voters of needing to clean house"   Adding to that surging feeling of hate, it was revealed that Paul Krekorian the new Council President, attended Mitch O'Farrell's election night party.    
#Blumenfield's Nose:
On Wednesday, for some reason Bob Blumenfield -- very likely due to the state of emergency that several speakers called 'insane' was unable to attend in person. This caused a fairly new and special protocol wherein ITA put Mr. Blumefield's zoom feed into a tiny little penalty box.  Not unlike a tiny home or cell.  
Blumenfield deserves better but if you could have heard the public comment directed at him by one speaker... in the public works committee meeting, you would have had to pause.   
Tag: Vitriolic, ugly speech, with Council member Bob Blumenfield taking it directly on the chin. Could go viral.  In the interim, the heart goes out to the Blumenfields.  
Blumenfield dealt with it correctly, which is to endure and move on.  If only he had pushed Herb Wesson to follow rule 93:
"All City Council meetings shall be cablecast, except for meetings or portions of meetings which are closed to the public, or when the Council directs otherwise. Cable television coverage of City Council meetings shall be gavel-to-gavel, and, whether presented to the public live or taped, are not to be edited or subjected to editorial comments. Cameras used for the gavel-to-gavel coverage shall be owned by the City and operated only by City employees or persons under contract with the City. Cameras shall be operated so that they are focused only on the officially recognized speaker,"
Smart Speaker:
Smart Speaker: I'll speak on the available items and a general public comment, and a brief note, I don't know if you are aware of it, but there are terrible technical difficulties. 
City Attorney: Yes, thank you.
Smart Speaker: After several months of doing virtual meetings...
City Attorney:  You have three minutes for items  1 through 10 and  33 and a minute for general, please begin, Mr. Preven. 
Smart Speaker:  OK, 1-10 are some of the items that the public was desperate to speak about but unfortunately, the audio problem -- we were blocked from Krekorian's excellent routine where he cites rule 12 and rule 7 in repetition. And then the two of you like a very unhappy set of team teachers - who have lost control of a group of students who have not come to class ready to listen and learn but rather to  tear that shit down.   This is very very bad and someone is going to wind up in  the principal's office. 
City Attorney:  Get back to the items, Mr. Preven.
Smart Speaker:  Yeah, that's what I'm doing. Item 1-10 but I just wanted to say on behalf of all the students who do want to pay attention, we're very sorry the teachers are being so disrespected. 
Now, 1-10 great work agendizing all these lighting district items. The message is coming across to the public, "No, no, no, there's nothing to see in here, we've got you covered, and once you formally agree, we'll tack on a little cost and we'll take care of the street lights.  No action required.  If you want to protest there is a sneaky way to do so, just check the fine print.  There are couple hearings on zoom and you can resist--
City Attorney: I really think we've started to veer off... Let's get squarely back on the item, Mr. Preven
Smart Speaker:  No, I'm looking at item 3, and the language that says. "to hear protests against the proposed improvement and maintenance."  What are you talking about?  Seriously. You got to step back, Fauble -- you like rules, you are not allowed to stick your hockey stick in there when I'm speaking. 
City Attorney:  Talking about protests about street maintenance doesn't mean you can talk about protests anywhere in the city.  So, let's stick to the items or you can go to general.
Smart Speaker:  What? No, that's an outrage, I'm talking about the lighting districts. You want to get a lawsuit?  Back off. 
The city, in fact, tabulates the ballots in another setting on Zoom. If you read your little goddamned items, and there are ten of them. Because the public doesn't know what to make of them, unless they happen to be in the know or are working closely with Karo to nix it. 
If you are in the know, and you want to nix it, there's a way. You can ask Karo Torossian or any of the chiefs of staff how to do that. 
Otherwise, just get in line and pay. You can ask Holly Wolcott, I believe it's her office that oversees this racket.  And I don't want to be pushed off this material because you put it on the agenda, 
I have every right to talk about it and I want to talk about the section that says, "to access the live stream and join the zoom meeting," and they provicde instructions and a passcode per, Prop 218.  Fauble, this is a pop quiz, what is Prop 218?
No need to answer, it's the law that makes these lighting districts possible by city council. You are allowed to invoke 218, hold the little hearings and then... cha-ching..  And Kevin De Leon, who has great tenacity,  gets to lecture about copper wire theft.  I've long suspected that De Leon is big in the  international copper scene, but I have no evidence, just a gut feeling.
As for what is going to happen in the absence of Mr. De Leon, that is up to the protesters. We just don't know. 
We don't know, and we don't trust.  
City Attorney:  You can go to general, Mr. Preven.
Smart Speaker:  Well, I would rather not go to general because there are other items on the agenda, for example, first of all  -- new rule, going forward.
If you or the mayor want to appoint someone to a commission like April Brodie, she's one of the two twins -- who runs a little not-for-profit - very little - that helps other not-for-profits, don't reject comment in council. 
For any reason, even if a small subset of the council heard some comments on a prior date in some committee. The big council meetings were originally devised to intentionally conduct the people's business out in the open. If someone has a comment, we want to hear it.   
"Oh, look Mitch O'Farrell is putting forward a motion to extend a reward for the 8th year, for some people who were marauded but not killed."  $25,000
This reward offer has been juiced three times, right around O'Farrell election time. 
My suggestion as Paul Koretz and Mitch O'Farrell and Nury Martinez and Mike Bonin and Kevin De Leon and Gil Cedillo and Joe Buscaino all head for the door,.. 
"Keep your hands where we can see 'em."  Seriously, we need to watch very closely.   
And Heather Hutt, a stooge appointed by a racist, should be required to actually get elected, right?
If the mayoral aspirations of Karen "MRT and a dress" Bass don't pan out, maybe she can give Hutt a run for her money and grab CD10 as a consolation prize.  
Cease & Desist: 
On numerous occasions, I have been interrupted during public comment time by the city attorney and told to get on topic or be sent to general public comment.   
The council has been trying impose Strefan Fauble's understanding of the meaning of each agenda item, narrowly.  That's a problem. 
Numerous speakers like me have spoken out and written in about the Fauble routine of interrupting public speakers who are putting their ideas forward in the form of commentary.  
Fauble may be very very good when it comes to correcting essays for sixth-grade students, but has no right or standing to tell an outspoken Angeleno how to comment or what content is appropriate.   
He's issuing failing grades in real time to speakers under the authority given to him by Council President Paul Krekorian, who joins Fauble at the beginning of most meetings, as they cleanse the room of protestors using Rule 12 and Rule 7. 
"Mr. Fauble you are part of that, because you fancy yourself an arbiter of what constitutes on-topic speech. Far too frequently, when people are tangentially on topic, You really need to reflect on that, Sir. I find it very disconcerting." 
Stop. But please enjoy this commemorative pillow.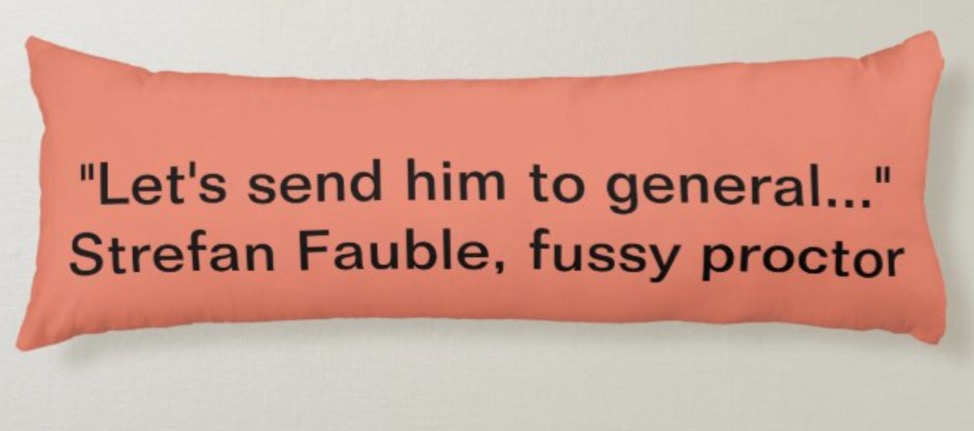 (Eric Preven is a longtime community activist and is a contributor to CityWatch. The opinions expressed by Eric Preven are solely his and not the opinions of CityWatch)