ERIC PREVEN'S NOTEBOOK - At the last poorly attended LA City Ethics Commission meeting a typo was discovered misidentifying the law firm that the county recently hired to help with evidence suppression related to the indictment of Mark Ridley-Thomas. 
The firm, Covington and Burling, that is quite fancy and houses Carolyn Kubota and Daniel Shallman is listed as Convington.  Sigh. 
No word if [email protected] is related to John Shallman, of Shallman Communications, the West Coast's premier political consulting and advertising agency and a major player in politics and public relations.  
Mayor Garcetti — a longtime critic of big money in local politics — has left all predecessors in the dust when it comes to requesting large contributions, using a little-known and largely unregulated process called "behested" payments.  (Hold nose here!)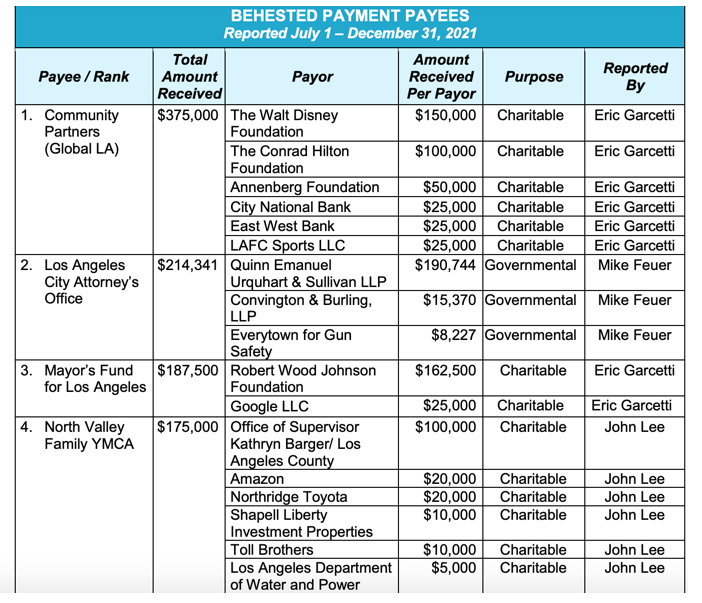 The Covington and Burling Honor Roll: 
Jack Humphreville reported that Wesson hired Covington and Burling in an article he wrote March 25, 2019,   
"According to Aaron Lewis, Wesson's high-priced white-collar defense attorney, "The U.S. Attorney's Office has confirmed that Council President Wesson is only a witness in its investigation."  This means he is not a "target" of the investigation.   
Of course, this begs the question, "What does Herb know?"  
Wesson and Huizar were close, as shown by this statement by Wesson in 2015 when he was defending Huizar against #MeToo allegations by his former chief of staff and mistress.  "Mr. Huizar is like my brother, my best friend on the council. I trust him with my life. He does the same for me."  
So, it was very telling when Wesson stripped Huizar of all his committee assignments, including his role as Chairman of the PLUM Committee, within a week a of the November 7 raid.    
 "There is also speculation that Wesson has flipped and is now a witness for the government, with the possibility of immunity for any past transgressions.    
And then there is the question of who is paying for Covington & Burling Attorney Aaron Lewis who may charge as much as $1,000 an hour for his legal services and advice.    
According to informed sources, the federal investigation has expanded to include the billboard industry where pay-to-play is a commonly accepted fact of life, whether it is through cash campaign contributions, extensive lobbying, or free advertising during political campaigns. 
No idea if Jack is related to Amanda A. Humphreville, but if he is, he should be very proud. She got high honors among the 399 other attorneys chosen in 2019 to be on the Capital Pro Bono Honor roll.   That's 399 Covington and Burling attorneys.  
Covington only placed 395 on the DC Court's honor roll in 2020.  By comparison, Jones Day attorneys made 105, before plummeting to 83 honorees in 2020. 
Hogan Lovells US LLP  had 233 honor roll recipients in 2019 +4 to 237 in 2020.  Latham & Watkins LLP had 142 in 2019 and +12 to 154 in 2020. 
Gibson, Dunn & Crutcher LLP had 99  in 2019 and +22 in 2020 for a firm best of 123. 
Paul Hasting nailed 65 in 2019 and garnered +20 in 2020 for a zeitgeisty 85. 
Mayer Brown LLP who worked closely with MRT on the Watt Companies Metro scandal, that the District Attorney's Public Integrity Division pooped itself over, and with Khalatian and the Mayor's alma mater, Harvard Westlake in the swindling of Studio City golfers, put  49 lawyers on the honor rolls in 2019, before bulking up +13 to 62 in 2020.   
Quinn Emanuel Urquhart & Sullivan LLP, who provided $190,744 at Mike Feuer's behest to the City Attorney's office for some governmental purpose, landed 0 attorneys on the 2020 Pro Bono Honor roll.  
To be fair to Quinn Emanuel, they do pro bono legal services throughout the world, just, apparently, not in the Washington DC Courts.  Though, they accept anything you put down.  
As, the self-described world's leading business litigation firm, Quinn Emanuel is more creative than just submitting notes about probono hours to the voracious clerk in DC, they announced this week, the recipients of their 2nd annual artist-in-residence program.  
This program was established to create opportunities for and bring visibility to emerging and mid-career artists in the greater Los Angeles area.  The inaugural winners, were Edgar Ramirez and Molly Segal and this year Tony de los Reyes and Francisco Palomares have been selected.  
Recipients get $5,000 a month over the course of four months for a total of $20,000.  In addition, Quinn Emanuel will provide an allowance of up to $1,500 for the purchase of art materials. 
The artists-in-residence will also have access to a corner office on the main floor of the Los Angeles location with a view of the Crypto arena, formerly Staples. 
Once the residency is completed, along with the direct help of curator Alexis Hyde, an exhibition will be mounted TBD. Sales of the work will be determined in conversation as well. Red flag. 
John B. Quinn, the big boss at Quinn Emanuel said, "At first thought, traditional visual arts like painting may seem to have nothing in common with litigation and dispute resolution. Litigation, however, is a creative exercise. Litigators have to decide what the story of a dispute is, who the core storytellers are, and how to build the case around that story."  
"In litigation, as in anything else, there is always a risk of falling into a rut, even if you've been successful." 
It's safe to say that Nury Martinez did not consult with Quinn Emanuel attorneys about the plan to shove Herb Wesson back into the chair. 
Date: February 18, 2022 
Before lunch: 
From: ERIC PREVEN 
To: City Attorney Mike Feuer [email protected], City Clerk Holly Wolcott [email protected], Tips [email protected]
Subject: Time Sensitive -- Public inquiry re: Charter 
Please make public the latest advisory from the City Attorney's office before the weekend so that the people of Los Angeles are clear about the possibilities regarding the temporarily vacant CD10 seat. Kindly confirm receipt. 
The City Charter does not permit Herbert J. Wesson to serve as a voting council member because he has already been termed out. Council members are elected by the people for four-year terms, for a maximum of three terms. Wesson has served three full terms on the council (one of which was five years), the maximum allowed under the City Charter. He also served a partial term from 2005 to 2007. 
If Martinez's proposal is approved it would be the second time in the last three years that the council has selected an interim voting member. In 2019, the council tapped former Councilman Greig Smith to represent the San Fernando Valley district vacated by Councilman Mitchell Englander.  Despite being a lobbyist for Waste Management, Greig Smith was not termed out completely, like Wesson.  
The voters weighed in on Herbert J. Wesson during his latest election. 
He lost by a 20% margin to Holly J. Mitchell and has been reportedly serving as a lobbyist alongside Andrew Westall with whom he designed the Los Angeles' Cannabis program, in neighboring jurisdictions for multiple clients.    
There is no good reason not to appoint as a voting member of the Council a qualified District 10 resident other than Herb Wesson to represent the many taxpayers in that District who will otherwise be denied a voice if the decision is to appoint a voting member.   
Nury Martinez appointed the chief of staff for Councilman Mark Ridley-Thomas as the "caretaker" for the 10th Council District on Monday, November 1, 2021. "In accordance with past practices to address interim vacancies on the City Council," she designated Karly Katona "Caretaker for the Tenth Council District pending seating of a councilmember to fill the vacancy or should Mr. Ridley-Thomas be reinstated." 
The Council President made it very clear, "This action and instructions are intended to assure the residents of the Tenth Council District that they will not be without an individual they can turn to until they are once again directly represented by a Councilmember." 
In January 2019, pre-pandemic, there was a Special CD12 Election Emergency launched by Herb Wesson under what we now know were also false pretenses.  
The then Council President Wesson discussed what to do about the sudden vacancy after Mitchell Englander awkwardly stepped off to allegedly become a stadium executive among the stadium executives for whom he helped carve out a huge incentive tax break, but in fact, he was headed for jail.  Englander pled guilty to lying to the FBI which is a felony.  
Adrienne Alpert: Alright, but did you have to have a special election? 
Herb Wesson: Technically, we did not have to, but I do believe that it was the desire of the people of that district to select their elected representatives. 
Nury Martinez: They're my neighbor to the west, north of me, so, you know I quite often hear from them. But I think the council president is correct: we could not, not have them—in a democratic process— have them weigh in and actually select, vote for their new representative. I think its the right thing to do. And I think You're right the cost sometimes seems enormous, but I think in that community, and out of respect for the voters, we need to give them that voice. 
Adrienne Alpert: Alright. Didn't you have this happen what... with Felipe Fuentes. 
Herb Wesson: Yes, and I stepped in, to try to be the caretaker of that district. It is unbelievable. It's an unbelievable job and when the people don't have a representative, they definitely don't have somebody that they can go to to get the things that they want and they need, so in this situation, we just think the stars aligned properly, we have the right person, so the folk from the twelfth district will not go one day without a voting member in office. (entire shameful interview)  
Getting this to you before noon, so the public can have a response by end of business today.   
Here's early coverage of the CD7 vacancy in Citywatch and the DailyNews. 
Eric Preven
During lunch:  
The Y believes in giving back and providing support to our neighbors by developing volunteer leaders through fundraising activities, community partnerships, and collaborating with policymakers, community leaders, and private and public organizations to build healthier communities throughout Los Angeles. 
I received a notification from Casey Banks of the YMCA of Greater Los Angeles touting the Refer A Friend & Get 33% OFF your membership!    
The idea is as a member, I am entitled to a discount on my membership by simply inviting friends or family to try the Y. When the referral joins, I'd be eligible for a (3) three-month 33% discount, off of my monthly membership rate.   
I am inclined to help but the YMCA has bungled so badly because it has inexplicably closed its doors for five straight hours in the middle of every single day and affects the quality of life for kids and families. 
Monday through Friday the Y is Open from 7:00am-11:00am & 4:00pm-8:00pm.  And on Saturday only, the Y Is open from  8:00am-1:00pm....is pathetic, in a word. 
What happens during those five hours daily of closure?  Casey Banks, the Director of East Valley has ducked, but I have heard that the locker room facilities have been used by people experiencing homelessness. Or maybe it is a private school renting the pool for training? 
We remember and supported the YMCA getting relief money to help unhoused people get clean during a horrible lockdown.  In fact, for years those services, have been available, but not smack dab in the middle of regular business hours. 
The notion that our family YMCA has been donated or sold while current members are denied services and enlisted simultaneously to solicit prospective members is too far.   
Alan Hostrup, ($450,277) get in here!  If you are working fifty hours a week with Dengler ($310,852) and scooping between the two of you, $761,000 in salary and you can't find a way to provide gavel to gavel coverage, you should step down.  It's been a long ride.  
Less availability and more congestion equal a worse experience. Less is not more in this case.  
As long as we remain closed we will not be able to attract new sign-ups. 
We see you... committing a self-inflicted wound that is not benefiting the people.  
After lunch:
From: STREFAN FAUBLE
To: Eric Preven 
Mr. Preven,  
Alexis Wesson forwarded your request to me. We will not provide you with the records you've requested.  Legal advice from the City Attorney's Office to Council is privileged attorney-client communication,  and exempt from production to you under Government Code section 6254(k).   
-Strefan Fauble 
From: ERIC PREVEN 
To: City Attorney Mike Feuer dba Fauble 
Alexis Wesson is welcome to forward you whatever she wants, but as the City's general counsel, the City Attorney provides advice and opinions on matters of municipal concern, examines contracts and ordinances as to form and legality, and is frequently called upon to interpret the City Charter, federal and state statutes, and other laws that govern Los Angeles.   
Feel free to keep your advice to her secret, but you must inform the public of the legal options as It seems clear Wesson is ineligible.  CP Martinez can appoint an eligible CD10ist.   
Feuer was not elected to serve Nury Martinez, who definitely needs her own lawyer, but the city and the city voters who elected him to office. Please provide a coherent analysis as requested.   
Eric Preven 
Approved & Released: 
From: RODRIGO A. CASTRO-SILVA County Counsel,  [email protected] 
Dear Mr. Preven:  
This letter is in response to your February 8, 2022 e-mail, requesting copies of records pursuant to the California Public Records Act ("CPRA"), California Government Code sections 6250-6276.48.1  Specifically, you requested the following:  
Please provide the agreement or letter or mou [sic] pertaining to the Covington & Burling work with the county and the October 19, 2021 motion by Hilda Solis and Kathryn Barger about contracting fraud.  
After undertaking a search and review of records, the County of Los Angeles ("County") has located documents responsive to your request. However, the County has determined that those records are exempt from disclosure and are protected by numerous privileges/doctrines under California law, as explained below. 
Records exempt or prohibited from disclosure by State law.    
Records where the facts of the particular case dictate that the public interest served by not disclosing the record clearly outweighs the public interest served by disclosure of the record.  
ANGELA PARK
DAWYN R. HARRISON
RODRIGO A. CASTRO-SILVA County Counsel
From: ERIC PREVEN 
Date: February 18, 2022
To: Dan Shallman, [email protected],  Carolyn Kubota, [email protected],  Louis "Skip" Miller, [email protected] 
cc: everyone 
Dear Kubota and Shallman + Skip,   
By way of introduction, I am Eric Preven, a county resident. The work that you are embarking on examining our county contracting processes is not the type of work that should be done secretly or behind a veil of privilege.   
As you know, Eric Holder, who we all adore, revealed his hourly rate in the traditional Covington and Burling letter of agreement dated March 30 to the Oregon Health & Science University. We'll accept something similar.  
It's not that we want to impede your work, rather we want to fully understand what you are planning to do, and at what price.  
The willingness of clients to share terms is expected.  
Let's move ahead after you explain to The County Counsel that sharing the letter of agreement is something... you enjoy!   
Looking forward to understanding exactly what you'll be doing, per Skip, who does not share his invoices.   
Best,   
Eric Preven  
From: ERIC PREVEN 
Date: February 18, 2022
To: Hilda Solis [email protected], Holly Mitchell [email protected], Sheila Kuehl [email protected],  Janice Hahn [email protected],  Kathryn Barger [email protected]  
I suggest releasing the Covington and Burlington letter. 
What qualifies as pro bono service? 
The term 'pro bono' refers to activities undertaken normally without expectation of fee and not in the course of ordinary commercial practice and consisting of (i) the delivery of legal services to persons of limited means or to charitable, religious, civic, community, governmental and educational organizations in matters which are designed primarily to address the needs of persons of limited means; (ii) the provision of legal assistance to individuals, groups, or organizations seeking to secure or protect civil rights, civil liberties or public rights; and (iii) the provision of legal assistance to charitable, religious, civic, community, governmental or educational organizations in matters in furtherance of their organizational purposes, where the payment of standard legal fees would significantly deplete the organization's economic resources or would be otherwise inappropriate.
(Eric Preven is a longtime community activist and is a contributor to CityWatch. The opinions expressed by Eric Preven are solely his and not the opinions of CityWatch)