ANIMAL WATCH - This week, the "FIGHT Act" (Fighting Inhumane Gambling and High-Risk Trafficking) was introduced by Washington, D.C., lawmakers to provide federal legislation to crack down on the increasing issue of millions of animals—primarily Pit Bulls and fighting roosters— being trafficked for illegal dogfighting and cockfighting throughout the U.S., as blood-thirsty gamblers wager on which will survive. 
On April 20, the Washington, D.C.-based Animal Wellness Action (AWA),  50lc(4) organization, issued a media release that the bill was introduced in the House of Representatives by U.S. Reps. Don Bacon, R-Neb., and Andrea Salinas, D-Oregon, "Driven by concerns for the barbarism of animal fighting, other criminal behavior comingled with it, and disease threats to poultry posed by transporting fighting roosters."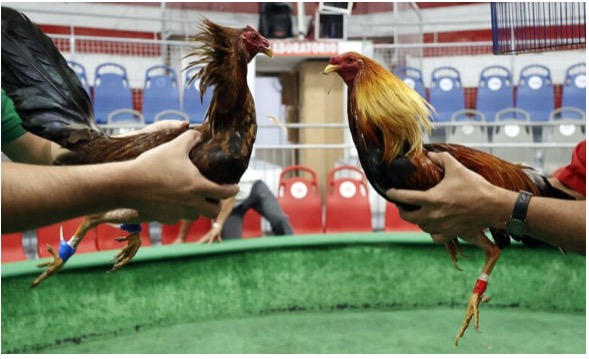 "A companion bill by the Senate will soon be forthcoming," added Wayne Pacelle (President of AWA, and the Center for a Humane Economy), "Animal fighters are trafficking in millions of fighting animals and are involved in illegal gambling, narcotics, money laundering, shootings, and murder." 
This bipartisan concern gained strong support by over a dozen Representatives of both parties, including, California, Nevada, Florida, Ohio, Louisiana, Texas, Pennsylvania, New Jersey, Massachusetts and Colorado, who joined the two co-leaders as original cosponsors. 
TAKING AIM AT ON-LINE GAMBLING AND ILLEGAL BLOOD SPORTS 
The FIGHT Act, will amend Section 26 of the Animal Welfare Act, to "enhance the enforcement opportunities by banning simulcasting and gambling of animal fighting ventures; halting the shipment of mature roosters (chickens) shipped through the U.S. mail, which is now allowed under existing law and U.S. Postal Service policy. (It is already illegal to ship dogs through the mail under current law.) 
The Act will also create an important "citizen-suit provision," after proper notice to federal authorities, to allow private right of action against illegal animal fighters; and it will enhance forfeiture provisions to include real property for animal-fighting crimes. 
A fact sheet on the FIGHT Act is available here. And you can read a summary here of the federal courts' upholding all provisions of the animal-fighting law as constitutional. 
"Tens of thousands of cockfighters and dogfighters raise millions of animals and sell them or enter them into fights for the thrill of the bloodletting and the illegal payouts and gambling," said Wayne Pacelle, president of Animal Wellness Action and the Center for a Humane Economy. 
"Most people rightly recognize animal fighting as a settled moral issue, but enforcement has lagged, and a vast animal-fighting underworld spawns cruelty and spills out other forms of crime and mayhem in our communities," he added. 
U.S. ELECTED OFFICIALS TAKE A STAND AGAINST CRUELTY 
"Every day, countless animals endure horrific violence as people force them to fight for personal gain," said Rep. Andrea Salinas, D-Oregon. "Cockfighting, dogfighting, and other blood sports are inhumane and unsafe—and Congress must intervene to protect innocent animals from such abuse." This bill would strengthen our ability to hold those responsible for illegal animal fighting." 
"It's disgusting and inhumane that people profit off the cruel practice of forcing animals to fight for their lives," said Rep. Don Bacon, R-Neb. "The FIGHT Act will embolden law enforcement to stop this inhumane and cruel animal abuse." 
"Illegal cockfighting is cruel and hits close to home," said Rep. Nancy Mace, R-SC, "South Carolina continues to see heinous and illegal animal fighting activities, and we are committed to making our state a safe place for animals and people." 
"Louisiana was the last state to outlaw cockfighting, but I want to make sure we are at the front of the pack in the federal effort to crack down on dogfighting and cockfighting," said Rep. Troy Carter, D-La. "Animals deserve our mercy and humane treatment, and staged animal fights are the antithesis of those moral imperatives. I am proud to be fighting for animals and against cruelty." 
"Allowing wagering on animal fighting is another tragic example of illegal actors blatantly ignoring the law," said Alex Costello, vice president of government affairs at the American Gaming Association (AGA). "We must empower law enforcement to go after nefarious illegal operators … the AGA is proud to support these key amendments to the Animal Welfare Act." 
"Animal fighting is one of the most heinous forms of animal cruelty," said Leslie Rudloff, Esq., chief program and policy officer for Animal Protection New Mexico. "Despite laws to the contrary, animal fighting continues to occur across the country, bringing with it other crimes like human- and drug-trafficking and illegal gambling." 
"Animal fighting is an epidemic in this nation, and we are excited that this bill will give SHARK (Showing Animals Respect and Kindness) and law enforcement more tools to put people in federal prison who commit these atrocious actions toward animals," said Steve Hindi, founder and President of the 50l(c)3 organization, SHARK. 
CONTAGIOUS DISEASES ARE ALSO A MAJOR CONCERN 
Pacelle also stressed that these amendments are needed to "protect public health and safeguard poultry suppliers from diseases such as avian influenza and virulent Newcastle disease." 
Cockfighting involves close handling and transport of birds, including those who become bloody and severely injured at fighting matches, creating the likelihood of disease transmission from birds to people. 
Also, AWA warned that, "Virulent Newcastle disease has entered the United States by illegal smuggling of infected cockfighting roosters from Mexico at least 10 times, causing the epidemic in southern California in 2002-03 and also a massive outbreak in 2018-20—which resulted in 16 million dead birds and $1 billion in federal government expenditure on containment costs." 
A comprehensive report on cockfighting and avian diseases by Dr. Jim Keen, DVM, Ph.D, can be read here. 
DANGERS OF GAMBLING AND ON-LINE BETTING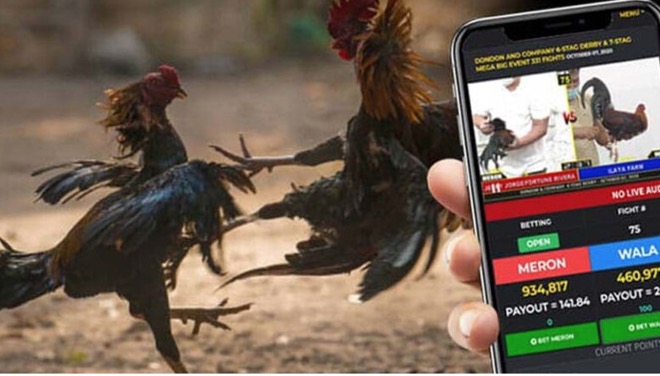 The FIGHT Act also would address the growing international addiction to electronic wagering on cockfighting in an era when sports and other forms of on-line gambling have emerged as an expanding multi-billion-dollar international industry (Pitmasters LIVE)," which is surging in the United States, and has resulted in enormous animal and human tragedies worldwide. 
(See: Cockfighting: Cops' Addiction to On-line Betting (E-Sabong) Sparks Fear of Crime Wave) 
In recent years, Animal Wellness Action, the Animal Wellness Foundation, the Center for a Humane Economy, and Showing Animals Respect and Kindness (SHARK) have conducted comprehensive investigations of syndicated local and international cockfighting operations. 
U.S. IS COCKFIGHTING BREEDING SUPPLIER TO THE WORLD 
While cockfighters stage illegal animal combat throughout the U.S.—at dozens of arenas in Puerto Rico and at facilities from Alabama to California to Kentucky to Oklahoma—America is also the cockfighting breeding supplier to the world, with countless fighting animals sent to Mexico, the Philippines, and other nations. 
Data from the Guam Department of Agriculture (GDA) reveals a total of 2,138 fighting animals were transported to Guam in 2021 – all by U.S. Postal Service mail. 
Over the last five years, Animal Wellness Action has documented 11,516 fighting birds entering the island through import permits granted by the GDA, and, according to Thomas Pool, DVM, MPH, DACVPM, the former Territorial Veterinarian for Guam, "the birds were all shipped only for cockfighting and for no legitimate purposes." 
"This legislation bars any use of the U.S. mail to ship adult roosters (chickens)," he added. 
EXISTING FEDERAL LAW 
Under Section 26 of the Animal Welfare Act, 7 U.S.C. 2156, it is a crime to: 
Knowingly sponsor or exhibit in an animal fighting venture; 
Knowingly attend an animal fighting venture, or knowingly causing an individual who has not attained the age of 16 to attend an animal fighting venture; 
Knowingly buy, sell, possess, train, transport, deliver, or receive any animal for purposes of having the animal participate in an animal fighting venture; 
Knowingly use the mail service of the U.S. Postal Service, or any "written, wire, radio televisions or other form of communications in, or using a facility of, interstate commerce," to advertise an animal for use in an animal fighting venture, or to advertise a knife, gaff, or other sharp instrument designed to be attached to the leg of a bird for use in an animal fighting venture, or to promote or in any other manner further an animal fighting venture except as performed outside the U.S.; (or) 
Knowingly sell, buy, transport, or deliver in interstate or foreign commerce "a knife, a gaff, or any other sharp instrument" designed or intended to be attached to the leg of a bird for use in an animal fighting venture. 
Learn about the legislative history of animal fighting here. 
A new research paper on cockfighting and avian influenza and other infectious diseases is available here. 
DOG FIGHTING AND COCKFIGHTING—A PERSONAL PERSPECTIVE 
Fighting and killing each other for "sport" is not a natural instinct of animals. Combat takes place over food, mating and territory. Training and forcing dogs or roosters to fight to the death is a deliberate act by humans for monetary—and "entertainment"—purposes. 
These activities in a community or a country not only devalue life, but also attract other crimes in the form of guns and drug sales, prostitution, sexual assaults on minor children, and other unpardonable violence in which the innocent are endangered and victimized. 
It is tragic that so many have accepted and promote animal fighting—especially cockfighting—as a cultural tradition which should be passed on to future generations. There is no excuse for the U.S. to facilitate and/or be complicit in this blatant and atavistic cruelty here or in other countries, nor should any of our federal agencies provide ancillary transport or other services. 
This is 2023 in the United States of America—It is time for this nation to take a stand against all primitive and wanton cruelty to animals. 
We can be sure that if someone can watch, participate in, and find pleasure in an animal being stabbed to death by spurs and knives or having its flesh torn apart, a human victim is somewhere in their abusive future—possibly a child, spouse or elderly parent, who also can't win by fighting back. 
Animal Wellness Action and the Center for a Humane Economy have produced the evidence and many of our country's elected representatives have taken the first important step that empowers the federal government to stop illegal animal fighting at its source. 
But it takes the voices of a nation united for humaneness to support them and assure it is passed and enforced. 
See also:
Mother Sells Baby to Pay Online Gambling Debt 
Cockfighting In Oklahoma: Crime, Cruelty, Sports Gambling? 
(Phyllis M. Daugherty is a former Los Angeles City employee, an animal activist and a regular contributor to CityWatch.)