ANIMAL WATCH - We knew it would happen! A Pit Bull in Temple Hills, MD, challenged a parked Tesla and then proceeded to chew a tire, rip the lining through a partially open window and injure the driver, trying to protect her pet dog. This is just one of the recent terrifying stories of this aggressive dog breed that has injured and killed in countries all over the world. No one—and no pet—is safe. However, the Tesla did survive! 
Family's Pit Bull Attacks Two Sleeping Children in El Cajon, CA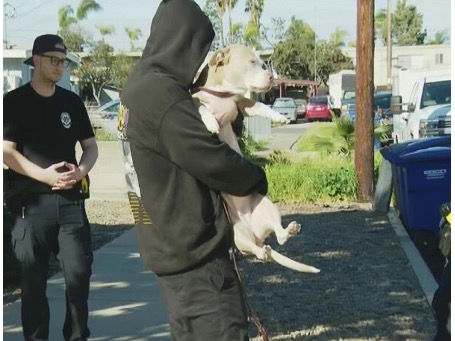 Two children, ages 1 and 6, were attacked by the family's Pit Bull while sleeping on a bed in their El Cajon home, CBS 8 (San Diego) reported on February 24.  There are no details surrounding the incident, but the children's mother was at home at the time. 
Both of the victims were transported to a nearby hospital for treatment of their injuries and the dog, identified by the San Diego Humane Society as a "female American Pit Bull Terrier dog" was impounded at the El Cajon Campus, for a ten-day bite quarantine period to assure she does not have rabies, in accordance with California law. 
Six-Year-Old Girl in Maine Needed 12-Hour Surgery, 1,000 Stitches After Pit Bull Attack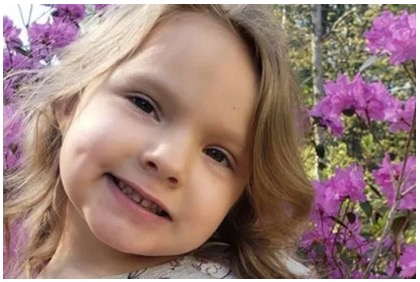 PHOTO: GOFUNDME
 Six-year-old Lily Norton was in critical condition after a Pit Bull attacked her on February 18 and damaged her face so badly that she required a 12-hour surgery and 1,000 stitches from below her eyes to her chin. according to a People Magazine report on February 24, 2023. 
Lily was still in critical condition at that time, according to a GoFundMe campaign created to help with medical expenses. 
"Her salivary glands aren't working … and doctors said she won't be able to smile again," CJ Pitcher, who helped create the fundraiser, stated, because her "muscles are too damaged." 
The attack occurred at a friend's house, Lily's mother explained in the report. They were getting ready to play cards, so Lily sat down at the table, but when the friend returned from getting the cards, she screamed to her mom, that "the dog had Lily in her mouth." 
The mother of Lily's friend was reportedly pet-sitting the "Pit Bull type dog." The incident remains under investigation. 
L.A. Man, 83, Severely Mauled by Neighbor's 2 Pit Bulls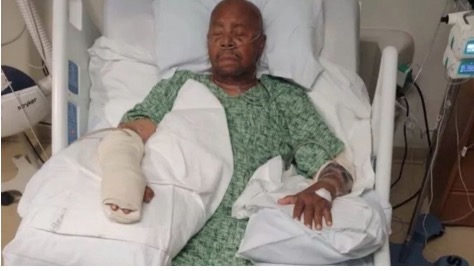 Jimmy Lindsey, 83, is facing a long struggle back to health and mobility after a vicious and inexcusable attack by two Pit Bulls who lived in the next block, escaped and attacked him in his own front yard in Los Angeles, FoxNews11 reported on January 3, 2023. 
The incident occurred in the South Los Angeles (Crenshaw/Slauson area as Jimmy Lindsey walked outside to prepare to pick up his wife from the Senior Center, where she exercises. 
His daughter, Belynda Lindsey, said, "He walked out his house, off the porch, and saw the dogs coming. They were running. He's not fearful ... he believes they're gonna go by him, but they jumped on him, and knocked him down." 
"He was kicking and trying to hold his hands up to keep them from getting his neck." The one dog took him across this way, and the other one took his legs and dragged him the other way," according to the report. 
Her father was screaming, and neighbors came and tried to stop the dogs. "They tried different methods to get the dogs off. The dogs wouldn't move." 
"They called 911and were placed on hold," she said. When first responders arrived, the Pit Bulls were still there—his injuries included severed arteries, damaged tendons and nerves." She added that he was "traumatized for a half hour, and at some point, he lost consciousness." she said. 
When the ambulance arrived, he was taken to Dignity Health hospital, where he was diagnosed with first level trauma and needed to be seen by a hand surgeon. The nearest available was in Riverside, where they airlifted him and he underwent immediate surgery to repair severed arteries," said Belynda Lindsey. He remained in ICU until being transferred to Kaiser in West LA, where he was hospitalized for two weeks. She was advised his recovery will take at least a year because of the severity of the extensive wounds. 
Belynda Lindsey told FoxLA News that LA County Animal Control officers came to Kaiser to speak with her father about the incident and to identify the dogs, one of which they located on the porch of a nearby house. When they informed the owner they would need to take it, and he responded, "...you're gonna need a court order."
(There was no further report available.) 
El Paso Woman Charged with Felonies, Misdemeanors for Pit Bull Attack on Children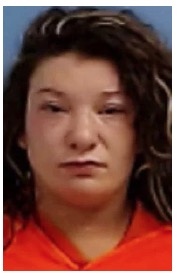 Destiny A. Adams-Fletcher, 31, whose two Pit Bull-mix dogs reportedly attacked and bit two children, ages 10 and under, last December is facing multiple charges according to the Daily Citizen. 
A warrant was issued at the request of the 17th Judicial District Prosecuting Attorney's Office for three counts of class D felony battery of the second degree and three counts class A misdemeanor unlawful dog attack. She also is facing enhanced penalties for offenses committed in the presence of a child. 
White County deputies were sent to Samuel Lane in El Paso on Dec. 11 after the dog attack was called in. A 10-year-old was "lying in the roadway with severe bite injuries, including large areas of deep lacerations on both his legs and arms," the investigating detective wrote in the affidavit. The second alleged victim, a 6-year-old, had "bite injuries and lacerations to his right foot and abrasion injuries from being dragged by the dogs." 
Both victims were taken by ambulance to a children's hospital. Their grandmother was later also taken to a hospital "for bite injuries she suffered during her attempts to stop the attack," according to the report. 
Adams-Fletcher reportedly was "initially present at the scene" but left once first- responders arrived; and the report states, "she loaded both dogs in a vehicle and fled the scene before law enforcement could make contact." 
She was located and arrested on Dec. 12 at a residence where she had taken the dogs "to prevent authorities from seizing the animals," the detective wrote. 
Multiple "Beware of Dog" signs were posted at her property, but neither of the dogs, identified as Pit Bull-mix breeds, "was contained inside a fence or pen or otherwise restrained." 
"The dogs can be described as dangerous or vicious, with a history of unprovoked aggressive behavior that was known to the owner. As a result, the owner, Adams-Fletcher, is liable as acting recklessly in an incident that caused serious and life-threatening physical injury," the report concluded. 
Adams-Fletcher is facing other misdemeanor dog attack charges in White County District Court-Searcy Division from a Jan. 1 attack. Trial is set for April 18. 
BELOVED PET KILLED BY PIT BULL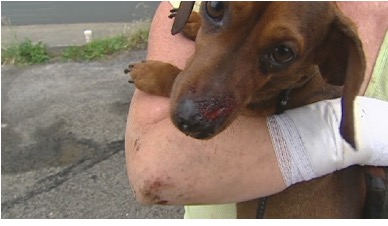 (Image is from a Pit Bull attack on a Dachshund in WA in 2011, the description of the attacks are similar; however, this dog survived.) 
On March 4, 2023, a family's beloved 13-year-old miniature Dachshund was killed by a Pit Bull in Cumberland, MD, during a walk with her owner only a few feet from her home. 
Vicki Rice said she "had no idea as she prepared to walk her Miniature Dachshund, Corina, on the afternoon of Feb. 13 that it would be the last walk they would take." 
The owner said a young boy was trying to hold the dog back but had no control over the strong dog as it ripped the 6-pound pet from her arms, and she was injured trying to save her beloved pet.  
The article quotes the Center for Disease Control and Prevention, which states that, "Statistics gathered between 2004 and 2020 show pit bulls consistently rank No. 1 for bites/attacks, accounting for between 57% and 65% annually over that time period." 
Pit bull 'ripping me to pieces' was like being 'attacked by a bear' 
"An attack that lasted only 10 minutes has left the victim, Keith Richards with multiple injuries that stop him from being able to work," ChronicleLive reported on March 1, 2023.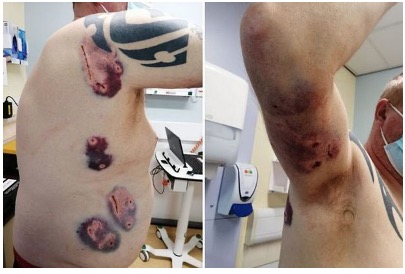 (Image: Keith Richards/ChronicleLive)
Keith Richards, 44, said he was walking with his Border Collie, when a Pit Bull being walked by suddenly "went berserk" and attacked him. 
Keith is a window washer and lives in Wallsend in North Tyneside, UK. He suffered horrific bites to his arm, shoulder blade, collarbone and the right side of his body, as shown in photos taken at the hospital, and he is now unable to work while his injuries heal, according to the report. 
He said: "I saw a lass holding on for dear life to a pit bull. It got out of her hands and had no muzzle on. I threw my dog onto the top of the car and then the pit bull began ripping me to pieces. All of the people who were trying to help had to run back into their houses because it was going for them." 
Keith said the woman walking the dog, and three other people with her, all left the scene after the attack. He immediately called the police for help, "I realized my injuries were that bad that I had to go to hospital," he said. 
"It looks like I have been attacked by a bear", he said. "I have quite a few puncture wounds. It has bitten three big chunks out of me." 
He added, "One of the marks is near my collarbone. If it had [attacked] a shorter person it could have killed them." 
(Thanks to the ChronicleLive for publishing/sharing this report.) 
Pit Bull Attacks Tesla – He's Eating My Car! (video)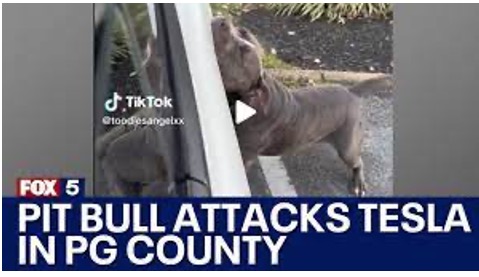 Over a million viewers have reportedly watched a TikTok video by a Tesla owner showing a Pit Bull attacking and ripping up parts of her car in Temple Hills, MD, in December, while she is in it. She was also wounded. The dog also chewed one of her tires. 
The woman told reporters the dog's owner was found and has agreed to pay for her medical bills and also agreed that the Pit Bull should be euthanized. 
Liv, whose username is toodieangelxx, documented the attack, and wrote, "I couldn't believe him eating my car." 
If a Pit Bull can do this much damage to a car, how would you defend yourself in an attack? 
(Phyllis M. Daugherty is a former Los Angeles City employee, an animal activist and a contributor to CityWatchLA.com.)